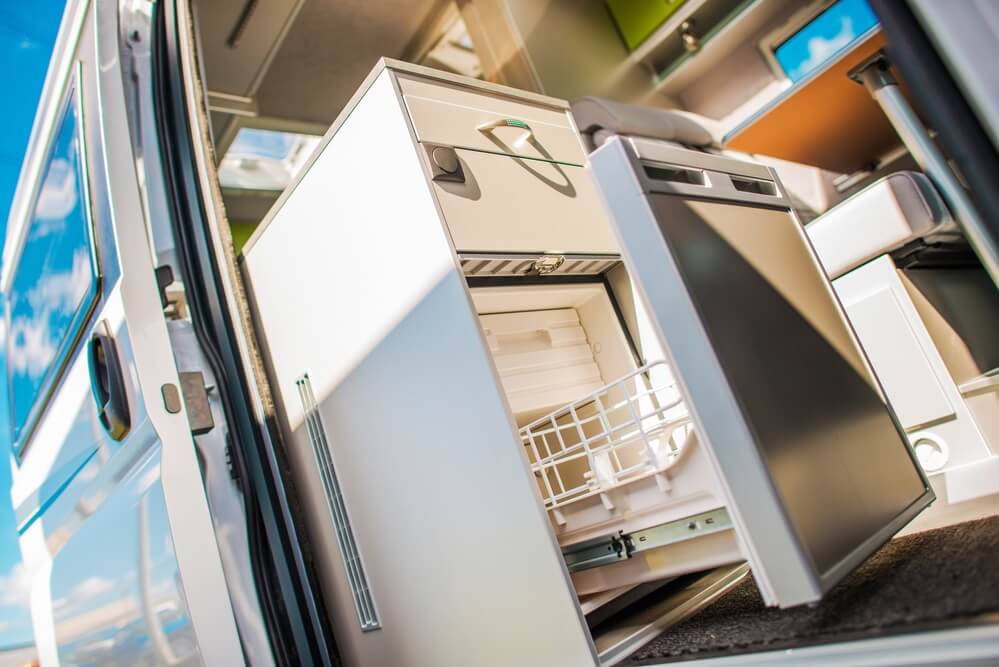 All of our reviews are based on exhaustive research, industry experience and whenever possible, hands-on testing. When you make a purchase using one of our chosen links we'll get a small percentage of the proceeds. This supports the site and keeps Jeffsetter running. You can read more here.
The fridge is one of the hose appliances that we're just used to leaving on all the time- at least when it comes to a sticks-and-bricks home. It's rare that we don't have something that needs to be kept cool so it never crosses our mind to turn it off.
But things are little different in an RV and whether your RV is in storage or you're just eating out instead of cooking in your rig there are plenty of scenarios where your RV's fridge will be empty.
So should you still leave it on all the time?
Your RV fridge doesn't need to be left on all of the time and it should be turned off when your RV is in storage or when you're not using your RV for a month or more. Additionally, propane fridges should be disconnected for safety reasons while you're on the road.
That's the quick answer but let's take a closer look at everything you need to know.
What Happens If My RV's Fridge Is On All The Time?
If you opt to leave your RV fridge on all of the time, there likely won't be many big consequences to doing so. It won't affect the longevity of your fridge and your RV will always be ready to go with cold drinks and food, so why isn't it a good idea to keep it on all the time?
It Can Get Expensive
You probably turn your lights off when you leave your house, and make sure to unplug appliances that you're not actively using. It just makes sense. So, why not extend that logic to your RV fridge? Why leave it on if it's not being used? Turning it off is a decision that makes sense for your wallet.
If you leave your RV fridge on even if you aren't using your RV for a stretch of time, you still need to pay for the electricity and or propane that it uses. That is going to cost you when it doesn't have to.
Imagine your RV fridge is running on using a 20lb propane tank which will last about 11 days. If you aren't planning to use your RV for three months and leave your fridge running, you would have to refill your propane tank about 8 times. Propane can cost about $2.75 per gallon to refill so that means you would have lost over $100 towards a fridge you're not even using.
I'm guessing you can think of a number of things you would rather spend $100 on, I definitely can.
It's Not Great For The Environment
If, for some crazy reason the cost savings don't convince you to turn off your RV fridge, then keep in mind the overall environmental impact leaving it on has. Most people nowadays are relatively cognizant of their impact on the environment and try to do little things to keep their impact lower. The simple act of turning off your RV fridge while not using it can lower your impact and make you feel a bit better in the process.
Using less energy is always going to be beneficial for the environment.
Does It Affect The Longevity Of My Fridge?
If you talk to people in the RV community, you might hear that you should leave your fridge running all of the time because turning it on and off all the time will cause damage, and keeping it on will make it last longer. This is a long-standing myth, and not true.
RV fridges are designed for RVs. That means they can absolutely withstand being turned on and off regularly.
When on the road, there is no guarantee that you can maintain power in your fridge, so RV fridges are designed with that in mind.
Does The Type Of Fridge I Have Make A Difference?
There are a few different types of fridges you can get for your RV. Most of them will at least run on propane, but many offer the ability to switch between power types. These are called 2 way and 3 way fridges.
2 way fridges run on AC and propane, DC and propane or, just AC/DC electricity.

3 way fridges run on AC, DC or propane.
No matter the type, you will want to turn it off if you aren't using it consistently or traveling often. I would recommend one that offers the most versatility or even consider a solar-powered fridge which offers the most versatility.
Is There A Right Way To Turn My RV Fridge On And Off?
It kind of sounds like a hassle if you have to turn your fridge on and off and on and off again, right? It's not too difficult and the dollars saved from doing it will be well worth the effort.
Turning It Off
When you go to turn off your RV fridge, there are a few steps you'll want to take to save yourself headaches down the road.
First thing first, make sure you empty all the food from the fridge. This may seem like an obvious step but it's probably one of the most important ones. The last thing anyone wants is to get ready for an adventure and find a fridge full of rotted food.
Additionally, you should make sure that the fridge is cleaned. Dirty condiment bottles, sticky juice spills, and other messes can cause mold if left for too long.
Next, you'll want to turn off the fridge and make sure to disconnect it from propane and shut those valves off.
The last step is to make sure that the main fridge and freezer door are open for a minimum of 24 hours after turning it off. If you can leave them open the whole time your RV isn't being used, then that's even better. This will help prevent a build up of mold and mildew from any moisture that might remain inside the fridge.
Turning It Back On
If you've been away from your RV for an extended period of time, you'll want to check your RV's fridge about a week before you plan on getting back on the road. That way if you missed any spots or spills you now have time to clean it up properly. The same thing applies if any mold or mildew did start to grow in your absence you can take care of that without it affecting your travel plans.
24 to 36 hours before you plan on getting on the road, you should turn your fridge back on. That will give it enough time to sufficiently cool down ahead of time.
You can place some water bottles inside of the fridge before turning it on to help you get a sense of how cold the fridge is without having to use a thermometer, in case you don't have one handy.
When Should I Be Turning My Fridge Off?
You might be wondering when exactly you should be turning off your fridge. If you don't know the best practices you might end up having to go through the process too often or not often enough.
Are You Storing Your RV For The Season?
If you only go out in your RV during the warmer months and cover it during the winter, then you will want to turn off your RV fridge. Leaving it on for so long without needing to use the fridge is not worth the money it will most definitely cost you.
The only potential benefit to leaving your RV fridge on for a long period of disuse is that it can help you to avoid mold and mildew. Mold and mildew sound scary, but it's easy enough to prevent even if you turn off your fridge and easy enough to manage if it does come up. The money saved from keeping your fridge off in these off-seasons makes up for this possible hiccup.
When Is Your Next Trip Going To Be?
So, you aren't storing your RV away for the season, but you aren't exactly sure how long it will be before your next trip.
If you are using your RV all of the time or if you are a full-time RVer and are taking multiple trips per week, you probably don't need to worry about turning off your fridge at all. Considering the 24-hour rule mentioned above, it wouldn't make sense for you to turn your fridge off if you needed it every few days or sooner.
Cater your RV fridge to your lifestyle. It should never feel like a burden to have one, since in reality it's a luxury to have on the road with you. There are a number of steps to take when turning off your RV fridge, so only do it when you believe it's necessary. A good rule of thumb is that if you're taking your RV out once a month or less, that's when you should start turning off the fridge when you're not using it.
Should I Turn It Off While I Drive To My Destination?
While you're driving from one destination to another, you don't want to keep your fridge hooked up to propane. No one wants to or expects to get into an accident, but any accident can get exponentially worse if you have your propane hooked up and on. It can result in an explosion in the event of an accident. This video goes into more detail on some of the dangers around propane on the road:
That being said, you might be going far and don't want to deal with lukewarm cold cuts when you get to camp. If you have a 2 or 3 way fridge, you can easily switch these to run on electricity and unhook it from the propane tank. This will keep the fridge running safely while you drive and keep your food as cold as possible.
If you have a fridge that only runs on propane but you want to keep the food inside cold while you drive, follow the instructions I detailed earlier on but make sure that the doors stay locked shut and stock up on cold drinks to keep the temperature down for longer. As soon as you arrive at your campsite, hook the fridge back up so it can cool off quickly.
You don't have to turn off your fridge if it is using electricity for power, though you certainly can if you want to save another buck or two while on your journey. The steps to follow in this case are the same as if you unhooked it from propane. Keep the doors shut tightly, fill it with cold drinks and try to open the doors as few times as possible while on your journey.
At The End Of The Day…
Turning off your RV fridge is a simple process that everyone can and should do.
In fact, it is a vital step to take while you are driving your RV to avoid explosions and fire in the case of an accident.
Outside of that, it won't hurt your RV or your RV fridge if you do leave it on all the time, but best practices dictate that you should turn it off when not being used for a bit and while driving. There are far more benefits from turning it off regularly than there are from leaving it on at all times. It aids the environment and protects your wallet from unnecessary expenses.