Last updated on March 8th, 2023 at 12:55 pm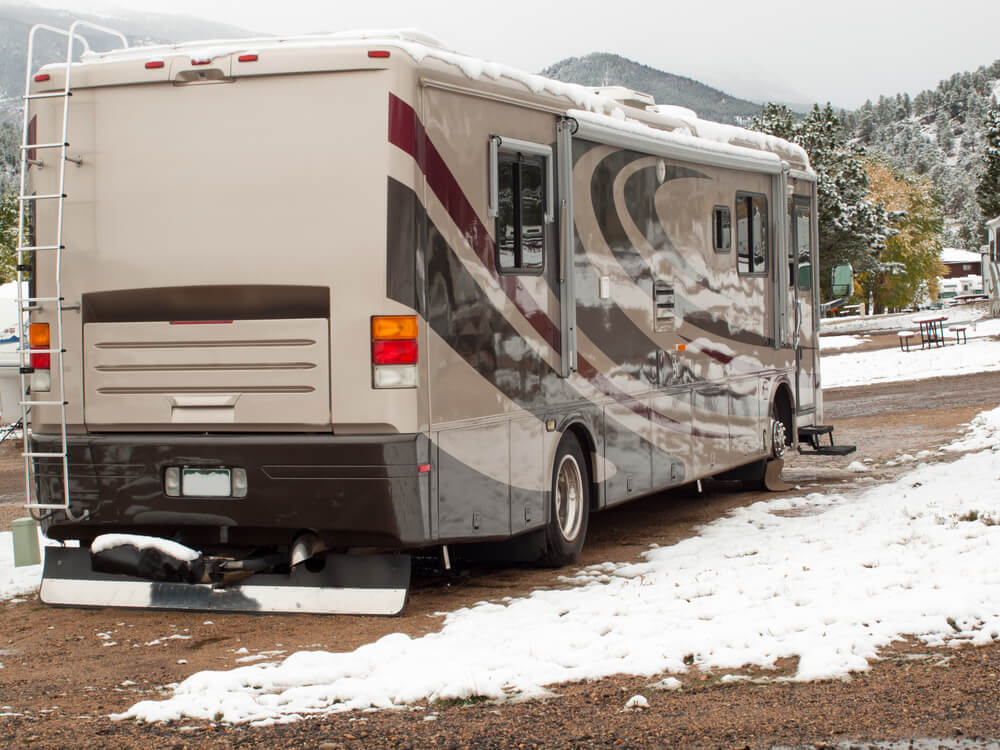 All of our reviews are based on exhaustive research, industry experience, and whenever possible, hands-on testing. When you make a purchase using one of our chosen links we'll a small percentage of the proceeds. This supports the site and keeps Jeffsetter running. You can read more here.
You and your family have enjoyed another wonderful year with your RV, camping, and traveling three out of four seasons, but now that the cold months are approaching you don't seem to have any plans to camp this winter, and you're wondering how best to store your new, or old rig.
Maybe you don't have a garage or other covered option on your property and you're wondering what might work best for your situation.
Thankfully, you're not alone, and RV covers make for excellent protection from the winter elements and harsh weather conditions! Even if you're storing your RV for a single season, you won't regret purchasing a cover for your rig!
If you're in a hurry and want to see my favorites, you can check them out here:
Why Cover Your RV?
There are many reasons for and many reasons against covering your RV, and only you can make that decision for yourself. For the sake of simplicity, here are some reasons covering your RV may be worth it. Don't be afraid to do your own research when it comes to covering your RV, as you may have your own reasons to not do so!
Covering your RV is a great idea for those of you lacking another cover option, such as a bay or garage. RVs procure the majority of their exterior damage during winter, from various weather conditions and pests, and internal damage can occur if proper steps aren't taken before storing!
RV covers are designed to keep out moisture, and pests, and protect your exterior finish from falling debris or sun damage. If you are concerned about any of these things, a cover may be a perfect match for you and your rig.
If you've noticed your rig's paint job fading year after year, a cover is a great idea! Even if you may not experience much extreme weather where you live, a cover will extend the life of your RV's overall look and aesthetic.
You may hear the argument that RVs are made to be outside; why cover a vehicle that is meant for the great outdoors!?
Of course, most rigs can handle a season or two uncovered, but it's just like any other maintenance or protection plan you may have for your various belongings. Your RV was an investment, meant to last a lifetime. Why not do whatever you can to extend the life of your rig, new or old?
What Should I Be Looking For In a Cover?
You may be wondering what to keep an eye out for when it comes to shopping for an RV cover. There are a few key factors to consider before you begin your shopping search, just so you don't get overwhelmed by the options!
Type of Cover
There are only two main types of cover for your RV, not including your home garage should your rig be small enough to be parked inside one. The two main types of cover are fabric or some sort of metal or wooden roofed structure, such as a more permanent bay or awning.
If you have the space on your property for a shelter or covered bay, it may be a smart idea to go the extra mile and pay for a more permanent cover for your RV. A more permanent cover, such as a metal awning or structure, will outlast a fabric cover at all times. It will be much more of an initial cost, but fabric covers are not usually strong enough to last more than five years.
Fabric covers are of course still a better option than nothing, especially if you don't have the space or option for a more permanent structure cover. We will be mainly discussing fabric covers, as these are the most common RV covers on the market.
Fabric covers will get the job done, and RV specific fabric covers are the way to go. Using a tarp or other undesignated fabric cover is not recommended, as these are often made of rougher materials, or aren't designed to handle a season of difficult weather.
Fabric Material
The fabric materials may matter when it comes to your new RV cover. In conjunction with the type of weather you face, it should be a top priority. These are the most common fabric materials and how they may affect your final decisions.
Polypropylene: a very common choice and is resistant to acid damage, cracking, and water, while still being breathable. It is not waterproof unless otherwise specified on the RV cover listing.
Polyester: another common material that offers excellent protection against UV rays.
Solution-dyed acrylic: a higher tech cover than most. It is made using UV-resistant dyes, perfect for sun protection. It also produces a waterproof coating for all-weather protection.
Polyethylene: a strong material that's both water and tear resistant. Also useful for high wind areas.
Amount of Layers
The number of layers present in your cover may affect your decision as well. The more layers it has, the more waterproof it is likely to be. It is important to keep in mind the breathability of the layers, but more layers usually make for a tougher cover.
You may also consider the location of the multiple layers, as many RV covers use extra layers for the roof but fewer layers for the sides. If you know you have a leaky window that needs resealing come spring, you may want to make sure your RV cover will keep that window protected!
Wind Vents
Wind vents are an important and advanced feature of RV covers, and one of the main reasons I recommend getting an RV specific cover. The main reason covers fail most RV owners is wind damage. Covers are often ripped and torn apart by high winds, and all it takes is one bad storm to ruin your investment!
Many RV covers these days utilize wind vents, perfectly placed holes or flaps in your RV cover that allow the wind to pass through or under. These may make or break a cover for you, especially if you know you live in a windy place. Nothing causes more damage to your rig than a loose and flapping RV cover!
Breathability
Do you live in a place with a lot of moisture? I live in the Pacific Northwest, so rain and moisture are a constant battle in my rig. Having a cover that advertises breathability is necessary for those of you battling a lot of rain.
There are covers that are more breathable than others, and this is important to keep in mind when shopping for one. The last thing you want is to remove your cover come spring and find your rig's roof covered in moss!
Water Resistant and UV Coatings
As mentioned above, solution-dyed acrylic is a great choice of cover material should you be hoping for maximum UV and water resistance. It's never a bad idea to look at these two options when shopping for a cover, but the chances of it costing more are likely.
Custom Fit VS Generic
Getting a cover that properly fits your RV is important, and you may find the need for a more custom fit cover. While most of the covers on this list will have common dimensions for rigs, you may bring a cover home and find the fit leaving something to be desired.
Custom fit RV covers may exist through your local RV dealer or RV manufacturer, but be prepared to pay a pretty penny for it. You may find the more generic covers fit well enough, but it's something to consider should a cover be something you're ready to invest in.
What Winter Weather Should I Consider?
Winter often spells the end of the camping season, especially if you experience a lot of snow in your area. The more difficult it is to travel, the less likely you are to see RVs on the road.
Another big consideration for what to cover your RV with has to be your local weather. Winter weather is why we cover our RVs, but what weather you have to contend with will influence what type of cover you need.
The top weather considerations for you to think about when shopping for a cover include:
Rainfall
Snowfall
Hail
UV rays
High winds
UV Rays
You may have never considered covering your RV if you live in a mostly dry climate in the wintertime. Likewise, if the sun is shining for you most of the winter, why cover your RV? After all, these rigs are made to be outside, and some of them are made for all four seasons or other extreme temperatures!
You'd be surprised at the many benefits that come from covering your RV in the wintertime. UV rays can be incredibly damaging to your exterior paint, they can dry out your sealants, and your tires can suffer the most from UV rays.
Getting a UV resistant cover can be incredibly beneficial for your RV, even if you only get covers for your tires. Those of you who live at higher elevations know the risks of sun damage and UV rays better than others. Chances are, you also battle snow every winter if you live in the higher elevation mountains!
Snow and Ice
Snow and ice are the trickiest parts of winter for most people. RVers who live in snowy climates know this better than most. In fact, snow and ice have been known to weigh down RV roofs enough to permanently dent them!
So what is the best solution when it comes to storing your rig in very snowy climates? A breathable fabric cover may do just fine, but many RV owners who can afford to do so opt for a metal roof bay to keep their RV in, or another sort of covered garage and storage area.
Having a roof over your RV but not directly resting on it is the best way to go. No damage will come to your RV, and you won't have to worry about snow resting atop it all season long!
However, dedicated RV bays and other covered buildings may not be in your budget or your building codes may not allow it. While it may be the best chance of protecting your RV, a breathable cover will still do the job better than nothing!
Rain
If you happen to live where it simply rains and perhaps hails on occasion, any number of fabric covers will work just fine for you. But having something that encourages the evaporation of moisture is important. Hence the need to look at breathable covers; these are designed to do just this.
Your RV roof can get mold and mildew damage quickly, especially if you reside in a particularly rainy place!
There are some tips and tricks further down in this article that may assist you when it comes to storing your RV under a cover in damp environments. However, there's no better alternative to a totally covered garage or bay when it comes to rainy or snowy conditions.
Breathable covers are the most popular choice for RV owners and come in a variety of sizes and weights. Since covers are taking the brunt of Mother Nature for you instead of passing it onto your RV, they are not designed to last forever. While a metal or otherwise permanent RV bay will stand the test of time, fabric RV covers usually have a lifespan of 2-4 years.
This is something to consider if you are worried about elemental damage to your RV. Is it worth it to pay the RV fabric cover price every few years ($300-$800), or do you have the space and budget for a more permanent structure? It all depends on your needs!
The Best RV Covers for Winter
Feeling confident about your RV cover needs and wants? Do you know what size you need, as well as what style you're hoping for? Great! Here are some of the best RV covers on the market, both for the winter months and beyond!
Best Overall: Leader Accessories Upgraded 27′-30′ Travel Trailer RV Cover
While you may not have the right size RV for this particular cover, Leader Accessories Upgraded 27′-30′ Travel Trailer RV Cover will suit a good majority of you! Leader also makes covers in various sizes, and comes in as an overall winner in terms of durability and price!
If installed properly, this cover can last you years. Thick, triple-ply top and single-ply sides protect against rain, snow, mildew, and scratches for all-weather protection. Integrated strap attachment and weighted toss bag system eliminate crawling under the RV to install tension straps. The tension panels reduce cover stress when tightening the straps.
With sides that roll up to allow access to the door, it's a breeze to check on the interior of your rig throughout the winter. An advanced air vent system reduces wind stress and vents out any potential inside moisture. This cover is breathable and highly water resistant!
Its exact measurements are 366 x 102 x 104 inches and it weighs close to 35 pounds. While this may seem difficult, most folks report that the cover is easy to install alone, with some additional tools.
Overall, this Leader cover is a winner and should last your winters for a few seasons to come. You can read more reviews and check the latest price on Amazon by clicking here.
Best on a Budget: NORTHING Updated Windproof 4 Layers Silver Coating Travel Trailer RV Cover
Hoping for an easy to install cover on a budget? This Northing Updated Windproof 4 Layers Silver Coating Travel Trailer RV Cover will not only fit a wide variety of RVs, but it will also do so inexpensively! This company offers you three options that can suit owners of 20′-22′ feet RVs, 22′-24′ feet, and 30′-35′, so it may end up being a perfect starter cover for you and your RV!
This RV cover might feel much more lightweight than most covers on this list, which make it easier to install. However, if you're thinking that this cover won't stand up to winter weather? Think again!
The Northing cover features a high-density silver-coated oxford material that isn't just waterproof, but it provides maximum resistance to the degradation caused by snow, rain storms, dust storms, and of course sun!
As I already mentioned this cover is easy to install no matter how big your RV. Once installed the cover is not moving even under the pressure of strong winds, thanks to the straps and buckles that go underneath the vehicle, plus the elastic bands add extra security.
With four zippered panels, you get to access the door, engine, and both side storage areas. I also appreciate that each zippered door has a hook and loops to secure them.
You might think this budget-friendly cover doesn't have anything else to offer, but it actually has six side air vents to keep your vehicle moisture free and safe from the winds. The durable material will protect your paint from abrasions and scratches. Adjustable front and rear tension panels provide a custom-like fit- which is super nice!
You can read more reviews and check out today's price on Amazon by clicking here.
Longest Lasting: KING BIRD Extra-Thick 4 Layers Travel Trailer RV Cover
If you're looking to invest and not replace your cover for many years, more often than not it's about maintenance and proper cover install. However, the KING BIRD Extra-Thick 4 Layers Travel Trailer RV Cover may last longer than most covers given its design, structure, and material usage.
Coming in a variety of sizes and styles, this RV cover is a big name in the game. And for good reason! KING BIRD has thought of everything, especially harsh winter weather. Reinforced straps are specially designed to better protect your RV cover against blowing away and tearing by heavy wind.
Extra thick 4-ply top fabric and 3-ply side non-woven fabric provide maximum weather and damage protection against harmful UV, rain, snow, dirt, nicks, and scratches. 6 air vents on both sides can effectively reduce wind stress and meanwhile, a quick dry system protects moisture from lingering against your rig.
This cover also comes with four tire covers included in the price, a great perk for those of you who haven't purchased tire covers yet! With its varied sizes and thick, breathable fabric options, it's no wonder KING BIRD is best for lasting year after year.
You can read more reviews, check out all the available sizes, and see today's price on Amazon by clicking here.
Best for Rain: COOLTOP 300D Travel Trailer RV Cover
Not only will this cover protect your rig from the worst of the elements, but it'll also look cool doing it. The COOLTOP 300D Travel Trailer RV Cover looks almost as cool as your rugged new rig, and it'll keep your exterior pristine for years to come!
While the polyester material ultimately makes this cover the best in the rain, it's ready to handle all other weather conditions too! This cover comes with 16 straps and buckles along the bottom, two reinforced straps designed with elasticized hem, and adjustable front and rear tension panels to protect your camper cover from blowing off.
This cover is easy to install with two people and comes in three different sizes. It is made of polyester, a breathable fabric, more waterproof than non-woven fabric, to keep out rain and snow. It also has built-in air vents to vent inside moisture and keep the trailer cover free from mildew.
With helpful reflector indicators and signs for the back of the cover leading to an easier install, this cover can be easier to install than some of the others. And if you're experiencing a rainy winter, it might be worth the investment.
You can read more reviews and check out today's price on Amazon by clicking here.
Best for Snow: Camco 56122 ULTRAGuard Supreme RV Cover
If you own an RV, no doubt you've heard of Camco. They make many products, from sewer hoses to vent covers. It's a household name when it comes to RVing, and their full RV cover is no exception. Looking for a real snowproof cover? Check out this Camco 56122 ULTRAGuard Supreme RV Cover!
Coming in many sizes so that you can get the best size for your RV, this cover shields your RV from the elements. The sides, front and back are made of three-layer non-woven polypropylene; the top is a three-layer material made of non-woven polypropylene and DuPont Tyvek. Perfect for when the snow gets deep atop the roof of your rig!
Zipper entry doors allow for easy access during covered storage, and Camco understands the importance of this. Covered air vents help prevent trapped moisture and mold, and these air vents keep the unit cooler and prevent billowing in high winds. Front and rear cinching straps reduce loose fabric, and an underbelly strap system provides a secure fit. This cover is perfect for snow and UV protection, and these often go hand in hand in winter!
You can check out all 8 size options, read more reviews and see today's price on Amazon by clicking here.
Best for UV Exposure: ADCO 34844 Designer Series DuPont Tyvek Travel Trailer Cover
The most damaging thing for RVs is often the one weather condition we never consider bad: a beautiful sunny day. UV exposure can do a lot of damage to your rig, from the paint to the sealant. Thankfully that's where this cover comes in! The ADCO 34844 Designer Series DuPont Tyvek Travel Trailer Cover actively repels UV rays, leading to your rig looking just as good as when you covered it!
This cover now boasts a slip-seam strapping system that cinches at the top and bottom for a perfectly snug fit and prevents the cover from wind damage. Reinforcements exist throughout the bottom and top of the side panels. More durable polypropylene side walls offer protection from all elements. Every cover comes with 4 travel tire guards as well as a 3 year warranty!
Could this cover be easy to install as well!?
A weighted buckle toss-under makes snapping buckles on opposing sides of the cover a breeze. Zipper entry doors for easy access while in storage. ADCO RV covers offer top protection for any climate. A DuPont Tyvek roof offers protection against fierce weather climates and provides optimum protection against the sun's harsh rays. High performance polypropylene sides ensure maximum breathability and virtually eliminate mold and mildew.
ADCO has amazing customer service and makes a variety of cover sizes. If you're worried about UV exposure, this cover definitely has your back, and it'll protect your rig from many other weather conditions too!
You can read more reviews and check today's price on Amazon by clicking here.
Best for High Winds: RVMasking Heavy Duty 300D Top Windproof Travel Trailer Cover
This RV cover is nothing to scoff at, especially if you live in a place experiencing high winds! The RVMasking Heavy Duty 300D Top Windproof Travel Trailer Cover has windproof in its title for good reason because it's perfect for those of you worried about windstorms this winter. Not only is it windproof, but this cover will also see you through any tough storm!
You'll avoid your roof's fabric aging and disintegrating caused by sun exposure like other products on the market, as this heavy duty cover is anti-aging and tear resistant. RVMasking offers a 3 Year Warranty, 30 days money back guarantee, as well as a customer service line should you experience any issues! However, since this cover is made with 300D Oxford Top and 210D Oxford Side, you may not need to worry about your warranty.
With the waterproof coating and anti-UV coating, this cover has better water resistance and durability than most! The six waterproof straps and buckles along the bottom are more anti-aging than the outside straps, with extra all-around straps specially designed for high winds!
Having these specially designed straps protects your cover against blowing away and tearing by heavy wind. Elasticized hem corners and adjustable front and rear tension panels provide a tight, custom fit.
A weighted buckle toss-under system makes for an easy installation of this cover. Rollable zippered doors lead to easy access to the engine areas anytime. Thick handles at the top corners help to easily remove the cover, and many air vents reduce wind stress and vent inside moisture. Overall, this cover is one of my favorites!
You can read more reviews and see today's price on Amazon by clicking here.
Best Freestanding Cover: Peaktop Outdoor 10 x 20 ft Upgraded Heavy Duty Carport
Are you hoping for a more permanent structure for your RV but don't want to construct a whole metal thing? Check out the Peaktop Outdoor 10 x 20 ft Upgraded Heavy Duty Carport, a solution for those of you not facing too much intense weather and looking to store your smaller rig!
Measuring 10 x 20 x 9.2ft (H), this cover may not be ideal for most larger rigs. However, your teardrop or smaller travel trailer will have no trouble fitting under this! Galvanized heavy duty metal connectors resist chipping, peeling, rust and corrosion and provide increased stability. The reinforced triangular sleeve structure improves the stability of the carport when the cover is overhead.
Extra-thick polyethylene fabric, durable anti-UV, waterproof, tear resistance cover can provide your rig with maximum weather damage protection against harmful UV rays, rain, snow, dirt, and scratches. The edge of the top cover is lengthened to 10 inches, effectively protecting vehicles from rainwater penetration under the car canopy.
Each leg pole is covered by a protective cloth with adjustable hooks, making the whole cover tightly connected with the frame to protect it from the wind. Plus there's a 1 Year Warranty for all covers and poles as well as lifetime replacement for foot pads, connectors, pegs, ropes, and elastic ropes.
While it may not be the right fit for your rig, this more permanent structure may be perfect for milder winters and more year-round use for those of you not looking forward to packing up a fabric cover every year!
You can take a closer look at this freestanding cover, read more reviews, and check today's price on Amazon by clicking here.
How to Measure Your RV for a Cover
Measuring your RV is the most important step you must take before purchasing a cover. If you don't purchase a properly sized cover, the chances of it becoming damaged are much greater!
Here are some steps you can take to get an accurate measurement for your rig, and you can also check this very informative video!
1: Measure Your RV From Bumper to Bumper
If anything sticks out past the bumpers, make note of what it is and how far it sticks out. Determine if it is something you would like covered by the RV cover or if it can exist outside the cover. Do not include the hitches in your measurements.
2: Measure the Height of Your RV
When measuring the height of the RV, measure from the top of the outside roof to the bottom of the frame. Do not measure to the top of the wheel wells or all the way to the ground, as most covers do not cover your tires.
3: Measure the Width of Your RV
Measure the width of the RV from side to side. Go to the front of the RV or trailer and measure the widest part. Just like with height and width, do not include awnings or mirrors, or any other accessories.
Installing Your RV Cover
Installing your new cover may prove the toughest part of this process. It may take over an hour and you may need additional hands to help with the process. However, here are some steps you can take to make the process smoother!
1: Place the cover at the rear of the RV first. Find the front of the cover while it is spread out on the ground.
2: Lower all antennas or other roof accessories. Pad any and all sharp corners, gutters, and all protruding objects that stick out of your RV (mirrors, bumpers, A/C units, etc.). Pad anything that could snag or tear a hole in the cover. Many RVers use pool noodles or cut tennis balls to accomplish this.
3: Pull the front of the cover up with you, on the ladder, or even up on the roof if you own a large rig. Once on top of the RV, pull as much as you can onto the roof with you, creating a pile of cover atop the rig. Once the pile gets big enough, stretch it towards the front of the RV.
4: Move to the front of your rig by placing the cover over the corners, working your way towards the back, and allowing the cover to drape over all the sides of the RV.
5: Make sure all corners are covered atop the roof. Climb down the ladder, pulling the cover down with you to cover the final side of the rig.
6: Now that you are off the roof begin adjusting the cover all the way around the RV. First, secure the rear corners under the RV and make your way around the front to do the same with the front corners.
RV Cover Maintenance
Just like your RV or many other items in your home, your RV cover needs maintenance to better promote the life of it. You may find that maintaining your cover is too much of a hassle, but if you've made the investment, why not follow a few extra steps to ensure some extra time with your new cover?!
The most troublesome part of an RV cover is putting it away. But you'll soon discover that storing your RV cover safely, just like you safely stored your RV under it, will yield the best results, year after year! Store your RV cover someplace dry and out of the sun. If your cover came with a bag or case, always replace it inside at the end of the winter.
Your cover should also never be put away wet. Not only are RV covers difficult to manage while wet, but the chance of mold growth, while it is in storage, is also high. So make sure your cover is given a chance to fully dry out before wrangling it back into its bag!
There are often waterproof or UV-resistant chemicals that you can purchase for your RV cover. Sprays and solvents can be a good idea for you and your RV cover, but these should be reapplied before storing your cover at the end of winter.
You should also inspect the cover before storing it at the end of winter. Check for any tears and wear, and if you find any, plan to repair it before winter arrives again. If the damage seems too great and you need to purchase a new cover, plan to do so before winter as well.
The last thing you want is to not have a cover when you need it most! Maintaining your cover just like you maintain your RV will lead to more peace of mind and comfort when it comes time to store the rig for winter!
What About Inside My RV?
Are you worried about the interior of your RV when it comes to storing it for the winter? This is smart of you to be considering as well, as your RV interior needs protecting just as much as your exterior!
You may think a cover is the ultimate protection for your RV, and it certainly will benefit you and the lifespan of your rig! However, the interior of your RV can benefit from a few things as well before you store it.
Make sure all of your windows and doors are closed as well as batteries unhooked, tanks emptied, and appliances turned off. Use dryer sheets in all low lying corners; the smell deters many pests.
The number one recommendation I have is to purchase some sort of moisture absorber, and maybe purchase a few depending on the size of your rig. Setting these little guys up throughout your RV should protect it from interior moisture and mold that thrive while your RV is left sitting and it can be detrimental to your health. They are common and can be purchased at almost any store, especially in winter.
Make sure you check these moisture absorbers often, as their lifespan depends on the amount of moisture present. Checking on the interior of your rig throughout the winter is a good idea for these as well as checking on the potential presence of pests.
It may seem like a nice idea to simply cover your RV and leave it until your spring camping trip, but consistent maintenance and observation is a better idea. I've known too many RVers run into trouble, trouble that could have been avoided if only they had checked on their rig while it was in storage!
Conclusion
No matter the season, your RV should be protected and taken care of. Your investment matters and an RV cover might be the perfect addition to your RV accessories. Winter weather can be intense and harmful to even the most rugged rig. Take the time to cover it, and you'll have the peace of mind you're looking for this winter!