Our Big Adventure
Skyline Eco Adventures Akaka Falls
My first day on-island was pretty boring work stuff.  I did visit the Pu'uhonua O Honaunau National Park, otherwise known as the Place of Refuge, but the weather was bad and my photos didn't come out.  Following that I picked up the wife from the airport, we had dinner, and went to bed.  Fast forward to day 2 for me, day 1 for the wife, we decided to check out Skyline Eco Adventures Akaka Falls near the town of Honomu and the Big Island's east side.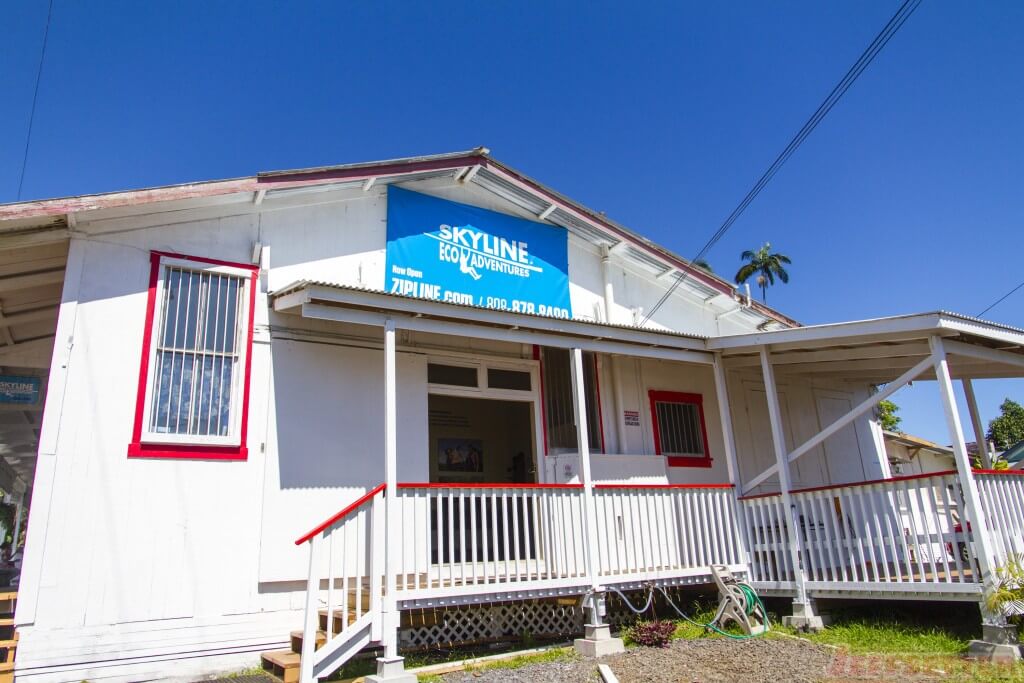 The wife had always wanted to try zip lining, and since she found a Groupon for this particular one, we figured why not?  Despite the name, Skyline Eco Adventures Akaka Falls is near Akaka Falls, but you don't actually see the falls from the tour.  Our reservation was a 10:00 a.m., so with a 2 hour drive from Kona, we left the hotel at about 7:30 a.m. to make it on time.  Once there, we checked in and had to go over and sign some disclaimers and liability clauses.  Storage is provided for small items, and it's highly suggested you take advantage of this so as not to lose your keys over a deep valley.  GoPros are also available for rent.
With all the formalities out of the way, we were issued our harnesses and helmets.  Our guides introduces themselves to us, went over some information and rules, then helped us into our gear.  Once the entire group was ready, we boarded some pretty battered vans and set out over a rough dirt road up to our first line.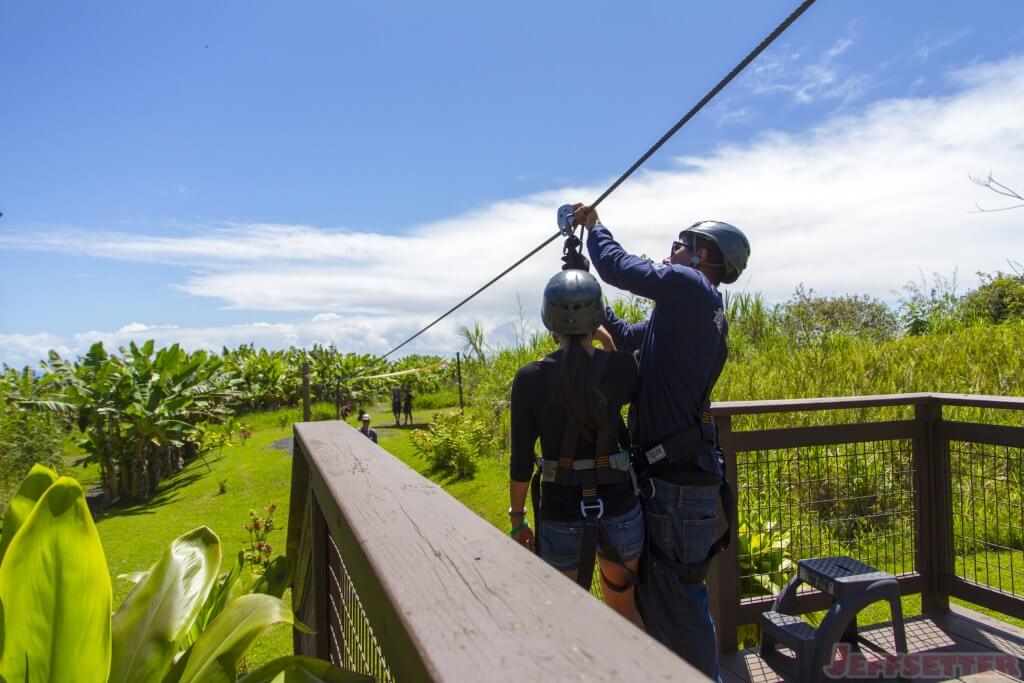 The first line is rather underwhelming, but is meant as an introduction to zip lining.  While short and not exhilarating, it's a good gauge of whether or not you'll be able to handle the rest of the tour in a safe environment.  There's also a nice view of Mauna Kea off in the distance.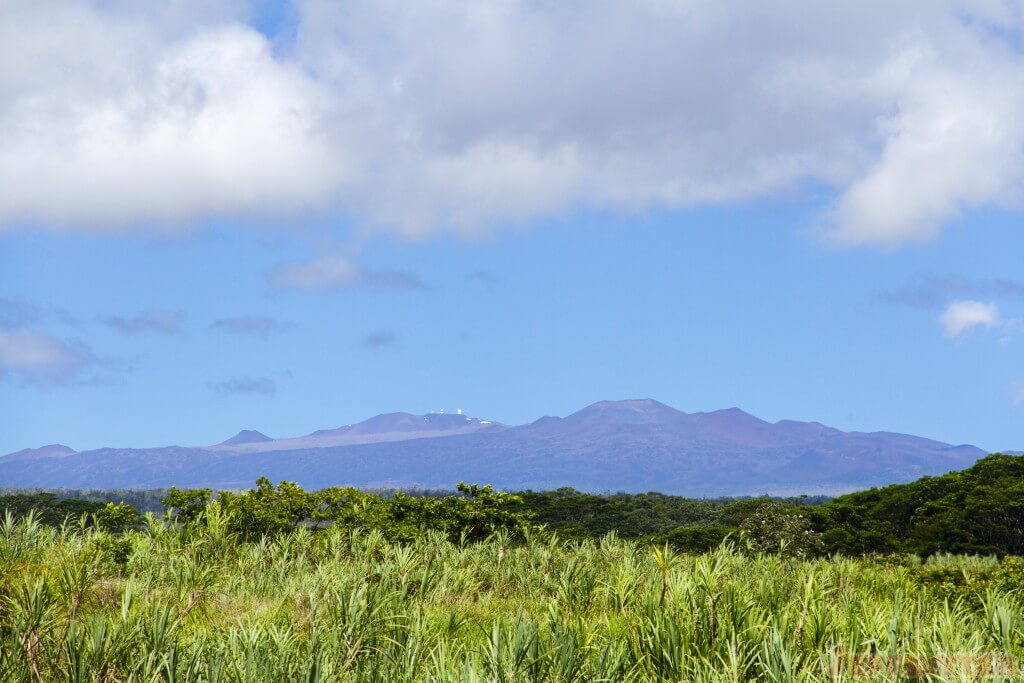 It was summer, so no snow on the peaks, but you can see the observatories.  In the foreground is sugarcane growing wild, a remanent of the once predominant sugar plantations of the area.
The second line is a little longer, but still not all that interesting.  I forgot to mention earlier, but at each line, you'll learn a Hawaiian word.  This line's word is Mai'a, or banana, and we were offered some apple bananas to try.  If you've never had, apple bananas are a smaller variety, with a firmer texture, and a nice sweet/tart flavor.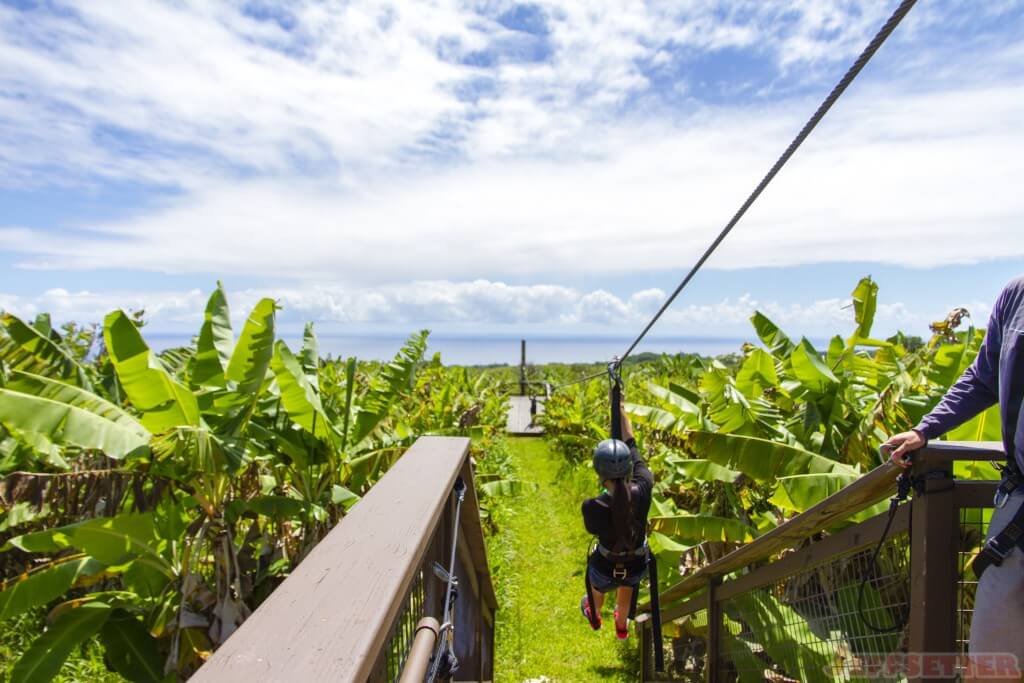 Line 3 is where things started to get interesting.  It was much longer than the previous two and no longer had land underneath you.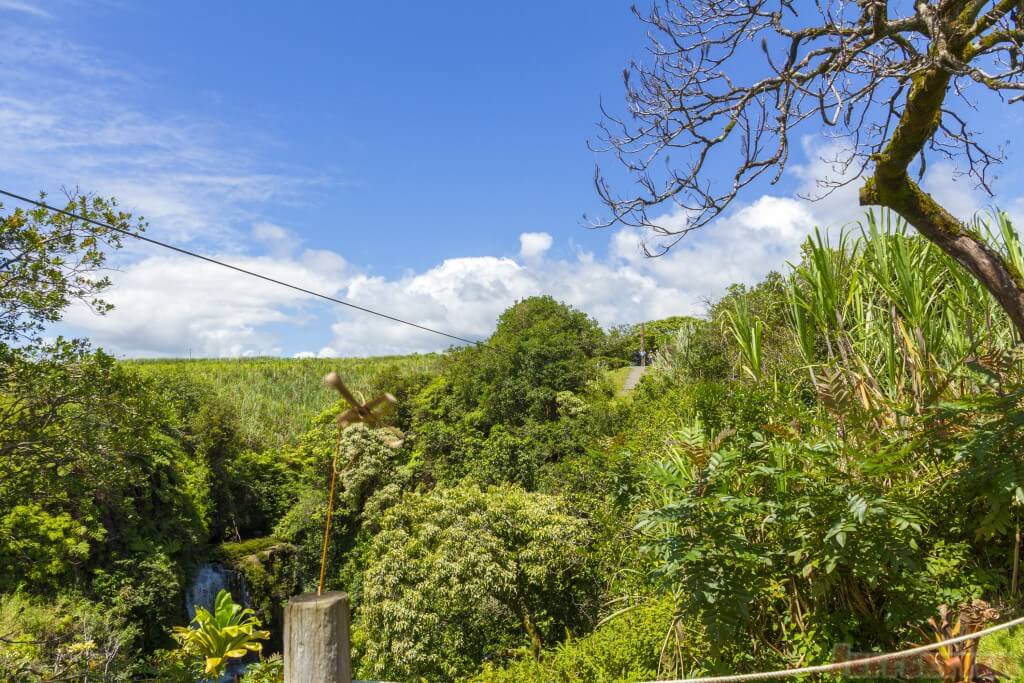 This was also the first that had some scenery, in this case a small waterfall.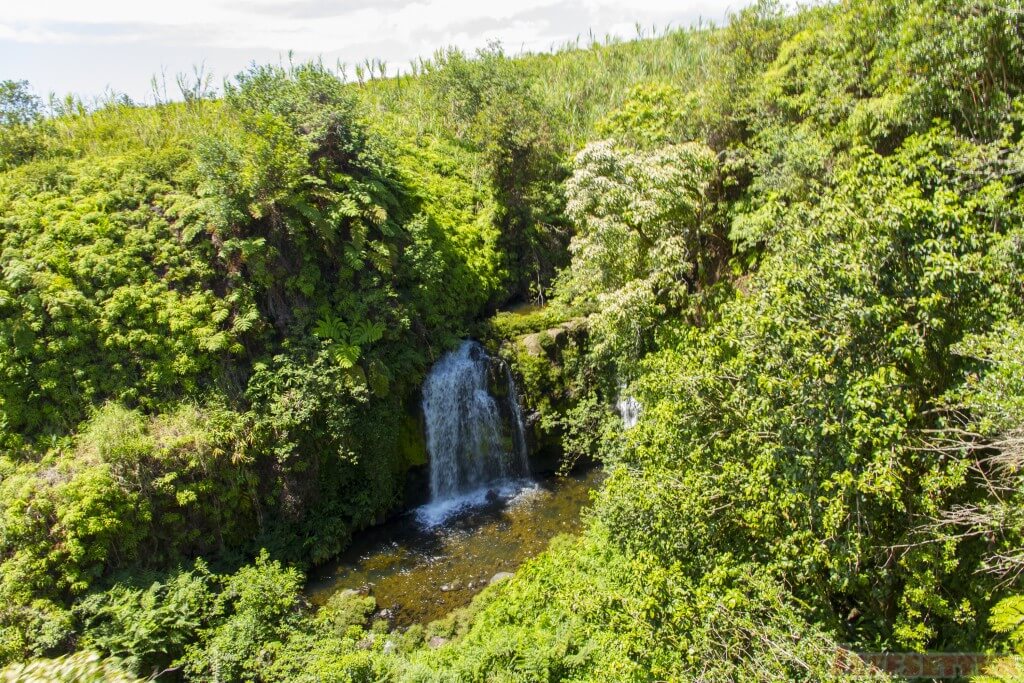 After line 3, there was a little bit of a walk to line 4 through the banana fields.
Line 4 would be the longest, and fastest line yet.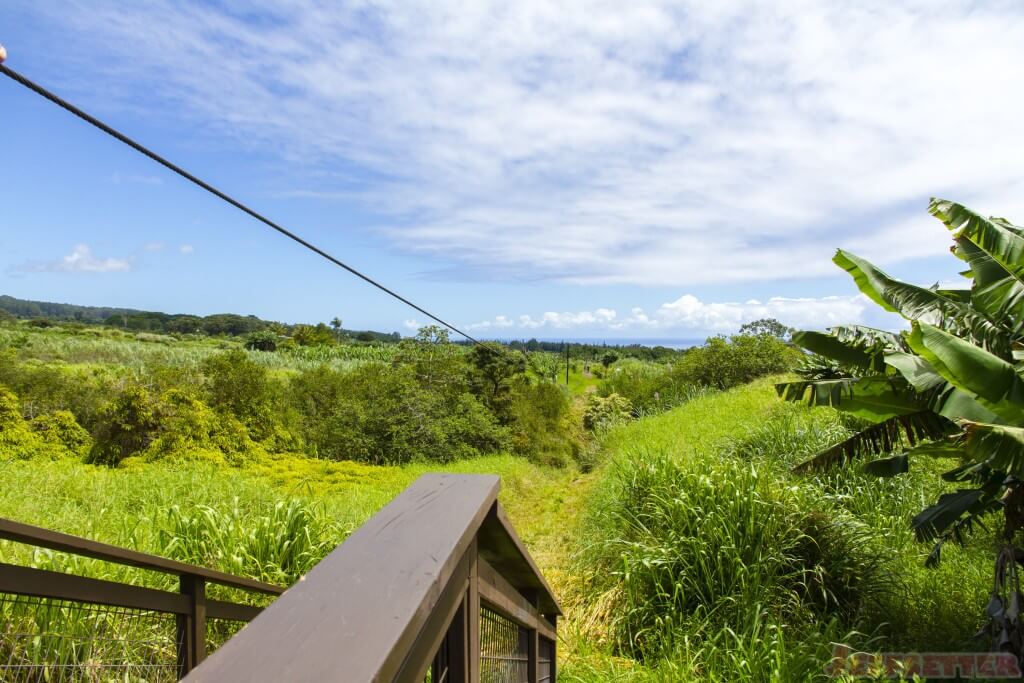 Unlike line 3, however, there would be no views.  Instead, line 4 offered a through the treetops type of experience and was used to teach us how to control our ride.
Like line 4, line 5 also had no view.  Instead this line was more about getting us used to the higher speeds and ride control practice.  And while there was no view, the higher speed definitely made this line fun.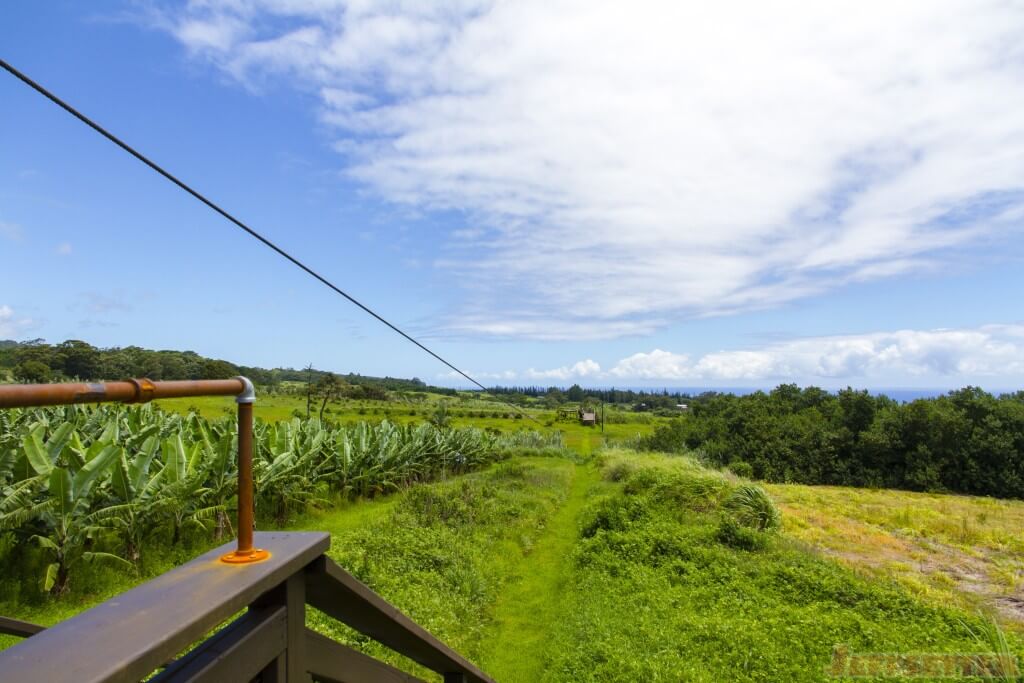 The walk from line 5 to 6 is a bit longer than the previous walks, but the views were fantastic.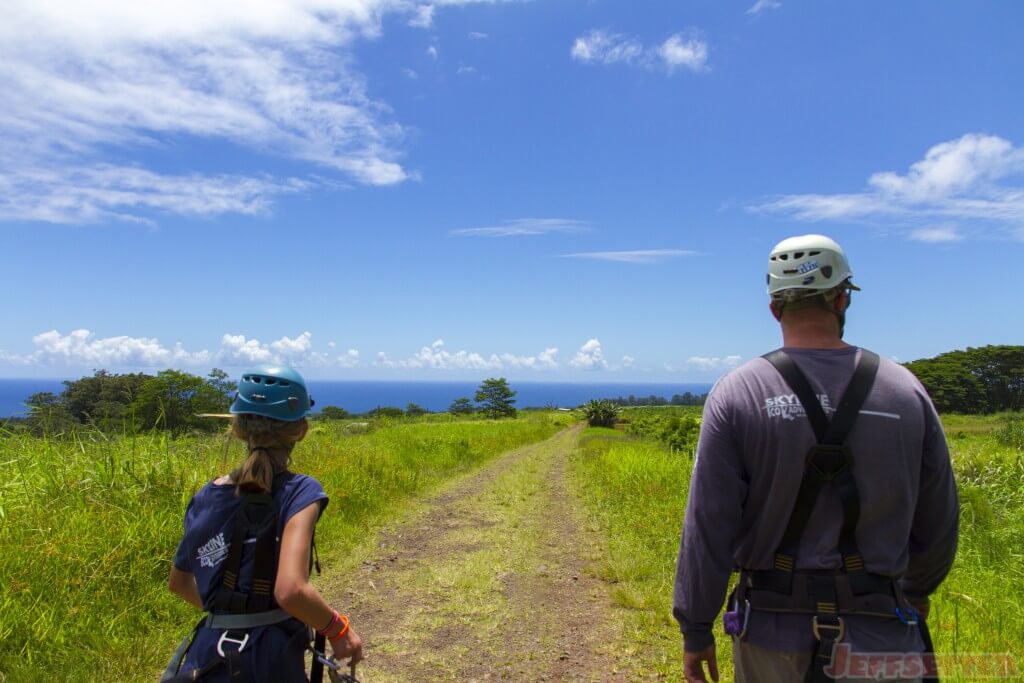 Line 6, as the trend goes, would be even longer than the last two.  This one is clearly more of a positioning ride, but the views were pretty great.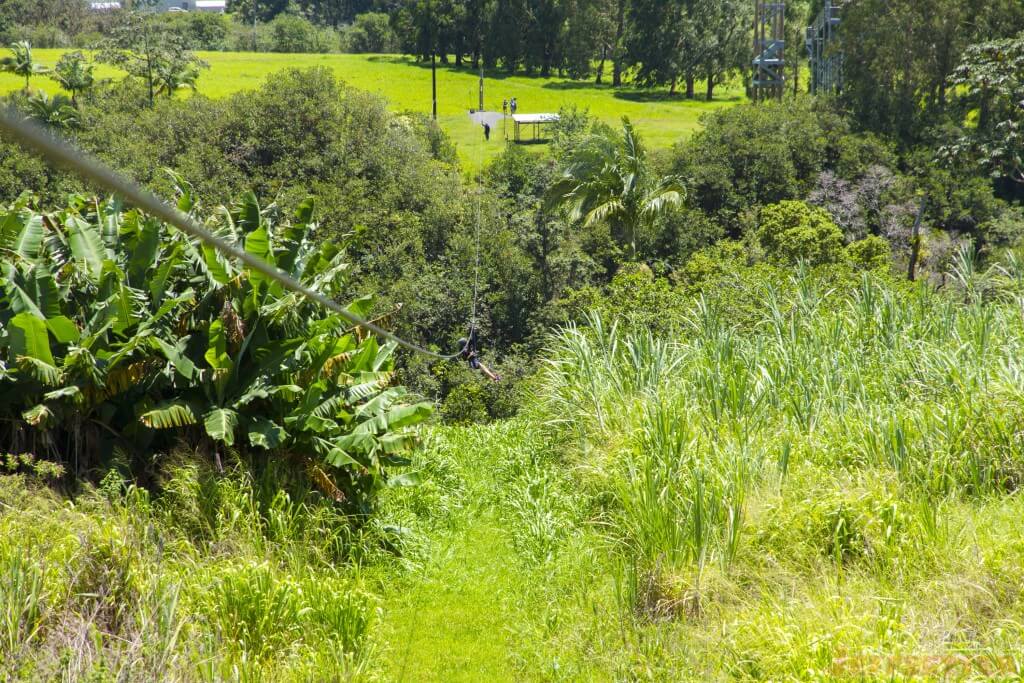 Line 6 offers up some nice views of the ocean, as well as a river in the valley below.  If you look closely, you may even see some small waterfalls along the walls of the valley.  The end point of this line is the beginning of the 7th and final line.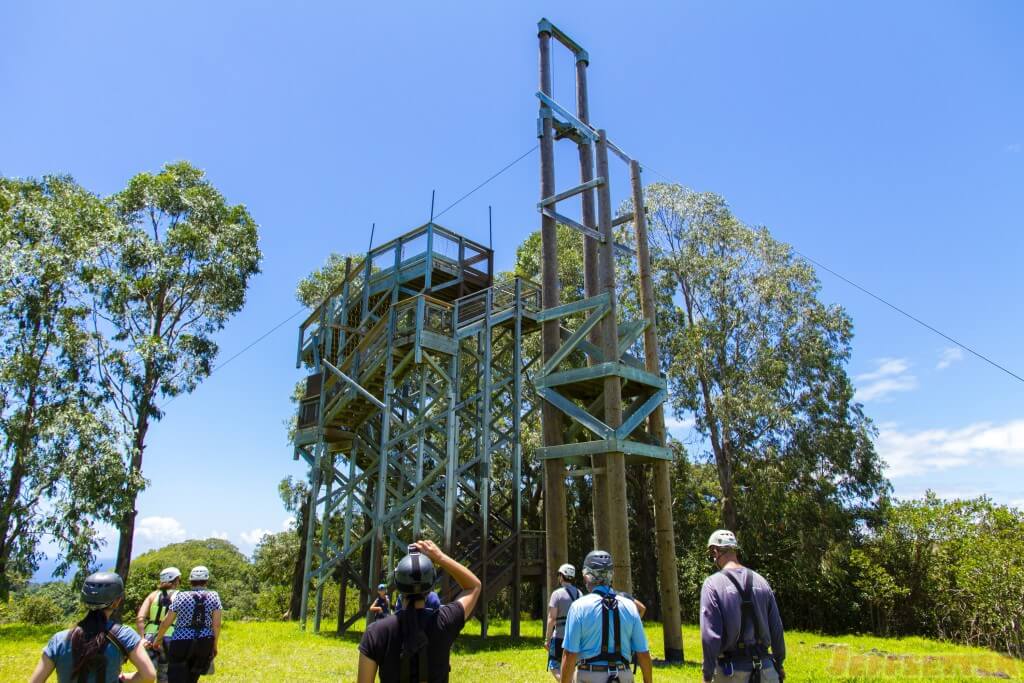 While there's no walk to the launch point of line 7, you do need to club up a lot of stairs.  And while you wait your turn, there are some sights to see, like this greeting in the grass.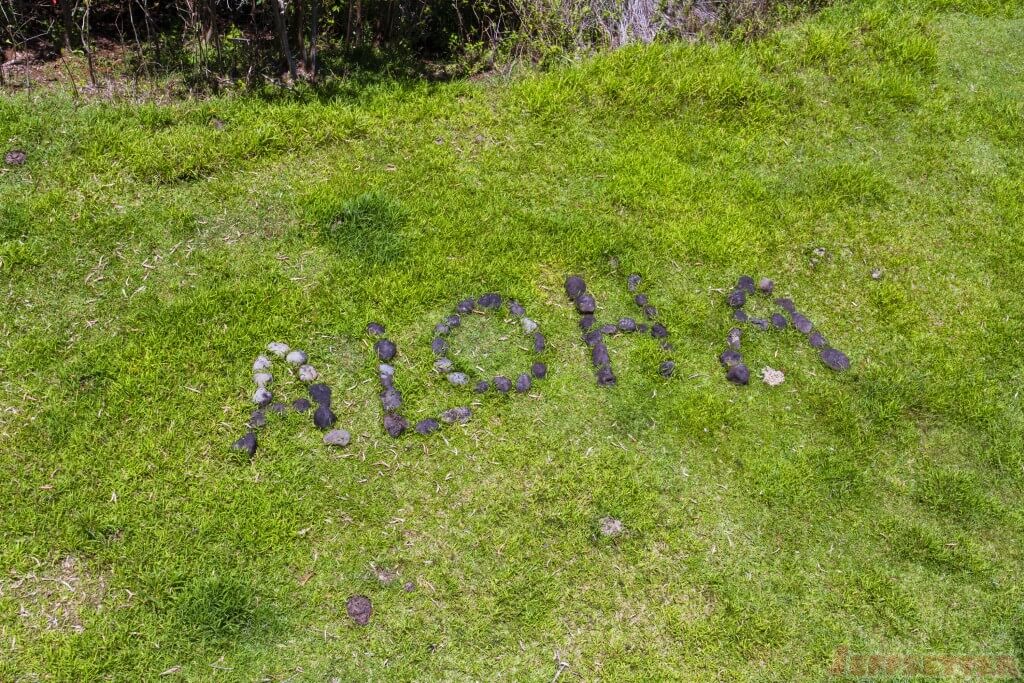 And if you're lucky, you may even see and/or hear an I'o, or Hawaiian Hawk, soaring overhead.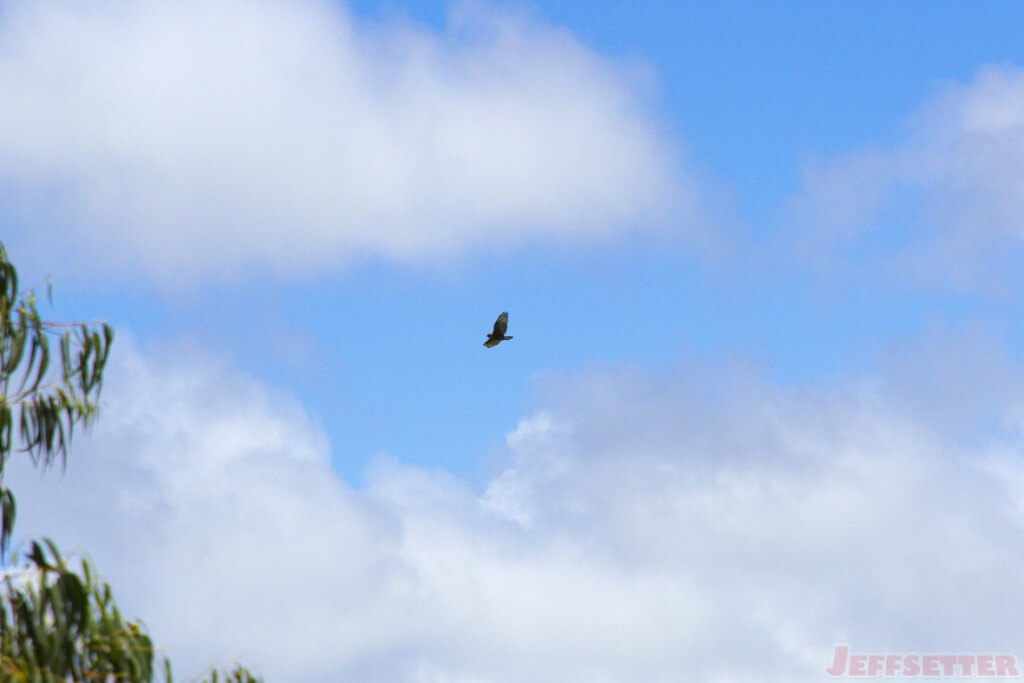 If you haven't already caught on to the progress of the tour, this line is by far the longest and fastest.  I mean, look at how high up you are!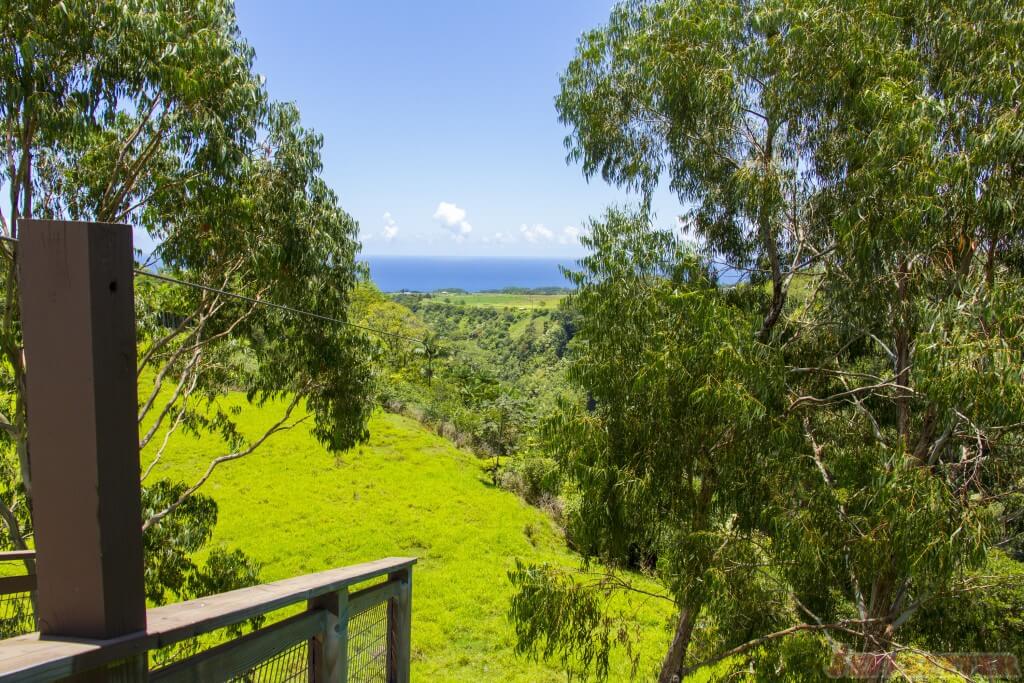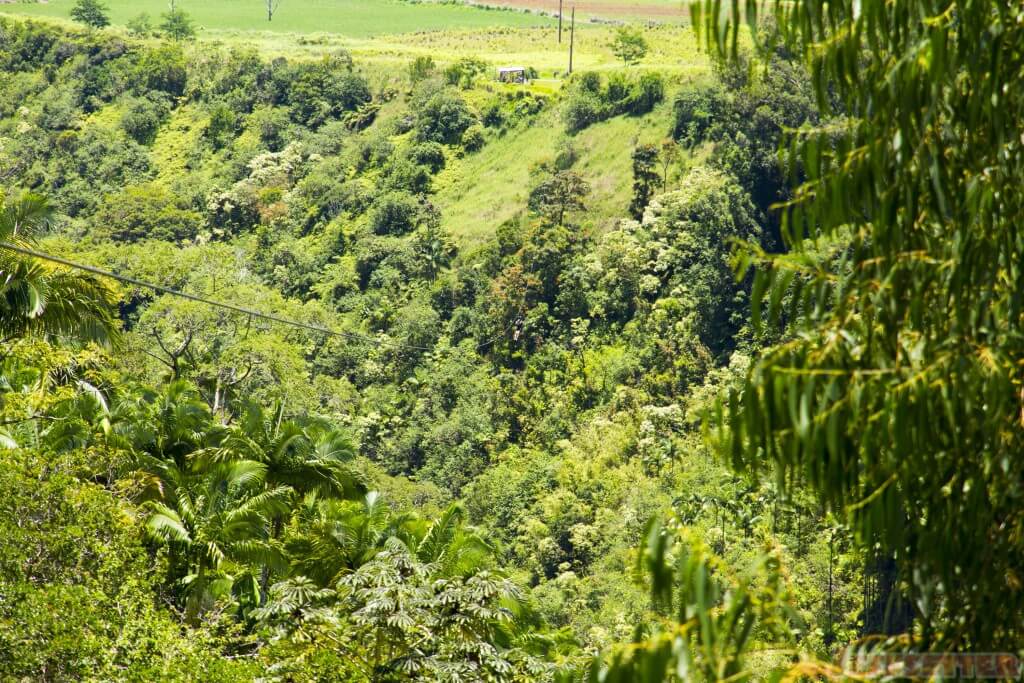 Can you make out that tiny structure on the other side?  That's where you're going.  Oh, and you'll also want to do this line facing backwards so you can see the spectacular waterfall.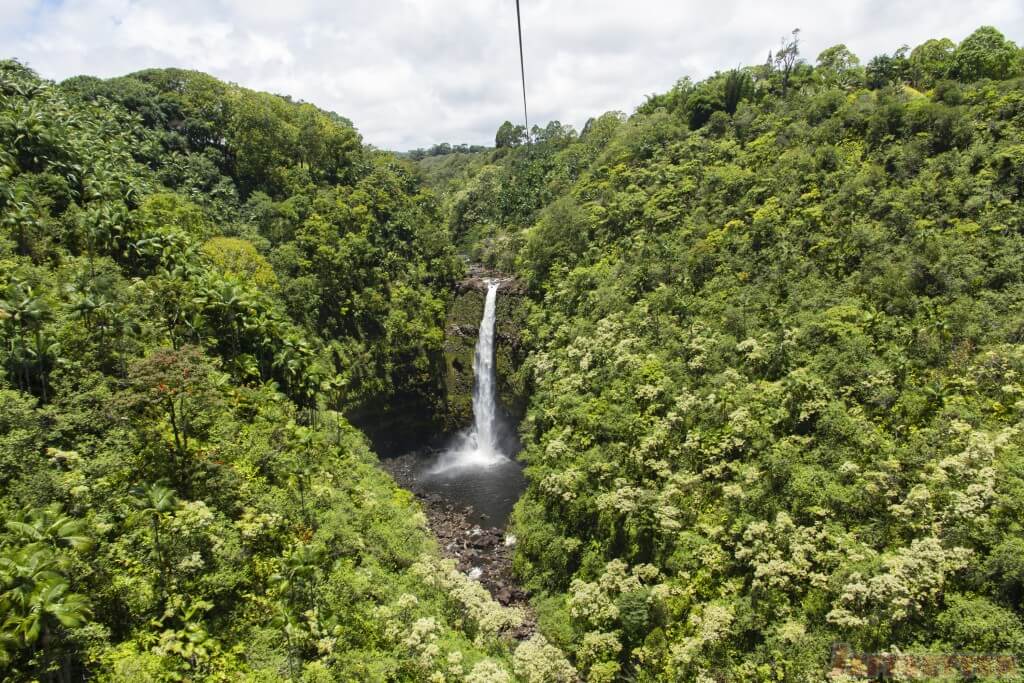 Facing backwards doesn't mean you're strapped in backwards, though; rather you need to turn yourself around as was practiced on the previous lines.  You'll also need to turn yourself to face forward by the time you reach the end of this line.  The below video is one I took on my ride of the 7th line.  The break in the middle was me stopping my camera to snap the above picture.  Note: if you get motion sick from watching videos, you may want to skip the first few seconds.  My launch was a little funky and I ended up twisting around a couple times.
Once you reach the end of line 7, the crew will stabilize you and put a moveable metal stairs under you to climb down.  There's a nice viewing area to take more photos of the waterfall here, and the guides are more than happy to take pictures too.  Once everyone is set, it back into the van for a bumpy ride down the road.
If you're the adventurous type or just looking for an activity that's a lot of fun, I'd definitely check out the Skyline Eco Adventures Akaka Falls zip line.  At $170/person, it isn't the cheapest activity, but check Groupon to see if they have a special offer that day.  And if you're worried about fear of heights, your's truly actually has a fear of heights.  I even get scared driving near a shear drop, even if there's sturdy guardrails in the way.  But you know what?  I had no fears doing this zip line, especially since Skyline Eco Adventures is one of the most experienced and safest operations in the state.  I'd do this one again in a heartbeat!