Our Big Adventure 
Flight Review:  Hawaiian Airlines from Honolulu to Kona
Last year I had to take a day trip to the Big Island for work, so I decided to extend it to a quick 4-day trip.  The default choice for traveling inter-island, and especially the Big Island, is Hawaiian Airlines.  Despite this being a short trip, I needed to check a bag thanks to a the photography gear I'd be lugging with me, and arrived at the airport an hour early for my 6:22 a.m. departure.  After dropping my bag off, I headed toward the Hawaiian Airlines terminal TSA check-point.  Unfortunately they don't open Pre-Check here until 7am despite the intense volume of passengers flying at this time, especially business travelers.  The lines were really long and the whole experience was made worst by a Hawaiian employee constantly yelling about a specific line being reserved for HawaiianMiles Elite and first class passengers only.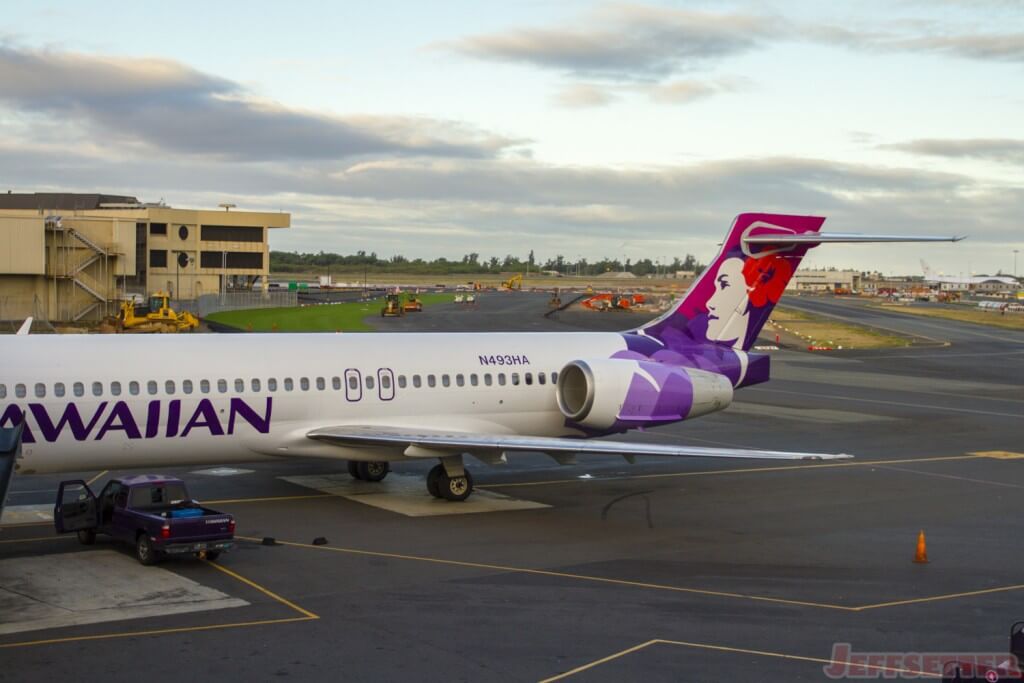 Ones through, I headed to my gate at the far end of the Hawaiian terminal (gates in the 50 range), which is the former Aloha Airlines terminal.  Boarding time came and past with zero update from Hawaiian's ground staff regarding the status of my flight. It would be a few more minutes before a gate agent announced that our flight has been delayed due to technical issues with our aircraft.  Almost 30 minutes later it was announced that we'd be having an equipment swap and would need to head over to the other side of the terminal.
HA338, HNL – KOA, Boeing 717-200
Once most of the passengers arrived at the new gate, along with the gate personnel and crew, boarding commenced.  The flight was full, but boarding was pretty quick.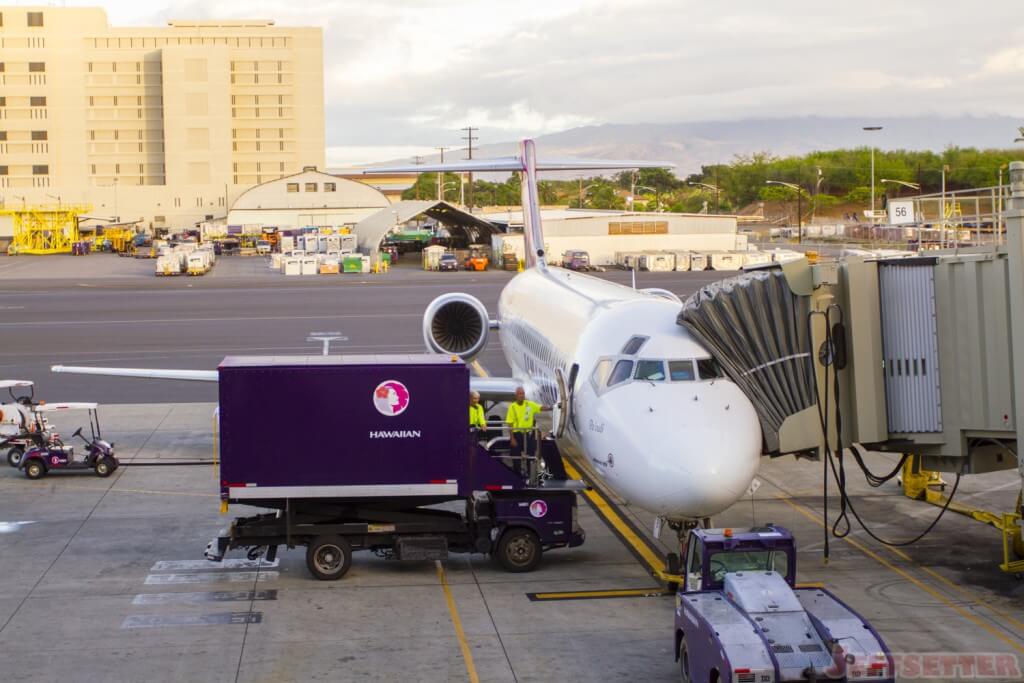 Finally, over 45 minutes late, the flight attendants close the door and we push back for our 40 minute flight to Keahole, the Kona International Airpot.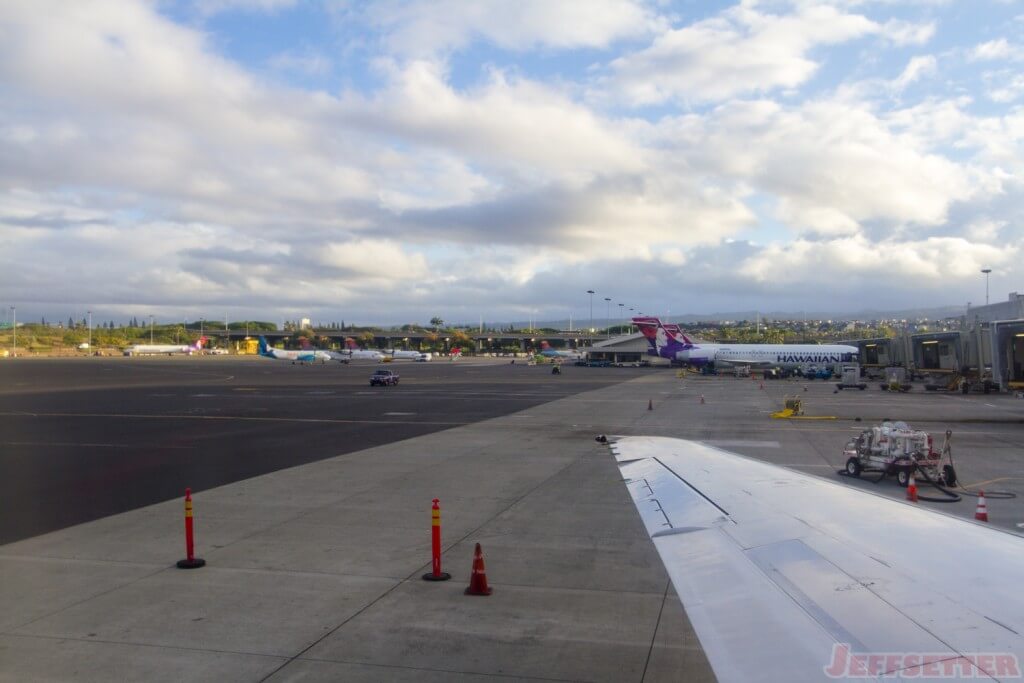 After a quick 5 minute taxi we were immediately cleared for takeoff from HNL's runway 8L.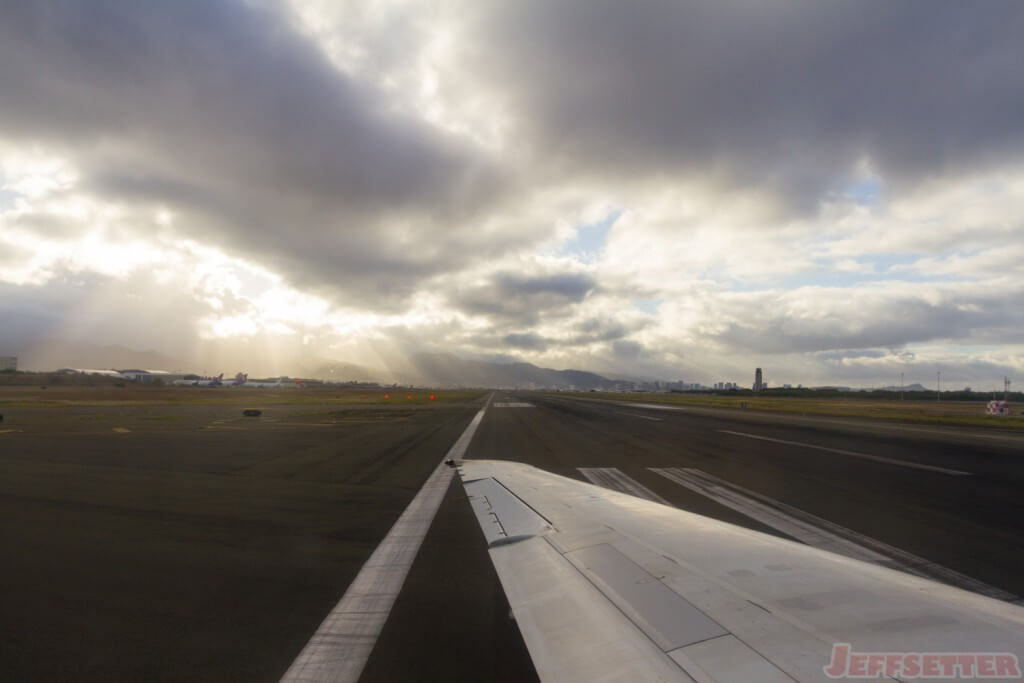 Thanks to my last minute booking, I was seated all the way in the back, near the engines.  So with the roar of the 717's BMW Rolls-Royce BR700 turbofan engines, we rocketed down the runway and were airborne in no time.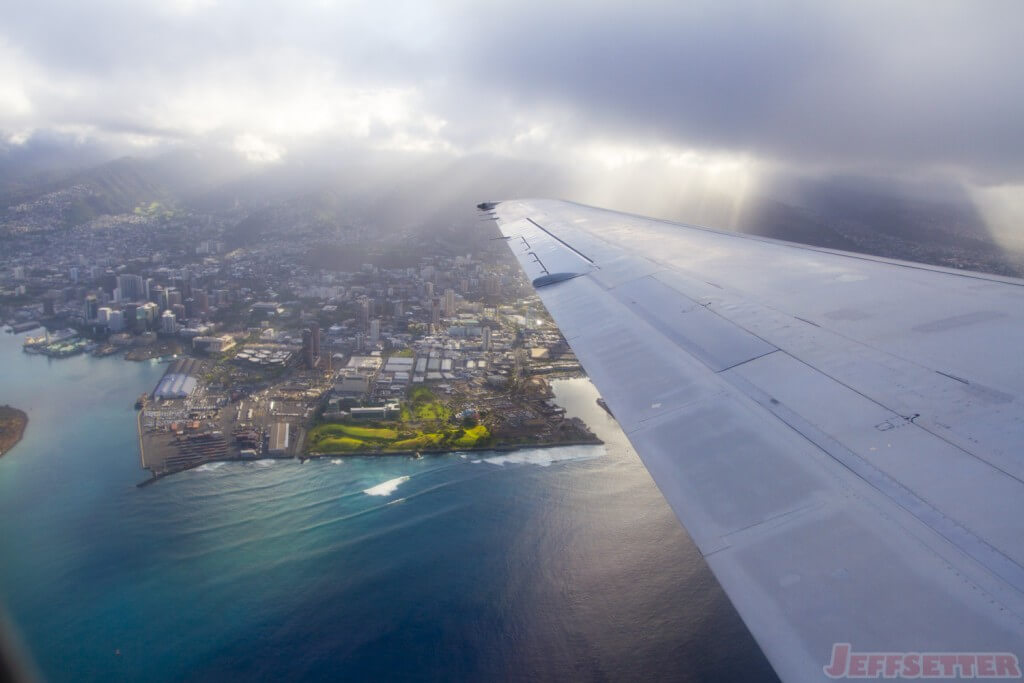 If you sit on the port side of the aircraft (the side with 2 seats/row) you'll be treated with great views of downtown Honolulu, Waikiki, and Diamond Head on the climb out.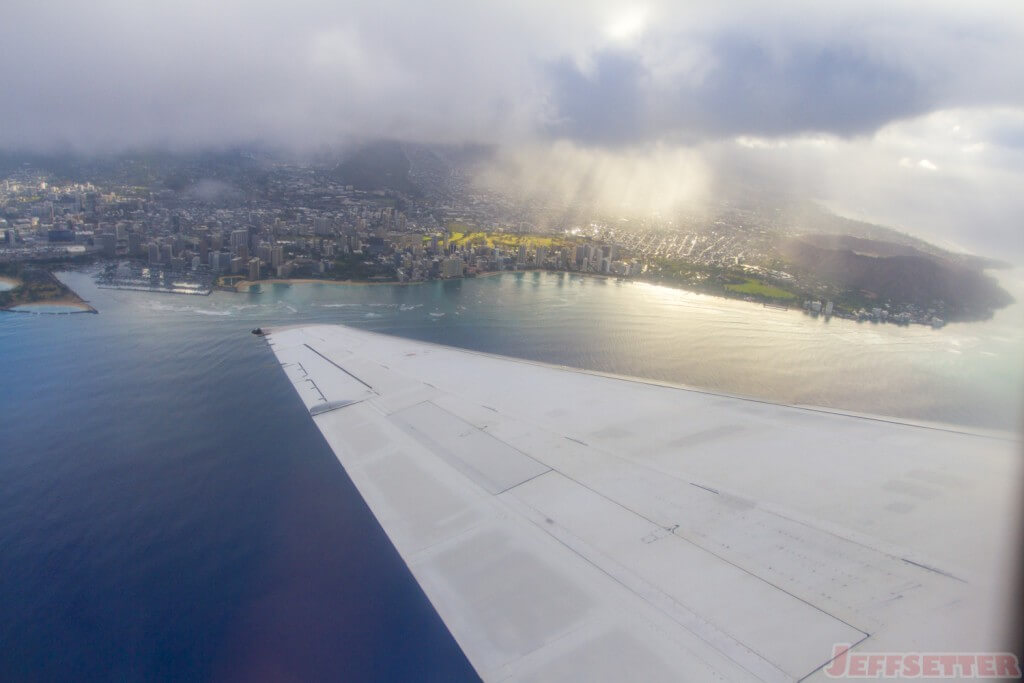 Thanks to the thick cloud cover, I wasn't able to see Lanai, Molokai, and Maui from our cruising altitude.  Instead, I decided to read Hawaiian's in-flight magazine, "Hana Hou!" and sip on some Passion Orange juice.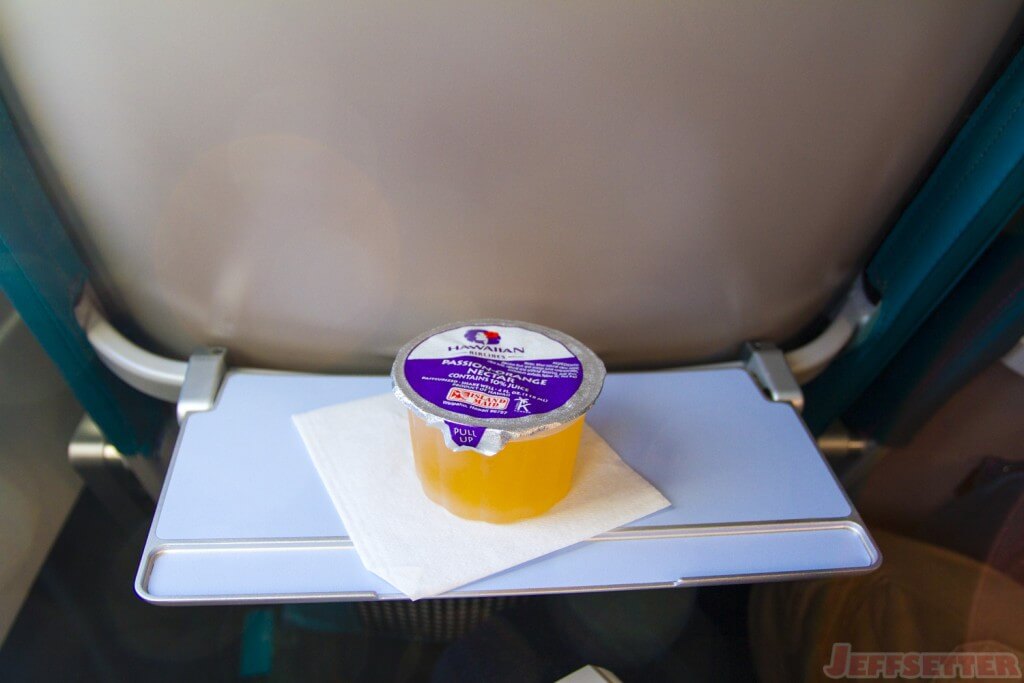 And in no time we were descending toward the lava desert that in the Keahole area of Kailua-Kona.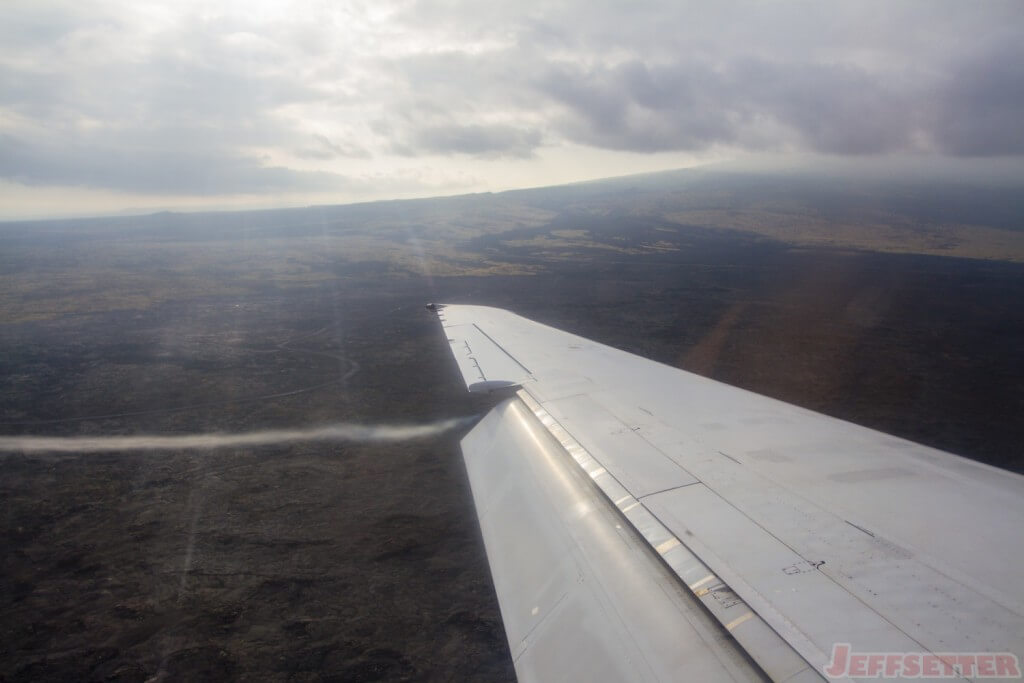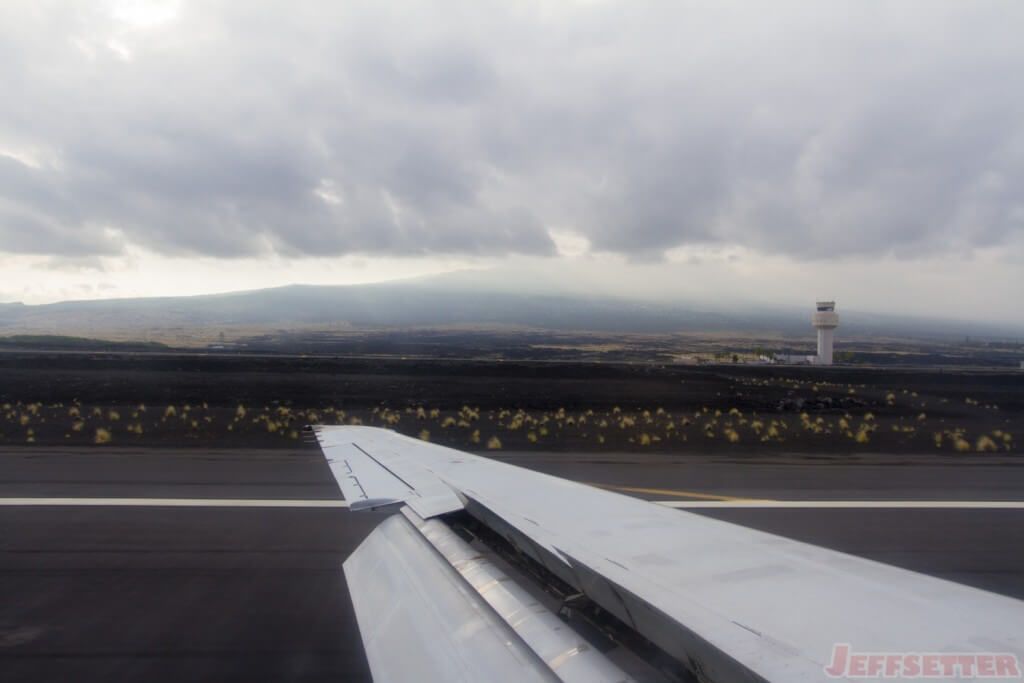 After touching down it was a quick taxi to the "gate."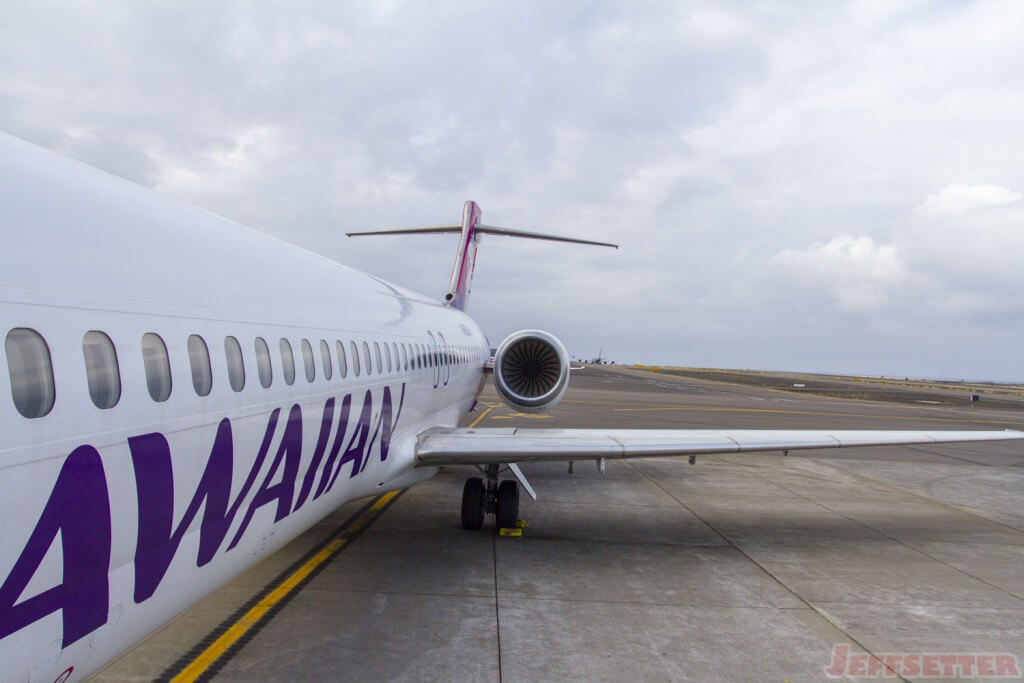 Yup, if you've never been to Kona International Airport, it's the last airport in the state with long-haul service that doesn't have jet bridges.  The operations here are all air stairs/ramps with completely open air terminals, baggage claim areas, and check-in lobbies.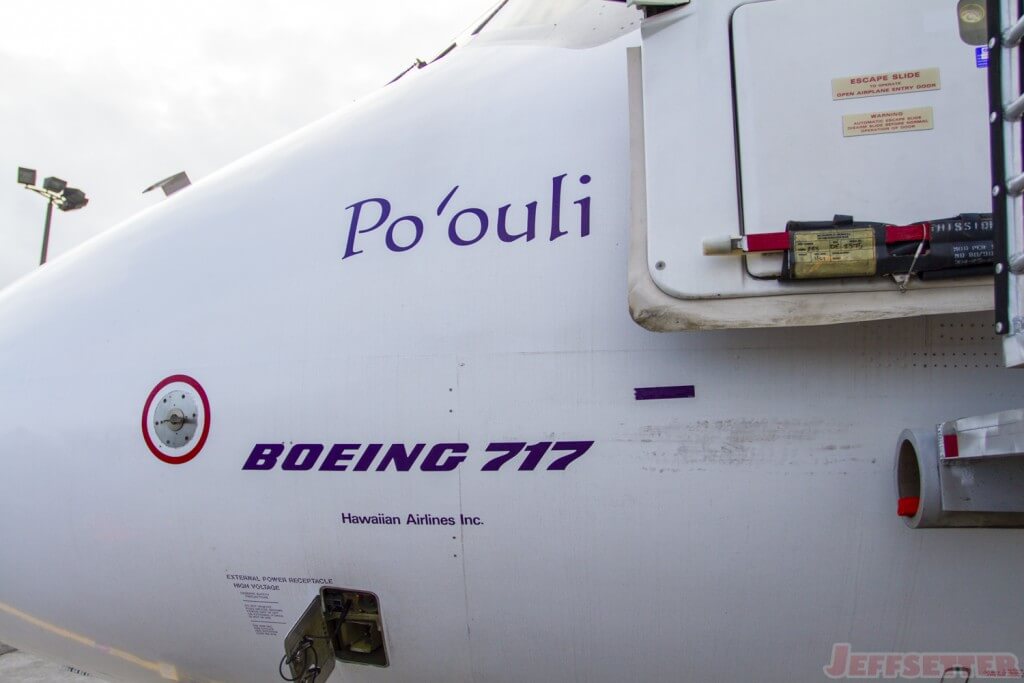 This can be good and bad, as you don't have any protection from the elements, and waiting for your flight can be uncomfortable, but for AvGeeks, you can get some nice shots of your aircraft ?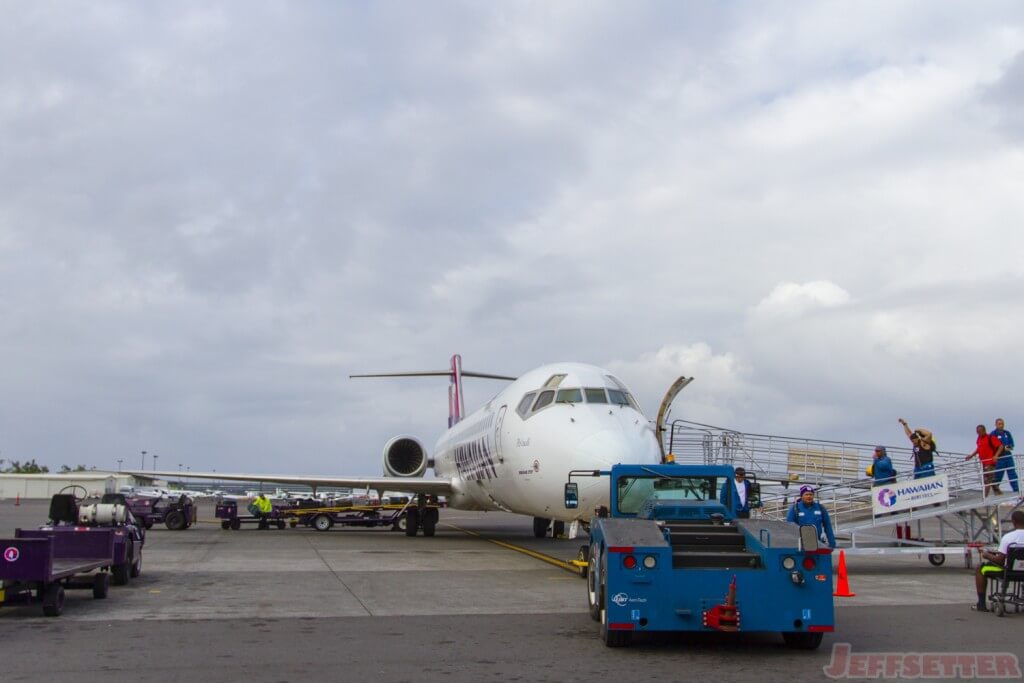 After de-planing, it was a short walk to the baggage claim, a 20 minute wait for my bag, and then it was off to the car rental facilities.
Unfortunately, this was a somewhat rough start to my short trip to the Big Island.  While I'd like to say this is an isolated event, you'll see in my future posts that this is a somewhat regular experience for me.