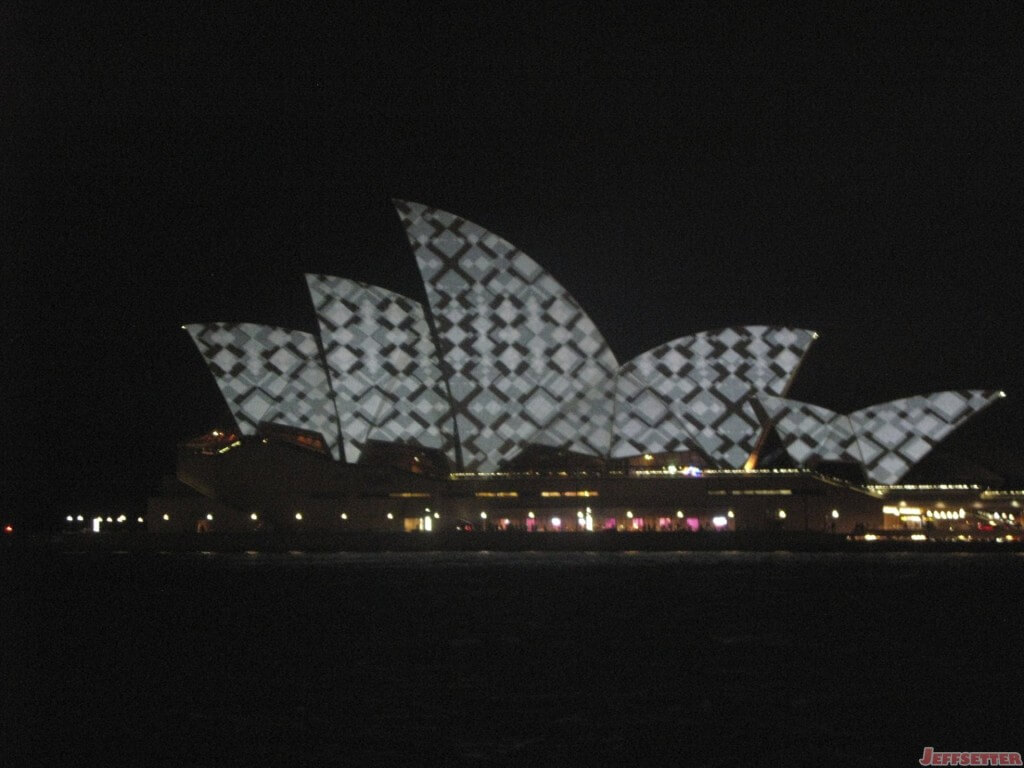 Sometimes while traveling you stumble into situations that are spectacular beyond your comprehension. That was the case when we visited Sydney, Australia in March of 2011 and were treated to the YouTube symphony at the Sydney Opera House.
When we first arrived in Sydney, my thoughts and energy were focused on asking the future Mrs. Jeffsetter to marry me. That is a fun story that we will tell another time.
A few days after she said yes, we found ourselves outside the Sydney Opera House for a second time, trying to watch the grand finale of the YouTube symphony while it poured rain outside. We had no idea what the YouTube symphony was, how often it occurred and what it was all about. It could have been something that happened every single night in Sydney as far as we were concerned.
We found a place to watch the Symphony and take some pictures of the crazy images that were being projected onto the Opera House. We even found our way into the Park Hyatt Sydney for a drink, even though we weren't staying at the hotel.
After enjoying the music and snapping photos/videos of the event, we went about our normal business. The rarity of the occasion was lost on us, and it wasn't until I started writing this post that I finally looked up information on the YouTube Symphony.
It turns out that the Sydney event was a once in a lifetime occurrence; the encore/grand finale of the YouTube symphony series. 33 million people watched the symphony live stream and there has not been another symphony event since. By being there in person to watch the spectacular event, we stumbled into a part of recent history that very few others can claim. What an unexpected delight!
For those of you curious as to what the experience looked like for onlookers, I found a video to show you how the projections on the side of the opera house looked.
If you want to see more videos, the YouTube Symphony channel has some cool videos from the inside.
Here are some more of our photos from the event (including a shot of the newly engaged couple!):