Last updated on October 25th, 2022 at 03:28 am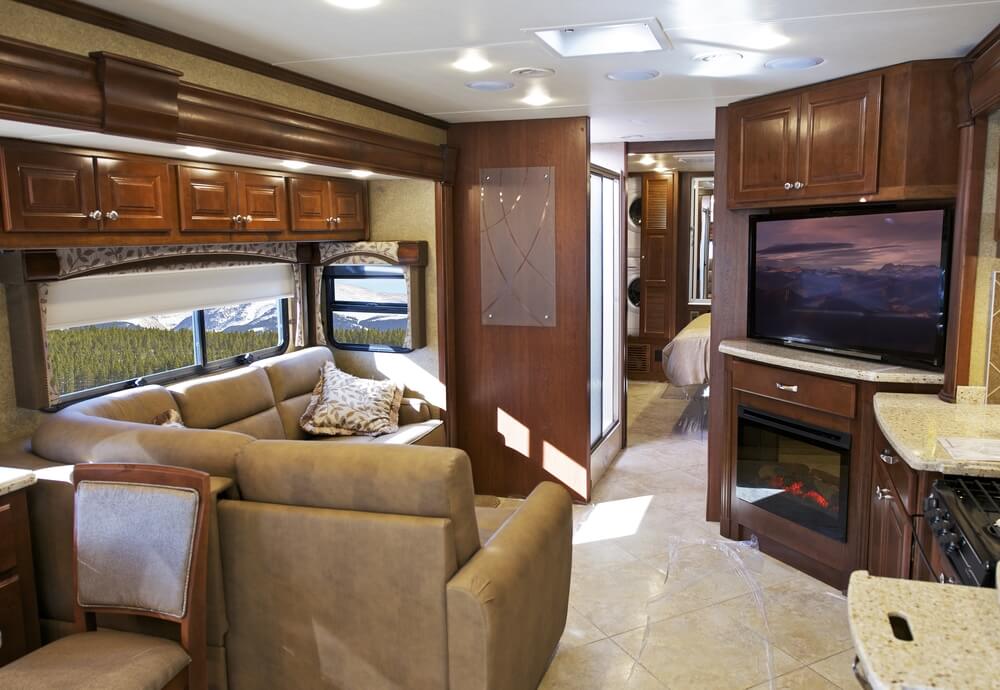 All of our reviews are based on exhaustive research, industry experience and whenever possible, hands-on testing. When you make a purchase using one of our chosen links we'll a small percentage of the proceeds. This supports the site and keeps Jeffsetter running. You can read more here.
For some people, camping trips are all about the great outdoors. For others, the comfort and familiarity of home are necessary to fully enjoy their RV time. Thankfully, that's what an RV is best at: keeping you warm, comfortable, and entertained while you camp far from home!
Plus, haven't you ever been on a vacation that doesn't go as planned? What if the weather turns while you're hiking or enjoying your time outside? Telling the kids to unplug and play in rotten weather is never ideal. How can an RV help?
Besides staying warm and dry, an RV can be equipped with any number of entertainment options, including televisions. For those of you looking for alternative and familiar entertainment while you camp with the entire family, an RV TV may be right for you!
You may have an RV already equipped with a television or antenna, but in case you don't, I'm here to help you find a TV that may be your perfect fit, just in time for your next camping trip!
Here's a sneak peak at our list but you can also keep reading to see a detailed review of each:
What to Look for in an RV TV
Choosing an RV TV can be a daunting process. Many people think they can install a traditional TV inside their RV. For longevity and the safety of your electronics, a specifically-designed RV TV should be considered. Most TVs that you find in your own home can't withstand the vibrations and jostling of life on the road.
The top things to be looking for when considering a TV for your RV are:
Size

Power options

Inputs

Cable-ready

Mounting options

Budget
Whether this is a TV you plan to use only rarely or one you check the local news on every night, there is an RV television that's right for you! Keep in mind your rig's layout, your power source, and what types of TV inputs you need, and let's get started!
Size
If you're familiar with RVs, even the slightest bit, you'll know immediately that size matters! Space is at a premium in every RV, and often RV owners have to get creative to have all the amenities they're looking for. Thankfully, having a TV in an RV is a tradition going back since RVs began, and the technology has only gotten better with each passing decade.
The size of your television may be a precise science. Naturally, you need something large enough to see from multiple places in your rig, but your walls may not be large enough to handle the size of your flat screen back home.
Consider where your TV will be best positioned, and narrow down your size from there. You may not be able to have the biggest and best, but that's okay. There are definitely options for every size RV, and chances are, you'll find your perfect match!
Power Options
RVs are powered two ways: traditional plug-ins when shore power is available, or 12-volt DC power. A television designed specifically for an RV keeps your power options in mind. Many are 12-volt compatible, meaning you can use your television without hookups. This is appealing to many RVers, especially those of you looking to boondock. There's no need to sacrifice your television if you aren't hooked up, and RV-designed TVs keep this in mind!
Inputs
What sort of technology are you hoping to connect to your TV? Are you looking for something with a built-in antenna to pick up the local free cable channels? Or are you hoping to bring every entertainment possibility with you on the road? Thankfully, you're in luck no matter what you're looking for. Most RV TVs have built-in options such as antennas and DVD players, as well as HDMI or USB inputs. If you want to upgrade to an aftermarket antenna, check out my list of the best TV antennas for your RV!
You may even find that a smart TV will suit your needs best, and these are now being manufactured for RV living! You may also wish to consider alternative speaker input options; many RV TVs don't have the best speakers!
Cable-ready
Hoping to stay up to date with news and other network cable channels? Many RV TVs have built-in antennas or are ready to connect to your preferred satellite dish. However, you may find you need a stronger signal, or an outdoor antenna. This may not be in your budget, or you may feel anxious about installing an antenna on your RV roof. If cable is something you'd really like your TV to be capable of picking up, keep it in mind when searching these options.
Mounting Options
One of the most important things to consider when looking at RV TVs is their mounting capability. The last thing you need is a TV that is too large or heavy to mount to your rig's wall! Keep in mind weight, mounting hardware, and other fastening options to keep your TV right where it needs to be! Installing your new TV on a shelf instead of the wall? Great! Though still keep in mind the need for security and stability; the last thing you want is to forget about your TV and drive away without securing it. Chances are, you'll end up with a broken TV by the time you reach your destination!
Budget
As with everything, budget can be the number one deciding factor when shopping for an RV TV. Given that RV televisions are different than traditional televisions, you may find a bit of sticker shock upon researching what model may suit you best. However, keep in mind that RV televisions are built differently, able to withstand the shakes and rattles of the road, as well as being sized perfectly for your rig.
You may also find more budget-friendly options out there such as projectors or simply using your laptop as your television. The options are endless, and surely something will stand out as the best piece of technology for your rig and entertainment needs!
Frequently Asked RV TV Questions
Before we dive into some possible TV options for your rig, let's answer some typical questions most RVers ask before purchase. Everyone's needs are different, and your entertainment needs may be met by something simple, or something more complicated. Either way, there's a perfect fit for you! Let's see what people's common concerns are when it comes to buying an RV TV.
How are RV TVs Different?
As I've mentioned before in this article, RV TVs are built differently than traditional televisions we may already have at home. They are ready to be wall-mounted, have been tested against vibrations, humidity, and varying temperatures, as well as readily equipped with 12-volt power inputs.
Your travels may bring you to places more humid than your home, or with wildly varying temperatures. RV TVs are designed with travel in mind, and are tested to withstand even the most extreme of locations!
More often than not, RV TVs are built stronger than traditional TVs for wall mounting and in case they fall or are jostled out of place. The hardware inside an RV TV can withstand more than a traditional TV, according to a representative for JENSEN brand RV TVs. They know what you're looking for out of a TV, and your needs may not be met by a traditional home television!
Can I Install a Traditional Television in My RV?
The short answer to this question is yes, you can indeed install a more traditional TV in your RV. Many RVers have done this and continue to do this with little trouble. However, as mentioned in the previous question, traditional TVs are made differently.
You might consider something a bit sturdier, as well as what power outlets you have. A 12-volt plug-in may be what works best in your rig, and most traditional TVs don't have this as an option. However, if you have an extra, small TV in your home that you don't know what to do with anymore, perhaps the most budget-friendly option would be to take it out to your RV!
Are There Options Other than a TV?
If your rig just doesn't have a good spot to mount a television, or if you're looking for something that can handle game systems and beyond, there are other options for you! You may be content bringing your laptop along with you camping, as many laptops nowadays feature screens as large as RV TV screens. You may also consider a projector- this is what I use in my rig and I wouldn't change a thing! But still, I know plenty of fellow RV'er who love their more traditional TV!
A projector may be a valuable asset to your camper or RV given its compact size, lower price, and portability. You can even bring it outside and have a movie night if you have a portable screen. Most modern projectors also feature any ports you may need, including HDMIs, USBs, and the option to play video games. However, you may find that you don't have space for that large a screen, or the constant setting up and taking down of it is tedious.
What Accessories Will I Need for My RV TV?
This can be a tricky one. RV TVs are all equipped differently, with many features sold separately. Chances are, you'll need to purchase wall mounting hardware as well as an antenna if you're hoping to connect to cable. You may need to buy external speakers or a DVD player as well as any cords you may need for hooking up these things. Just like your traditional TV at home, accessories are key!
The Best TVs for Your RV
Hopefully you're feeling confident about your television needs and wants! There are so many options out there, but with the right priorities in mind, you'll be able to find your perfect match, no problem. Committed to cable? Only hoping to use your RV TV to watch a DVD from time to time? Are you a full-timer with a video game addiction (like me)? Here's some options that may be right for you!
Best on a Budget: Tyler TTV705-14 14″ Portable Battery Powered LCD HD TV
Let's start small, but in no way weak! The Tyler TTV705-14 is a little miracle for full-timers and other RVers looking for entertainment but no space to keep it. Coming in at only 14 inches, this little guy boasts an HD LCD display as well as multiple inputs, which means you don't have to compromise your tech. It also contains a 12-volt charger so you can charge it up while you're on the road and leave it unplugged for up to 4 hours on one charge!
It is compatible with any major devices (Roku, Amazon Firestick, etc) as well as equipped with HDMI, USB, and SD Card inputs. Plus it has built-in speakers, a headphone jack, and dual tuners (ATSC and NTSC) for finding those cable or FM channels! It also comes with a table mount option included, though wall mounting is possible but sold separately.
Compared to other RV TVs, this budget television does it all, though only on up to 14 inches of screen. Because of this, many people say that the quality of the screen is lacking. The speakers are also on the back of the unit, which means you may have a more muffled sound quality as well. It may not be the biggest or loudest, but it may be right for you!
You can check the latest price on Amazon by clicking here.
Best with a DVD Player: SuperSonic SC-2412 LED Widescreen HDTV
Is a DVD player on your list of must-haves? Then look no further than the SuperSonic SC-2412! This little TV has a 24-inch display, a 1080p HD LED screen, DVD input, as well as an HDMI and USB terminal. Only weighing a single pound, this TV is ready to be wall mounted, and runs on 12-volt power.
The SuperSonic TV also includes an ATSC tuner for any digital TV signals you'd like to pick up, which means all of your bases are likely covered! It is also compatible with any HDMI video game systems as well as most other devices. People say you can't beat the LED screen quality, though you may consider a swiveling wall mount given the potential for glare.
With multiple picture modes and plenty of vibrant colors, the SuperSonic 24 inch TV may be a good size for your rig. Many people have mentioned a less than ideal sound coming from its built-in speakers, however, which may mean an additional purchase down the road.
You can see today's price on Amazon by clicking here.
Best Large Screen: Free Signal TV Transit 32″ 12 Volt DC Powered LED Flat Screen HDTV
If the previous options still aren't big enough for you, perhaps this Free Signal TV option will meet your needs! With a 32 inch screen and all the inputs you could possibly need, this RV TV remains a top contender. The resolution may be on the lower end at 720p, but everything else about this TV remains high quality.
Free Signal advertises higher shock absorption and vibration resistance as well as a built in HDTV tuner. It is easy to wall mount, though additional hardware must be purchased, and will run any and all major devices. An AC adapter is also available for purchase, which means you can use it with a traditional 120v plug as well!
Though it may be at the higher end of your budget, the larger size and durability of this RV TV may be the best choice for you. Plus, it's designed and engineered in the US and features a 1 year replacement warranty!
You can find the latest price on Amazon by clicking here.
Best for Rugged Locations: Jensen JTV19DC HD Ready 19 Inch 12V DC RV LED TV
Looking for the best in RV TVs? Jensen TVs have been the top name in the game for years, boasting more rugged internal hardware as well as humidity resistance. If you find yourself camping in more extreme temperatures and climates, the Jensen JTV19DC may be your perfect fit!
This 12-volt, LED and HD-ready TV is 19 inches, making it one of the smaller options on our list, which means it may not be the right size for your needs. However, many people report it as having very little to no glare from multiple angles, which means you are free to mount it at any height or position. You shouldn't have any trouble seeing the screen, and the resolution is an excellent 1080p!
With all the ports you need as well as a far-reaching HDTV tuner, this TV may have all the bells and whistles you need. It does not have a built in DVD player, however, and only one HDMI input, so plan accordingly. All in all, this Jensen is an RVer favorite and you can find the latest price on Amazon by clicking here.
Alternative Honorable Mention: APEMAN 4000L Brightness 180″ Display Projector
Since this is the set up I have in my own rig, I feel compelled to mention it. I'm a full-timer with multiple video game consoles and a laptop with a small screen. I'm able to watch DVDs on it, but my 13-inch display just wasn't cutting it for full-time RV living!
After some rearranging, I decided to commit to a projector, and the APEMAN 4000L Projector is my perfect fit! Projectors are making waves in the full-timer community, given their portable size, flexible screen locations, and lower price options. You can have the 1080p quality you've been missing as well as a larger viewing screen. Plus, you can bring it outside, which means you can still enjoy the great outdoors and have a movie night!
I use my projector weekly, though I can't leave my screen set up full-time as it stretches across my dining area. This may be an issue for many RVers, especially those of you only camping for a weekend. There's a lot to consider when it comes to RV TVs and projectors, but thankfully there's tons of options out there!
To pick up your own or just see the latest price you can click here to be taken to Amazon.
Conclusion
If you're in the market for an RV TV, the options can be overwhelming. There are so many sizes and features to choose from. Plus, there are projectors and traditional TVs to consider.
However, if you're looking for a sturdy and small addition to your RV entertainment, this list should have an option that's right for you! RVs are all about enjoying the great outdoors, but that doesn't mean you need to sacrifice the comforts of home to have an amazing vacation. Enjoy your time outside, and enjoy your time inside even more!