Last updated on May 4th, 2023 at 03:07 pm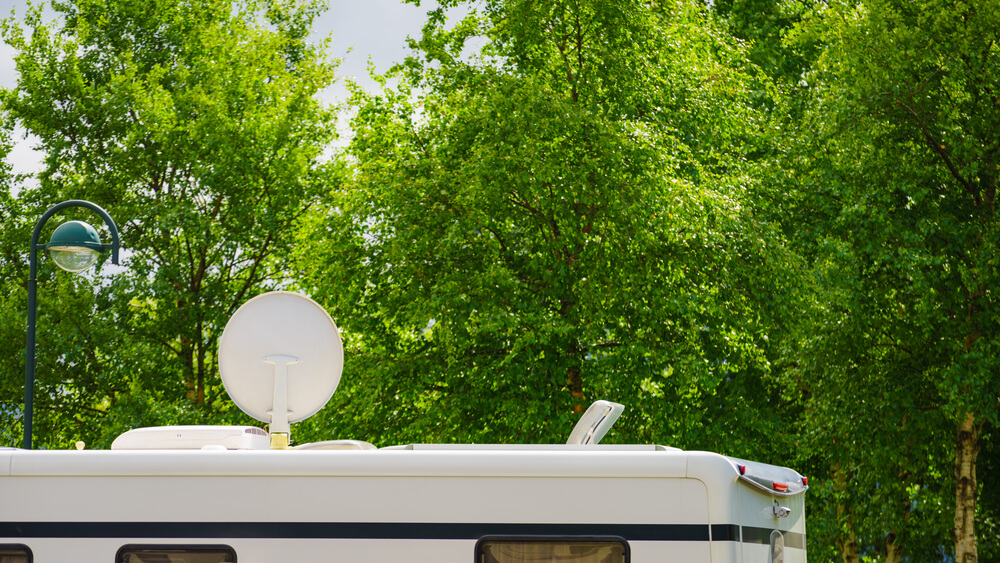 All of our reviews are based on exhaustive research, industry experience, and whenever possible, hands-on testing. When you make a purchase using one of our chosen links we'll a small percentage of the proceeds. This supports the site and keeps Jeffsetter running. You can read more here.
I couldn't believe it when I bought my 1976 travel trailer and it had a huge old TV antenna on top of it. People were watching TV while camping, even back in the 70s!?
Having a television in your RV stands the test of time, and rightly so. There's nothing like spending a wonderful day in the great outdoors, then coming back to your cozy motorhome and watching television until bed.
Plus, if you're living in an RV full-time, a TV feels more and more like a necessity! Even if you're hooked up in a rural location, you still deserve to watch the local news every night.
What do you do to pick up that television signal, especially if you're living in a more remote area? How can you watch cable TV when you're traveling all the time? Thankfully, there are antennas for you, and they've been updated by their 1976 relatives!
This article will go over the best TV antennas for your RV that should cover just about every situation, along with a full buyer's guide so you know exactly what kind of antenna you need. But if you just want to see our top antenna choices, you can see the full list here:
Keep reading to learn everything you need to know about selecting the perfect antenna and detailed reviews of every item on our list!
How Does An Antenna Work In Your RV, Anyway?
So you're hoping to watch TV on the road. No problem! Even vintage RVs and trailers had this desire in mind when building rigs back in the day. But how do TV antennas possibly work when you're traveling all of the time?
RV antennas tend to work by finding and utilizing certain signals or picking up local and satellite channels, depending on the model of antenna you purchase. Some models have more range than others, which means if you're camping somewhere more rural you will still get the channels you're looking for.
Some antennas offer HD or digital channel options and boosted signal strength. This is quite an update from the antennas of the seventies!
What Are The Different Types of RV Antennas?
While all antennas essentially do the same thing, there are still different types worth considering before purchasing one and fitting it to your rig. A unit such as a satellite antenna may be ideal for RVers who want the creature comfort of watching their favorite shows whilst on the road.
On the other hand, an indoor antenna may be all you need if you're not an RVer who watches TV too much. There's a lot to consider but with many different types of RV antennas available, you'll be able to find the perfect one for your rig in no time.
1. Indoor Antenna
Are you hoping to watch the local news and not much else? Are you in a more populated area or a place with good signal strength? Then an indoor antenna may be a good choice for you! Indoor antennas are often the most compact reliable option, as they can remain in one spot inside your RV.
This means your antenna won't have to battle the elements and you can safely keep your antenna in a convenient location, where it won't get blown away or damaged! It's worth considering the signal received when using an indoor antenna may not be very strong, as your RV walls, ceiling, and windows can block a lot of signals, despite most RVs not having very thick walls!
You may also struggle to find a good spot to keep your antenna if you're moving often and hoping for the best signal strength. As signal strength varies from spot to spot, you likely won't be able to have one permanent home for the antenna.
However, these units are the smallest and easiest to maintain. If you're only hoping to get a couple of local channels for your RV TV without needing to struggle outside, this may be a good option for you!
2. Outdoor Antenna
If you have a satellite subscription, it's a no-brainer to get an outdoor RV antenna. An outdoor antenna may have the same trouble as an indoor antenna in terms of finding the perfect spot to capture a signal. But once you find the ideal setup, an outdoor antenna will bring you a stronger, more reliable signal and many more cable options and channels.
You will have to consider a bulkier antenna and how to store it when you're not on the road. There's also the risk of inclement weather and debris damaging your outdoor antenna, but it will provide you with the strongest signal possible.
3. Satellite Antenna
Satellite antennas are a popular option with RVers and as many satellite channels are HD as well as mainstream, you won't be bored by the local news and weather all night. Instead, you'll have access to all of your popular shows and channels.
If you have a cable subscription in your traditional home, many cable providers offer an antenna to bring with you on your travels. This means you can access all the channels you routinely pay for on the road, though of course, there is a subscription fee to keep in mind.
4. UHF/VHF Digital Antenna
Looking for free cable channels but still hoping for HD quality? Then you should keep a UHF and VHF antenna in mind. These two acronyms go hand in hand with most antennas and are there to bring you the best picture quality of digital channels.
Sometimes, however, antennas are only able to pick up one or the other, so keep this in mind if you are hoping to have access to both UHF and VHF channels.
What to Consider When Purchasing an RV TV Antenna?
There are many factors to consider in order to find the TV antenna that best suits your needs. You may already have some ideas in mind. Here are the top things to think about before purchasing your new RV TV antenna:
Reception and signal strength

Installation location

Dimensions and weight

Wifi abilities

Budget
Keeping these things in mind when shopping will help you prioritize your needs. Chances are, you'll narrow down the options and find a product that works great for you and your rig!
Reception and Signal Strength
It's pretty much a no-brainer to prioritize reception and signal strength. There aren't too many bells and whistles to be distracted by when shopping for a reliable RV TV antenna. It's wise to make sure you find a product with larger coverage, and if you're camping remotely, perhaps consider an antenna signal booster for your needs.
Installation Location
Where you install your tv antenna matters! Depending on your needs, choosing an indoor or an outdoor antenna will be one of your biggest decisions when purchasing an antenna. Outdoor antennas have broader signal capabilities, though they will be exposed to the elements. However, these are your best bets for finding that hard-to-reach signal!
Indoor antennas are often more compact and convenient, located inside your RV. However, this means the walls and ceiling of your RV can block valuable signals.
No matter what option you go with, choosing a convenient installation or setup location is essential. Choose an indoor location that isn't going to be in the way but is also accessible in case you need to move the antenna. Though more often than not, RVers choose a permanent spot for their indoor antennas.
The same goes for your outside antenna. Choose an open location, but still close to your rig. Watch out for possible obstructions from trees or other falling debris. It will take some trial and error, and may not be a permanent installation location! Just make sure you know the height of your RV after your antenna is installed so you don't have any clearance issues.
Dimensions and Weight
So you've decided whether or not you'd prefer an indoor or outdoor antenna. Great! Now it's time to find what fits either inside or outside your rig.
Indoor antennas are often small, compact, and lightweight which is excellent news considering that it needs to fit inside of your rig. That's one thing every RV owner can relate to: we only have so much space!
Make sure to choose an indoor antenna that will fit in many places inside your rig, as signal needs may change from location to location. Choosing a small and easy-to-transport model will be your best bet.
In terms of outdoor antennas, these are often built larger and bulkier to stand up to the elements and wind. However, some outdoor antennas will be installed on the roof of your rig, so choosing something with the ability to lay flat while you're driving should be considered.
You may also want a lighter-weight model of outdoor antenna if you plan to install it on the roof of your rig. Having something too heavy on the roof may damage it in the long run!
Wi-Fi Abilities
Hoping for reliable internet while on the road as well? Some TV antennas come equipped with wifi capabilities for those tech-savvy travelers out there. This might be a huge selling point for full-timers as well as anyone planning to camp for an extended period.
Just like cable signal, however, if you're camping somewhere too remote, you may need to consider a signal booster to ensure your antenna is working to its fullest capacity.
Budget
Just like any major purchase, it is easy to get caught up in features and convenience and forget your budget. Some TV antennas have features that drive up their prices, but they may not be features that you necessarily need.
It is easy to get overwhelmed, but keeping a solid number in mind for how much you are able to spend is important and may narrow down some options for you.
The 9 Best TV Antennas for Your RV
Hopefully, you're feeling confident about your antenna needs and wants! There are so many options out there, but with the right priorities in mind, you'll be able to find your perfect match, with no problem.
Do you know whether you need an indoor or outdoor antenna? How about a cable subscription? Ready for installation on the roof, or perhaps you've got the perfect place mapped out inside your rig?
My goal is to make it as easy as possible and point you in the right direction.
Let's get started and jump straight into our list of the best TV antennas for your RV.
Best Long-Range Choice: KING OA8300 HDTV Directional Over-the-Air Antenna
The King OA8300 HDTV Antenna is one of the best bangs for your buck and as a trusted brand among new RVers as well as old-school full-timers, King makes antennas with travel in mind. I find the lightweight feature of this antenna extremely useful, as it weighs just over a pound and even includes universal mounting brackets for easy installation. This is helpful if, like me, you find RV DIY projects to be a little intimidating, but as this antenna comes with the brackets, it makes things a whole lot easier.
It also upgrades your current antenna (should you have one) to receive digital HD channels, opening your watch library considerably. Although RVing is all about getting in touch with nature, I enjoy sitting down and relaxing in front of the TV every once in a while, and as this little guy can be easily installed inside my RV, it's capable of finding signals in both locations!
I like to stay up to date with technology, and King has impressively used upgraded technology that enhances UHF signal reception while still receiving remaining VHF broadcast channels. I sometimes worry about finding my favorite channels without a signal booster, but this antenna utilizes broader reception coverage and quickly locates the strongest signal while maximizing my reception.
This compact and reliable antenna is an affordable option and great for starting out, but I would advise investing in an antenna that's capable of doing more if you're looking for endless channels, DISH network compatibility, and the strongest signal possible.
You can click here to see today's latest price on Amazon.
Best Satellite Choice: Winegard Pathway X2 PA6002R Satellite TV Antenna and DISH Wally Receiver Bundle
When technology gets very advanced, I can start to feel nervous as everything can become so hard to understand! The Winegard Pathway X2 PA6002R Antenna, however, is a simple little satellite antenna, compatible with DISH network as well as local channels I like to watch.
Don't have a DISH subscription yet? Well, this Winegard antenna is capable of a month-to-month cable subscription option, which means I only have to pay for the channels I actively watch. This antenna is also listed as part of a bundle, which means you will also be purchasing a receiver.
This receiver allows access to DISH month-to-month programming as well as built-in streaming apps, which is particularly useful as it gives me more freedom with what I can watch. I like that it allows more than one TV to be playing at once, so kids can watch their cartoons and adults can enjoy a romantic movie on the couch.
An HD receiver is sold separately for those high-definition channel needs, as well as a tripod, and these are components I think are worth considering to enhance the Winegard Pathway. This will increase the total spend for an RV antenna, so it's worth bearing this in mind and weighing up whether it's worth the investment for you.
You can click here to see today's price on Amazon.
Best Budget Choice: Luxtronic Digital HDTV Antenna
Looking for digital channels on a budget? The Luxtronic Digital HDTV Antenna might be the perfect choice for you! I like simple setups that don't take endless hours, and one of the joys of this antenna is the ability to attach it magnetically wherever I need it. This gives me the freedom and advantage to find the strongest place for a signal, whether that be indoors or outdoors because as you fellow RVers out there know, a good signal can be very hit-and-miss!
Boasting a moderate signal reach of 50 miles means I still have a high chance of finding a signal and snuggling down to watch TV or play video games, even when I'm parked remotely, but this may not be enough range in low-signal areas.
It is HDTV ready, and may even be able to get 4k Ultra HD channels should they be within range! I like that it's a compact piece of kit, and easy to install because I simply plug it into my TV and watch it work. This is a huge bonus for those who don't have much confidence in installing new components in their RV.
With 360 degrees reception, the location should be less of a worry, as this tiny antenna can find the signal whether it be outside on the roof or inside on a bookshelf! It doesn't have too many bells and whistles such as a huge signal radius or 4G filter, but it is an easy setup option, at an affordable price.
You can check out the latest price on Amazon by clicking here.
Best Indoor Choice: GESOBYTE Amplified HD Digital TV Antenna
If you're like me and are hoping to set up your antenna inside and forget about it, it's worth looking for something like the GESOBYTE Amplified HD Digital TV Antenna. This top-rated indoor antenna boasts a 200-mile signal range, a lifesaver when I'm parked in the middle of nowhere but still need to have a strong signal.
I would suggest purchasing an additional tuner to make this work on older models of televisions, but it is smart TV ready! Compatible with Roku, the Amazon Fire Stick, and many more, I can watch the shows I enjoy most and keep up to date with the news and weather too – something very important for RVing!
As this antenna is about the size of an average picture frame and is wall-mountable, it isn't too hard to find a home for it in your rig. This is important for me as the last thing I want is a sizeable antenna that encoaches my living space. I find the exposed wiring a bit of an ugly eyesore, but if you can neatly tuck them away, they shouldn't draw too much attention.
You can check out the latest price on Amazon by clicking here.
Best Outdoor Choice: Antop Omni-Directional 360-Degree Reception Antenna
Hoping to set up your antenna and never worry about adjusting it to find a signal while traveling from place to place? Well, there's an option for you: the Antop Omni-Directional 360-Degree Reception Antenna.
This outdoor antenna attaches without tools or too much effort to the roof of your rig and has an omnidirectional signal search. This means when I'm looking for the best signal, I don't have to worry about rotating my antenna, instead, I can simply set it and forget it, making my life a whole lot easier when I want to relax in front of the TV.
This antenna includes a 4G filter, which means your channels will have the clearest possible picture. This is huge for me as nothing is worse than watching a movie you love in poor quality where everything is fuzzy and unclear due to poor signal. It's capable of bringing in HD or 4k channels, as well as TV to multiple television sets with an additional purchase.
Although it is a great workhorse of an antenna, it can only find channels within a 65-mile range, which may not be enough for RVers like me who want to get to the middle of the wilderness and park up in their rigs.
The outdoors doesn't scare the Antop! This antenna is built for inclement weather (which is great if you're RVing in the winter) and features no signal blind zones, waterproof construction, and has been reviewed to withstand winds up to 100 MPH. It also features a sturdy UV-resistant coating so I won't have to worry too much about damage from the sun during the warmer months.
You can see the latest price on Amazon by clicking here.
Best HD Choice: Winegard RVW-395 Sensar IV White DTV/HD TV Antenna
The most reliable choice on the market for RVers, especially full-timers, is the Winegard RVW-395 Sensar IV White DTV/HD TV Antenna. From the outside, this antenna may appear a bit old school, but I actually enjoy this aesthetic as it's a welcomed contrast to the modern technologies surrounding us today. The name Winegard has long been regarded as an RVer favorite, especially in my eyes, and they've only gotten better at what they do.
The ability of this antenna to receive all VHF and UHF programming available within a 55-mile radius ticks my boxes as I don't want to tackle programming problems after a long day. Coated in durable materials means this antenna is ready to last for years to come, and as it's optimized for digital HD reception, this antenna can be raised, lowered, and rotated from inside my parked RV to pinpoint the exact angle for the best reception!
The easy installation is a big plus point for me, as I often don't have time to spend hours setting up new things for my RV, but as this antenna utilizes a 12V power supply, it's ready-made for RV life!
This may not have all the advanced features some RVers are looking for such as a huge signal radius, but it is among the topmost reliable antennas on the market for RVs. It brings all of the non-satellite channels I look for in my rig, along with having a reliable reputation for quality warranties and customer service.
You can see the latest price on Amazon by clicking here.
Best Digital Antenna Option:

Winegard 24130 RVW-205 Sensar IV with Wingman
Winegard has been trusted and relied upon by RVers for many years, but for an additional boost for an RV TV, it may be worth purchasing the Winegard 24130 RVW-205 Sensar replacement head.
This antenna is on the pricier side which is a downside in terms of budget, but as it's easy to install and maintain, it is an investment worth considering. There's a lot of maintenance to think about with an RV, from winterizing the rig to keeping the engine happy, and the interior clean and tidy. This antenna, however, is powder-coated and UV-tested, so it will remain durable for years to come, without needing much maintenance at all.
I enjoy having access to a wide range of channels, so this antenna being optimized for digital HD reception, means I can watch the shows I want, as it receives VHF, UHF, and HD signals. It also is easy to reposition, as my worst nightmare is having to climb on top of my RV roof – especially if the weather is less than pleasant!
This Winegard can be raised, lowered, and directed from the comfort of my RV, a huge benefit after a long day when I want to melt into my couch. The thought alone of going outside in the wind and rain is enough to give me shivers, but with this Winegard, I don't have to leave the coziness of my rig!
You can see the latest price on Amazon by clicking here.
Best Over the Air:

GE Pro Outdoor RV Antenna
One of the biggest annoyances I find when dealing with the internet in an RV is poor signal and expensive subscriptions that seem to be creeping up in price. The GE Pro Outdoor RV Antenna is a game changer as it's an over-the-air option, providing an improved signal for watching HDTV, VHF, and UHF channels.
The antenna has a range of around 70 miles, which should cover avid adventures like me who enjoy heading out into the wild. Although it's worth mentioning the signal may start to struggle if heading deep into a remote forest or woodland area in your truck camper or travel trailer, where trees may make things trickier.
I prefer antennas to not draw too much attention inside an RV as they can be quite unsightly! This GE antenna has outdoor installation, making things a breeze when it comes to setting it up. As you can see in the video below, the installation of this antenna is simple and easy, an important aspect in my eyes when you're ready to head off on a new adventure and everything is going at 100mph!
I think it's worth investing in an antenna offering strong signal, quality sound, picture, and speed, and the GE Outdoor RV Antenna seems to tick all of these boxes. It's worth bearing in mind, however, that strong weather conditions may affect the performance of this antenna, so if it's blowing a gale outside, channels may become limited.
You can see the latest price on Amazon by clicking here.
Best RV Omnidirectional TV Antenna: 1byone Outdoor 360° TV Omni-Directional RV Antenna
Being an omnidirectional antenna, the 1byone Outdoor 360°, is an RV TV antenna able to handle harsh weather conditions, provide a 4K clear display, and has an easy installation process. On rainy, windy days, I like to curl up and watch a good movie or series, and this antenna allows me to do so as it can receive signals from all directions, even in windy weather conditions.
Weather is something I think about a lot in my RV, and I'm sure I'm not alone! One of the standout features of this 1byone antenna is the durability of the material it's made of, as it's both moisture-proof and flame-retardant! Having safe and durable equipment in my RV is a priority for me, and so the long-lasting construction is a stand-out feature as it means I won't have to replace the antenna in a few months' time.
A downside to this unit, however, is the fact my partner and I can't watch different things on two separate TVs as this antenna is primarily made to focus on only one device. If I were traveling with a family or children, I'd likely opt for an antenna with a multi-TV feature to avoid arguments and upset!
Weighing less than 1.7kg, this little antenna is a modern, lightweight, efficient RV addition to achieve a great signal, without having to walk around on the roof to adjust the antenna every time the weather gets a little crazy. This brings the cost of installation down and means you can have a crack at setting it up yourself!
You can see the latest price on Amazon by clicking here.
Frequently Asked RV TV Antenna Questions
Have you ever used a TV antenna before? Will this be a new experience for you and your family? Naturally, you have questions that need to be answered, and hopefully, these FAQs will help!
How Do I Set Up My New RV TV Antenna?
Depending on your model and location, more often than not, your new RV TV antenna can be set up simply. Once you have installed it where it can pick up the maximum amount of signal, chances are, all you have to do is plug it in and begin scanning the channels.
Most antennas simply need to be plugged in to work, but make sure to read your manual thoroughly. There may be additional steps before you can settle in and watch TV. No matter what, checking your signal strength and reception is the most important step when it comes to setting up your antenna, especially if you want to play video games too!
How Can I Get Better TV Reception in My RV?
This is the trickiest part when it comes to setting up your new RV TV antenna. Everywhere you travel and camp will have different levels of signal strength and reception, so you may find yourself setting up your antenna in a different location every time, especially when heading to campgrounds with a weak signal.
The easiest way to maximize your signal is trial and error. If you're dealing with an indoor antenna, it should be easy to move the antenna around and check the signal strength on your devices.
If you are trying to set up an outdoor antenna for maximum signal strength and reception, you may need a secondhand from within your rig. Move your antenna in different directions and have someone inside let you know what the signal is. Move your antenna again and scan for channels.
Having someone inside your rig informing you of your reception and signal strength may help save you time while setting up your new RV TV antenna, though it is something you can do alone too!
My Signal Isn't Strong Enough. What Do I Do?
So you're all set up but still not accessing enough channels. This is a common problem for RVers, especially those of you camping in more remote locations.
Unfortunately, if you're having trouble accessing channels, you may need to purchase a signal booster in addition to your new TV antenna. I've mentioned signal boosters in this article before, and you may find them helpful in your travels, and getting one before you set off can help avoid any RV regrets.
A signal booster will be your best bet when it comes to maximizing your new antenna. It may be something that is outside of your budget, but it is worth considering if you know you will be camping in more remote locations.
Closing Thoughts
You don't have to sacrifice the comforts of home to enjoy life on the road. These RV TV antennas are designed to make your life easier and more comfortable, from set-up to sitting down in front of the TV with a bowl of popcorn.
Whether you're a full-timer or a weekend warrior, you don't have to sacrifice your TV shows and movies! It may take some time at first to work out exactly what you need from an RV TV antenna, but don't give up hope because the perfect fit for you is out there somewhere!