Aloha!  Before I start out on this entry on the Big Island, I'm going to make a personal disclaimer.  The Big Island is called the Big Island for a reason… It's HUGE!  It is larger than all of the other main Hawaiian Island combined!
Everything is very spread out, and as I've found the hard way the last time I visited, many places require reservations, whereas similar places on the other islands would not.  Additionally, what you ultimately do and see is largely dependent on the time you have on-island, where you're staying, willingness to drive, etc.
So that being said, here's my list of what to do on the big, Big Island.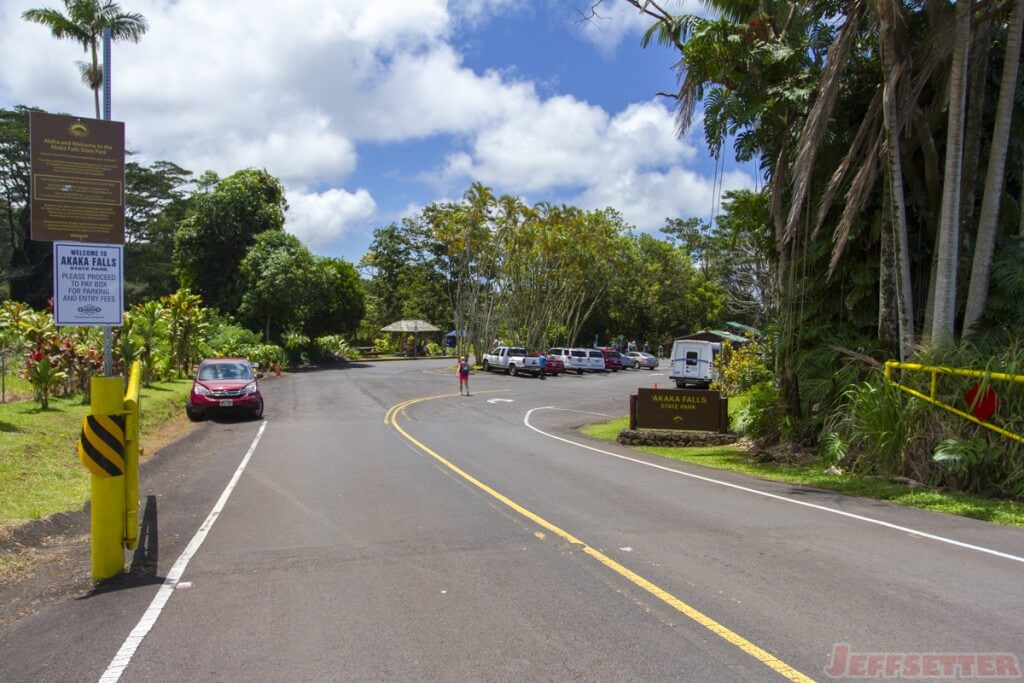 Located just north of Hilo near Honomu, Akaka Falls is an easy to access park. Akaha Falls is home to not only its namesake waterfall, but also lush tropical rainforests.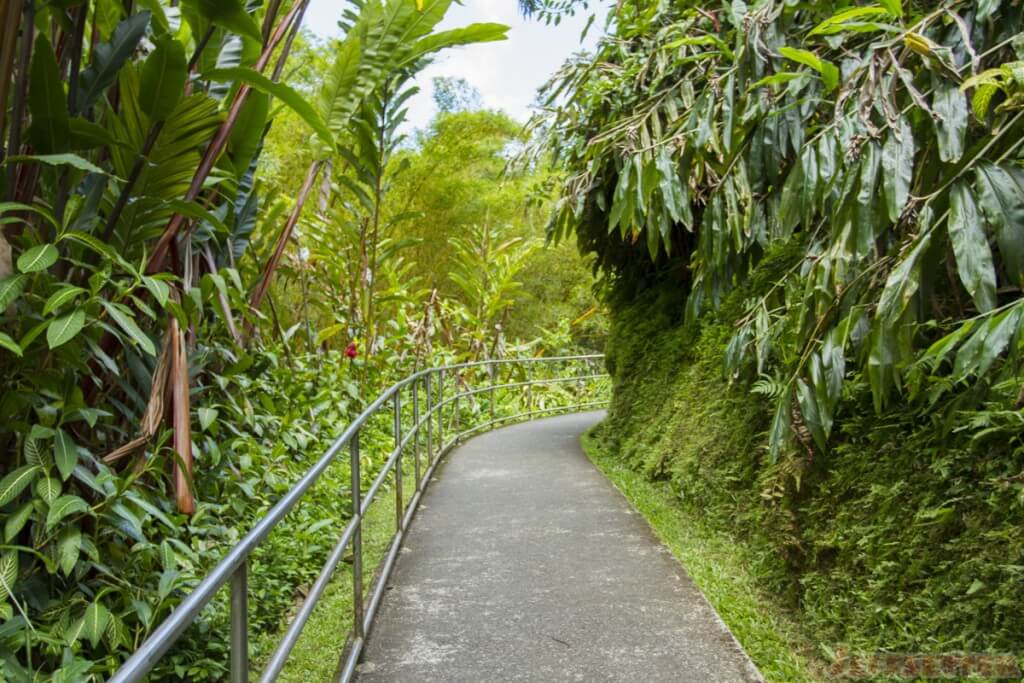 There are many sights along the paths, including streams and tiny falls, but the main attraction is definitely Akaka Falls itself.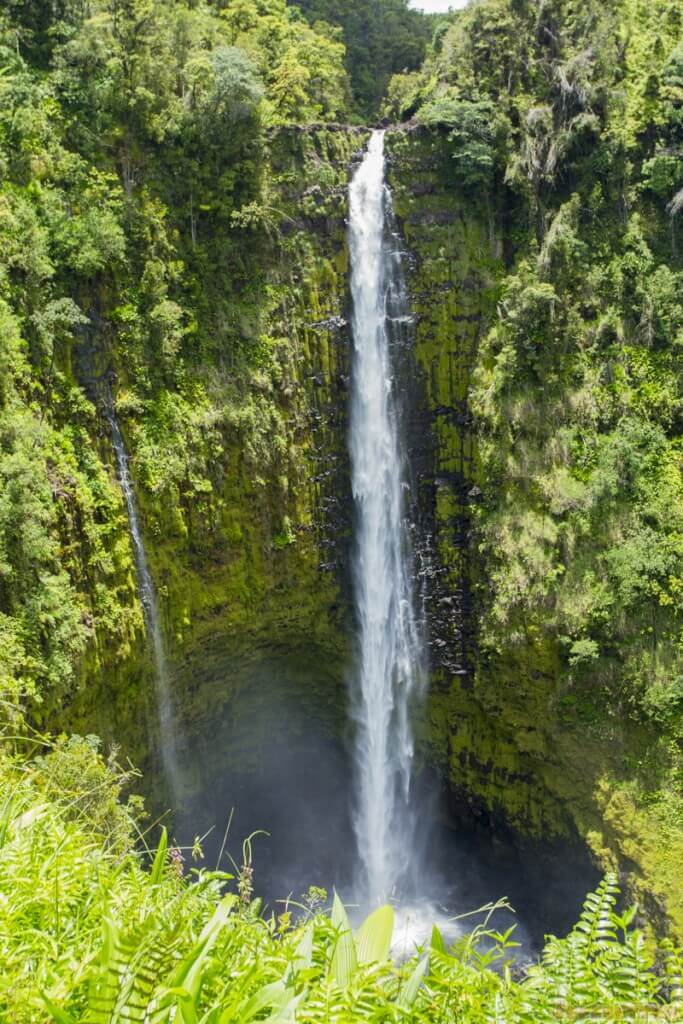 Parking is tight, but there is space available just outside the park.  Parking and entrance fees do apply ($5 and $1, respectively).
Skyline Eco Adventures Akaka Falls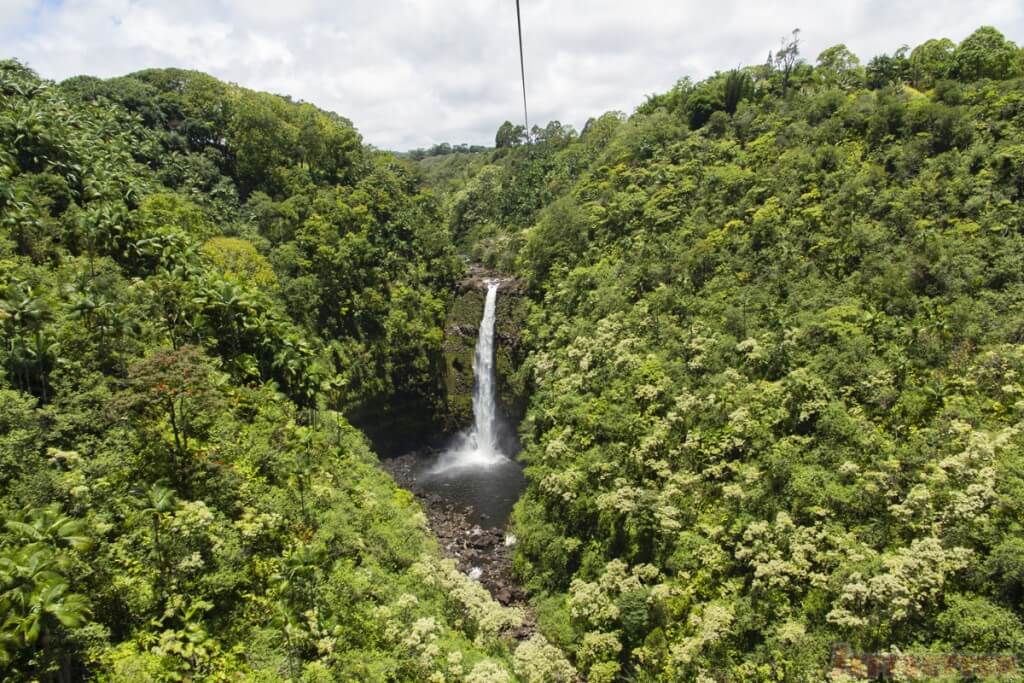 For those of you that are a bit more adventurous, Skyline Eco Adventures has a great zipline located about 10 minutes away from Akaka Falls State Park. Despite the name, you don't actually go over Akaka Falls, but another equally impressive waterfall.  You work your way up on the 7 line course, from a super short zip, to the lengthy grand finale over the falls.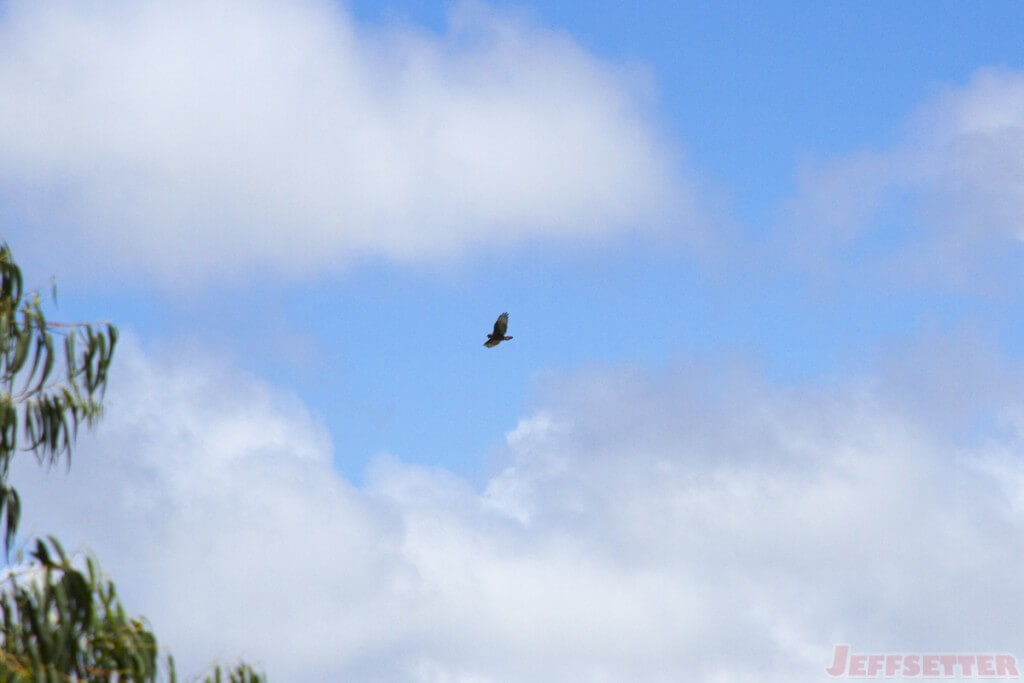 You may even see the only raptor in the state soaring overhead, the endemic 'Io or Hawaiian Hawk.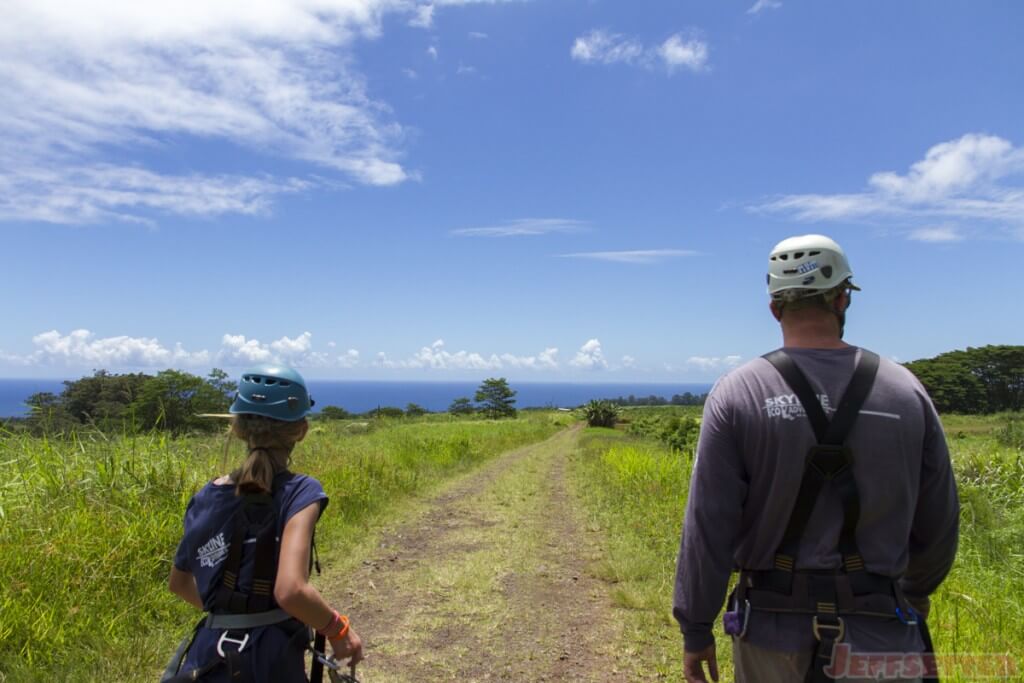 Throughout the course, you'll enjoy views of Mauna Kea, lush native forests, the ocean and farmlands.  The staff here are all extremely friendly, knowledgable, and just all around great people that love what they do.
You'll learn some Hawaiian words, learn a little about the specific area the lines are in, and sample some sugar cane and apple bananas.  If the price is too steep, check Groupon for deals.
Punalu'u Black Sand Beach Park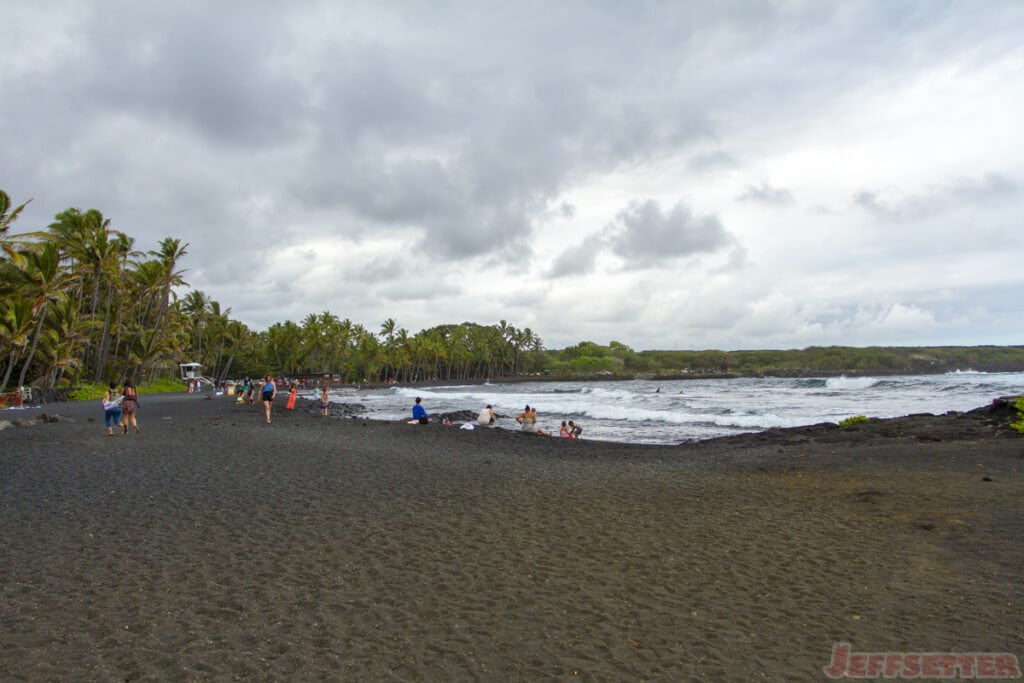 Want to see black sand and honu (green sea turtles)?  You're in luck!  Punalu'u Black Sand Beach Park is the place to kill two birds with one stone.  One of the most famous black sand beaches in the State, Punalu'u Beach is located on the southern portion of the Big Island in the middle of nowhere really.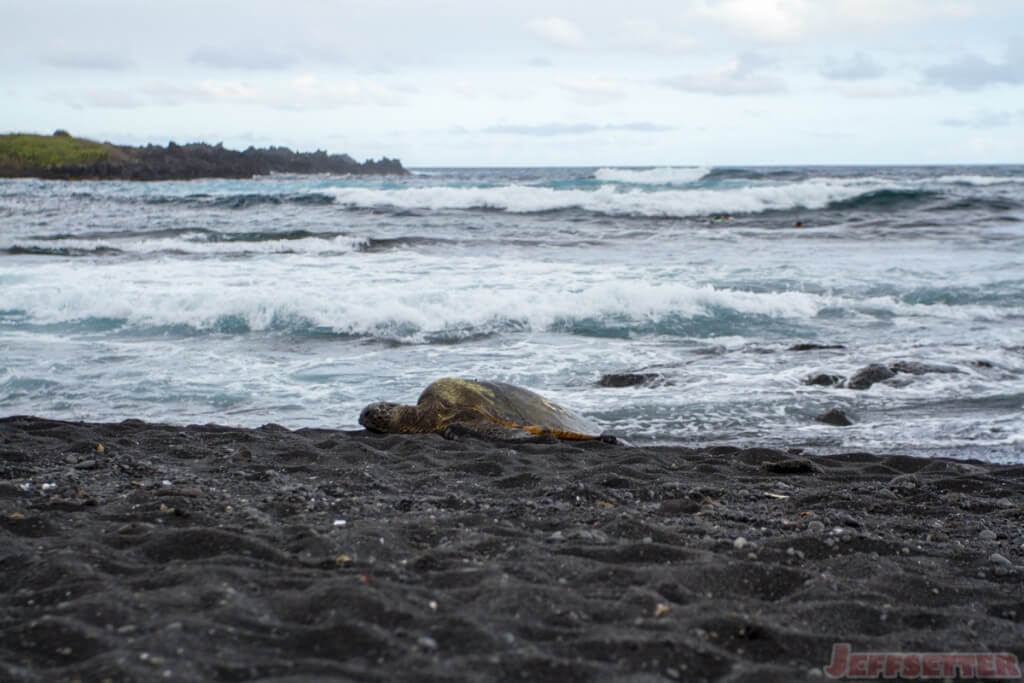 Honu are frequently spotted resting and warming up here, and it's easy to see why as soon as you step onto the beach.  The sand is much warmer than at a regular beach because the dark color absorbs and retains so much more heat from the sun.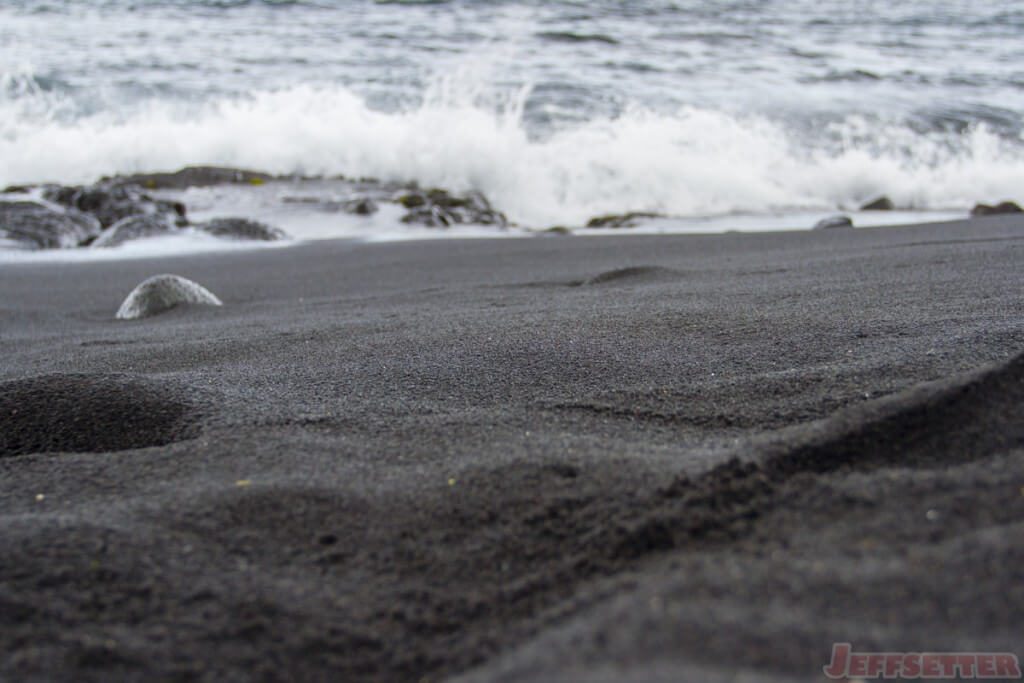 Black sand is made up of crushed, eroded lava rock.  It isn't sharp or rough, but the grains tend to be larger than some powdery white sand beaches.
There are two parking lots – at either end of the beach – as well as restrooms and concessions.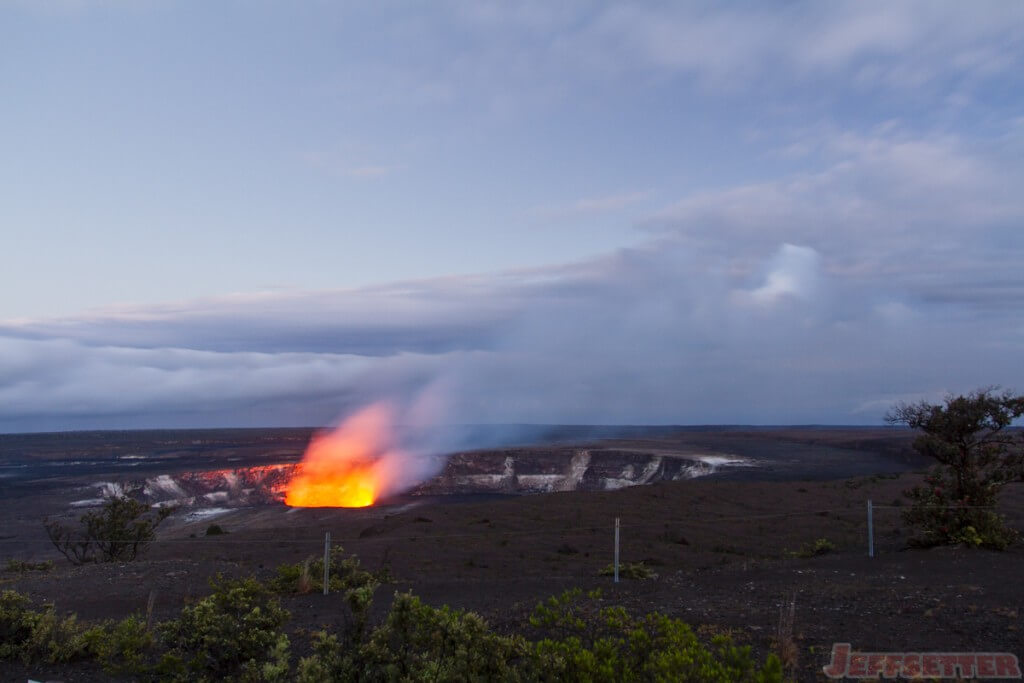 Hawaii Volcano National Park is the quintessential Big Island attraction.  It is probably one of the primary reasons why many tourists travel to the island in the first place, and it's easy to see why.
A fair warning: madam Pele isn't always putting on a show, so actually being able to see any lava is a real hit-or-miss venture.  Even though there may not be spectacular eruptions or surface flows, other attractions in the park are worth the trip in themselves.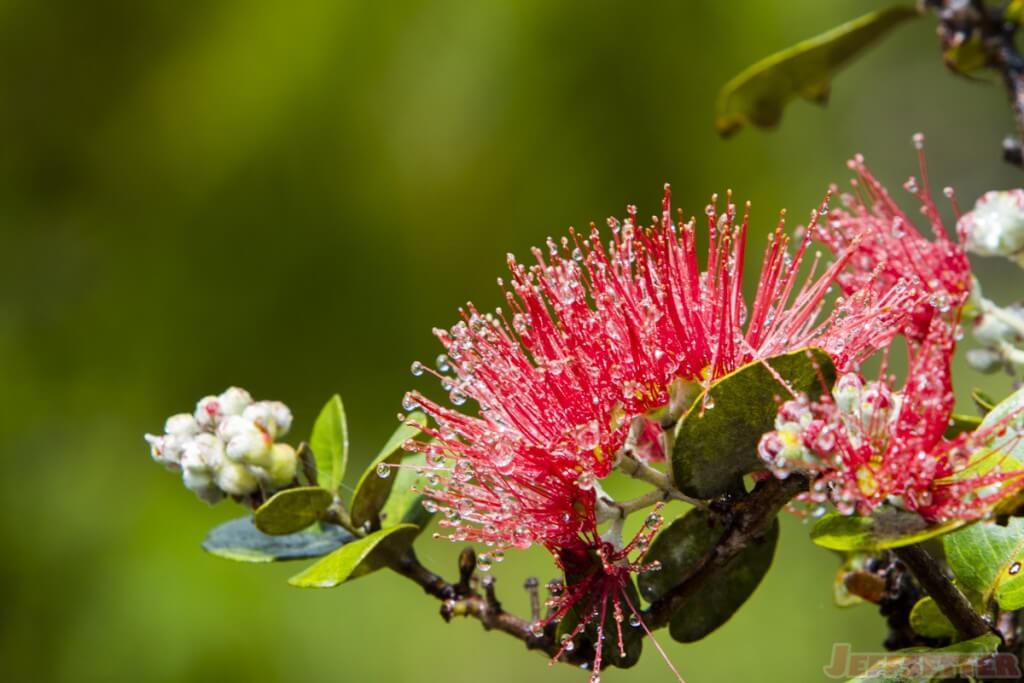 Volcano NP is covered in dense, native Ohia Lehua forests at the upper elevations,  around Kilauea's caldera and the active Halema'uma'u Crater.  You'll see plants and hear the beautiful song of Hawaii's endemic and critically endangered honeycreepers in these areas.
Get a true feel for what the islands were like in pre-contact days.  One of the easiest ways to experience this is on the Devastation trail with one terminus at the lower Kilauea Iki parking lot.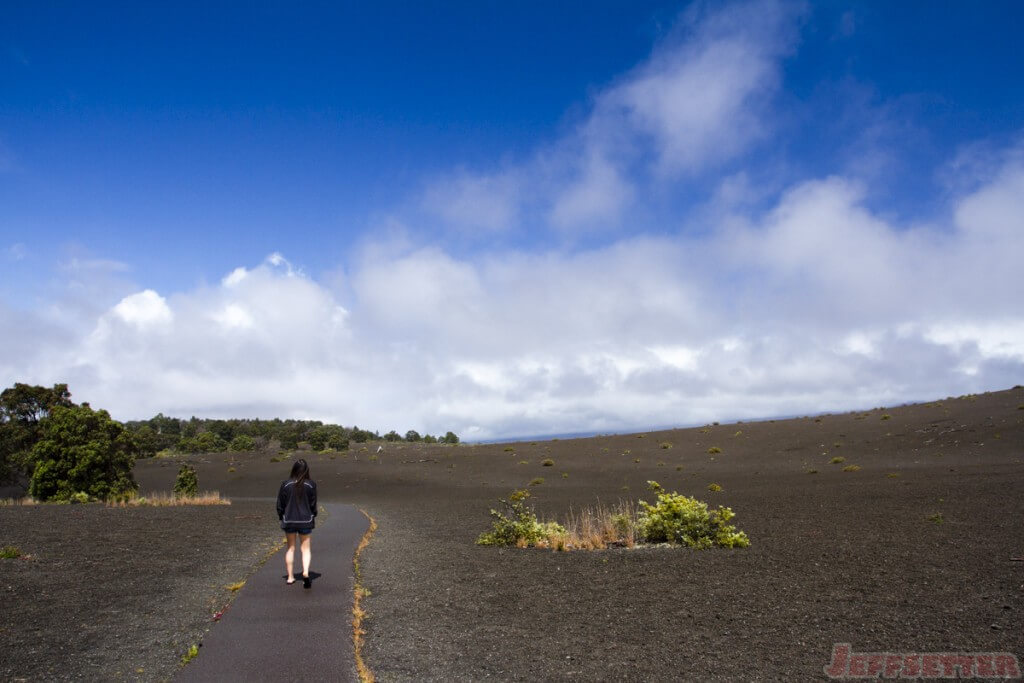 While the area is very lush, a short walk will show you why the trail is called Devastation Trail.  Soon you'll exit into a cinder field, which is a remanent of the 1959 Kilauea Iki eruption.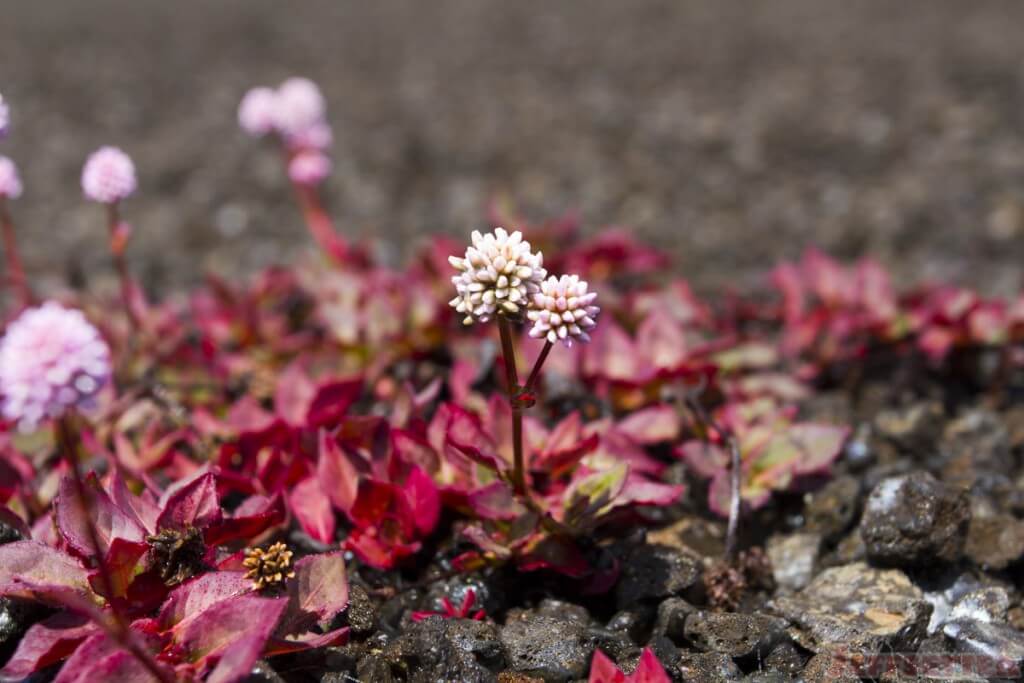 But as you'll see throughout the park, where there is devastation, life always takes hold once again.  But the devastation here is nothing like what you'll see down in the lower elevations.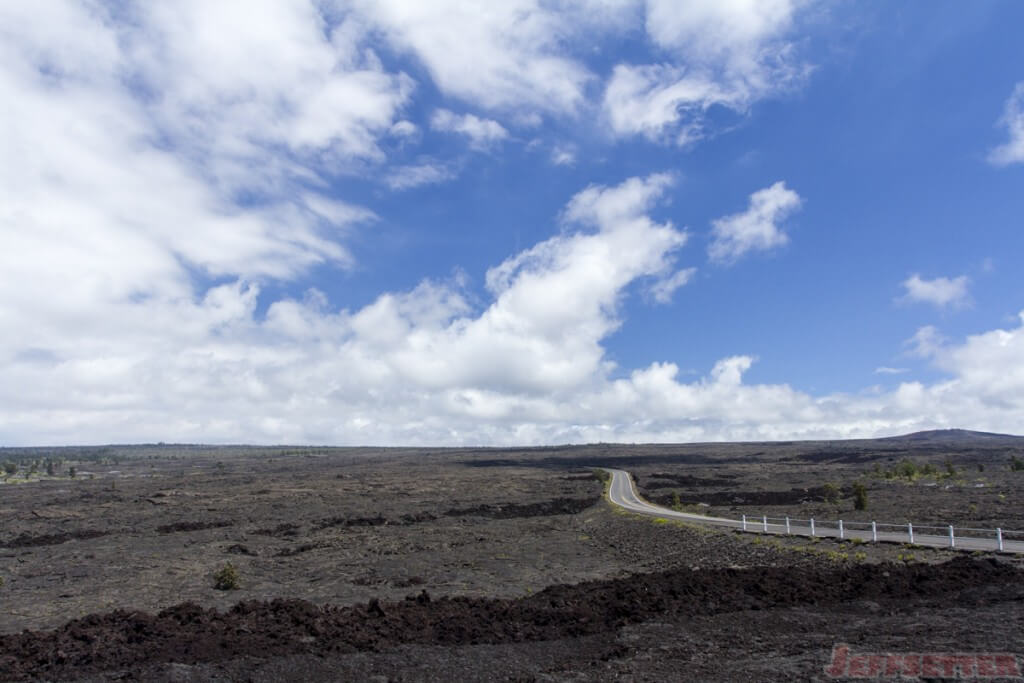 It's actually remarkable to see the change from lush Ohia forests to small stands of Ohia to desolate lava desserts as you decrease elevation and come to fresher and fresher lava.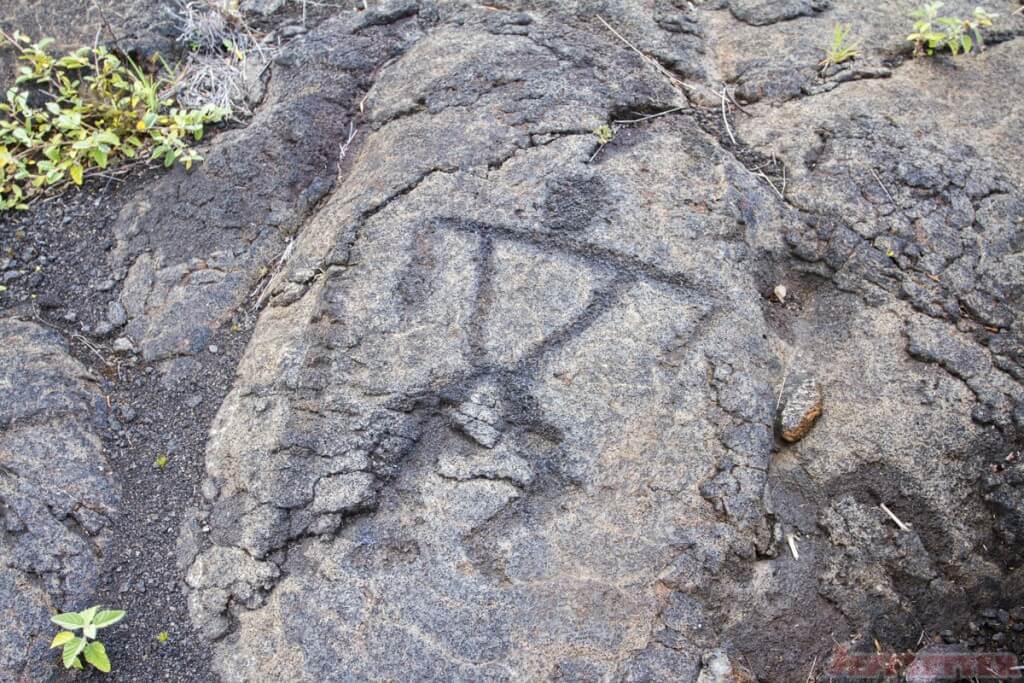 Part way down your journey to the coast, you'll come across a trail to the Pu'u Loa Petroglyphs.  A 0.75 mile hike from the road will take you to some of the best preserved ancient Hawaiian petroglyphs in the state.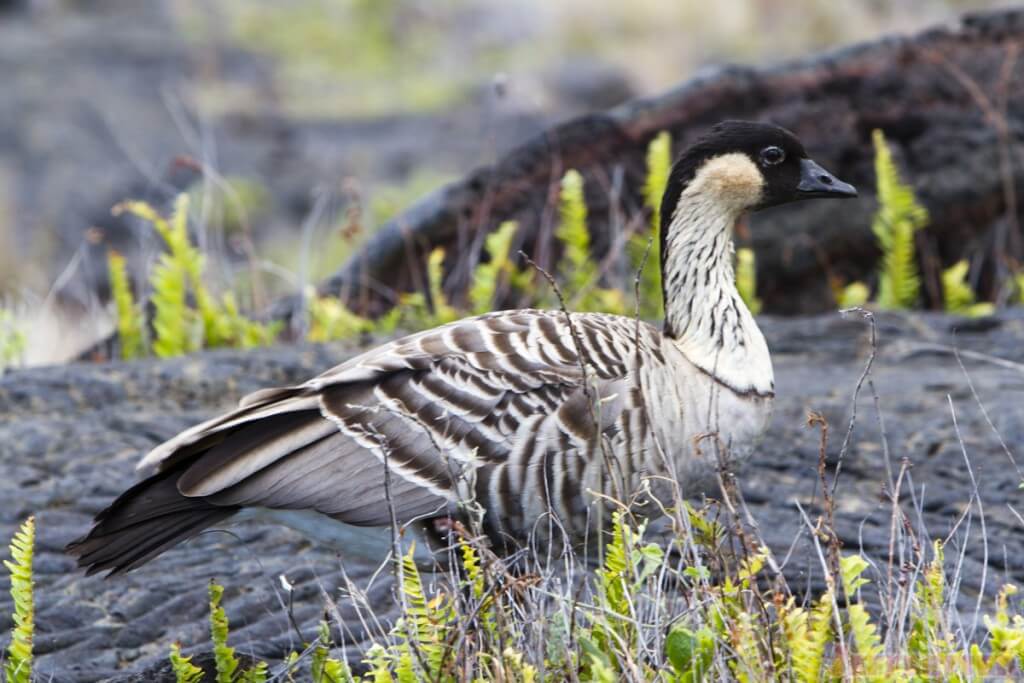 As you reach the coast you'll likely see Hawaii's state bird, the endangered Nene goose is often seen here feeding among the shrubs growing in the lava fields.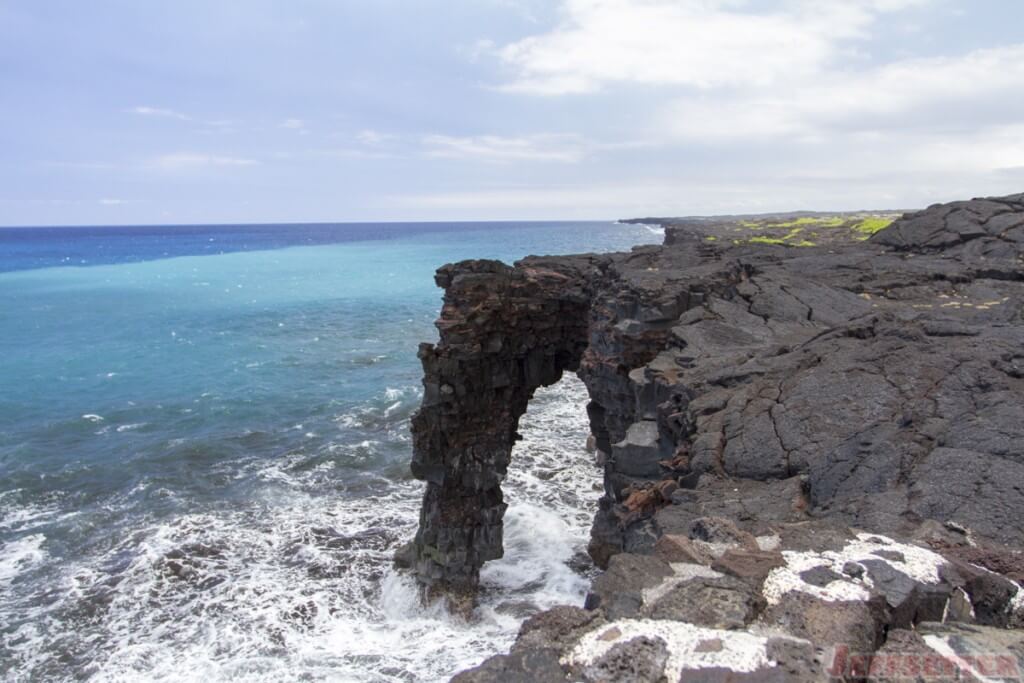 Even if a flow isn't actively entering the ocean, the drive down to the coast is worth it to see Holei Sea Arch.  You may even see some native sea birds flying around the area, as well as honu poking their head out of the water. There's much more to do here than I've been able to visit myself.  I encourage you to explore all the park has to offer and pick the sights and activities that best interest you.
Kaloko-Honokohau National Park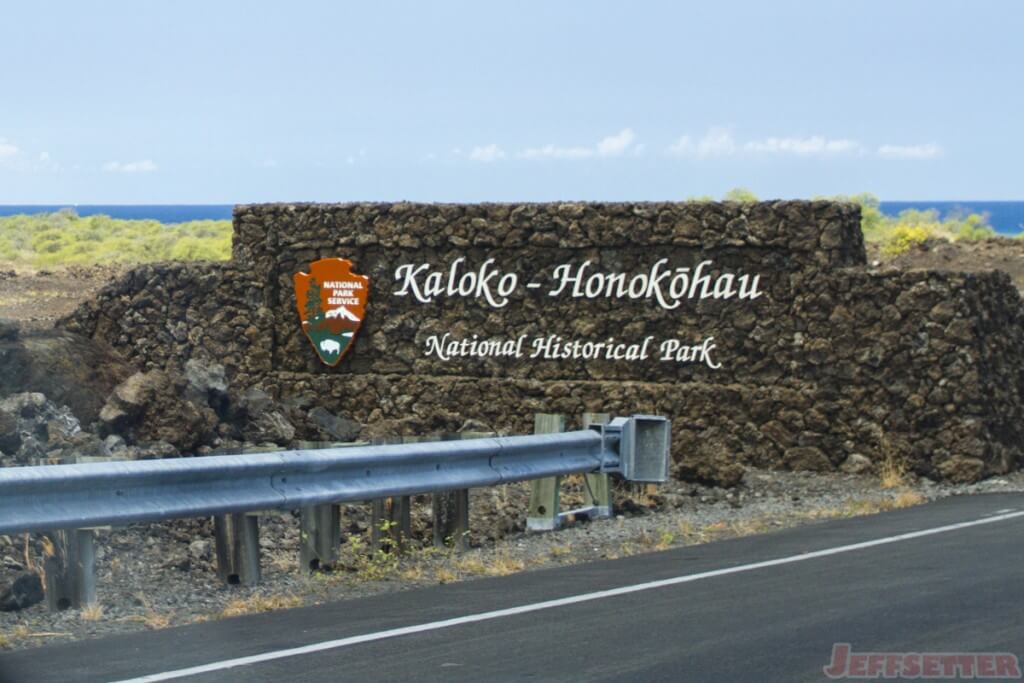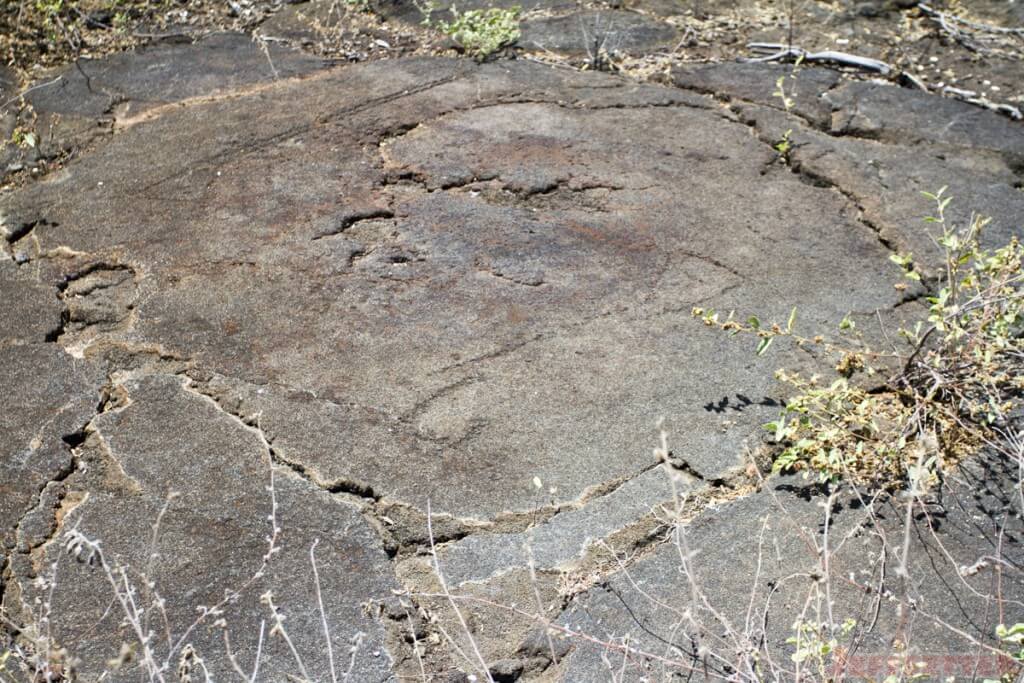 We were very short on time, but did manage to see the petroglyphs at the park.  These are nothing like what you'll see at Volcano National Park, so if you really want to see petroglyphs, I suggest you go there instead.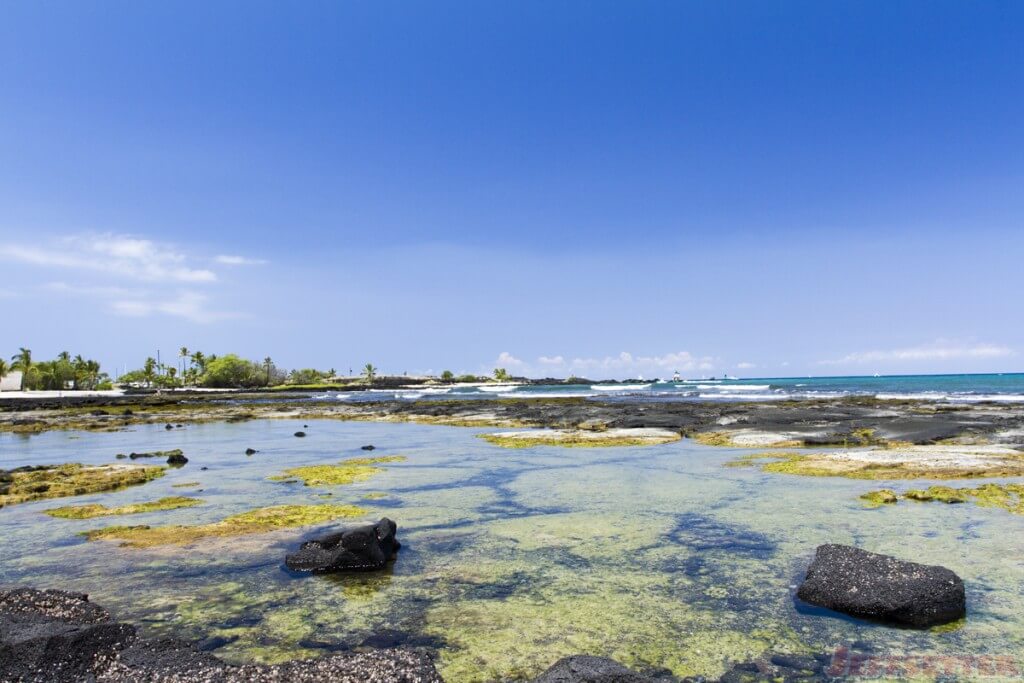 The area is best known for its two well preserved fish ponds, however, we didn't have time to get to them.  We did make it to the beautiful coastline, but turned around right after that.  The area is interesting, though not as much as Volcano. But with no admission fee, it doesn't hurt to check it out.
Papakolea Beach is a green sand beach near South Point on the Big Island.  It is one of only four like it in the world and is made up of olivine from a nearby cinder cone.  Access to the beach requires a 3 mile hike (one way) and some mild climbing down lava rock.  Bring plenty of water and swim gear to enjoy the beach!  There are no facilities here.
Mauna Kea is the tallest mountain in the world when measured from its true base on the sea floor and reaches 13,000 ft into the sky.  It's a fantastic place to visit because of all the unique microclimates and flora you pass by as you ascend the mountain and the spectacular sunset and stargazing the peak offers.
I didn't make it to the peak myself, but stopped at the visitor center.  My trip up was hampered by extremely dense fog and rain.  The drive to the summit isn't for the faint hearted, as the road beyond the  visitor center is gravel and rather steep too.  Your best bet is take a tour to the summit for sunset and stargazing.
But beware, weather conditions can change rapidly, causing a change in plans and ongoing protests by native Hawaiians (against the construction of another telescope) means the road is frequently closed and the visitor center is closed until further notice.
Hamakua Mushrooms is a mushroom farm on the Big Island's rugged Hamakua Coast, about 30 minutes north of Hilo.  They're famous for their Ali'i (oyster) mushrooms, and grow a few other varieties as well.  Tours are available, but reservations must be made in advance.  They also sell some unique items at their gift shop.
Big Island Abalone is a land-based abalone farm at the Natural Energy Laboratory located adjacent to Kona airport.  They offer farm tours, which include abalone tasting.  Through the tour, they show you how they raise both the abalone and their food by using ice cold sea water pumped up from a depth of 2,000 ft.  Reservations required.
Ocean Rider is a seahorse farm at the Natural Energy Laboratory.  It's a basic tour showing how they raise seahorses for the aquarium trade, though I've seen many reviews saying the steep price isn't worth it.  Reservations are required.
The Onizuka Space Center, located at the Kona Airport, is a museum dedicated to Hawaii born astronaut, Ellison Onizuka.  He tragically died along with his comrades in the Challenger disaster, but his legacy lives on at the museum.  It's also the only place in the state where you can see a real moon rock collected during the Apollo missions.
If you love tea, this is probably an interesting visit for you.  Located way up on the north east portion of the island, Mauna Kea Tea is the only tea farm in the state.  They produce a variety of teas that are available for purchase, as well as tea related and derived products.  Reservations are required for the tour, and oddly, just for visiting the gift shop.
Located on the way to Volcano National Park from Hilo, in the Keaau district, Mauna Loa Macadamia offers a factory tour, samples and gifts.
There are tons of coffee farm tours around the island, so I linked the gohawaii.com page that references a bunch of options, though I encourage you to consider visiting a farm in the Kau, as the different micro climate there produces coffee that some say is even better than the famous Kona variety.
Like Maui, the Big Island has a winery with it's own, unique terroir and even more unique ingredients.  Unlike MauiWine, however, Volcano Winery charges a nominal $5 fee for its standard tasting flight of 7 wines, while MauiWine's free tasting includes just 3 samples.
If you want an Aloha print memento of your trip to the islands, forget the tacky aloha shirts at the ABC Store, and head to Sig Zane's shop in Hilo.  Zane's prints are based on actual ancient Hawaiian patterns, but are incorporated into fresh, modern designs.  Zane is also responsible for the artwork now used in Hawaiian Electric Co's branding and the livery on Ohana by Hawaiian's fleet of ATRs.
See a similarity here?  Maui & Big Island have a winery, and they both also have a goat dairy.  But, Hawaii Island Goat Dairy is very different from Surfing Goat Dairy, making different varieties of cheese and having different farming practices.
Paniolo (Hawaiian Cowboy) culture is a large part of the Big Island, so horseback riding and ranch experiences are also a part of the island.  There are many options, so I've linked gohawaii.com's page once again.
There is much, much more the Big Island has offered beyond what I've covered, including helicopter tours and deep sea fishing, so it's important know what you want to do, and hopefully my guide will help you!