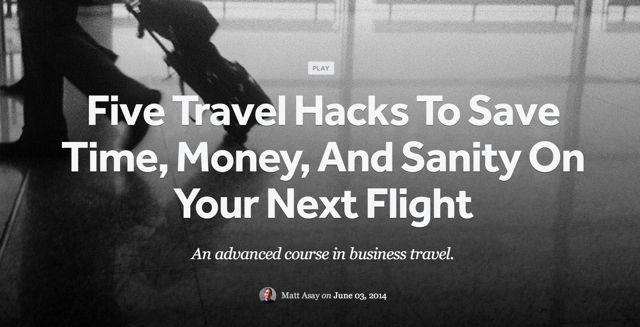 As I have mentioned in the past, I really enjoy it when my day job (Technology/Internet/Marketing) crosses over into my hobby of travel. Sometimes the crossover articles yield less than impressive results and other times the articles provide some truly useful content.
Then there are articles that don't necessarily sway me one way or another. That's how I felt when I came across an article by ReadWrite called "Five Travel Hacks To Save Time, Money, And Sanity On Your Next Flight – An advanced course in business travel."
To me, that title promises the world – an advanced method to make travel easier. Could they possibly deliver all of that in 800 words?
Did my use of a rhetorical question give away the answer?
Here is a summary of the 5 travel hacks listed by the author of the article:
Fly into markets where there is competition between airlines, because prices are often lower with competition.
In some geographies, there are multiple airports that are considered part of the same city. For example, San Francisco, Oakland and San Jose are co-terminals and you can same day change (SDC) tickets between terminals as an elite if you need to switch airports.
Get on the phone when you are delayed to get faster service.
Choose a security line with business travelers, not the very old or very young travelers.
Middle seat always gets the arm rest.
All of these tips are very practical, many of them are tips that I use every day, but I realize that I have probably not written about them often on this blog. They are likely things that I take for granted as a traveler.
1) The first tip mentions flying into competitive markets. While sounds like a good idea in theory, I don't think it's practical to expect someone to plan their travel around this fact. As a frequent business traveler, I look at competition for airfare driving down the price of flights as a nice bonus when it happens. Whether I am paying or not, I would rather fly a $200 ticket vs. $800. However, I would never plan my trip around airport competition.
2) The multiple-geography same day change rule is intriguing. While I have taken advantage of this in the past when my travel is disrupted, I have never planned my travel experience around an expected same day change from one airport to another. Since I do not live in a co-terminal market, I don't find this method practical for me. There are just too many variables at play that would prevent me from booking a flight out of Oakland and changing it to San Jose last minute (rental cars, standby seats, fare classes, time tables, etc). If you live in a market with co-terminals, this could be a nice bonus for you.
3) Get on the phone during delays. This is definitely good advice and 90% of the time it yields better results than talking to something in person. With that said, sometimes the in-person experience and need for empathy can help you get what you need. As with any aspect of travel, you are not guaranteed to have a better experience on the phone vs. in person. With that said, I have found the phone lines to work wonders, especially as an elite traveler.
4) Choosing security lines wisely – this is something you will read in every single travel guide you read. Avoid slow people early and often in your travels.
5) Middle seat gets the armrest. I didn't know about this rule, but then again I rarely sit in the middle seat. The armrest is rarely a battlefield for me, but it's good to know who has priority.
So did these travel hacks really save us time, money and sanity? Maybe a little bit, but I would say that more than anything it gave me an excuse to write an article for the day.
What are my favorite hacks for easy business travel right now?
Get elite status with an airline for chances at upgrades and preferential treatment.
Get Global Entry to all but ensure TSA Pre-Check on your domestic flights.
Become familiar with all of the rules of flying your preferred and secondary airlines. Read everything you can to understand your rights!
Call your elite flyer line to solve your problems. Hang Up and call again when you don't get the answer you want.
Get a co-branded card that gives you lounge access for your preferred airline.
If you want to use In Flight Internet, buy a monthly pass for you to use and charge it to your company. Offer co-workers ability to use it to save costs.
Earn all of the miles you can and are entitled to earn.
Redeem your miles for travel that yields you at least 1.5 cents per mile, if not more.
Use your elite status to get an exit row or economy comfort seat on all flights.
When faced with the choice, book a flight that has an empty first class cabin to increase your chance of an upgrade.
Be flexible and patient when booking flights. If a flight is packed on the seat map and all that is left is a middle seat, it will probably be a pain in the ass when you actually fly. Moving to another flight might just keep you sane.
These "travel hacks" may be obvious to many of you, or they may be new. Either way, it works for me to fly in first class on about 50-75% of my domestic flights, get to the gate or the sky club within 10 minutes of arriving at the airport, and all but assures me that I get the most value I can out of my flight.
The most important thing to better travel is to know the rules and educate yourself as much as possible. Airlines are human designed systems, and every system has good points and bad points. Travel hacking is really about understanding how to find the best opportunities and avoiding the bad.