Last week, I mentioned the great job that Tripadvisor is doing with email and how they keep on engaging me to submit more reviews and spend more time on their site. While I was skeptical and cautious about putting too much effort into optimizing for their site, I also concluded that with the size of their network and the number of people visiting the site, I could benefit from contributing my reviews to the site. Especially as long as they continue to engage me through email to keep on coming back. Not long after that post went live, I received the following email from Tripadvisor. It was extremely intriguing and fascinating to look over. Just look at how much great information is contained in this email!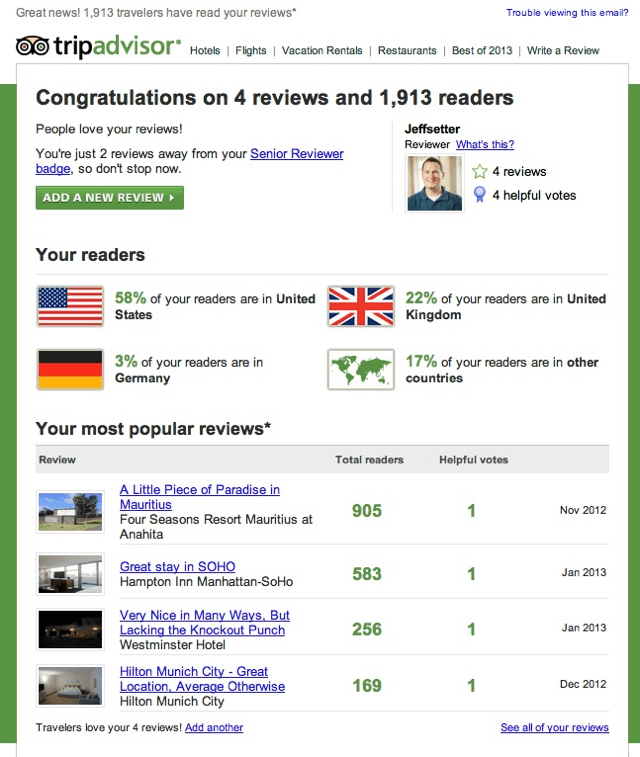 Here is why I love this email:
1) It quantifies my impact
I was quite surprised to see that my reviews have been viewed over 1,900 times. It turns out I have received only slightly less views of my reviews than I have pageviews on jeffsetter.com. Keep in mind I only have 4 reviews on Tripadvisor and 38 posts on Jeffsetter.com. The traffic per post ratio is actually pretty remarkable when you look at it that way.
2) It makes me feel international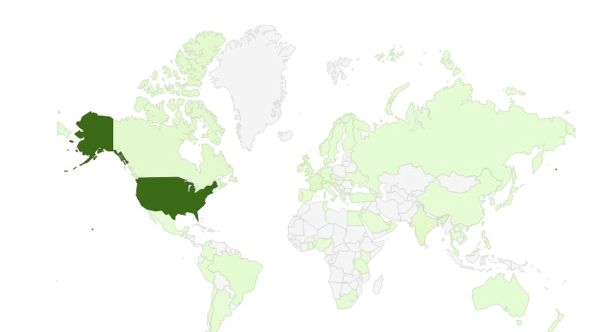 While I specifically target my posts and writing style to a US based audience, I was amazed to see that 42% of visitors came from outside of the USA. Now I am wondering if I would benefit from a more universal tone (as of now, I am not planning to change). Compare this with my stats on jeffsetter.com, where 74% of my traffic comes from the USA, and it seems that Tripadvisor gives me better international edge than I could build myself.
3) It encourages me to come back
I only have two more reviews needed to become a senior reviewer. I have no idea what it means, but I want to get that badge now! I also want to see what I can do to make my reviews earn more helpful votes. Maybe being a senior reviewer will help with that?
It's Still My Blog First, Tripadvisor Second
Even with the great emails and huge audience on Tripadvisor, it's best for me to focus my efforts on what I know and what I can own, which is my blog and the content I display within. I will continue to post my reviews to Tripadvisor as well, it will only be after they were first made available on Jeffsetter. I have big plans for amplifying my voice in the travel blog community in 2013, and a combination of blogging consistently and Tripadvisor/other review sites that will help get me there.