At the same time I started Jeffsetter, I also decided to try and get "serious" about my Trip Advisor account. While I have lurked on the site for years and enjoyed their reviews, I never really took the time to become a reviewer myself.
Now that I am doing reviews of hotels and trips on Jeffsetter, I thought it might help my brand to also post them on Tripadvisor.com. Maybe even get people to visit the site if they like what they saw!
To this point, I have not received a single measurable visitor from Trip Advisor, so I'm not sure of the value of that network on my own website. It appears to be little to none, which is a shame, since the service relies heavily on users/bloggers for their content. You would think they would be able to give back to the people that fuel their site.
You could say that if Trip Advisor isn't helping me grow readership, it is actually hurting this sites traffic if my review is read on Trip Advisor instead of on the site. That may be an extreme point of view, but the thought does cross my mind from time to time. But I have also found that…
Trip Advisor is Brilliant for Encouraging User Engagement
While I remain skeptical about how Trip Advisor will help me in the long run, I can't help but notice how they do a great job of encouraging me to engage with the site on an almost daily basis through automated emails and badges. 
My first review for Trip Advisor was in October of 2012, when I posted my Four Seasons Mauritius Hotel Review. For the most part, the text was the same as what went on this blog. I also uploaded about 40 photos from the trip onto Trip Advisor to accompany the review. That was my first review and there was little activity after that was done.
Maybe a week later, I received an email from Trip Advisor saying that someone found the review helpful.

Very nice touch. Without that email, I might not have gone back to the site or posted another review. Now I am starting to see some signs of encouragement.
I did post some more reviews after that success, and believe it or not, those reviews have also been regarded as helpful.
More automated emails have been sent to encourage me to do more. Now I'm rushing to complete two more reviews to earn this silly badge.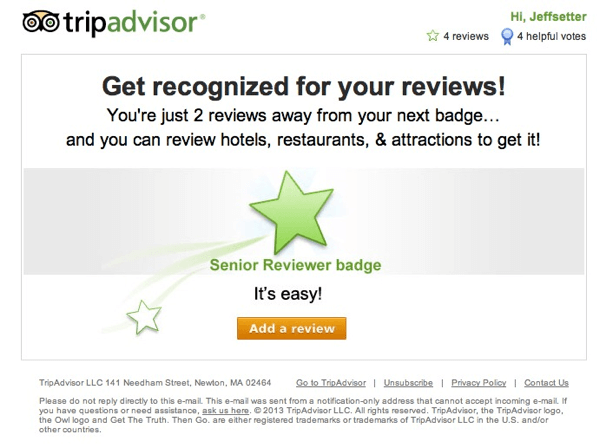 Why wouldn't I want to be considered a senior reviewer? Maybe I can put it on this blog and send more traffic to Trip Advisor ;). Surely they wouldn't link out to my site for providing them 6 quality reviews.
Engagement doesn't stop there, though. Earlier this month I was notified that the Four Seasons Mauritius was rated the #10 Luxury Hotel IN THE WORLD by Trip Advisor!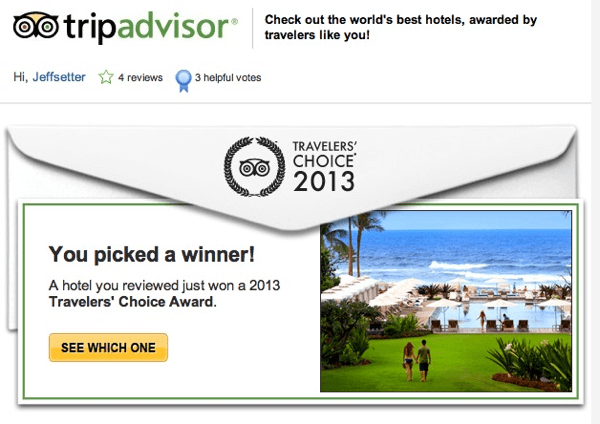 Once that happened, I noticed a big effect on the number of people viewing my review for that hotel on Trip Advisor. People are becoming interested in this hotel and starting to look around at reviews and photos.
Suddenly, I am starting to receive emails nearly every day saying that someone likes my photos of the property. None of this happened before they named this property the #10 luxury hotel in the world.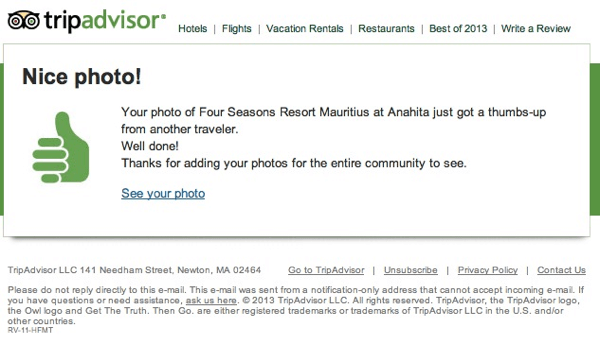 So Does Trip Advisor Help or Hurt your Travel Blog?
I would say it helps and hurts at the same time.
How it Helps:
Allows you to tap into a huge network of travel buffs while you build your own audience
Engages users with your content and helps you know if your writing is good
Has a community that you can become friend with and potentially turn into readers
Is the industry standard when it comes to travel reviews and websites
How it Hurts:
All value that you build on the site is owned by Trip Advisor
They do not send visitors to your website that I have been able to measure using Google Analytics
It takes your focus away from the site you own and spreads your time thin on another network
How I look at it? 
For me right now, Trip Advisor is a necessary evil similar to having a Facebook page. Sure, you don't own the content or what you put on there, but it does give you an avenue to tap into a much larger audience than you might be able to on your website. I plan to continue to post my reviews on Trip Advisor with hopes that it will pay off for Jeffsetter in the future. At the very least, I'm giving back to the community that gives me excellent advice and hotel recommendations.
How about you? Do you use Trip Advisor in addition to your travel blog? Or am I being naive to form this type of alliance?