Hurricane Olivia was a category 1 hurricane yesterday.  Since then, however, it's been downgraded to a tropical storm.  However, it's still heading towards the islands.  As a result, the entire state is preparing for potential impacts as Tropical Storm Olivia threatens Hawaii.
As mentioned yesterday, Tropical Storm Olivia is the second tropical cyclone to threaten Hawaii in the past few weeks.  Luckily, the storm has been downgraded from a hurricane on Monday, but continue to be a major threat.  After all, Olivia is continuing to pack maximum sustained winds of up to 70 MPH with gusts up to 85 MPH and may dump up to 20+ inches of rain on the state.
Warnings and Alerts
Yesterday, only Hawaii and Maui counties were under a Tropical Storm Warning, while Oahu was under a Tropical Storm Watch.  Today, however, Oahu was upgraded to a Tropical Storm Warning, while Kauai was placed under a Tropical Storm Watch.  As a reminder, a Tropical Storm Warning means severe weather conditions are possible within the next 36 hours.  A Tropical Storm Watch, however, means that severe weather conditions are possible within the next 48 hours.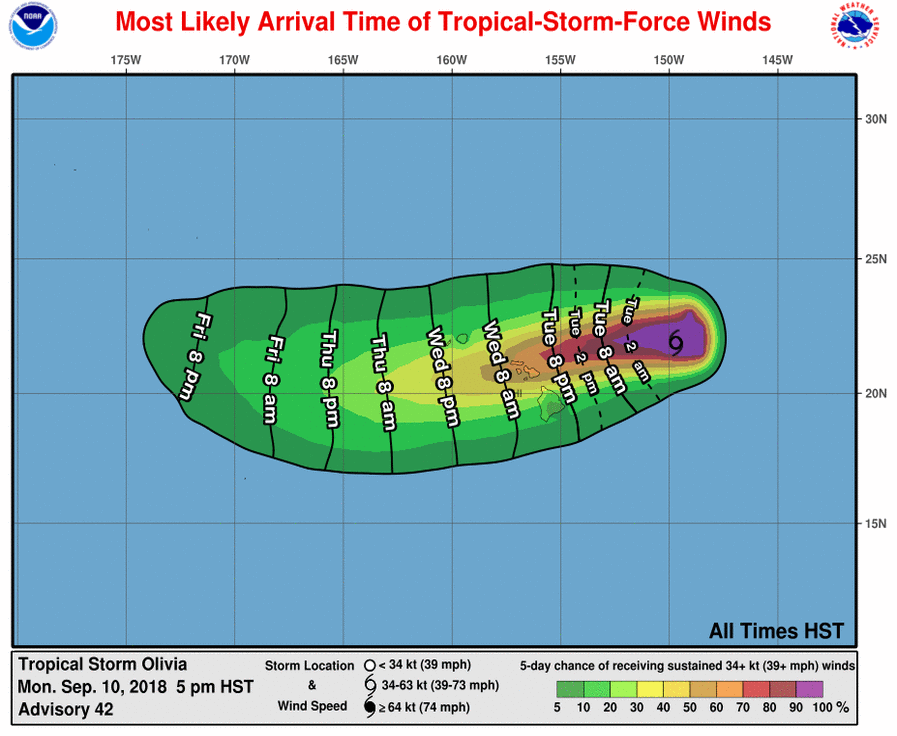 Current Effects
At the moment, Olivia isn't causing much in the way of closures and cancellations.  Most services and attractions remain open across the state.  However, National Parks across Hawaii will close beginning on Tuesday, September 11, from 2 pm until further notice.
Though there aren't many closures yet, it's important to check with travel providers, airlines, etc. prior to departure over the next few days.  Things may change suddenly, and experts believe the storm will have a direct impact.  So, at the moment, it's no longer a question of if, but when and how bad.  In fact, airlines have begun offering travel waivers as Olivia makes its approach.  For more information on Hawaiian Airlines's travel waivers, visit hawaiianairlines.com.
Tropical Storm Olivia Threatens Hawaii, Final Thoughts
While officials in Hawaii seem to be taking a more relaxed approach to Tropical Storm Oliva, make no mistake, the storm is a very real threat.  Officials are simply taking a more cautious approach to their warnings this time around.  And, once again, if you're traveling to or from the islands this week, be sure to check your credit card Trip Delay Insurances.  Such coverage may come in handy should you get stranded traveling to or when attempting to head back home from the islands.  For more information, check out my post from yesterday.