Just weeks after Hurricane Lane slammed the Big Island, yet another hurricane is threatening the state.  This time Hurricane Olivia threatens Hawaii, and we could begin feeling its effects as early as Tuesday.  As a result, Hawaii is under a Tropical Storm Watch yet again.
Hurricane Olivia is the ninth hurricane to form in the Eastern Pacific this season.  And it's the second storm to threaten Hawaii, though others have passed close by.
Tropical Storm Watch
A Tropical Storm watch means that tropical storm conditions are possible within the next 48 hours.  The watch applies to the Big Island, Maui, Lanai, Molokai, and Oahu, which is to say, all islands except for Kauai and Niihau.  At the moment, Olivia's track has it impacting Maui directly, though it's expected to weaken to a tropical storm by the time it does.  A tropical cyclone is a storm with sustained winds of 39-73 MPH, with higher gusts possible.  Heavy rain is almost guaranteed during these events as well.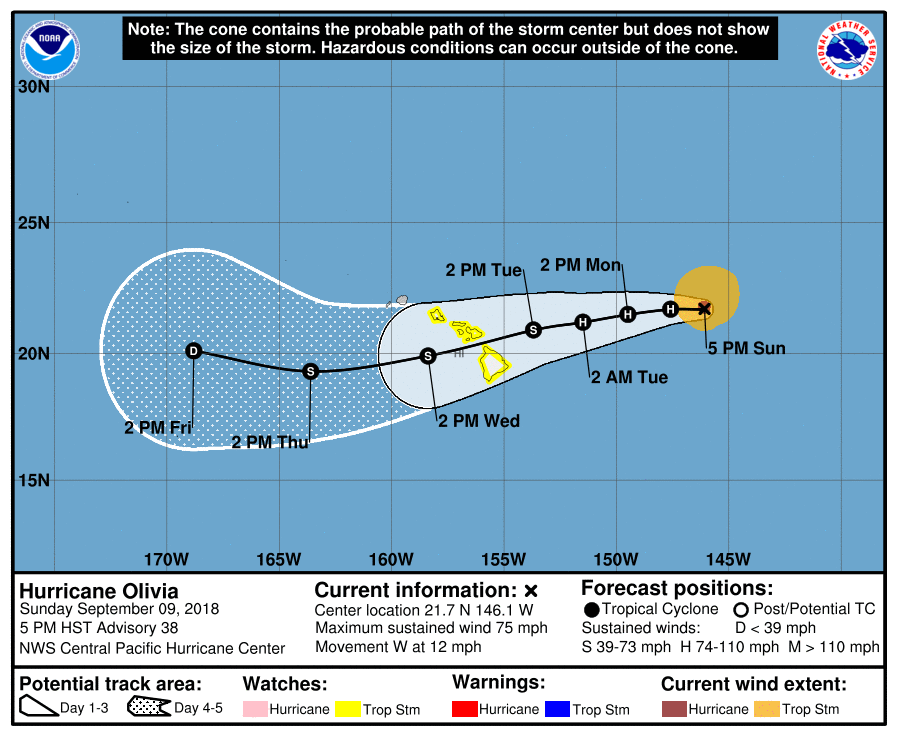 While potential impacts are expected within the next couple of days, it's important to note that things may still change.  This was indeed the case with Lane, which rapidly weakened as it made landfall in the islands.  However, the opposite could hold true too; the storm could maintain hurricane strength, turn more north, or could even strengthen.  So it's important to be vigilant and plan for any and all contingencies.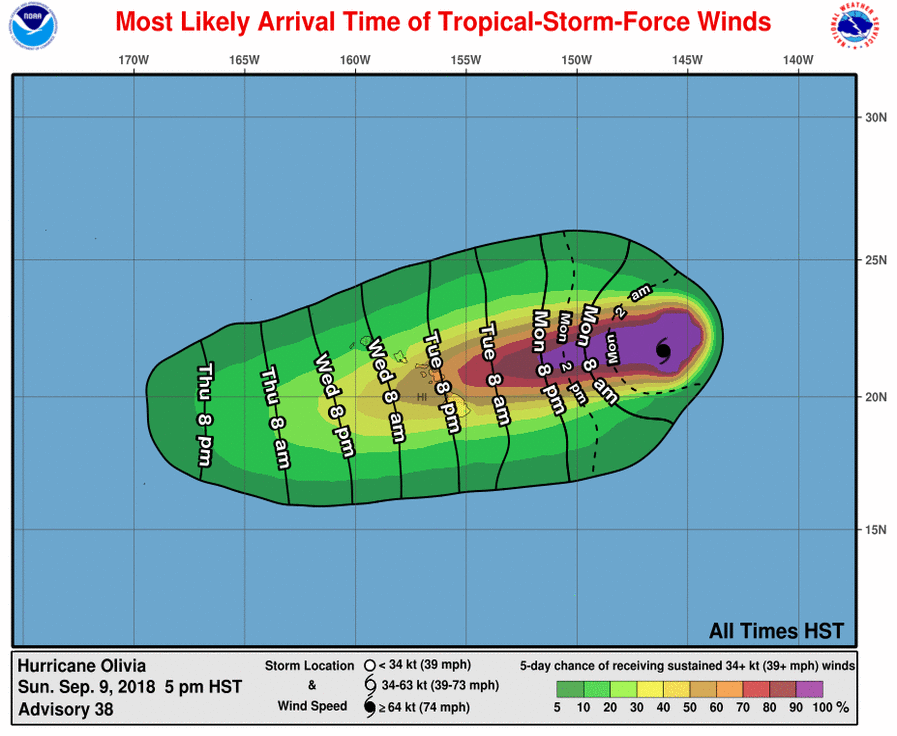 Impacts, by the way, are likely beginning Tuesday night.
How to Prepare
Hawaii residents are well versed in Hurricane preparation.  In fact, most of us still have our supplies from Hurricane Lane, which means all we need to do now is ensure everything still works and that we have a full tank of gas.  But if you're visiting the islands, you'll want to make sure you have a game plan as I've covered in the past.
For those of you not already here or due to leave Hawaii soon, be sure to check with your airline over the next few days before leaving for the airport.  While only a couple of flights were canceled last time, each storm will be different.  Further, check your credit card coverages to see what expenses will be covered if you get stranded in Hawaii or en route.
Didn't pay with your hotel and airline with a credit card?  You should.  The thing about travel is you never know what will happen.  So, it's a good idea to use a card with coverages that'll help you in case things do go wrong.  For example, the Chase Sapphire Reserve Trip Delay Insurance that provides up to $500 in reimbursements per common carrier ticket.  To qualify, you need to purchase at least part of your ticket with the card.  The benefit covers the cardholder, their spouse, and children under the age of 22.  And, the coverage kicks in after six hours of delay to cover lodging and meals.
Hurricane Olivia Threatens Hawaii, Final Thoughts
Historically, Hawaii doesn't feel direct impacts from tropical cyclones often.  However, that could change in the future.  In fact, meteorologists are predicting an increase in tropical storm activity in the Central Pacific.  The reason for this is increasing sea surface temperatures thanks to climate change.  This means that going forward, having a credit card with great coverages is going to be even more critical.  And things could get worse much sooner; El Nino conditions are likely to take effect around the islands towards the end of this month.
In the meantime communicate with your travel providers and pay attention to the news.