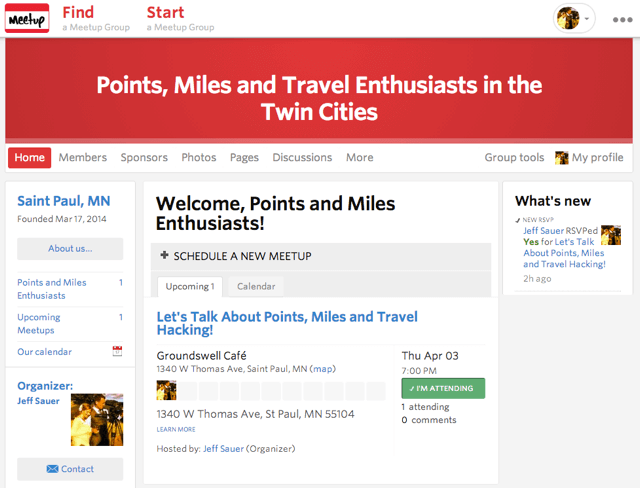 One of the things that I have learned in writing this blog is that there are a lot of fellow points and miles enthusiasts right in my back yard! That makes the Twin Cities a center of music, arts, biking, med-tech and frequent flyer miles.
A few readers in the Twin Cities area have reached out to ask me if there were any meet up groups or gatherings to talk about our hobby, and to this point I do not know of any. Hoping to change that, I have teamed up with fellow points and miles enthusiast Cate to form an in person meet up for folks in the Twin Cities (or who happen to be visiting the Twin Cities).
We are planning to have our first meet up in a few weeks at the Groundswell Cafe in St. Paul.
Here are the details:
Thursday, April 3, 2014

7:00 p.m. – 9:00 p.m.

Groundswell Café

1340 W Thomas Ave

St Paul, MN 55104
We have a room reserved at Groundswell for 12 people and it would be great to see you there! Just mention that you're here with Jeffsetter and they should be able to show you to the room.
I have created a group on Meetup.com for Twin Cities enthusiasts. To check out the group and RSVP, please visit the meet up page:
http://www.meetup.com/Points-Miles-and-Travel-Enthusiasts-in-the-Twin-Cities/
Can't make it to this event? Sign up for the group on meet up and you will be notified of future events. If this is successful, the goal would be to have in person meetups every few months.