Shave ice is one of Hawaii's most iconic foods, and while not as renown as Matsumoto's Shave Ice on Oahu's North Shore, Ululani Shave Ice is one of the most iconic shave ice vendors in the State.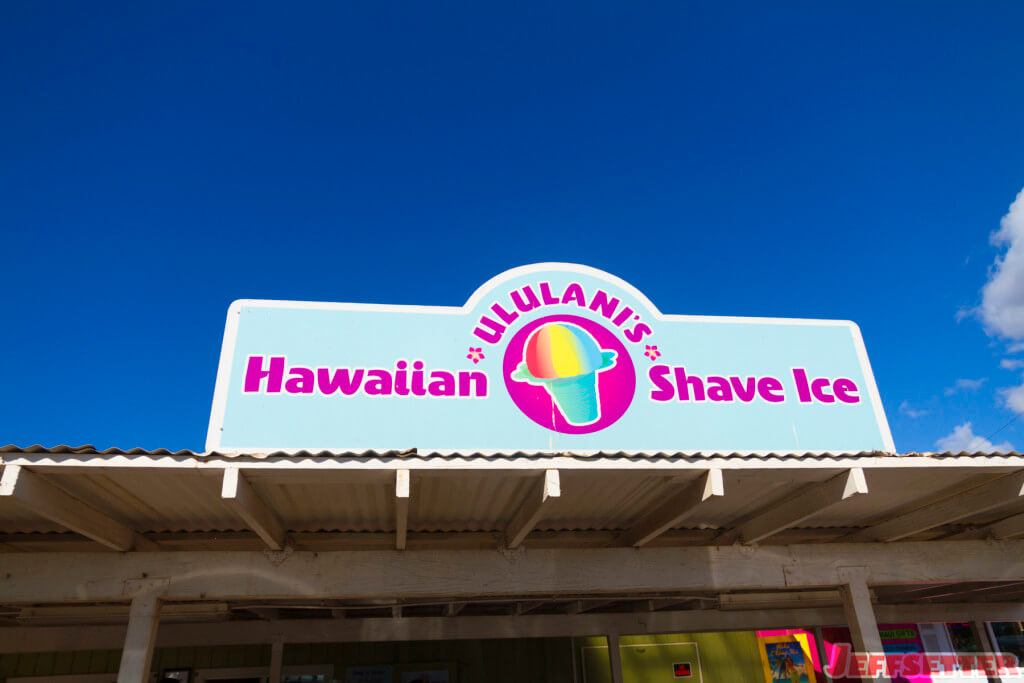 Available only on Maui, Ululani Shave Ice is quite different from the likes of Matsumoto's and most other famous shops on Oahu.  Why?  Because Ululani has an enormous menu of flavors, many of which are all natural and made in-house with local produce.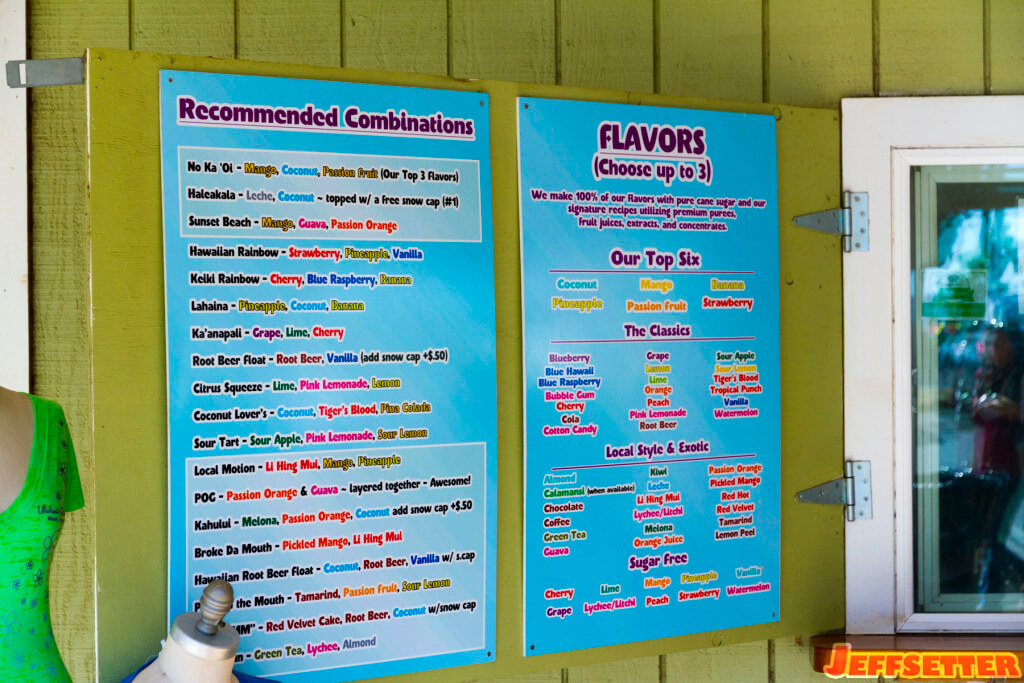 Of course there are some flavors that aren't exactly natural too, but there's definitely flavors that'll appeal to just about anyone.  You, of course could make your own combo of flavors, but in case you need help deciding, there are recommended combos as well.
In addition to the large number of flavors, Ululani also offers a large variety of enhancements.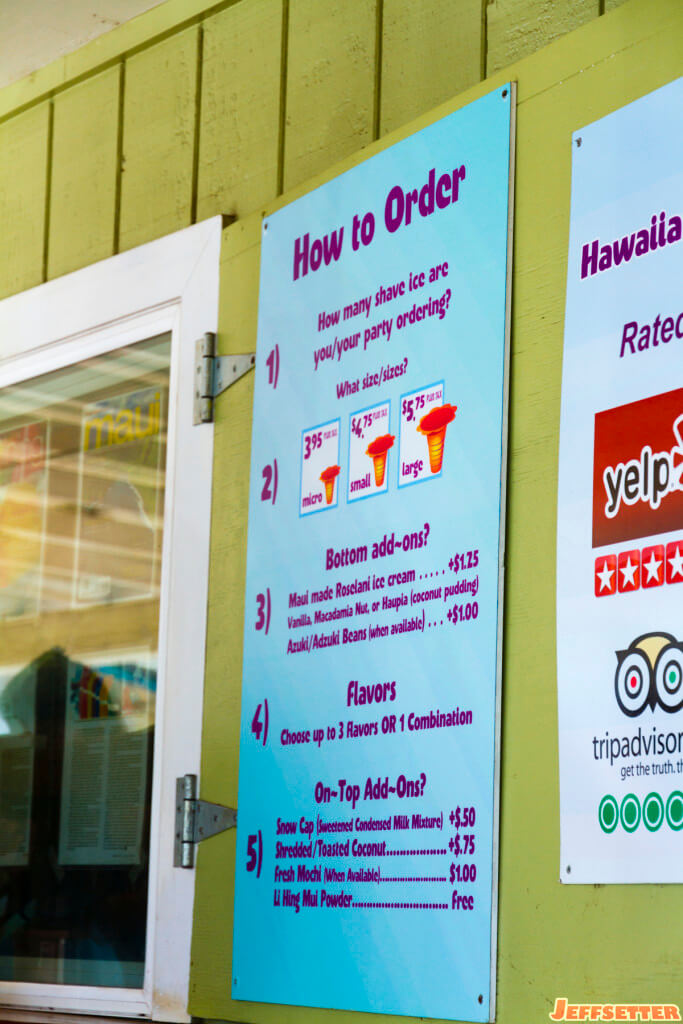 You can add in locally made Roselyn ice cream, a topping of sweetened condensed milk, shredded/toasted coconut, fresh mochi, and li hing mui powder.  And have you noticed the sizes?  Don't be fooled by the names, the micro is the equivalent of a regular at many other places.  So beware when ordering!
Another unique feature you'll notice at Ululani's are the tables.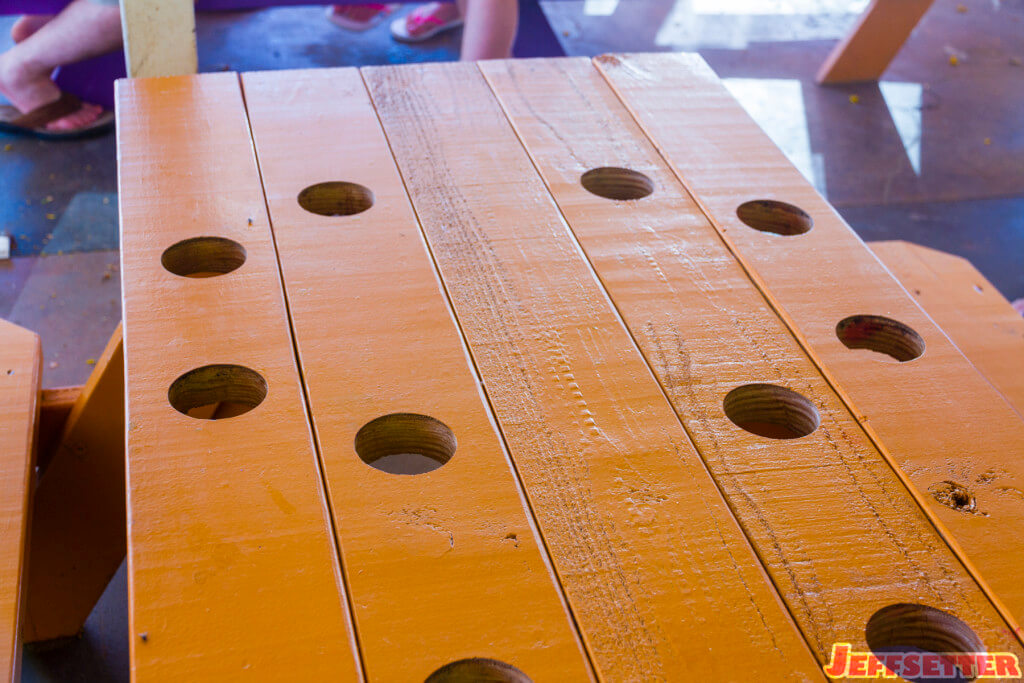 The tables are full of holes!  All of the holes are the same size and a perfect for resting your shave ice in… which is what it's for!  This particular Ululani Shave Ice stand is the Kihei location.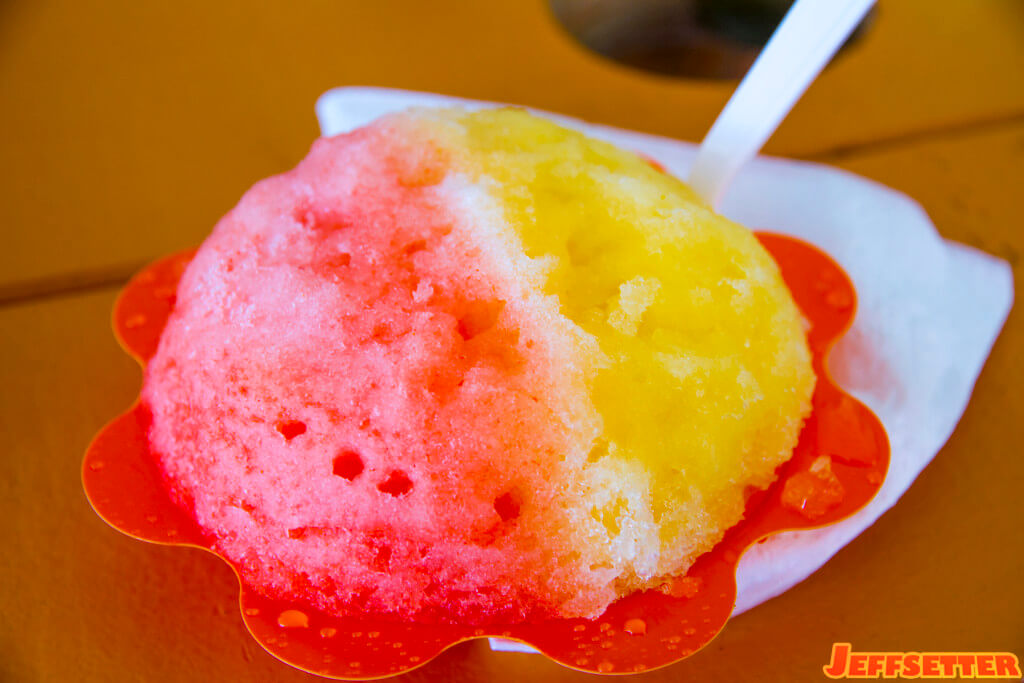 So about the shave ice… Like I said earlier, Ululani has a large variety of flavors, many of which are all natural, and a variety of enhancements.  The above is a micro shave ice with guava and passion fruit (lilikoi).
The very first time we visited an Ululani, the wife and I went to the Kahului location.  It's a little shack in a strip mall, that's actually a close walk to the Courtyard Maui.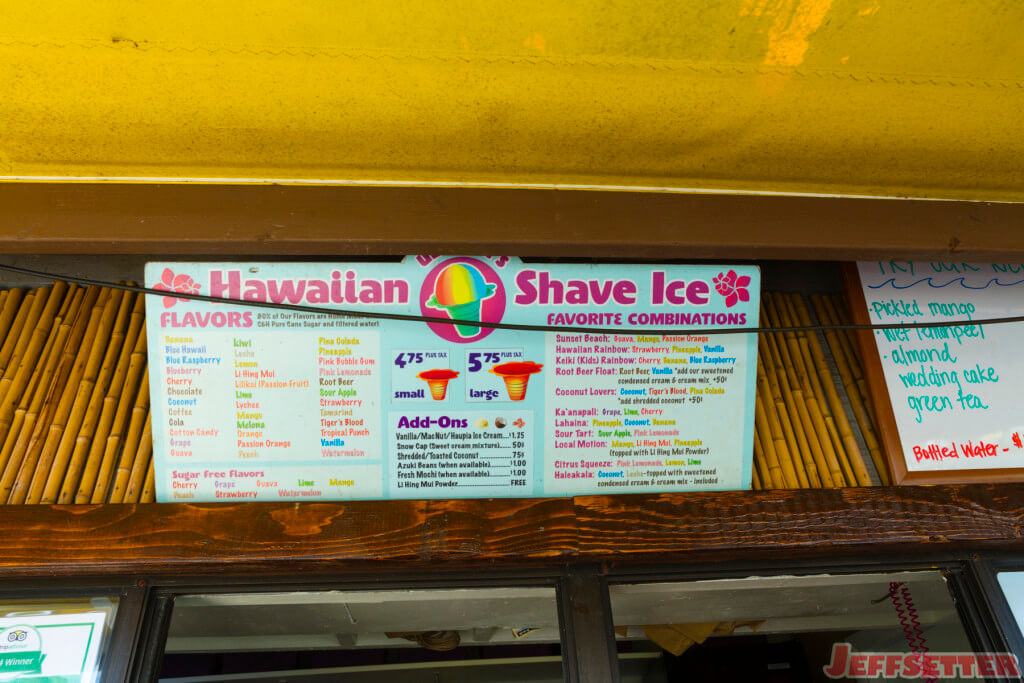 This location is a little different, probably because of the size of it.  Here they only offer two sizes, the small and large, but have most, if not all the flavors of the Kihei location, the the same add-ins.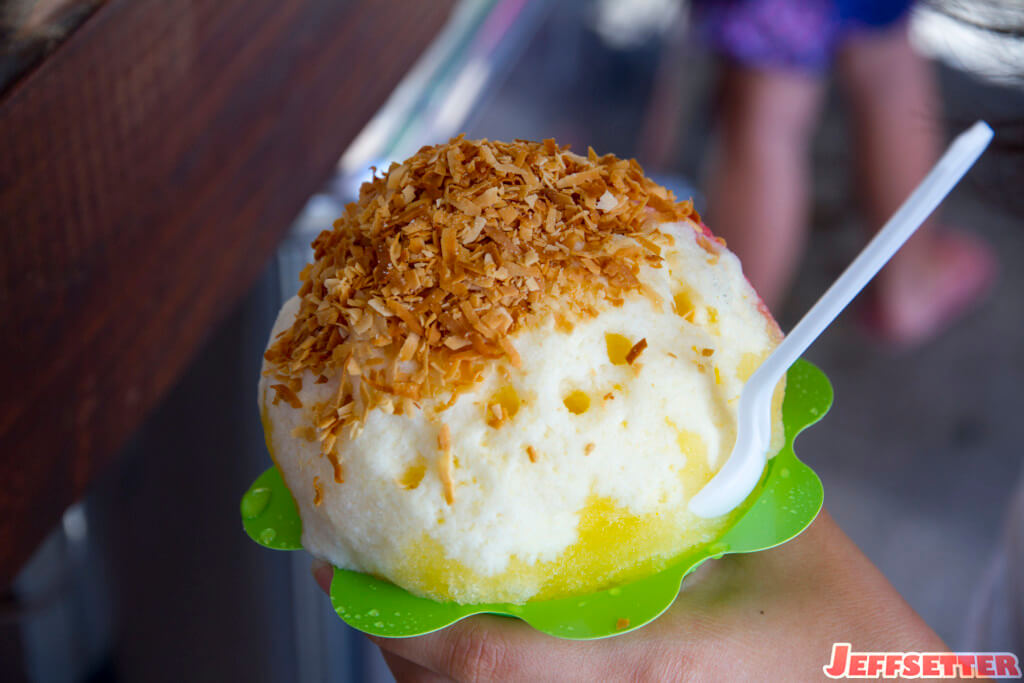 Don't really remember what the wife got that time, but as you can see, she went all out with the snow cap (sweetened condensed milk) and toasted coconut added.  Me?  I kept it simple with the mango, calamansi, and guava.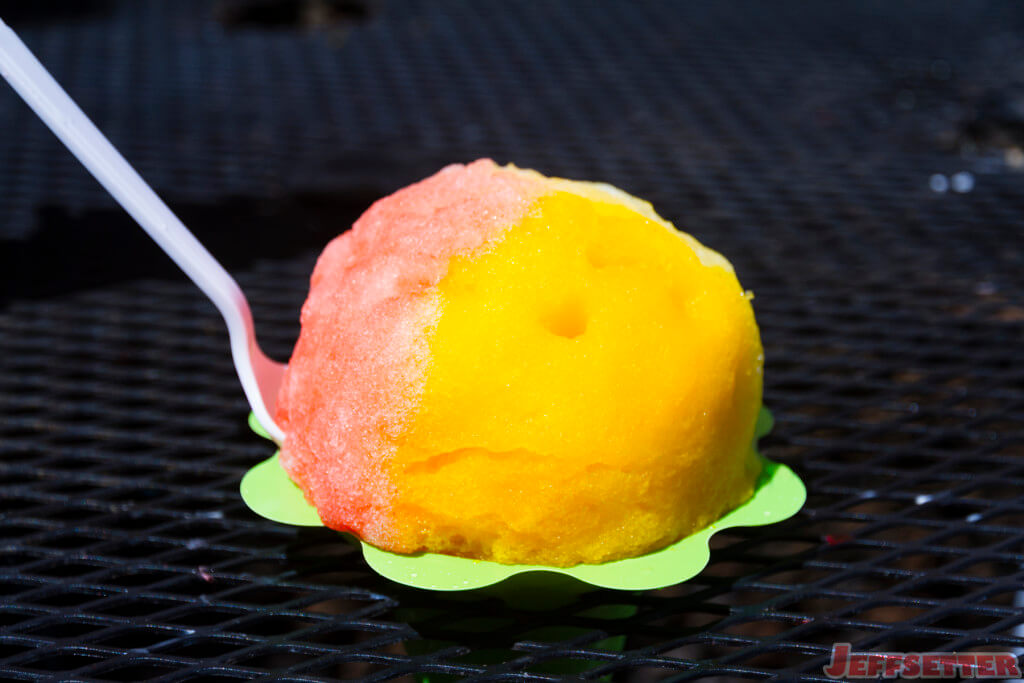 The other difference with this location? The tables.  They still have the holes in the, but they're metal instead!   By the way, these are the small sizes!
For those staying on the west side of the island, Ululani does have locations in Lahaina and Kaanapali.  We chose to visit the Kaanapali location once, which is located at the Hyatt Regency.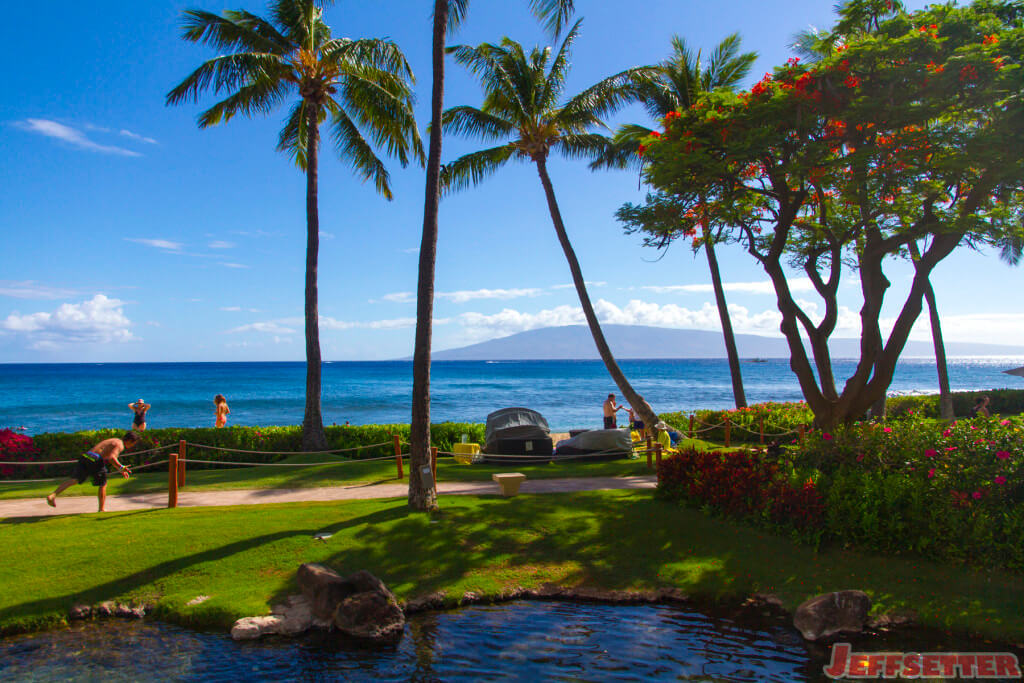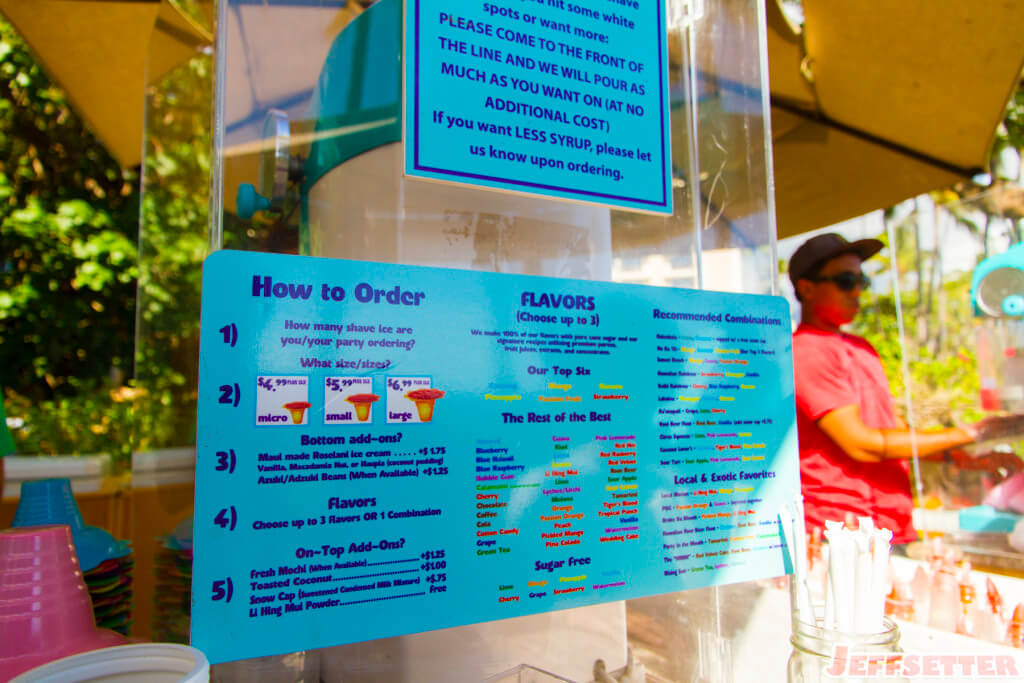 You can't beat the view at this location, though so far this is my least favorite location.  It's not that anything is different, it's just the employees mere, um, *meh* ?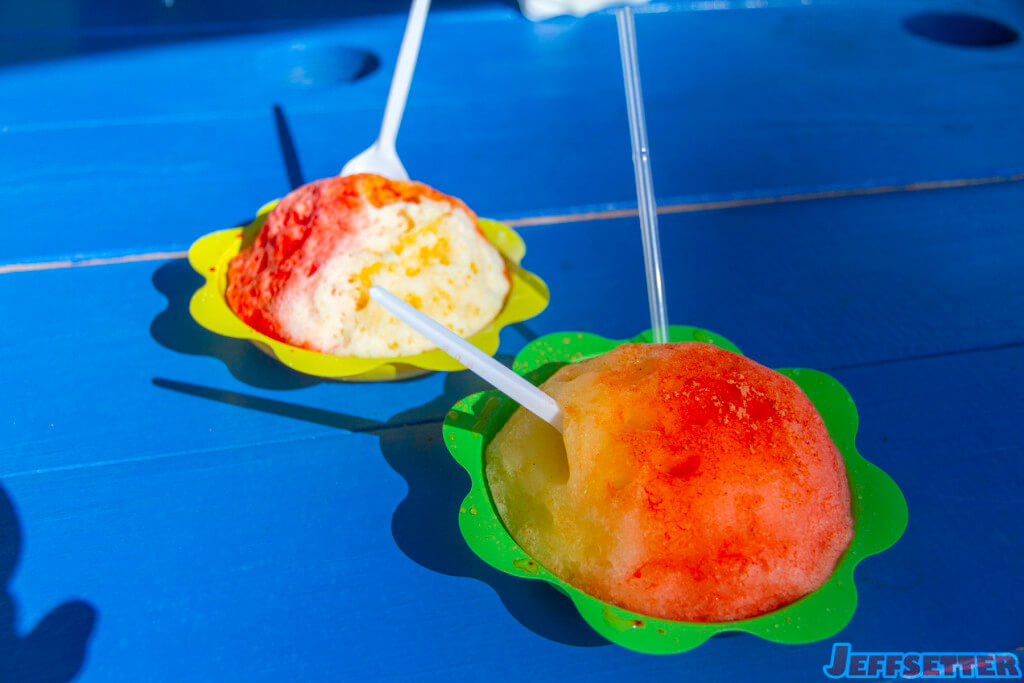 Even though I've already talked about it, the last time we had Ululani's was just a couple months ago in Kihei, and the wife and I decided to get different flavors.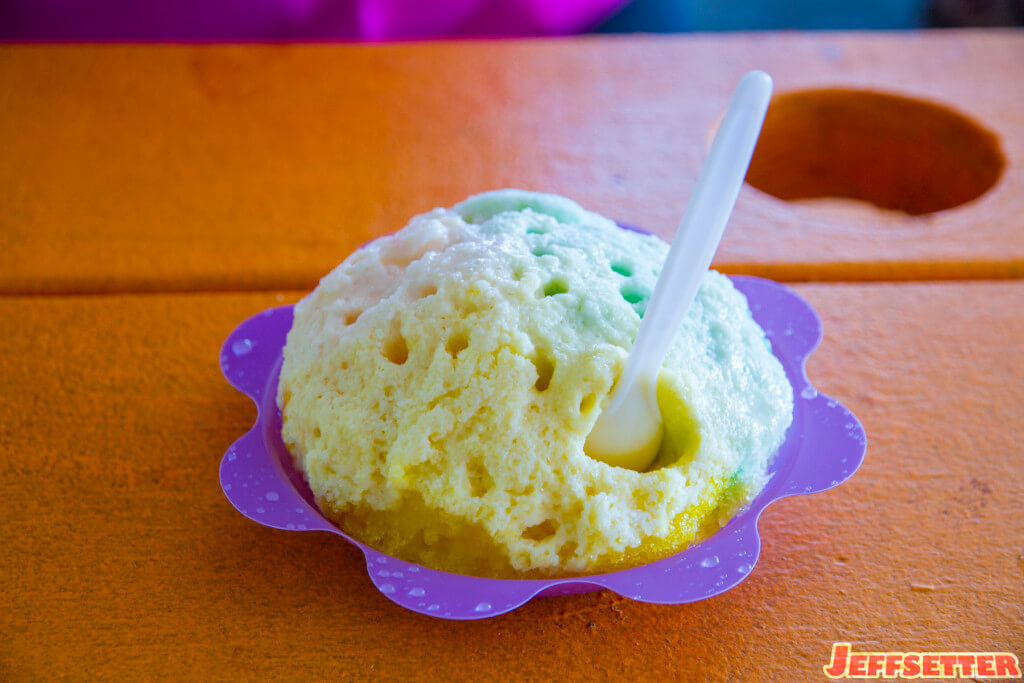 The wife actually went with Sour Tart combo with sour apple, pink lemonade, and sour lemon, with snow cap of course.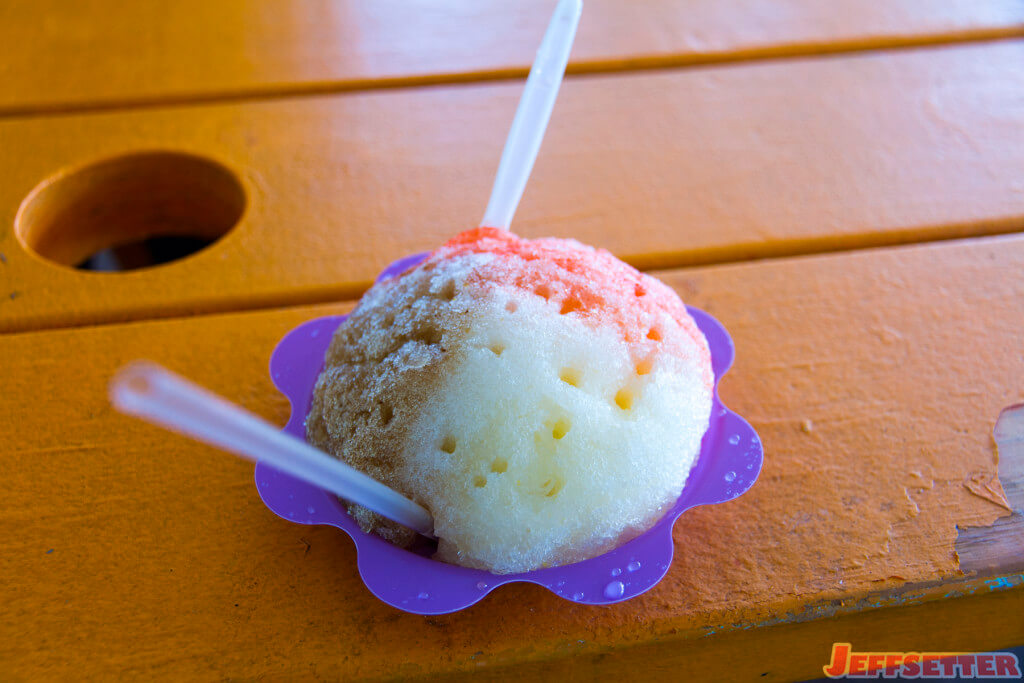 My shave ice looks a little weird because I went with, you guessed it, guava, calamansi, and tamarind.  Tamarind is a funky looking fruit that has a sweet/sour/tart (but mostly tart) flavor.  And the calamansi?  It's a tiny Filipino lime that has a tart, slightly bitter flavor, and tastes somewhat like a lemon, lime, tangerine and grapefruit had a baby.  I know that's a similar description to yuzu, but it tastes much different.
Anyway, the sourness and slight bitterness in some of their flavors is actually why I like Ululani.  They let the natural flavors of the fruit shine through, and are the only ones that have been able to pull off an all natural guava flavor that actually has flavor!  That's why Ululani is currently tied with Country Shave Ice on Oahu (more on them later) for my favorite shave ice.  Period.
Wow, that's a really long post about shave ice… I guess what I'm trying to get at is, ditch the shave ice everyone says you should have in Hawaii, and try Ululani if you're on Maui!  It is, by far, one of the best in the state.