Last updated on October 26th, 2020 at 05:50 am
In July I will be going on my biggest adventure yet. It starts with selling most of our worldly possessions, and putting the rest into a storage unit. From there it's a road trip up to Seattle for a business trip… Sounds pretty tame, right.
After that, Mrs. Jeffsetter and I will start island hopping until we get tired of the ocean or the money runs out. Or something like that.
Yes, we have reclused ourselves from corporate overlords and decided to take the plunge into full time travel. With this major event, our blog should become a lot more interesting!
It starts with a soft landing in Hawaii, then some island hopping through the Pacific until we get to New Zealand. At some point we will need to make it from Auckland to Sydney, so we can fly the Etihad apartments to Abu Dhabi.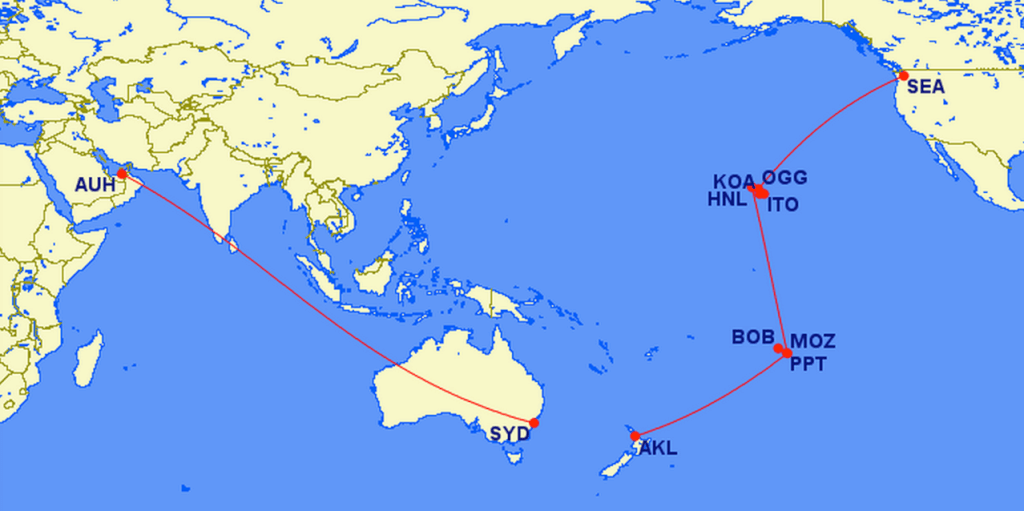 Image Copyright © 1996-2015 Karl L. Swartz. All rights reserved.
This sounds like a simple answer, right? Just fly from Auckland to Sydney and call it a day.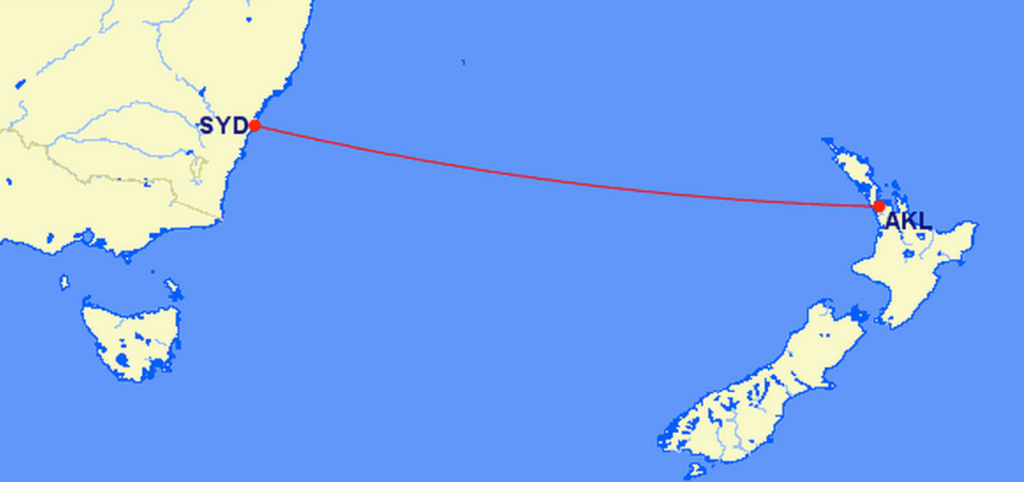 This trip is not as simple.
Future posts will discuss how this trip came to be, how we will manage to live out of a carry-on, employment, budgeting, flights and all of that fun stuff. But for today, I have a more pragmatic question:
How can I indirectly get from Auckland to Sydney while managing to visit two island nations: New Caledonia and Tonga?
The Jeffsetters have many items on their travel bucket list, and visiting all island nations and territories is part of that list. This is a real goal of ours! Here is a Google Spreadsheet with a list of Island Nations and Territories that I generated with scraped wikipedia data. Here are the islands on a Google Map just for giggles.
Visiting all island nations is a passive bucket list item, meaning that it's not our primary goal of travel, but something we will make an effort to achieve over the next several years.
This is for two main reasons: 1) My work is based on having an Internet connection to communicate. Extended dark periods would be a serious problem. Internet connections on islands are usually terrible. 2) It is surprisingly difficult to hop between islands, despite geographic proximity. Hence the reason for this post.
We could easily fly from New Zealand to Sydney, but we would be missing so many island opportunities!
For this trip, we have decided to take the island way from SYD-AKL, and the logistics are starting to drive me crazy.
Jeffsetter wants to go to Tonga and Swim with Whales
The year was 2013. We found ourselves on the near-atoll of Aitutaki in the Cook Islands. As is customary with most of our trips, we were the only Americans on the island.
We befriended many friendly kiwis on holiday. Naturally the topic of travels came up, with island travel being a major part of travel life for Kiwis.
"Don't go to American Samoa. It's like East Compton over there. You should swim with the whales in Tonga…"
Swim with Whales? Is that even legal?
Yes!
Tonga has been on a coveted destination for me ever since that encounter. Now I have the opportunity to make it a reality.
Mrs. Jeffsetter wants to Scuba Dive off the coast of New Caledonia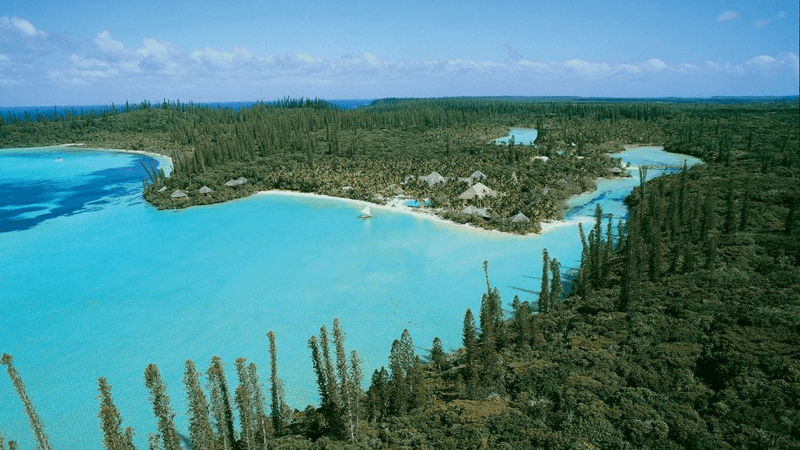 "Jeff, there is an island with Pine Trees!"
Turns out there is a Starwood property there, too.
To my parents, New Caledonia is a place they talked about on McHale's Navy. Mrs. Jeffsetter has heard it described as a "poor mans Tahiti" for whatever that's worth. I have no pre-conceived notions.
Whatever the case, a few days scuba diving and island exploring seems to be in good order. Sold!
Getting between New Caledonia (NOU airport) and Tonga (TBU airport) is a challenging proposition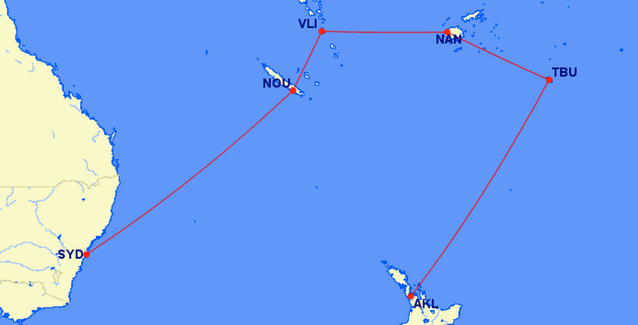 We are on a budget, so we want to spend as little on flights as possible. Fortunately, we have diversified our portfolio of points and miles, so we can transfer to nearly every program out there. I emphasize nearly, because we are having trouble finding a valid route between these islands.
So far we have only spent $584.30 per person to get from Seattle to Abu Dhabi, with every flight over 5 hours in business class (Delta SEA-OGG, Hawaiian HNL-PPT, Air Tahiti Nui PPT-AKL, Etihad First SYD-AUH).
To book this routing we would need to double or triple our expenses just to see a few extra islands.
Flights from mainland to the islands aren't too difficult to find on points and miles. I was able to find (and book) the NOU-SYD route using 10,000 Avios per person + $125. Even with fuel surcharges, this saves over $200 per person.
Flights from Auckland to Tonga are bookable using United miles, but at 22,500 United Miles + $23.20 for an award flight, I would rather just pay the ~$220 in cash and save the miles.

Same goes for using Delta Skymiles to fly Virgin Australia. Space is available, but the 22,500 cost in miles + $37.70 in fees is not a good value (even for Skypesos).
After looking at the award charts for several Star Alliance carriers, I have yet to find a more reasonable option. Does anyone know of an award chart with great intra-Pacific awards? It seems like the Pacific Hopper will not really work in my situation.
Conclusion: With flights so inexpensive from Auckland to Tonga, I might as well pay cash, unless I can find an award chart sweet spot I'm missing.
Getting between these islands is where I am struggling.
The Fiji Option
There are no direct flights between TBU and NOU. The obvious waypoint between islands is through Fiji's Nadi Airport. Whether direct or with a stopover, this would give me an excuse to stay at the Radisson Blu Denarau Island in Fiji and burn Club Carlson points/get a free award night before Club Carlson takes away that benefit on May 31, 2015. I don't care if Drew complains that it's on a man-made island. It's free.
Fiji Airways flies direct from TBU to NAN a few times a week, at a reasonable price. They also have several airline partners (American, Alaska, Qantas, Air New Zealand), but I don't see a way to book flights from TBU-NAN online for my desired dates through any of these partners.
Alaska seems the most promising, but they don't appear to even recognize TBU airport as something that exists. They also think that NAN airport is Nantucket, so that seems like a dead end. My frustration can be properly summarized by this quote from Scott at Travel Codex in his recent post on Alaska Miles: "Who flies one-way between two remote islands?"
I do, Scottrick.
Fiji to New Caledonia = no Consistent Schedule
Part of the reason why we are able to travel to so many places inexpensively is that we are flexible with dates. This allows us to choose value over schedule, knowing that we will eventually get to our destination in due time. This works well everywhere except for flying from Fiji to New Caledonia.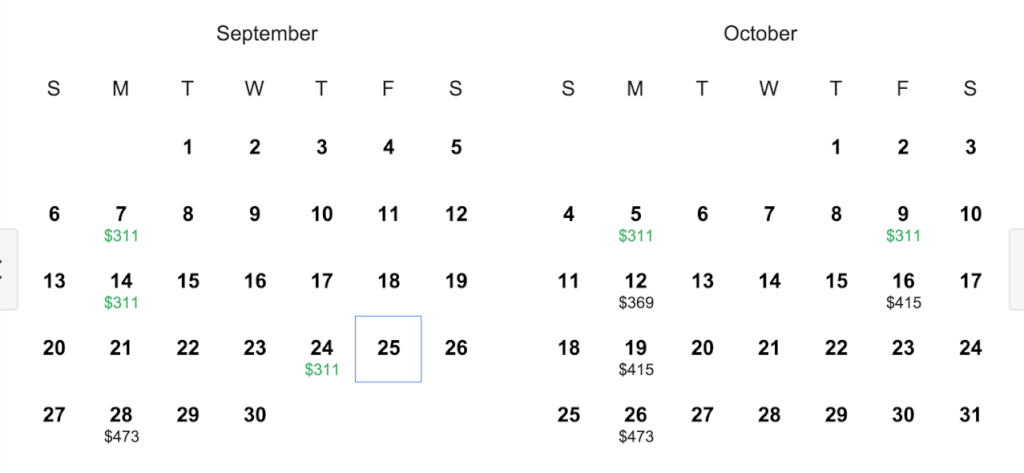 There is usually a flight on Mondays, but not always. Flights are on Fridays in October, but not all Fridays. Then there is that random Thursday in September.

Direct flights are operated by Aircalin, who apparently has partners, but only on flights between the mainland and islands.

Schedules do not line up perfectly. Combining these two little flights will cost over $500 person. That is nearly as much as we are paying for 35 hours of business and first class flying.
Things are looking grim!
The Vanuatu Hail Mary Pass
Occasionally Fiji Airways offers a flight from TBU to VLI with a 23 hour stopover in Fiji. This flight costs $394, and I have not been able to figure out if it is bookable online through points. It would be great to see another island along the way, if we could make it work.
However, I keep running into the same issues I experienced with Fiji Airways and partners not being able to find these airports. This should be bookable with 17,500 Alaska miles. Has anyone experienced booking obscure Fiji flights through Alaska's call center?
Vanuatu was hit by Cyclone Pam in March, with tremendous damage done to the island. Visiting as a tourist does not seem prudent at this point, unless we plan to offer our hands as volunteers.
Should we make it to Vanuatu, our last step would be to take a $139 flight from Vanuatu to New Caledonia on Air Vanuatu. Air Vanuatu is a partner of Qantas and Air New Zealand. But I don't appear to be able to find award space online. But at this rate cash seems reasonable.
A beautiful mind or crazy OCD?
I have been scribbling notes about this trip like a mad-man ever since I set out to solve this problem.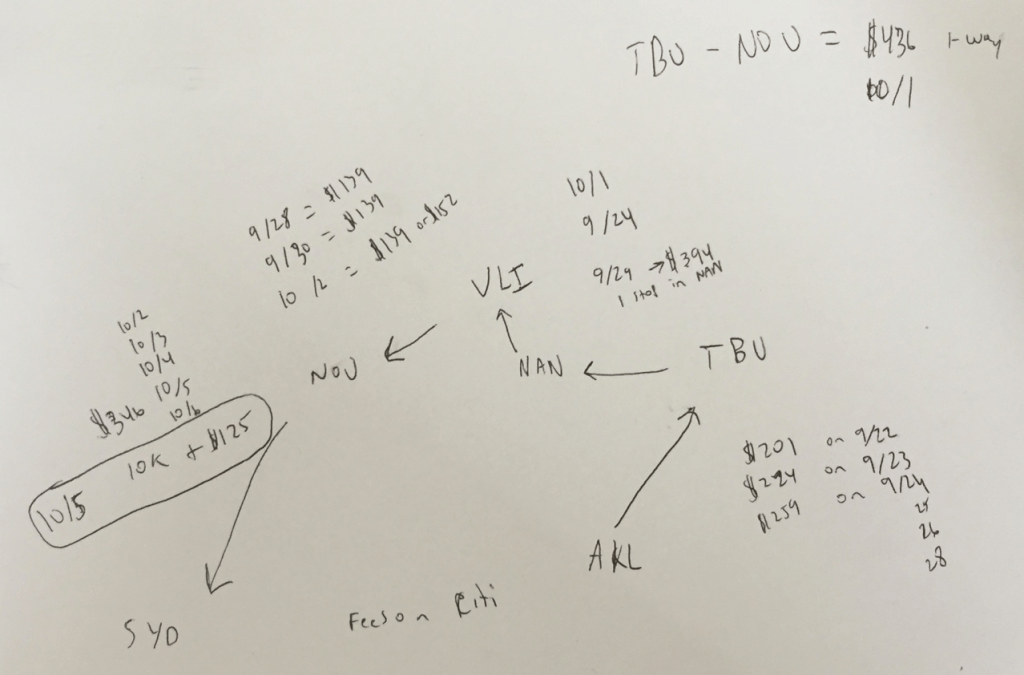 If I can't make the routing work, we will likely just travel AKL-TBU-AKL-NOU, but what is the fun in that?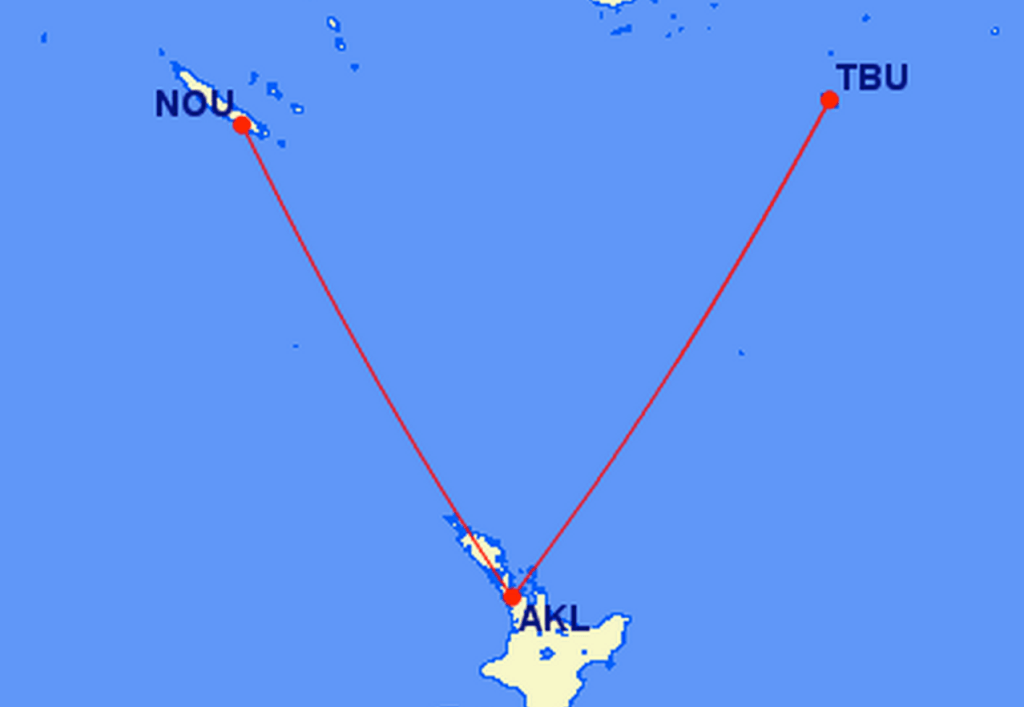 I remain hopeful that I can make this trip work, but I also wanted to put it all down here in case anyone reading has experiences with booking crazy itineraries in the South Pacific.
Am I missing something? Are there other island routings I could try?
My priorities are 1) Most direct routing. 2) Getting value per point with award redemptions. 3) Saving money.
I appreciate any constructive comments or creative routings if you have them!