Hurricane Fernanda is still tracking towards Hawaii, though it's still too early to tell what kind of effects it'll have.
Last week I wrote about then Tropical Storm Fernanda potentially threatening Hawaii.  And since then, the storm has continued its trek towards the islands.
Fernanda Now a Hurricane
Since last week, Fernanda has seen major strengthening and some weakening.  At its peak, Fernanda reached category 4 status, meaning it had winds up to 130mph.  Then, then storm briefly weakened to a category 3 before regaining strength and maintaining category 4 status.  However, the storm began losing steam again on Sunday, and is now a category 3 (or maybe even just a 2 by the time this post goes live) once again.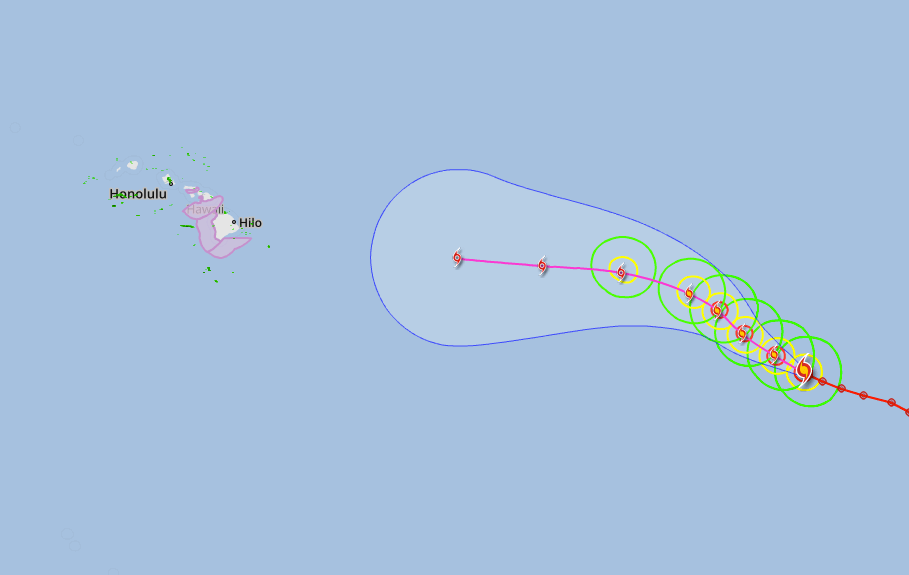 Fernanda is expected to weaken over the next few days, and should be downgraded to tropical storm on Wednesday.  So, the good news is, that if the storm does impact the islands it should no longer be a hurricane.  Forecasters now predict the storm will be a tropical storm or even a tropical depression by the time it reaches Hawaii.
Hurricane Fernanda Final Thoughts
With Fernanda still a week away from Hawaii, it's still too early to tell what (if any) effects it'll have on Hawaii.  But like I said in my last post, it's a good idea to have plans in place.  So if your Hawaii travel plans do get disrupted by this potential storm, then at least you aren't scrambling at the last minute.  And even if the storm doesn't hit us, forecasters believe a strong swell will hit the eastern shores of the islands… Which may coincide with yet another King Tide.