Recently I have been subject to email marketing campaigns from American Express to "Upgrade" two cards that I have with them. You may have received an email like these as well: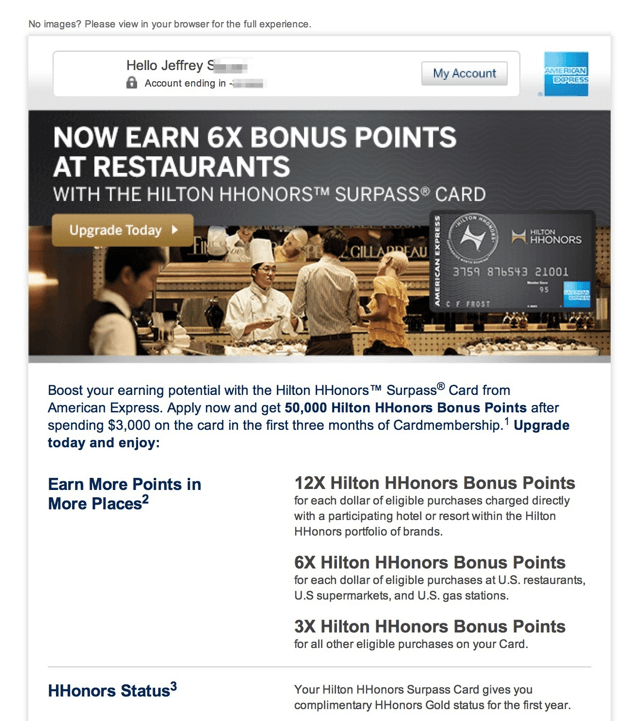 I have a basic Hilton Honors American Express card for my business and I have been invited to "upgrade" my card to the Hilton Honors Surpass card to receive more benefits.
The other offer that I received was to take the American Express Gold card I signed up for in January of this year and upgrade to an Amex Platinum card with a 25,000 point bonus.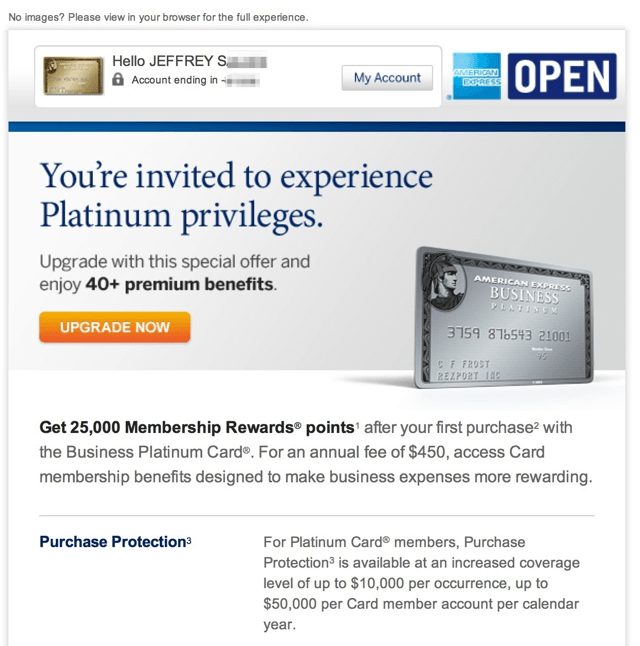 Both sound great at first glance, but is it worth "upgrading"?
Upgrade Your Amex Credit Card with Caution
Before upgrading any card, you must remember that when American Express is marketing to you in this manner, they are surely expecting something in return. As much as we would like to believe, these emails are not sent by credit card companies without reason. In fact, they probably have a very good reason to send these emails to you: to make money.
Consider their motivations when choosing to upgrade and make sure you take the following into consideration before you upgrade your Amex credit card.
1) They Want You to Spend More
I have put quite a bit of credit card spend on both of these cards; using them far more often than American Express likely figured that I would use them when signing up. I suspect that this is the main reason why they want me to upgrade and that they view my card upgrade as a way of locking me in to loyalty to their program. This especially true for the American Express Platinum card, which carries a high annual fee.
2) They Save Money When You Upgrade
The credit card companies save money when you upgrade in this fashion because they don't have to pay in order to acquire you as a new customer again. You may be saying "what do you mean pay for me as a customer?" Think about the signup bonus you receive for a credit card. That has a cost associated with it (often well over $100) to the credit card companies, so if you receive a second sign up bonus, they are paying to have you as a customer twice.
3) The Cards May Have a Higher Annual Fee

Be careful when "upgrading" to a card with more benefits, because these may come at a price. That is the case with the Platinum card listed here.
4) Check Your Signup Bonus Eligibility
Rather than upgrading without a bonus, are you eligible for a signup bonus by creating a new credit card account? Make yourself aware of the rules for signup bonuses and understand your eligibility.
5) Do You Really Need the Upgraded Benefits?

Are the benefits really going to help you in the long run? Will you use a Hilton Surpass card for dining? Do you want Hilton Diamond status? Make sure the added benefits are of value to you before making the switch.
How I'm Making My Choice
My choice is pretty simple; if I want the benefits of the American Express Platinum card, I will apply for that card on my own and receive a signup bonus for this card that is more aligned with the $450 annual fee. Since I currently have the Delta American Express Reserve Card with many similar benefits, I am not compelled to pick up this card at the moment.
The Hilton Surpass card is a different story. It's actually a no-brainer to have this card replace the standard card for business reasons. Without getting into a long story, it is important that my credit card information all stays the in the same account for accounting purposes, so upgrading the benefits of the card without running a new line of credit is a perfect scenario. I may be missing out on a signup bonus, but that is something that likely wouldn't be available to me anyway.
Your Choice May Vary
Whether you decide to upgrade or sign up for a new card is your choice and I simply recommend that you think through your options and the questions above before making any decision. There really isn't a wrong decision to make if you know the benefits and drawbacks to each choice.