Hawaiian food can be intimidating to the uninitiated.  And those that do try often say poi tastes like paste.  But at Waiahole Poi Factory the poi is actually really good!  So if you're apprehensive and want to try poi, try it here first.
Though I've lived in Hawaii all my life, I never cared for poi.  The texture never bothered me, rather it was always the flavor.  Usually, I'd find that it tastes like nothing really, and yet have a vague sourness to it.  But that changed when I visited the Waiahole Poi Factory for the first time.
Waiahole Poi Factory
The Waiahole Poi Factory has been around, in this exact building, for over 100 years.  Located on Oahu's windward coast at the mouth of Waiahole Valley, the mom & pop shop specializes in Hawaiian food and poi.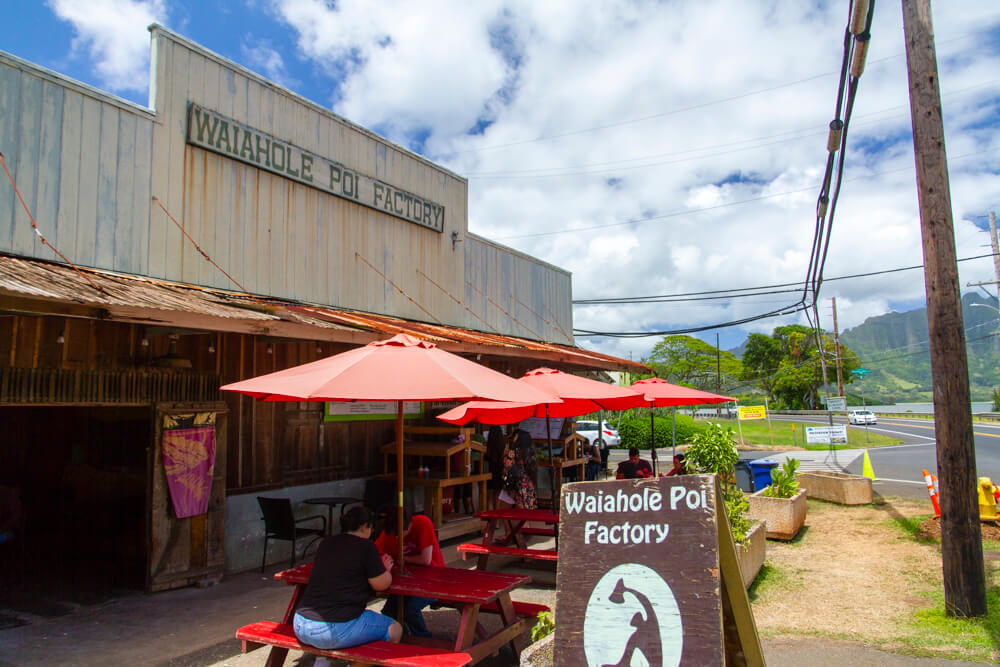 Open daily from 11am to 5pm, the factory is popular amongst locals and tourists alike.  Parking is extremely limited and popular items have a tendency to run out, so its best to come early and/or during off-peak times.
A simple hand-written menu hangs on the wall outside, and when ready, you place your order at the window next to it.  There you wait until your name is called for you to pick up your food.
What We Ordered
As you may have guessed from the title of this post, the food at Waiahole Poi Factory is GOOD.  It is, without a doubt, amongst the best Hawaiian food I've ever had.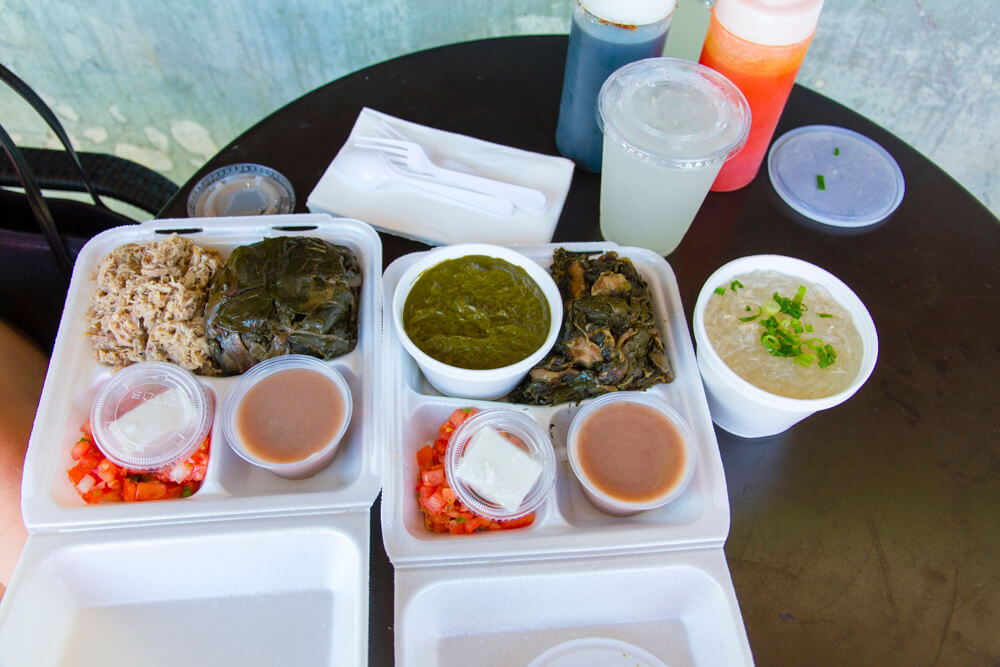 Mrs. Island Miler and I both opted for combo plates.  She got hers with kalua pig and laulau, while I got mine with squid luau and laulau.  Both came with lomilomi salmon, haupia, and your choice of rice or poi.  And though I didn't care for poi at this point, I opted for the poi because this place is known for it.  I also ordered a side of chicken long rice.
Ok, so that a lot of unknown items up there if you aren't from Hawaii, so here's some quick n dirty definitions:
Kalua Pig:  imu (underground oven) cooked pig; most similar items would be carnitas or pulled pork, though I think kalua pig has more flavor than pulled pork
Laulau:  hunks of pork dusted with Hawaiian sea salt, wrapped in taro leaves and steamed.  Outside is similar to spinach in flavor, inside has melty chunks of pork
Squid Luau: Luau (taro) leaves cooked with coconut milk with chunks of squid
Lomi Lomi Salmon: diced tomatoes and onions mixed with diced, salt-cured salmon chunks
Haupia:  Coconut pudding
Poi:  pounded taro root
Chicken Long Rice:  mung bean noodles cooked in a rich, chicken broth with ginger, chunks of chicken, onions, and a sprinkling of green onion
Quality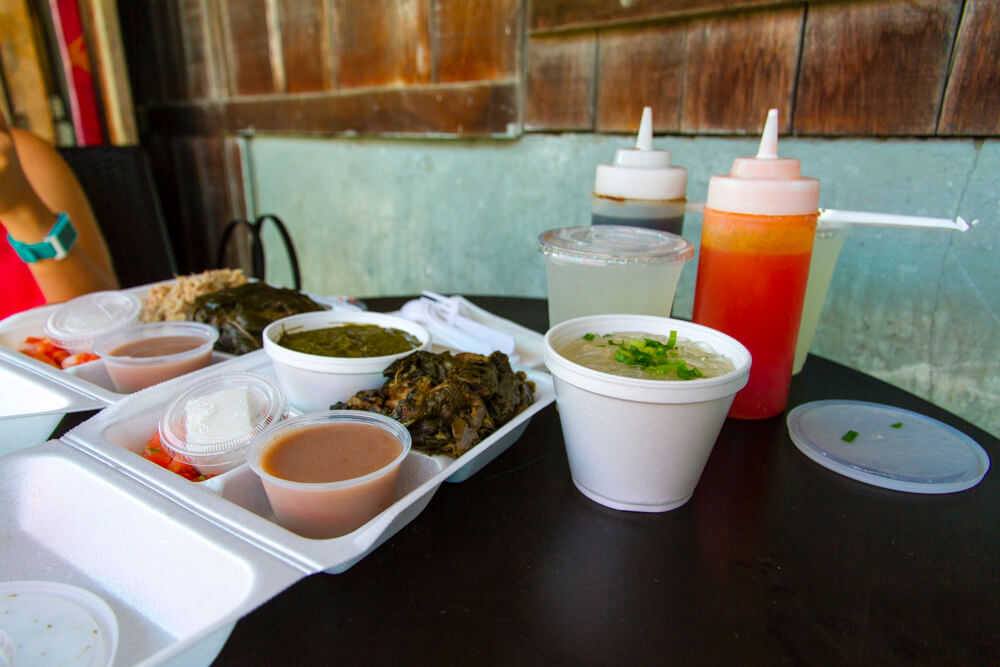 The plates are served with bottles of shoyu (soy sauce) and Hawaiian chili pepper water in place of salt and pepper.  We didn't need any condiments, though, as everything was seasoned perfectly.  The laulau was amongst the best I've had; the leaves weren't dried out, and the pork was neither too dry nor too fatty.  The squid luau had chunks of soft squid in it, which, sadly, isn't often the case.  And yes, it is a bit of an acquired taste, having the ocean, earthy/green, and sweet coconut flavors combined.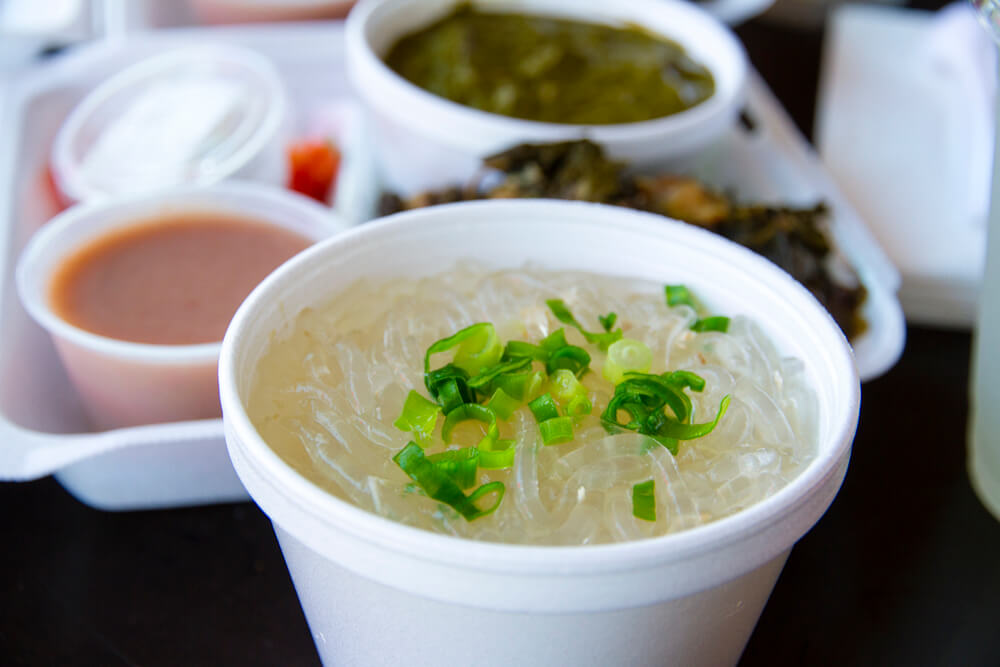 Mrs. Island Miler's Kalua Pig was nicely seasoned and not dry at all.  And we really liked the lomilomi salmon, which was nicely balanced; just the rite amount of onions and salty salmon.  The chicken long rice was really flavorful too, with a nice gingery chicken flavor, which is so hard to find.  And of course, the poi…. It was a good, not to runny, not too thick consistency, slightly sweet, with a nutty finish.  It paired really well with the pork from the laulau or the kalua pig.
Waiahole Poi Factory Final Thoughts
Waihaloe Poi Factory is a hidden gem.  It has remain stubbornly and deliciously the same, even as the rest of Hawaii changes around it.  A true mom & pop shop with incredible, homemade Hawaiian food, it's well worth the drive out of Waikiki.  In fact, make a day of it.  Stop by Waiahole Poi Factory on your way to, or on your way back from other area sites like Kualoa Ranch.  This place really is a must, especially if you haven't sampled Hawaiian food before and want to give it a try.