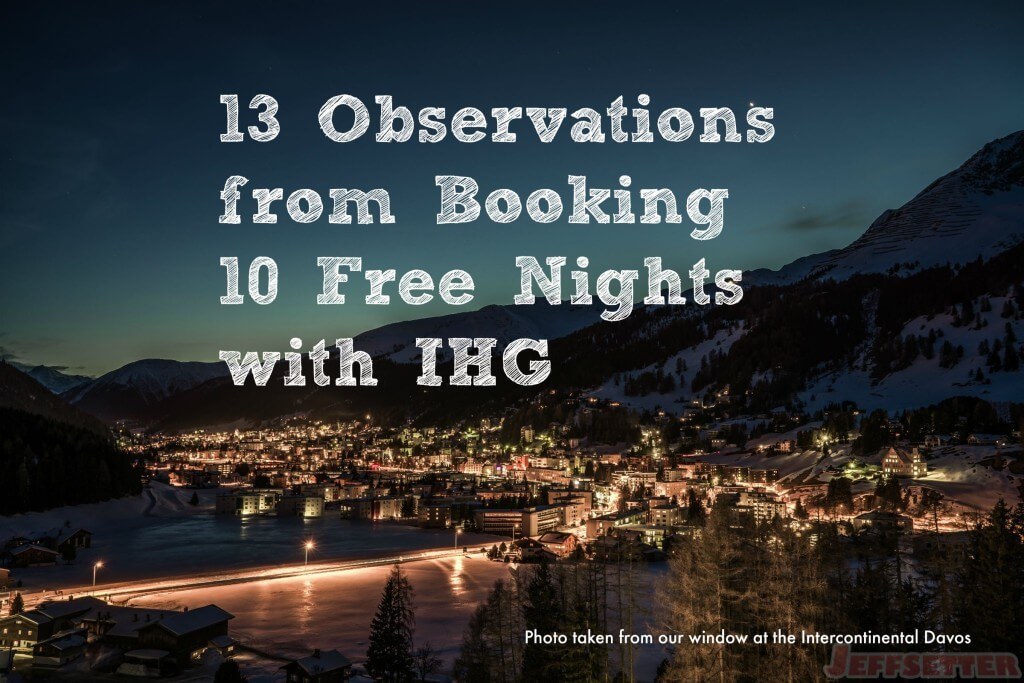 I have been checking the IHG website and unreasonable amount of time over the past few months. Every day I search for the same thing, and most days I am disappointed.
What is the search? For one night at the Intercontinental Bora Bora Thalasso Spa and/or the Intercontinental Le Moana Bora Bora.
Many of us who play this game of travel have free nights available for any IHG property from last the Q4, 2014 Into the Nights promotion. The Jeffsetters fared well in this promotion, and decided to use our cache of free nights and points at the lovely Bora Bora properties that IHG has to offer.
When I first started my search, nights were hard to come by. We wanted to stay on the island for a week, but could only find one night available. Over the course of several months, I have built out an itinerary that is nearly a perfect fit for our needs. We plan to stay 6 nights total in Bora Bora, and have already booked 5 of the nights. There are two nights at the Le Moana and 3 at the Thalasso, with a gap in between.
As our travel dates approach, I am getting a little anxious about filling our one night gap. This has me checking the website twice a day. I might have a problem.
During my time checking the website, I developed several observations that I thought would make a fun blog post. Here are 13 things I learned booking free nights with IHG.
1) When the IHG website has a free night available, it works exactly as you might expect
Here is an example of a night that is available at Le Moana Bora Bora on points. You can either book the room with cash or IHG Rewards club points.
This is exactly how you would expect a website to work, so I don't have much else to say about it.

2) If No Awards are available, you receive an option to check available dates for the property
When you search for rewards nights and none are available, you see the cash rate of the room, and then the opportunity to see the calendar of available award dates.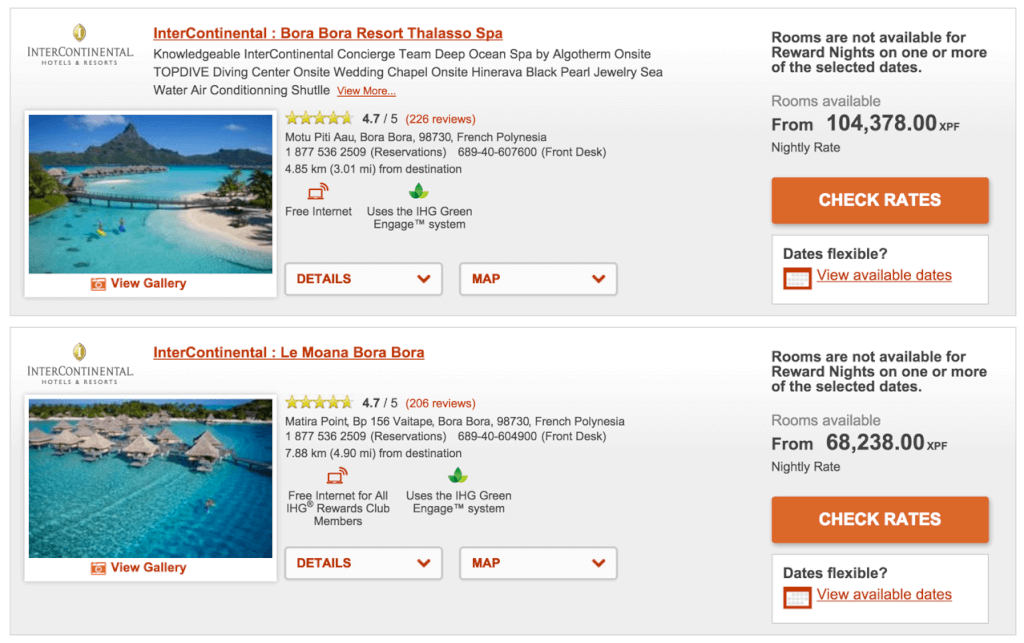 The calendar shows you the potential days that you can book at the hotel, and is accurate.
But the calendar is ONLY ACCURATE when you hit view available dates when a cash rate shows as available.
That brings us to observation #3.
3) If no rooms are available for cash OR points, you receive a different calendar
The date I am looking to stay does not have cash or points availability on my desired date. When I do a search, I see the following screen.

Again, I click on the "View available dates" link to see what dates award nights are available.
Only when you click on this calendar, you don't see award nights.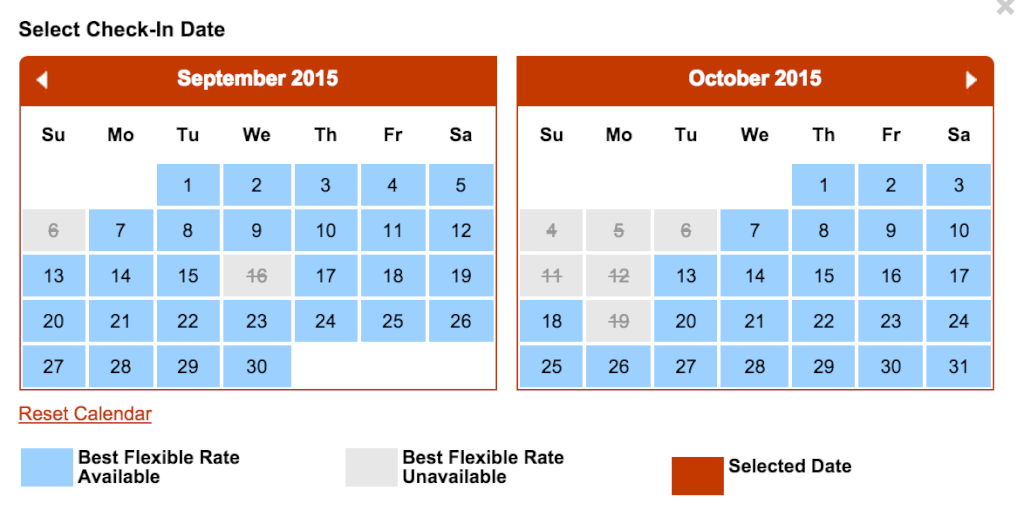 What you are actually looking at is nights that any room is available for the hotel.
This has given me false hope so many times that I thought it would be a fair warning to any of you who are searching in the future. If no rooms are available, the available dates chart is for paid rooms.
4) Booking free nights with IHG is really easy, if you have free nights available
If a room is available on points, then it will also be available using your free nights.
Assuming you have free nights in your account, you can simply click on Book free night and conduct your search.

When free nights are available on your selected dates, you see the ability to book it for free.

Booking these nights are absolutely free. No taxes, surcharges, or anything.

5) Simply having earned free nights doesn't mean you can use free nights
Many premium IHG hotels will not have rooms available. If you want to book them, you either need to book in advance or get lucky.
And if you are trying to book the Thalasso? Then you might just want to check every single day (sometimes twice a day) like I am. That's the only way to stay there with points.
6) An Ambassador Free Weekend Night Certificate can only be used on Friday + Saturday or Saturday + Sunday
I have booked two free nights this year using the Ambassador Free Weekend Certificate that comes with holding Ambassador status (and I believe another with the IHG Rewards credit card) I got two of them for some reason, and that is what I think happened.
While it is probably obvious to you, I wanted to check if I could do a Thursday + Friday or Sunday + Monday stay and make this work. Because why not?
Unfortunately, it did not work. Boo!
7) If you cancel a free night, the free night automatically gets redeposited to your account
Because I am playing a game of whack-a-mole trying to find space on my desired travel dates, I am booking/canceling nights constantly. Good for me, your free nights get redeposited into your account right away for use elsewhere.
8) If you cancel a points free night, the points are also automatically redeposited
When you cancel a night with points, you get your points back immediately (assuming you are within your allowed cancellation window).
9) The IHG website remembers weird things when it cookies you
I have searched the IHG website approximately 100 times in 2015, and yet it always remembers one search that I made on the website several months ago:

No matter what else I do, this search is always in my bar. The site also assumes I am traveling as one person every time, which is never the case.
Yet they don't ask you number of guests
Fortunately, we have point 10…
10) You can change the number of people on your reservation from 1 to 2 easily
11) The cash value of your night is embedded in your reservation
While you are in changing your number of guests, you might as well check out the cash value of the night they gave you for free.

12) Free Nights can be pretty freaking valuable
I'll let Google's conversion show you the value. Since these hotels are sold out year-round, a free night means that IHG is basically giving up over $1,000 nights in cash for our points. That is some real value!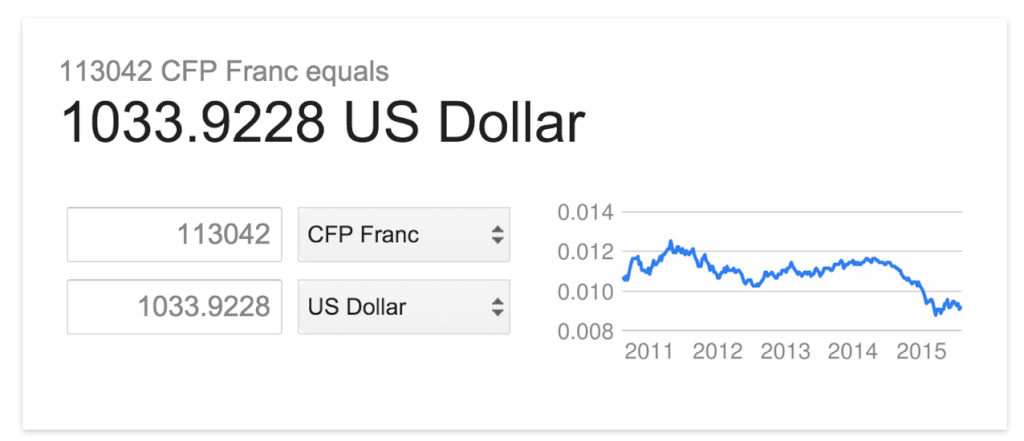 We earned our free nights by paying between $61 – $129 per night to stay at Holiday Inn Express and Holiday Inn resorts on mattress runs. For about half of the cost per night, we have received 8 free nights from IHG due to promotions alone. Add in our Ambassador weekend certificates, and this program has been our best friend.
13) If you have the Intercontinental Thalasso reserved in August and you are not going to make the trip, please cancel now!
This is not an observation. Just me trying to use the mighty powers of my travel blog to make my hotel booking process easier. Selfish, I know.
IHG Has been a big part of our 2014 and 2015 travels
I don't think that I booked a single IHG hotel before 2014, but we have spent many nights and a fair amount of money with them in 2014 and 2015. It has been fun getting familiar with the site and the program.
The free nights and hundreds of thousands of points we have earned through promotions are vital to our ability to travel full time. For the most part the website has worked as intended, but there have been a few points of frustration.
Have you had similar frustrating experiences with the IHG website?