Last updated on January 27th, 2016 at 09:44 am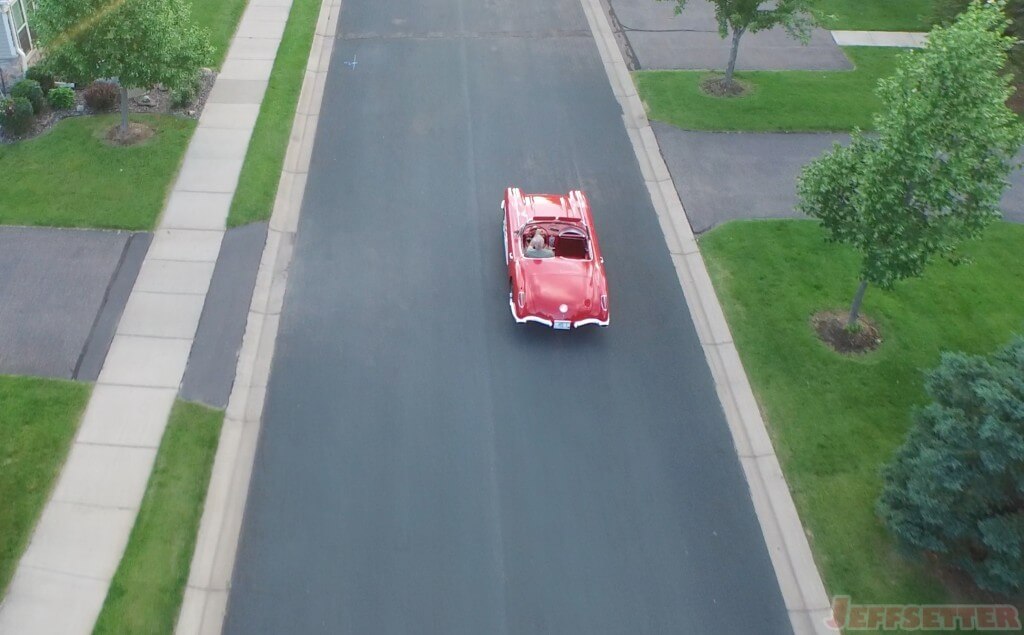 I mentioned a few weeks ago that I bought a new drone to play around with on our one-way neverending trip. The first video I shared was from my first ever flight – hovering over the vines in Napa Valley.
For the past two weeks I was in Minnesota teaching and visiting family.  This was my last visit back home before leaving on our journey, and I appreciated the much needed family time. While this meant fewer posts, the time off from blogging was necessary.
While hanging out with our family on a lake north of the Twin Cities, I took out the drone to get some practice. First I flew around my parent's neighborhood, and eventually took it over a lake, flying over a mile away to get some great aerial boating shots. At some point I will edit those shots down into a video, but for now I wanted to share some cool videos I shot with my dad.
My dad has owned one of the American classic cars for nearly 50 years. A 1960 Corvette in the iconic red color. Growing up, I thought that car was the coolest thing on the road (still do actually), and we had some fun taking pictures in that car for several childhood milestones.
This week we hit a new milestone, taking the first drone videos of the 1960 Corvette. Filming the car was very easy. I set up the drone in the middle of a quiet street and then dad drove into the sight of the camera and through the frame. We did three shots – static camera, leading camera and trailing camera.
After giving the raw footage to my dad, he put together a cool video showing the corvette in action.
We are both thrilled with the results. The car almost looks like something out of a video game. As if my dad was reenacting scenes from Grand Theft Auto. I am continually amazed by the quality of video from the DJI Phantom 3 and the stability of the pictures. There is no choppiness at all if you only move forward/backwards.