The first airline I ever flew was Northwest Airlines (NWA), and I was loyal to the red tail for pretty much my entire life into early adulthood. NWA was a Minnesota staple, to the point that when the 1987 Twins won the World Series, the noise of the crowd in the Metrodome was compared to the noise of an NWA 747 taking off from the nearby airport.
Then Delta took over and the MSP market became a hub for the airline I have loved to hate over the past few years. While I do appreciate Delta as an airline for my business travels, their updated policies and Take -> Take -> Give approach to running a loyalty program has become quite frustrating. With so many changes, I even joked about moving away from MN in order to get rid of Delta earlier this year.
In reality I was all but sure I would be moving away from MN and was just using the blog post as a way to explore the boundaries when it came to my new home in San Francisco bay area. Now that I am settled in, I have begun the process of starting a relationship with United Airlines to see how well we will work together.
As a Delta Platinum elite for the past several years and a frequent business traveler, I have become spoiled with bonus miles earned on flights and a 75% chance of receiving a first class upgrade on my flights. So spoiled that I would expect that same level of treatment from any new airline I flew as well.
Fortunately, it is possible to use my elite status with Delta to do a status match with United, so long as I meet their criteria to travel a certain amount of miles on their airline in an allotted period of time. This is called a status match challenge and you can read about it here.
How easy is it to get a United status match? Pretty easy!
Step 1) Obtain elite status on another airline
This may be the hardest part, because you can only status challenge if you have status elsewhere. As of the time I write this, United is openly matching status with Delta and US Airways.

This is the hardest part, because if you don't have status with either of these airlines, you would need to first earn that status and then fly a bunch on United to keep it via challenge. Not ideal for any of us.
Step 2) Submit a status match request
Elites with Delta or US Airways can log into their United Airlines account (assuming that you have created one already) and fill out a form to upgrade their membership. Or you can even send it via email. This took me about 2 minutes.
If you have a screenshot tool on your computer, this is super easy to do. Just screen shot/PDF your most recent statement showing your elite status on the other airline.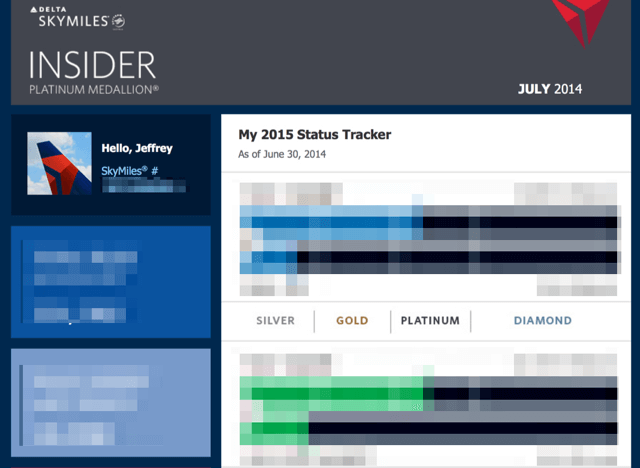 Step 3) Wait for a response
I submitted my request on a Friday in July and received a response on the next Wednesday saying that I was approved by United to become a Premier Platinum member. Yippee!

Step 4) Fly a lot
To become a Platinum, I needed to fly 18,000 miles on United operated flights in 90 days. That isn't a trivial amount of flying, but I am fortunate to have several business trips coming up make this a breeze. This includes a trip to Copenhagen next week where I am giving a keynote presentation, a trip to Vegas for BAcon2 and a speech in Boston. If my calculations are correct, I will be at 18,073 miles on United metal for the challenge. Barely squeaking by!
If you are looking to challenge, here are the amounts you will need to fly:

Step 5) Enjoy status and all of the benefits
As soon as I complete my challenge, I will be Platinum elite on both Delta and United through January of 2016. It will be nice to be able to A/B split test the two airlines and see which one I like better. United should offer more direct flights out of San Francisco, but if I visit Minnesota a few times a year, then it might make sense to stay loyal with Delta.
In the meantime, I will be getting quite intimate with United – flying the airline and their Star Alliance partners through Houston, London, Copenhagen, Las Vegas, Toronto, Munich, Bangkok, Hong Kong, Seoul and San Francisco in the next 14 days. Not a bad way to indoctrinate myself into an airline I have only flown a few times in the past. I'm tired just thinking about it!