During our time at The Surfjack, we sought to minimize our expenses by getting food from outside of Waikiki. The first restaurant we ordered from was one we're fans of, though I haven't reviewed them here yet: Bo's Kitchen.
Affordability is an issue, not only for visitors but residents as well. This is doubly true if you're forced to stay in a hotel rather than at home, where you can't prep your own meals. Luckily, there are a few excellent yet affordable restaurants around town to choose from. While Marugame is our default choice, especially in Waikiki, I've reviewed them before. That said, if you do dine with them, plan on doing take-out and order online ahead of time so you can skip their line!
Bo's Kitchen Location
While Marugame is conveniently located in Waikiki, Bo's Kitchen is in downtown Honolulu across the street from our main police station. It's a convenient location with easy access right off of Beretania Street. However, they are on DoorDash with free delivery for DashPass members, making them an even more convenient option. This is especially true for Chase Sapphire Reserve cardholders who have free DashPass membership through next year.
Bo's Kitchen Menu
The menu at Bo's Kitchen is what I like to call Cantonese comfort food. As such, they have a shockingly extensive menu for such a small restaurant! The bulk of the menu is occupied by noodle dishes, though they also have a sizeable selection of rice plates, dumplings, appetizers, and a sprinkling of desserts.
What We Ordered
We've been here several times before – well, not this location in particular, but their former Pearlridge one. As such, there are several items on the menu that we like. However, for this order, we decided to keep things simple. Having little to no refrigerator space really helped force our hand on this one, haha. That said, for her order, Mrs. Island Miler went with the signature Wonton Noodle Soup ($13.25). Here, you get a large bowl of delicate soup, thin Chinese noodles, choy sum, and Bo's pork and shrimp wontons. it doesn't look like much, but its tasty and comforting.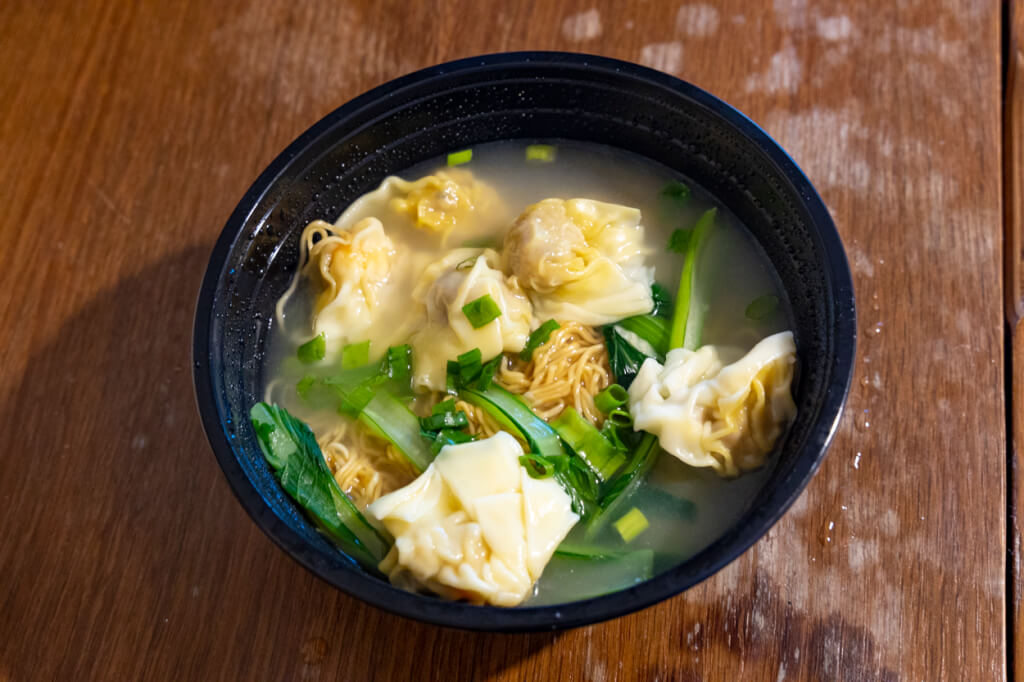 When I was perusing the menu, I noticed something they didn't have at their former Pearlridge location – Green Onion Pancake with House Sauce ($13.50). I LOVE scallion pancakes, though they're not the easiest dish to find in Honolulu. So, knowing that their crisp exterior wouldn't hold up in transit, I ordered them anyway. I wasn't disappointed! Though the crispy texture was long gone before I dug in, I loved the charring on the dough, giving these pancakes a nice, deep flavor to go along with the chew. Plus, that house sauce is like pure umami. I have no idea what's in it, but I don't care!
For my main, I ordered what has become my go-to dish here, the Hainanese Chicken Rice ($14.95). The portion below looks a little chincy, but it's not! Burried under the rice is more chicken pieces, all of which are tender and flavorful. The rice, too, is packed with chickeny flavor, while the sauces help to enhance the overall experience. A sprinkling of cilantro and sliced cucumber helps to counter the rich flavors of this dish.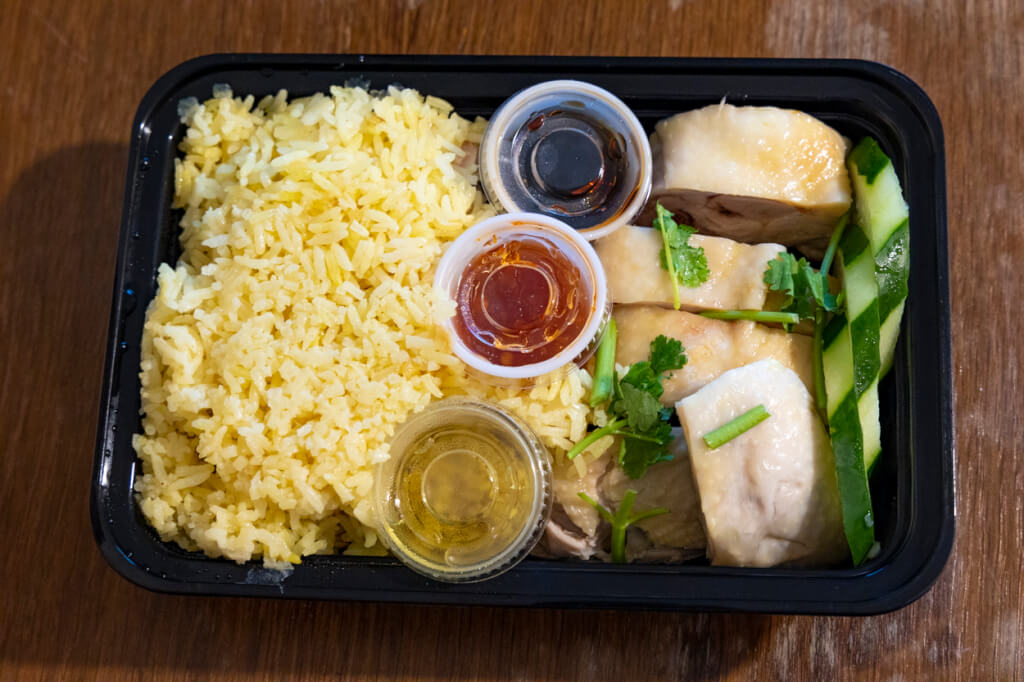 While we didn't order them this time, other items we'd usually get include the Spicy Wontons (same as the ones in the soup but tossed in chili crisp) and the MASSIVE pork hash. There are many other items on the menu we want to try too, so this review only scratches the surface.
Bo's Kitchen, Final Thoughts
If you're looking for a quick, inexpensive, yet filling and flavorful meal, Bo's Kitchen really is one of the better options in town. It's worth noting that the prices I've included above are those listed with DoorDash. If you decided to pick up your order yourself, the prices on Bo's Kitchen's own website are quite a bit lower. So, knowing that, how you order is entirely up to you. Either way, you'll be hard pressed to find a more affordable meal in Honolulu than this given the quantity and quality of food you get. That's why Bo's Kitchen is one of my go-to places for cheap and excellent eats!