Thanks to strong demand, AirAsia X ups Hawaii frequencies.  And, I can't say I'm surprised!
AirAsia X began service between Kuala Lumpur and Honolulu via Osaka just over a year ago.  Their initial service operates four times per week using the Airlines's Airbus A330-300.  And unlike other similar airlines, AirAsia X offers a three-class configuration onboard their aircraft.  This includes angled lie-flat seats in first class!  But beyond all those perks, ultimately, AirAsia X offers great value for travelers.  In fact, roundtrip tickets between Honolulu and Osaka can run as low as $400.  You'd be hard-pressed to find tickets for that price between the West Coast and Honolulu!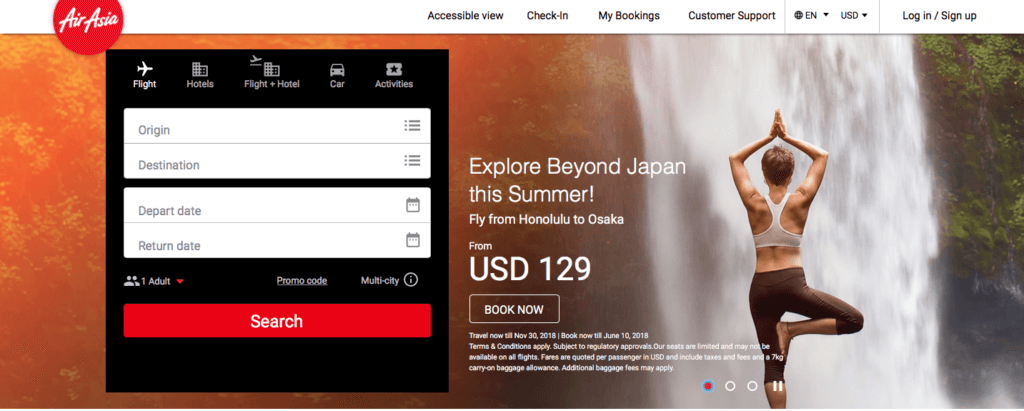 Increased Frequencies
According to AirAsia X officials, demand for flights has been overwhelming.  And, as a result, the airline will be increasing its frequencies from four-times weekly to daily.  The new schedule takes effect on August 16, 2018, and passengers may purchase tickets now for these additional flights.
Unbundled Pricing
I'm glad AirAsia X is doing well enough here to warrant daily service.  More competition is always better than less after all.  But I often hear complaints about Air Asia X's unbundled pricing structure.  And, yes this means that unlike Hawaiian, your checked bag, meal, seat assignment, etc. aren't included in the base price.  But you know what?  Even when you add in all those extras, you still often pay less than you would with other airlines.  Of course, there are times when it makes more sense to book with a legacy, so always do your homework first.

AirAsia X Ups Hawaii Frequencies, Final Thoughts
As I've said before, I firmly believe that more competition is always better.  So AirAsia X increasing its service to the islands is a very good thing.  And if I ever try an LCC for travel to Japan, AirAsia X would probably be it.  The only other option on this route, after all, is Scoot.  And Scoot's seats look very similar to Hawaiian Air's Boeing 717 seats, meaning thin, slim, and hard.  No thanks.  Even if I would prefer a 787 over an A330.