Airbnb, the loved and hated marketplace for sharing space across the globe, continues its launch of City Hosts.

This new website offers a unique localized perspective of the city. In other words, Airbnb is trying to tap a trending tourist market, where tourists don't want to be tourists.
Currently, City Hosts is under beta testing. This means you have to be invited (or request an invitation).
What is City Hosts?
City Hosts is a way to book unique experiences with locals in various cities across the world.
Essentially, Airbnb is offering a platform for tourists (guests) to book multi-day tours (experiences) created by locals of the city.
Each experience on City Hosts consists of hosted activities and access to a trip app that helps you customize and create an itinerary for the remainder of your trip.
According to the FAQs, an experience includes the following:

Where is City Hosts Available?
Since the launch of the beta phase in June, City Hosts has expanded to eleven cities with over 200 experiences.
The cities include Los Angeles, San Francisco, Miami, Cape Town, Florence, Havana, London, Nairobi, Paris, Seoul and Tokyo.
What Kinds of Experiences are Offered?
The hosted experiences range from yoga to kite surfing, truffle hunting to secret street dancing scenes, cooking classes to starting your own food blog.
Each Host provides a little bit about themselves and a detailed description of the activities included for the city experience.
The trip app takes care of the rest from weather to restaurant recommendation to street festivals.
Experience Options
City Hosts offers two options 1) an Immersive Experience (multiple activities) and 2) a Single Experience (one activity).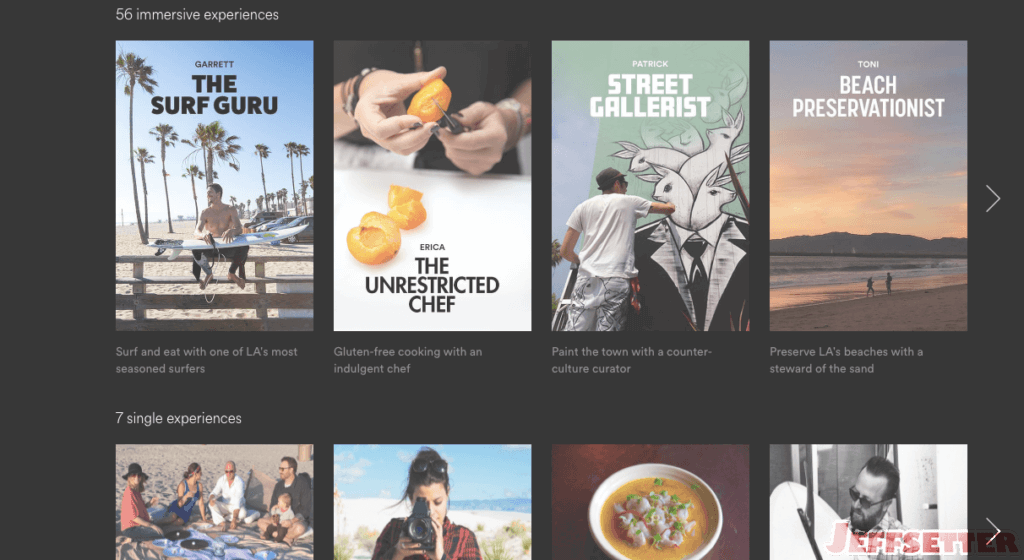 The FAQs do not seem to address the difference between the two experience options. The obvious difference is the number of hosted experiences. I assume you would still get the special trip app with a single experience.
Immersive Experience
Based on my perusal of the site, an immersive experience offers 3-4 outings (or experiences) over several days.
Here is an example of a truffle hunt in Florence: I put snapshots of the description page in a gallery because the full page does not fit into a single image.
Once you book the experience you receive access to the trip app to finalize your plans.
Unfortunately, I have not found an available experience to book based on the limited number of cities in this beta test.
Single Experience
A single experience seems to be a one time event that is typically longer (e.g., 4-6 hours) than one of the immersive experience items.
Here is an example of a nude photo shoot with a professional photographer in Los Angeles (again, in a gallery):
What are my Thoughts?
I love this idea (in theory). We enjoy small scale tours and unique experiences. And yes, I will be booking one once I can find availability.
This is a great alternative for the DIY traveler.  Right now, I use Tours by Locals and Global Greeter Network (free service) to meet our need for city immersion planning.
I think (that like Airbnb's shared space service) City Hosts could have scaleability concerns, which could be created by regulatory and taxation issues.
Also, I question whether Airbnb has and continues to shift from a payment services platform (wording from an older version of the Airbnb website) to a travel services company, and how these internal workings and expansions will impact pricing for guests.
As offering and services grow, I assume the price tag will as well, just like the service fees for the shared space platform (e.g., guests fees have gone from 6%, a year or two ago to up to 12% on some bookings for an unexplained reason).
Just to be clear, I understand the reason for a fee, just not the reason for a range of fees. Other than, if you spend more with us, then we will charge you less. Americans love their bulk discounts. But, this is a topic for another post.
Obviously, this service offering is still in the early stages, so the final offering is yet to be scene. I am excited to watch how this will unfold.
Has anyone had the opportunity to use City Hosts? Let me know your experience.
How do I become a City Host?
Interested in becoming a City Host? Check out how here.