As I mentioned in my introductory post, I flew Alaska Air flight 808 to get to Seattle. This was the first flight I took with my preferred airline since the start of the pandemic and it was kind of a mess. But Alaska continues to mostly deliver where it counts.
Travel these days is an interesting affair. To me, it seems like a ton of inexperienced travelers are taking to the skies, along with people that, for whatever reason, think they're better than everyone else and should be treated as such. It's weird. Add to that the fact that we were flying just before the insanely busy Labor Day weekend, and it's easy to see why things got out of hand.
Alaska Air Flight 808 – Ground Experience
Right off the bat, Honolulu's Daniel K Inouye International Airport was a complete circus. There were so many people choking all of the check-in lobbies and security lanes – I've never seen anything like it before. The line for the USDA inspection was long – and they didn't check my carry-on – though Alaska's bag drop line was relatively short. Little did I know, though, that this would be the last time I'd ever get to use their fantastic print-at-home bag tag service!
Then, of course, the security lines were horrendous. Luckily, the Pre-Check line was vastly shorter than the standard one, though non-Pre-Check passengers kept trying to use it, making getting into the queue a bit troublesome. Once in, though, we were through in about five to ten minutes.
After making it through TSA, we headed over to our departure gate, number E2, in the central concourse, AKA Terminal 2. This is the same tiny gate area that Alaska used pre-pandemic, meaning it pays to show up early if you want convenient seating. It's also right across from one of Southwest's gates (E1), so be prepared for long restroom lines.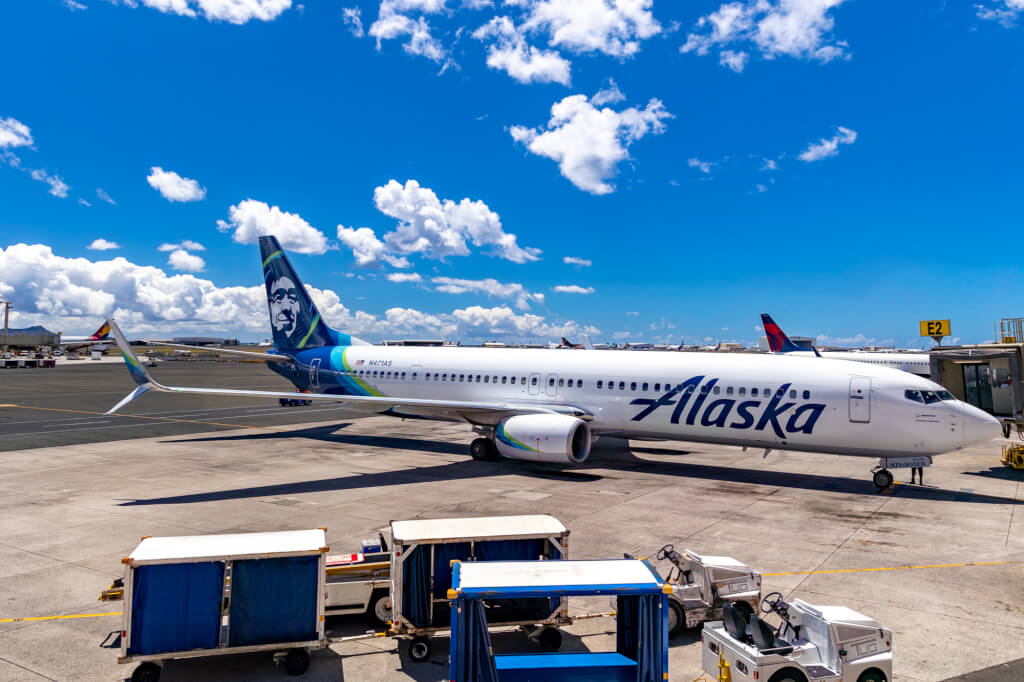 Unfortunately, there are no Alaska Lounges in Honolulu, though Alaska Lounge members can use the joint Admiral's Club/Sakura Lounge or the Qantas Lounge.
Alaska Air Flight – 808 Boarding
Our scheduled boarding time for Alaska Air flight 808 was 11:28 am. However, our inbound aircraft was running late and only pulled in at 11:05. It took over 30 minutes to completely deplane the aircraft meaning pre-boarding for our flight didn't commence until 11:41 am. Now, I'm not sure why, but this fight, my then recent flights on Southwest, and the flights I just took to and from California, had TONS of gate lice. Seriously. As soon as pre-boarding began, two-thirds of the plane began crowding around the gate. Luckily, not many tried to force their way on.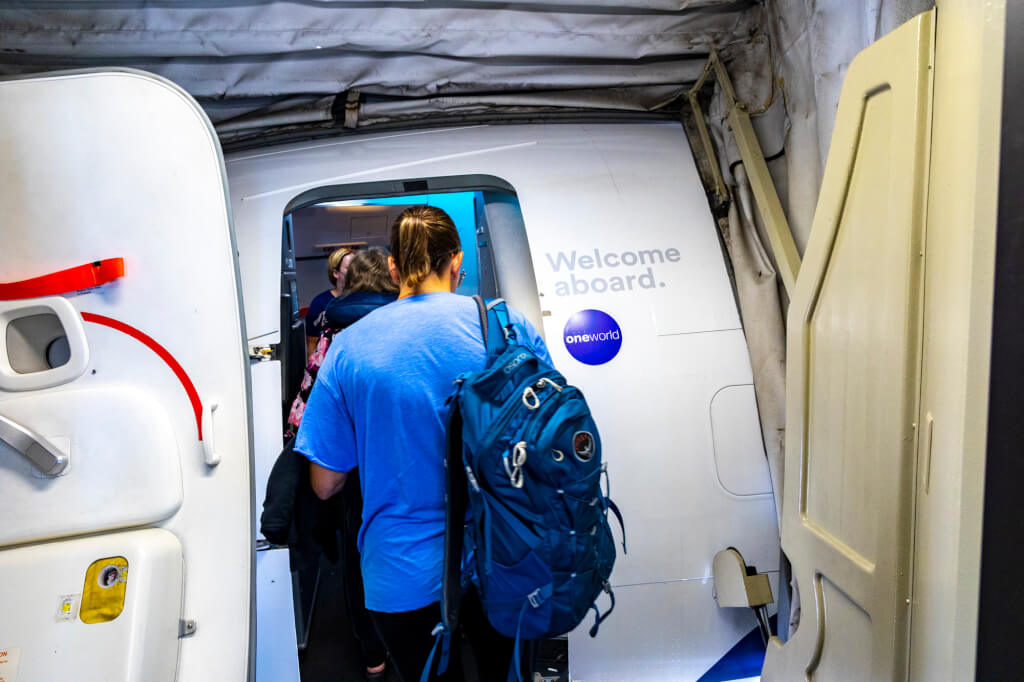 Active military came next at 11:43 am, followed by Group A two minutes later. Our group, Group B, was called a minute after A. The whole boarding process took just about 30 minutes to complete, with the door closing at 12:13 pm. Our crew announced an estimated flight time of four hours and 56 minutes.
Alaska Air Flight 808 – Departure
Our scheduled departure time of 12:05 pm came and went. Instead, we pushed back at 12:18 pm and headed out to the Reef Runway. Midday is a busy time at HNL, and we ended up trailing a Hawaiian Airlines A321neo all the way out to 8R. We finally pulled up to line up at 12:31 pm and immediately began our takeoff roll.
We had a smooth climb out on this glorious (and hot) Honolulu afternoon, with spectacular views of Oahu's south coast. I was hoping that the aircraft would cool off a bit after we got airborne, but no such luck. I'm not sure if it was our crew's settings or the 8-year-old Boeing 737-900's (N471AS) HVAC system, but the cabin remained a bit warm for the entire flight. Perhaps more disappointing, though, was the fact that the WiFi and movie streaming services were spotty at the beginning of the flight. But that's ok. The views were phenomenal! That day was so clear, you could see Molokai and Maui beyond Leahi (Diamond Head).
Alaska Air Flight 808 – Service
Overall, our flight crew was pretty good. They were friendly enough and worked quite efficiently. In fact, our first service occurred just 24 minutes after we began our takeoff roll with the delivery of pre-ordered food items. 30 minutes later, they came back around to offer drinks. I waited that whole 30 minutes to start eating since I needed water to take my lactase supplements. For an in-depth review of the food, you can check out my separate post here.
What I found interesting about our Alaska Air flight 808, though, is that Alaska crews no longer offer water every 30 minutes, as was the case in the before times. That's not a big deal for me, as I filled my Yeti before boarding our flight, but I could see how that could be bothersome for others. In fact, while we saw one flight attendant here and there throughout the flight, the next time we'd really see them was roughly 90 minutes before arrival. At this time, they offered us another round of drinks along with a bag of vegan butter pretzels.
Alaska Air Flight 808 – Arrival
Four and a half hours after beginning our takeoff roll from Honolulu, we began our initial descent into Seattle. Then, just 11 minutes later, we began our final descent, finally touching down 14 minutes later at 8:25 pm PT – 4 hours and 54 minutes after jetting out of Honolulu.
After a quick taxi, we pulled into our arrival gate at 8:32 pm, a full 23 minutes ahead of our scheduled arrival time. Three minutes later, we were linked up to the jet bridge, and the door was opened.
I'd like to tell you things were better in Seattle than in Honolulu, but they weren't. The baggage claim area was a HUGE mess. There were so many people in the claim that it made it difficult to navigate. Moreover, there was a lot of confusion regarding which belt we needed to get our bags from. Our crew stated we'd be using number 15. However, when we got there, the sign listed a different flight number. The Alaska employees in the area were just as confused as we were, so we just hung out.
Luckily, the announced claim assignment was right, and our bags eventually began coming out. We ended up getting our first checked bag right at the 20-minute mark, while the second one came out a minute later.
Alaska Air Flight 808, Final Thoughts
Overall, I'd say Alaska Air still mostly delivers on the service promises they made before the pandemic. It's just too bad that travel is such a chaotic experience they days that the overall experience was a bit unpleasant. That isn't the airline's fault, though. No, that lies squarely with our fellow travelers. I just hope things eventually return to "normal."
Labor Day 2022 PNW Adventure
Alaska Air 808 HNL to SEA