I recently flew Alaska for a quick trip to the PNW. I'll get around to reviewing that trip once I finish my Big Island 2022 trip review, but for now, I want to show you guys what Alaska Air 2022 food for purchase looks like. I've got to say, I'm a bit disappointed.
Pre-pandemic, I was a fan of Alaska Air's buy-on-board meals in economy. Pre-merger, they had delicious hot bowls by Seattle-based celebrity chef Tom Douglas. Then, after the merger with Virgin America, they switched to mostly excellent cold sandwiches and salads. But, as everyone else did, Alaska got rid of its catering entirely during the early days of the pandemic. Now, they're slowly bringing food back, but it's not quite the same.
Alaska Air 2022 Food For Purchase
So let's start with what remains the same. First of all, the Signature Fruit & Cheese Platter remains. Second, all food items are still cold – they haven't finished divesting their Airbus fleet yet. And third, you can still pre-order food, though the cutoff is now 20 hours before departure. Oh, and you must pre-order your food. Alaska no longer allows you to buy economy meals onboard.
At the time of our flights in late August and early September, Alaska had all but four options:
Signature Fruit & Cheese Platter ($8.50)
Chicken & Mango Salsa Wrap ($9.50)
Charcuterie Platter ($9.50)
Soy Meets World Salad ($9.50)
It seems that since then, they've added two more options:
Sunrise Breakfast Sandwich ($8.50)
Fresh Start Protein Platter ($9.50)
Most of these sound good, though the Soy Meets World Salad sounds a bit too healthy to me. There's a lot of fiber and, uh, gas-producing veggies in there. So, yeah, not my first choice of airplane food.
My Alaska Air 2022 Food For Purchase Experience
Given the limited options we had for our flights, Mrs. Island Miler and I ended up ordering the same items for both our flights. For Mrs. Island Miler, this meant eating two Chicken & Mango Salsa Wraps. The wraps description makes it sound tasty – Jamaican Jerk-spiced roasted chicken breast, Pepper Jack cheese, mango salsa, baby arugula, scallion cream cheese, and a side of grapes. Unfortunately, the wrap is pretty bland and had a surprisingly small amount of filling.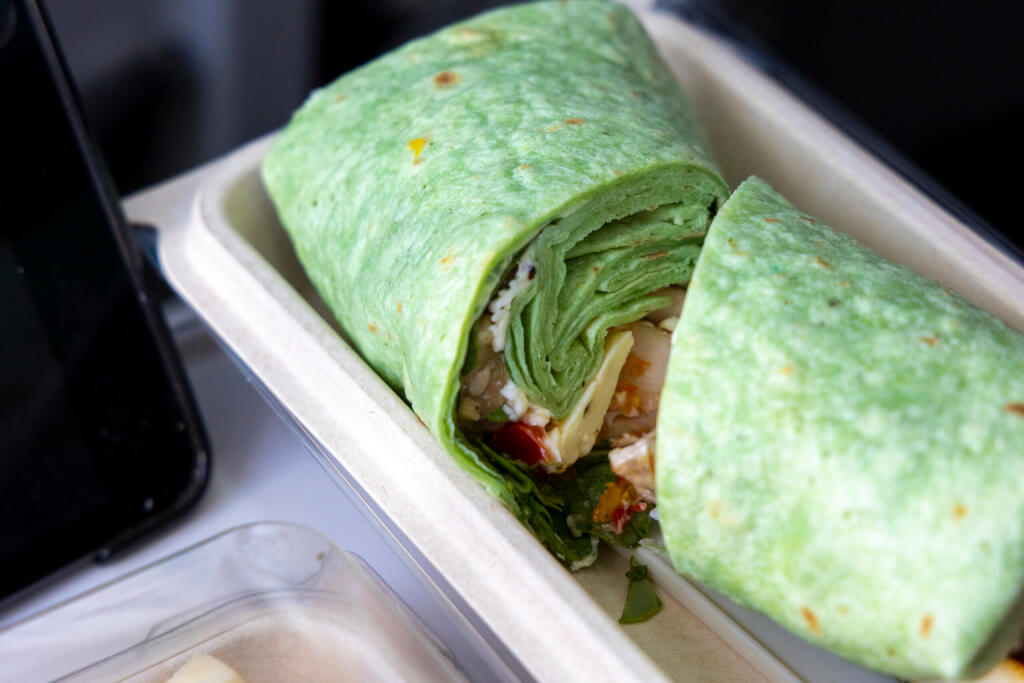 I went with the Charcuterie Platter for my orders, which includes Proscuitto, Genoa Salami, Soppressata, Beecher's Flagship cheddar, Beecher's Marco Polo, mixed olives, fresh grapes, roasted pepper and tomato dip, and grilled focaccia. The best part of this set was the dip, as it was packed with flavor. The salami and Soppressata ended up tasting very similar, while the prosciutto was almost too funky.
Interestingly, my two platters were quite different. The one catered in Honolulu came with three slices of focaccia that were stale, but had great grilled flavor, had equal amounts of all meats, and features two types of olives. But the platter provisioned in Seattle came with two slices of rather bland but less stale focaccia, more prosciutto than anything else, and only one type of olive.
Aside from our purchased food, we also got complimentary snacks. On the outbound flight, we were given a choice of vegan butter pretzels or Biscoff cookies, while our only choice on our return was Biscoff.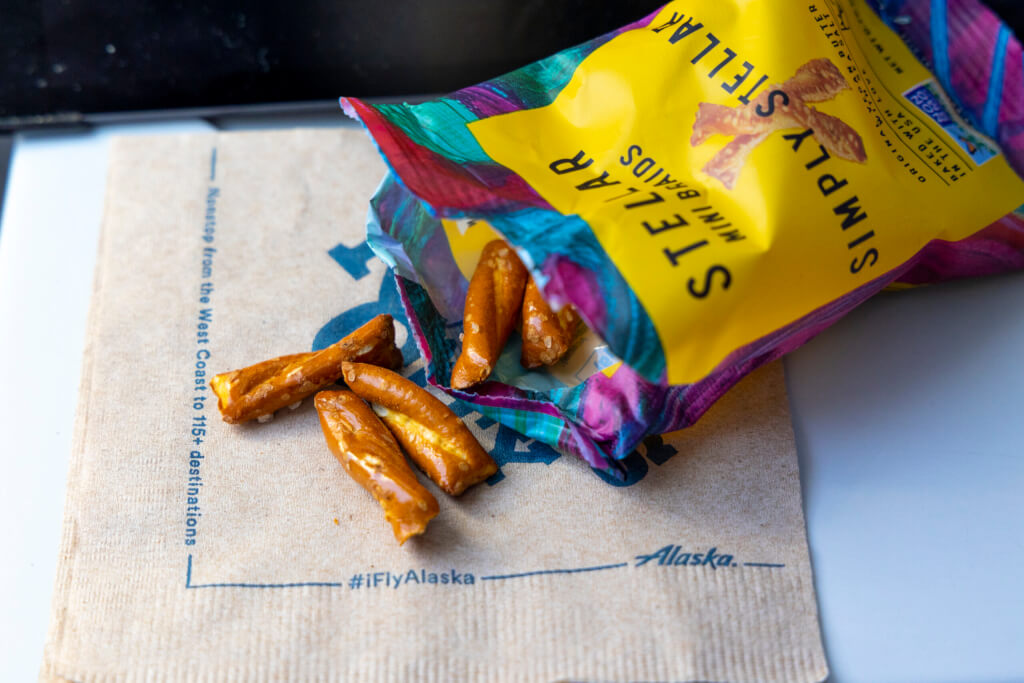 Final Thoughts
It's interesting that, at least in my case, the food was better coming from an outstation. Oh, and even though you're preordering your food and have to give your credit card information during your order, you don't actually get charged for it until you receive it onboard. And, yes, you still receive a statement credit for in-flight purchases when you use your Alaska Airlines Visa Signature card.
But, yeah, that's the state of Alaska Air 2022 food for purchase. I have more flights coming up with them in November, so I'll be sure to give some of the newer items a try and let you guys know how it goes. I must say, though, I really miss their West Coast Cobb Salad.
What do you think of Alaska Air 2022 food for purchase?