Aloha Poke Co's executives don't get what the problem is.  They can't seem to comprehend why what they've done is wrong and why so many have a right to be angry.
If you haven't already heard about the situation at hand, Aloha Poke Co. is a Chicago-based chain of quick-service restaurants.  Their primary business is selling "poke bowls," though, I don't think they understand what poke is.  But more on that later.  However, recently, the company has begun sending cease-and-desist letters to other restaurants with similar names.  And in those letters, they're asking these other businesses to not only stop using "aloha poke" but to stop using the word "aloha" in conjunction with their business.  And that, my friends, is a problem.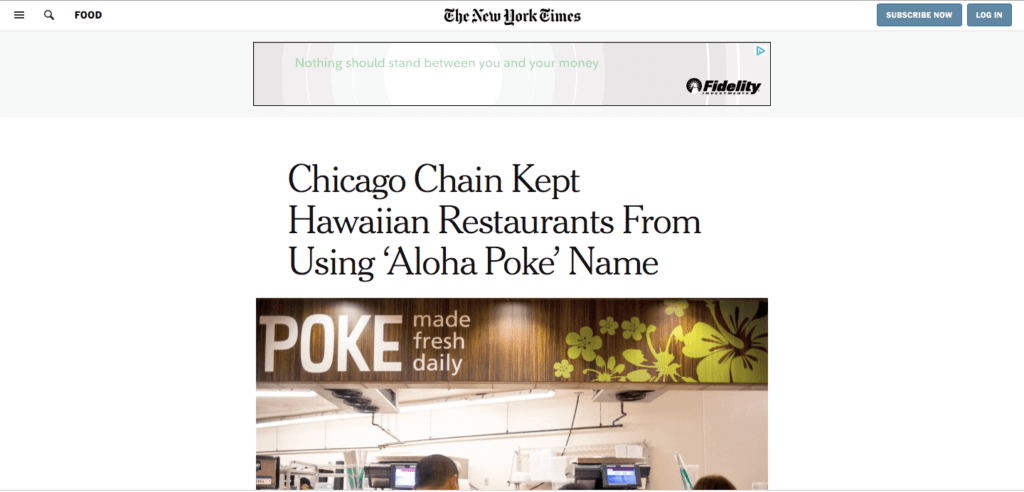 The Problem
Now, I understand a business wanting to protect its intellectual rights.  After all, my real job is in marketing, and intellectual property is crucial to my work.  However, the word aloha belongs to no one.  It's part of the Hawaiian language and has multiple meanings, including hello, goodbye, and love.  And, as such, it is a ubiquitous word in Hawaii, including in the names of restaurants and other organizations.
So prevalent is the utilization of "aloha" in Hawaii that no one has ever thought to trademark it; even if another similar business down the street from you uses the word in their name too.  But, Chicago-based Aloha Poke Co did just that.  And worse yet, none of the company's founders or executives have any ties to the islands whatsoever.  As a result of their actions, lack of a connection, and Hawaii's own views and values, Aloha Poke Co's operations and actions are being viewed as cultural appropriation.  That, by the way, is a hot topic issue in Hawaii, given Hawaii's history and the treatment of its native people.
And even ignoring the cultural appropriation issue, the trademark itself is idiotic.  As I've said, aloha is a common word in Hawaii.  It's a greeting that's used often.  So this situation is like trademarking a name like "Burger Love" and going around suing others for using "burger love" or "love."  You don't see Burger King going around suing other businesses with the word "burger" in their name.
Response
Company CEO Zach Friedlander isn't helping his company's predicament any.  He accuses critics of omitting important facts, and even going as far as calling some of the criticism "fake news" and a "witch hunt."  He claims to have nothing but love for Native Hawaiians, but his actions certainly don't show this.  His company forced a Native Hawaiian family in Alaska to spend tens of thousands of dollars to rebrand from the Aloha Poke Shop to Lei's Poke Shop.
Company reps have also been saying that they aren't trying to prevent anyone from using the word "aloha."  But guess what?  That's precisely what their cease-and-desist letters say!  Did they really think people wouldn't be able to obtain copies of it?  They really need to get a new PR person or company.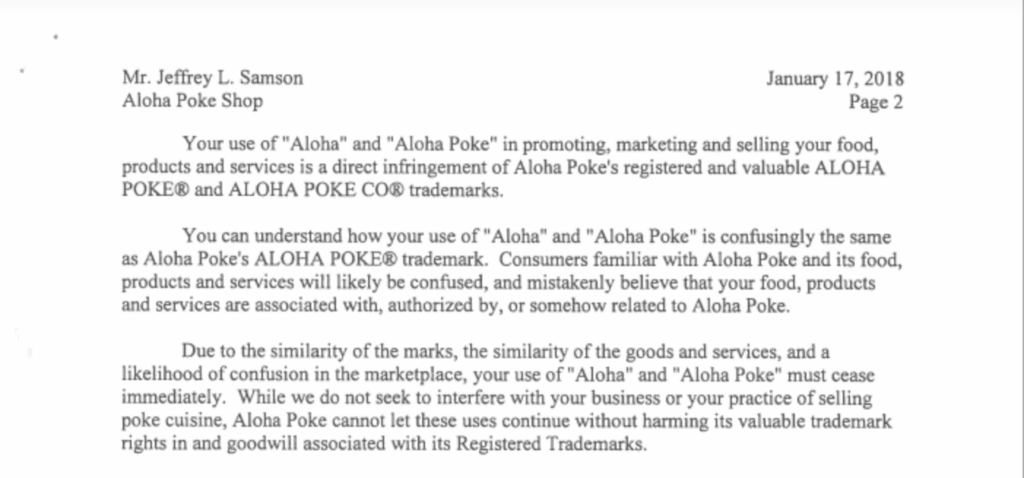 Not Poke
Now, I've never eaten at Aloha Poke Co, but their stuff doesn't look like poke.  It looks like (and according to their menu is) cubed raw fish on top of salad.  By definition, poke is diced fish that has been marinated in a blend of seasonings.  The traditional Hawaiian method is to marinate the fish in a mixture of sea salt, inamoa (roasted kukui [candle] nut), and limu or ogo.  A more modern interpretation adds sesame oil and chili pepper.  And, of course, there are tons of other varieties now.  But the thing is, it has to be marinated.  Aloha Poke Co's fish?  Not marinated, so, not poke.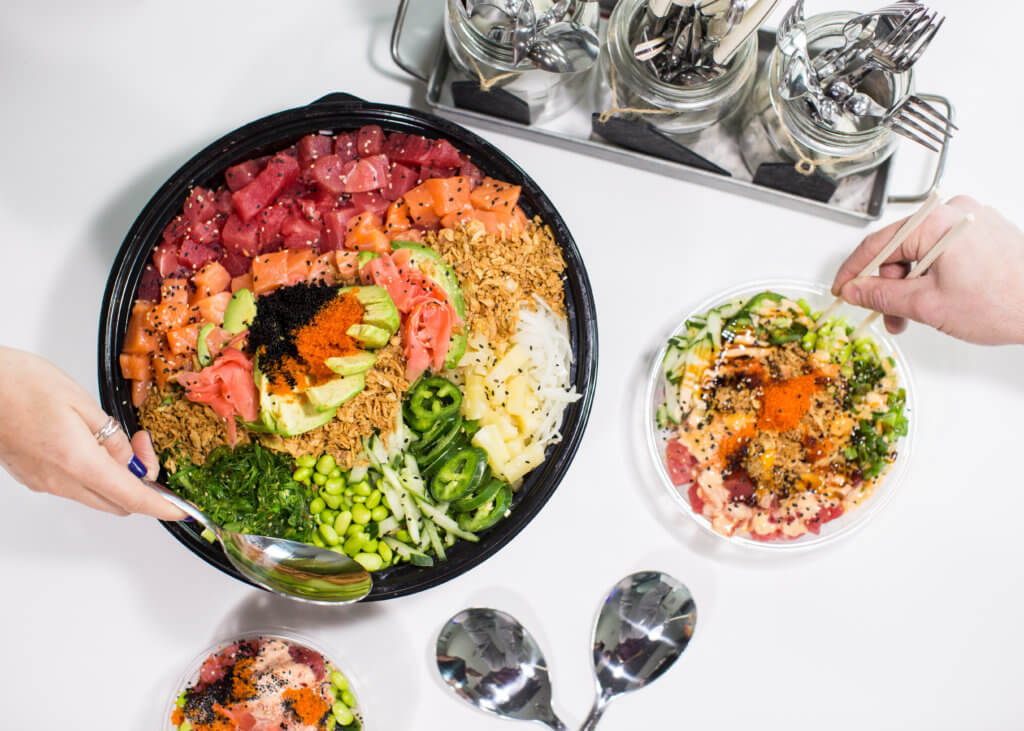 And, by the way, poke is not a salad topping.  Yes, some of the newer shops in Hawaii greens as a low-carb option, but traditionally it's eaten alone or atop steamed rice.  I prefer it alone, as cold poke atop hot rice isn't so good, in my opinion.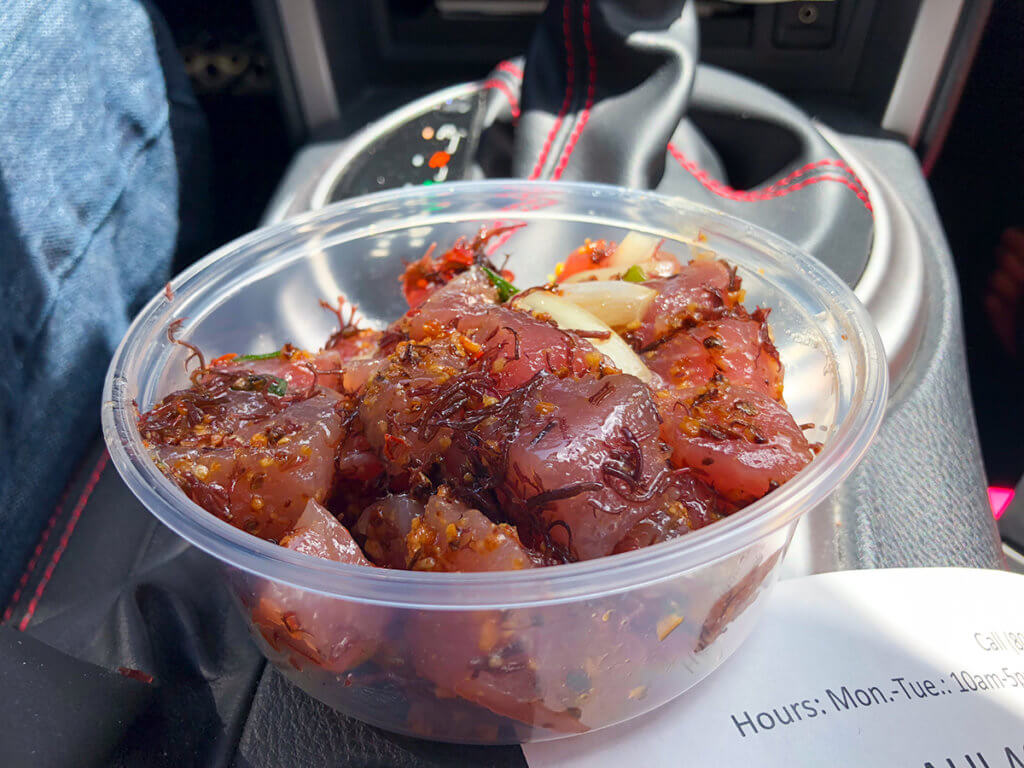 Aloha Poke Co, Final Thoughts
Look, I get it.  These guys are well within their legal rights to do what they're doing.  But does it make it right?  No.  At minimum, Aloha Poke Co is being culturally insensitive.  And, at worst, they're practicing cultural appropriation without even understanding the culture (and food) they're claiming.  Their responses to the criticism have been laughably bad too.  However, this isn't a reason to attack them either.  Just vote with your wallets, people.  Don't give them business if you think what they're doing is wrong, and civilly protest and encourage others not to patronize them too.
If you want real Hawaiian food in Chicago, then I'd suggest giving Aloha Eats a try.  I've never been, but they seem pretty legit.  However, they don't serve poke.  The closest restaurant to Chicago that I've been to that has real poke is probably Noreetuh in NYC.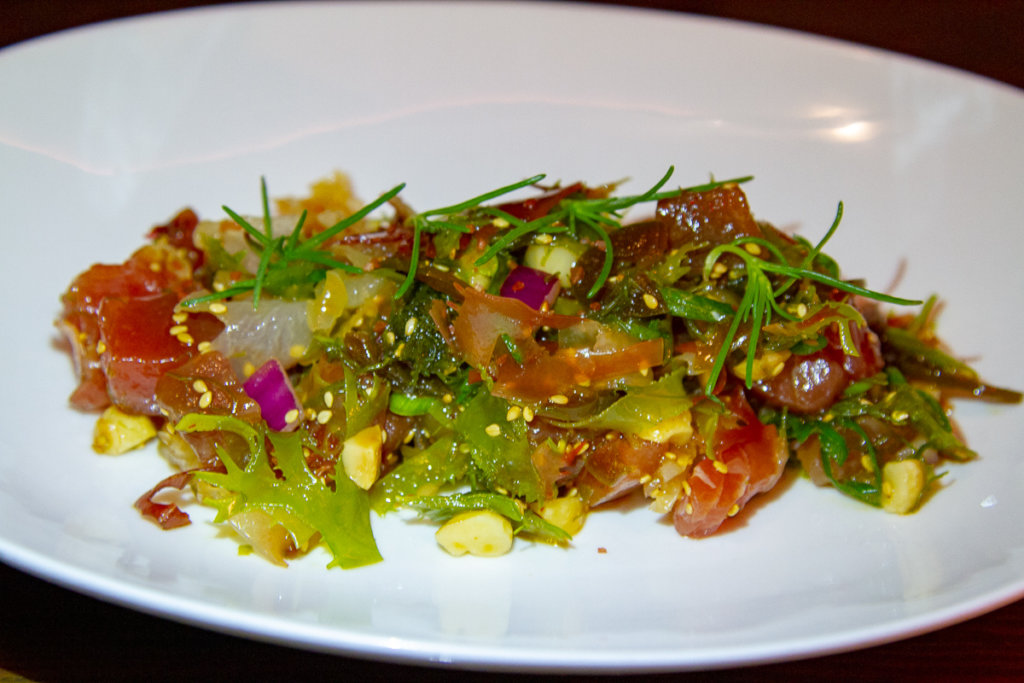 Their poke is a slightly upscale version but tastes authentic, the rest of their menu is fantastic, and there are real local people from Hawaii heading the restaurant.