Last updated on January 16th, 2017 at 09:44 pm
My dining philosophy when traveling is to avoid eating "local food," which is to say food I can get at home in Hawaii.  There's nothing wrong with food in Hawaii, it's just that I prefer to experience a place through its food.  It is a great way, after all, to try new things and experience different cultures.  But while in New York, I decided to break my rule and booked us a dinner at a Hawaii local food restaurant in the East Village called Noreetuh.
Why Noreetuh? 
Ok, so a little background. Noreetuh is a modern Hawaiian restaurant founded by a trio raised in Hawaii that met while working at Thomas Keller's Per Se in New York.  Opened in 2015, Noreetuh means "playground" in Korean and is reflective of the playful nature of the cuisine at the restaurant.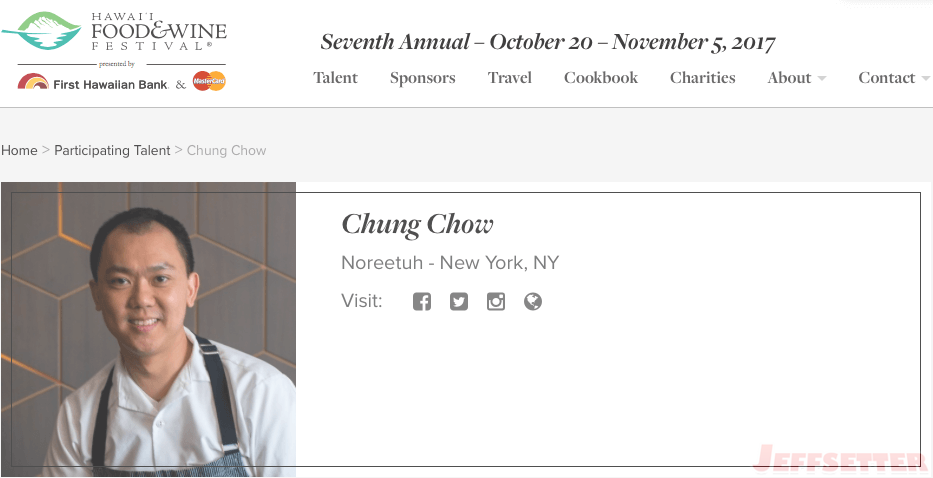 And honestly, when I first heard about it back when they opened, it immediately went onto my must-try list.  Why?  Because of the incredible pedigree at the restaurant and the New York twist that's being applied to "local food."
Service
Knowing we'd be fairly tired from our journey, I made our reservations for 6pm.  When we arrived the restaurant was empty, but that wouldn't last long.  We were quickly and cheerfully checked-in and shown to our table.  Noreetuh, I should note, is a rather small restaurant.  I thought it would be bigger, but it really wasn't an issue.  We never felt cramped or crowded, even as the place began to fill-up towards the end of our dinner.
Service throughout, in fact, was always cheerful, friendly, professional and with aloha.  And as it turned out, our server, Roger, is another local boy.  But unlike Chef Chung Chow who's from my home island of Oahu, Roger is originally from the Big Island.  So of course we "talked story" with him about where he's from, how he liked living in New York, etc.  It's always nice to talk to well-traveled people from back home for their take on things, as is often the case, we tend to agree on many things!  But anyway, Roger and the rest of the staff were great.  Don't hesitate to ask questions, everyone is always ready and willing to help.
The Food
As I've said before, the food at Noreetuh is "modern Hawaiian," which to locals is just a play on "local food."  Hawaiian food, I should note, in Hawaii refers to more traditional dishes from native Hawaiians like laulau, and not more modern (but still old) inventions such as saimin, spam musubi, etc.
Dinner at the restaurant is offered either ala carte or as a $42, 3-course prix-fixe menu.  Go with the prix-fixe menu option as it'll give you the most bang for your buck.  With that option you'll choose a snack, a starter, and a main.  The options are identical to the ala care menu, so you really aren't missing out on anything.  This is the route we went and placed our orders.  Before our first dish came out, though, we were presented with this luxurious matsutake soup.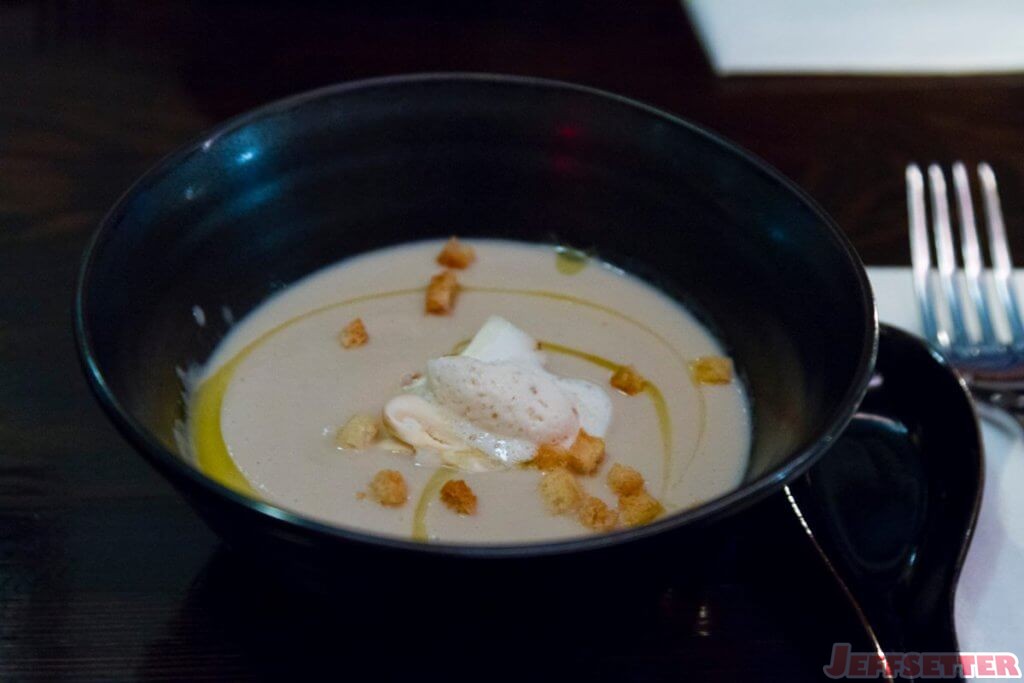 The soup was just a small bowl, but had a pure, wonderfully woodsy, earthy flavor of matsutake mushrooms accented by white truffle oil.  The croutons provided a nice contrast to the otherwise creamy, smooth soup.
For our snacks, the wife ordered the Silken Tofu ($10 supplement).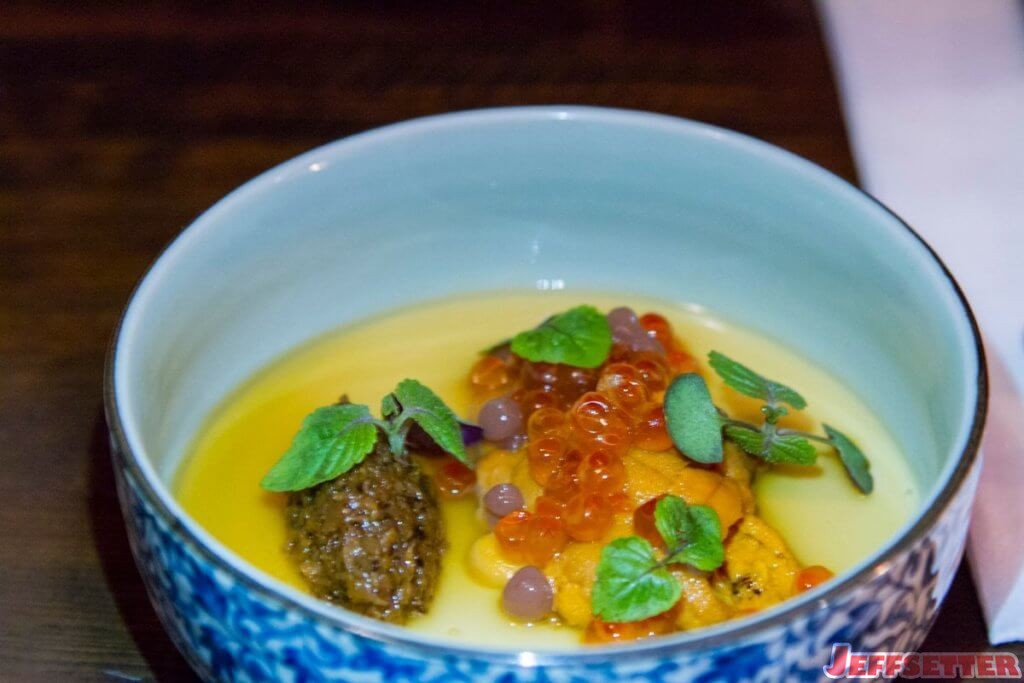 As its name implies, this house-made tofu was indeed silky smooth.  It's topped with uni sourced from Hokkaido, ikura, micro shiso, and minced mushrooms.  The flavors were really clean, yet luxurious, but not heavy.  Definitely a winner.
For my "snack" I ordered the Corned Beef Tongue Musubi.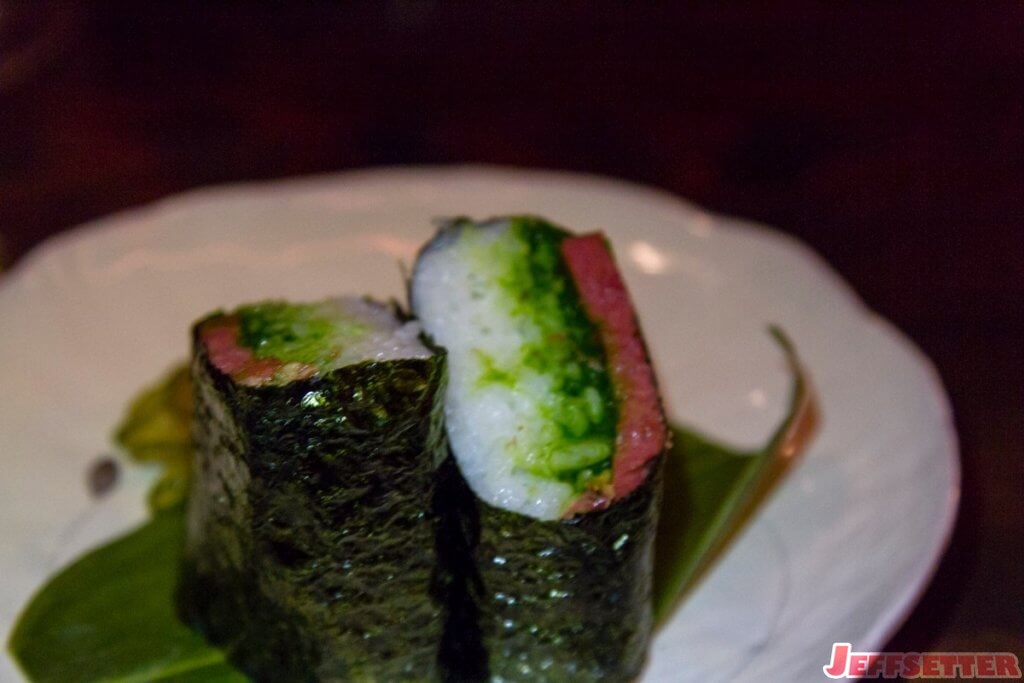 This dish is supposed to evoke Hawaii's favorite snack, the Spam Musubi.  But it substitutes corned beef tongue for the Spam and adds a herbaceous cilantro sauce.  The flavors were great and its something I'd order again.  My only complaint about the dish is that the rice was a bit mushy for my liking.
Next up was the starter,  for which the wife opted for the Big-Eye Tuna Poke ($3 supplement).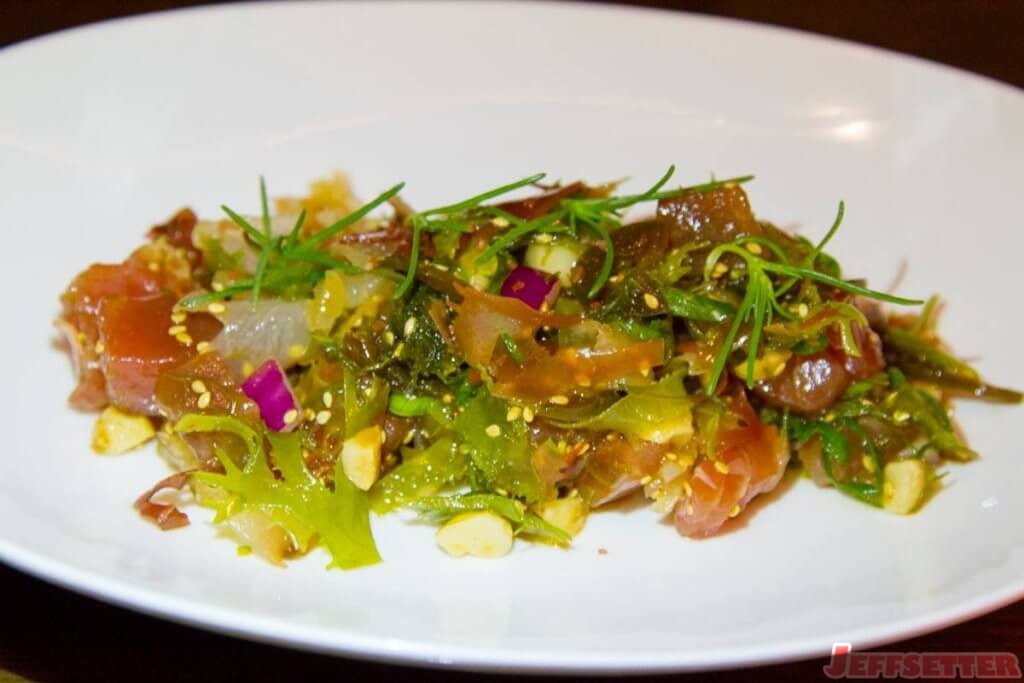 Now, poke has been become a fad around the country, but many places don't do it quite right.  Noreetuh, then should be spot on given the island roots of the chef and owners.  And you know what?  It is.  Ok, so it's not the most traditional preparation, swapping in macadamia nuts for inamoa, and adding pickled jalapeños.  BUT, overall the flavors are really familiar and tastes like the best poke you'd find in the islands.
For my starter I opted for the Monkfish Liver Torchon.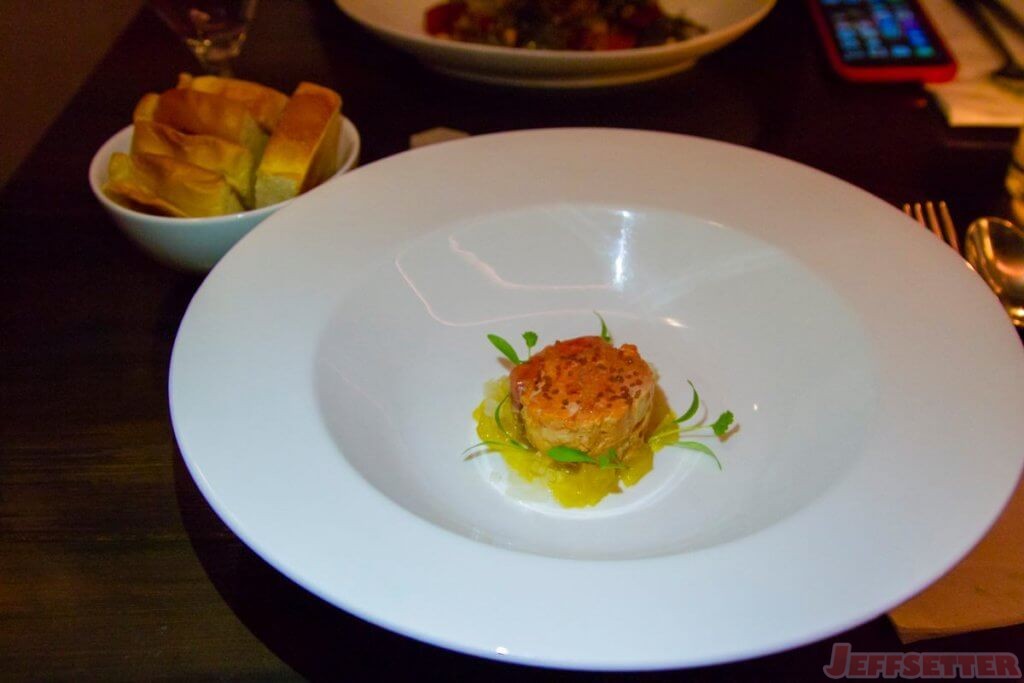 Monkfish liver, a.k.a. ankimo, is the foie gras of the sea.  Properly prepared, it has a similar texture and unctuousness.  This one is perfect, resting on a bed of lilikoi (passion fruit) geele, diced nashi pear, micro cilantro, and sprinkled with Alae Salt.  It's served with toasted King's Hawaiian sweetbread rolls, on which you spread the mixture.  It's a wonderfully balanced and delicious dish.  It's rich, tart, salty, sweet, crunchy, air mouthful that I just couldn't get enough of.
For her main dish, the wife ordered the Mentaiko Spaghetti.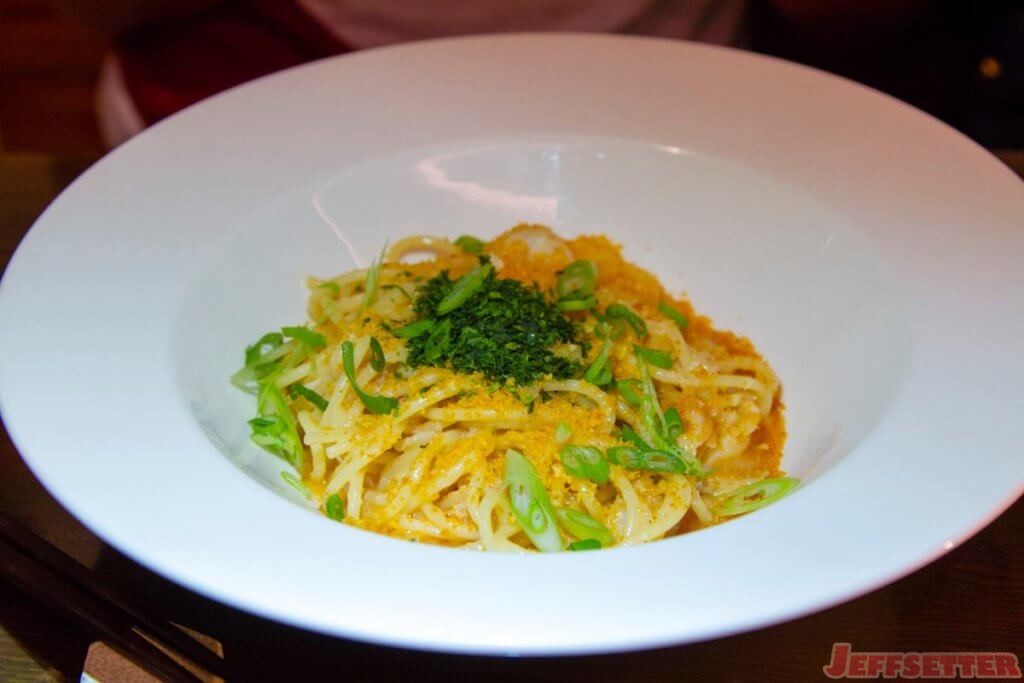 The wife and I love mentaiko and tarako spaghetti, or just mentaiko itself.  This one didn't taste strongly like mentaiko as we're used to, including a different fish roe.  In fact, the menu lists smoked cod, aonori, and chili in the dish.  That being said, Noreetuh's mentaiko spaghetti is good.  It's different, but it's tasty and we'd order it again.
For my main I stuck with my Monkfish theme and ordered the Roasted Monkfish.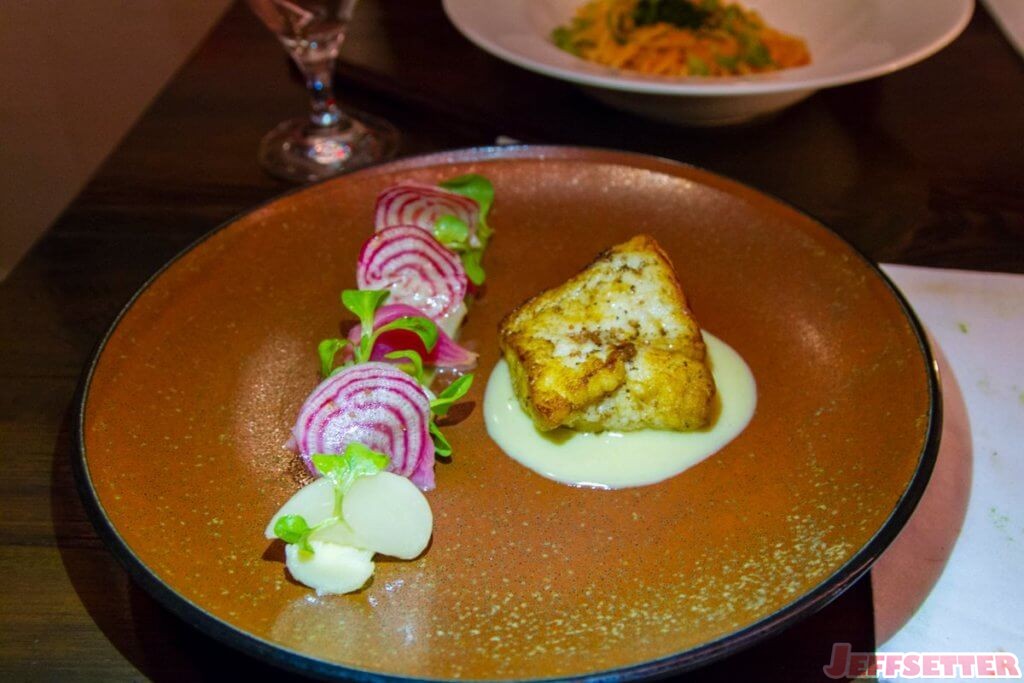 This dish was comprised of a hunk of roasted monkfish on calamansi beurre blanc with leeks and beets.  The fish was perfectly cooked with a nice, crusty exterior, and moist interior.  Oh, and the vegetables were wonderfully prepared, super fresh and flavor too.  Would definitely order again.
Dessert isn't included with the prixe-fixe menus and is always ala carte.  There's a small handful of items, most of which sounds great, but the wife and I were pretty full by this point.  But at Roger's urging, we ordered the Bruleed Hawaiian Pineapple ($10).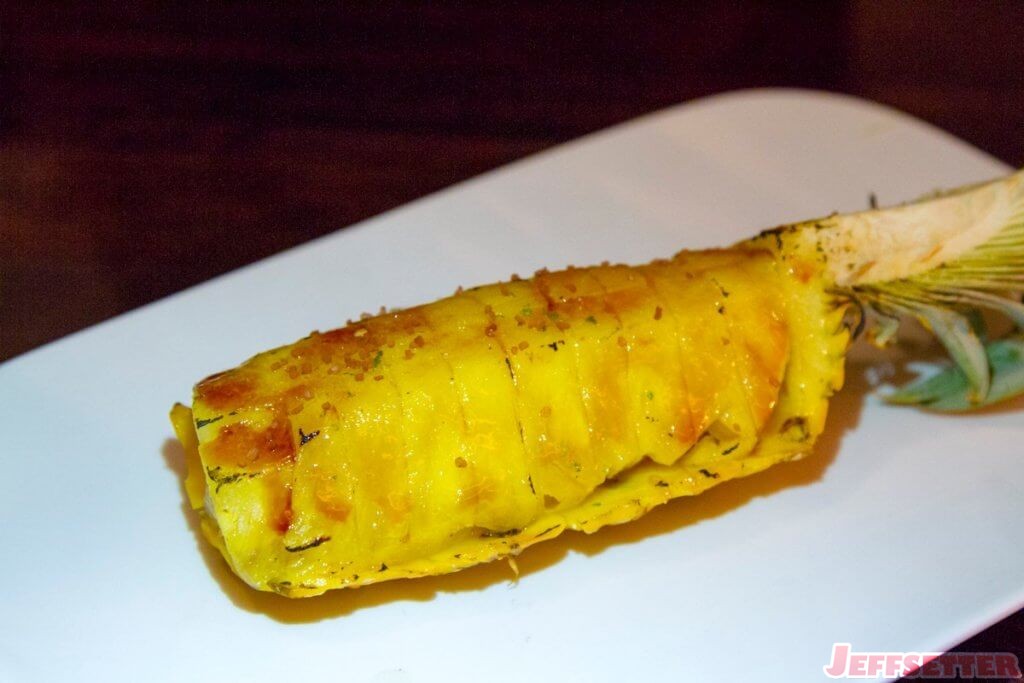 Basically it's a quarter of a fresh pineapple flown from Hawaii with sugar torched over it, and served with a sprinkling of Alae Salt and lime zest.  Yeah, ordering a dish mainly made of components from back home 5,000-ish miles away seems a bit absurd, but you know what?  It was pretty great!  The pineapple was sweet, tangy, salty, with a faint hint of lime.  It was so refreshing and balanced… I'd definitely order it again, though i'd also like to try the chocolate haupia sundae too.
Final Thoughts
I'm glad I broke my rule of not eating "local food" when traveling.  Our overall experience at Noreetuh was a very positive one, with great service and food.  And if you're trying to find good poke like you'd find in Hawaii on the East Coast, Noreetuh is where you need to come.  I'd definitely return when in The City again and encourage anyone interested in "local food" from Hawaii to give Noreetuh a try.
A Big Apple Holiday Adventure
Restaurant Review:  Noreetuh