My journey to San Antonio continues!  Following my first flight from Honolulu to Los Angeles, I had one more flight to the Lone Star State.  And believe it or not, but this flight would represent a few firsts for me.
Thanks to the near 1 hour delay of my previous flight, I had about an hour and a half on the ground once I deplaned.  I had planned to check out the Alaska Airlines lounge in Terminal 6.  However, my next flight would be departing from American Eagle's Terminal 5 satellite, which is a bus ride away, so I decided to skip the lounge and headed straight to the bus.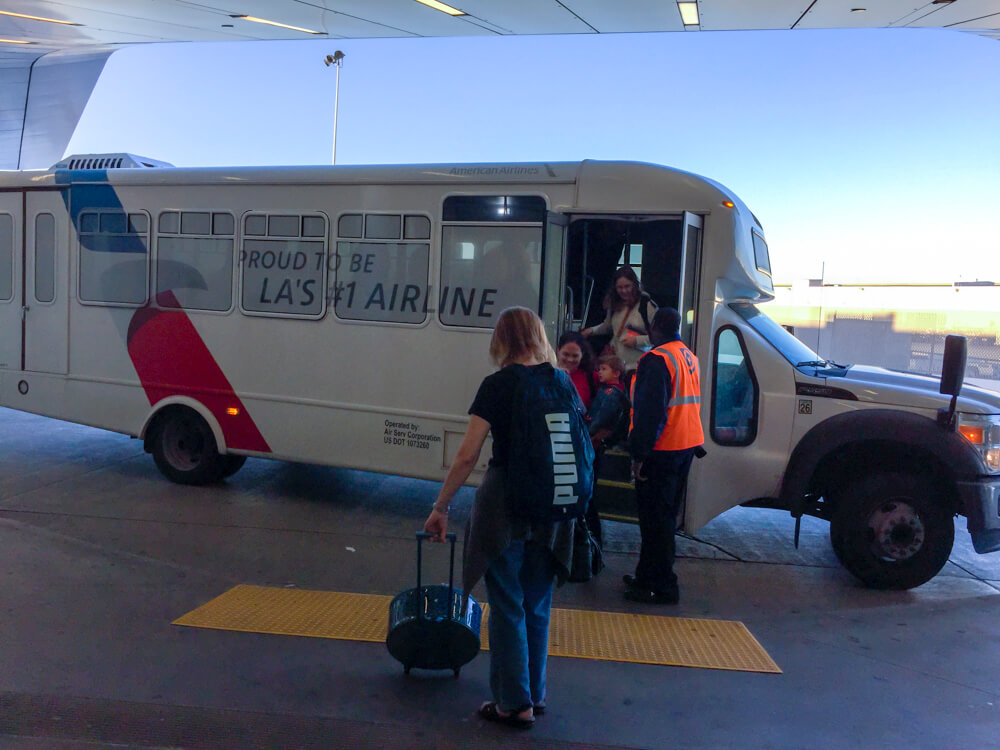 I was among the last to board the bus, so I ended up standing near the front.  Not only did this mean I didn't have to wait, but I got some great views of the tarmac.  Too bad the bus was too full for me to bust out my camera.  Oh well.  After a quick, 5 minute ride across the tarmac, we arrived at the Terminal 5 Satellite.
Terminal 5 Satellite
The Terminal 5 Satellite is a rather small facility.  In it are a few concessions, restrooms, and an Admirals Club.  Outside of that, however, the terminal doesn't have much in the way of amenities.  What it did have, though were power ports built into the seats and wifi… Only, the power ports didn't work.  Thankfully, there's also a few communal tables with more power outlets, though again, many of the outlets didn't work.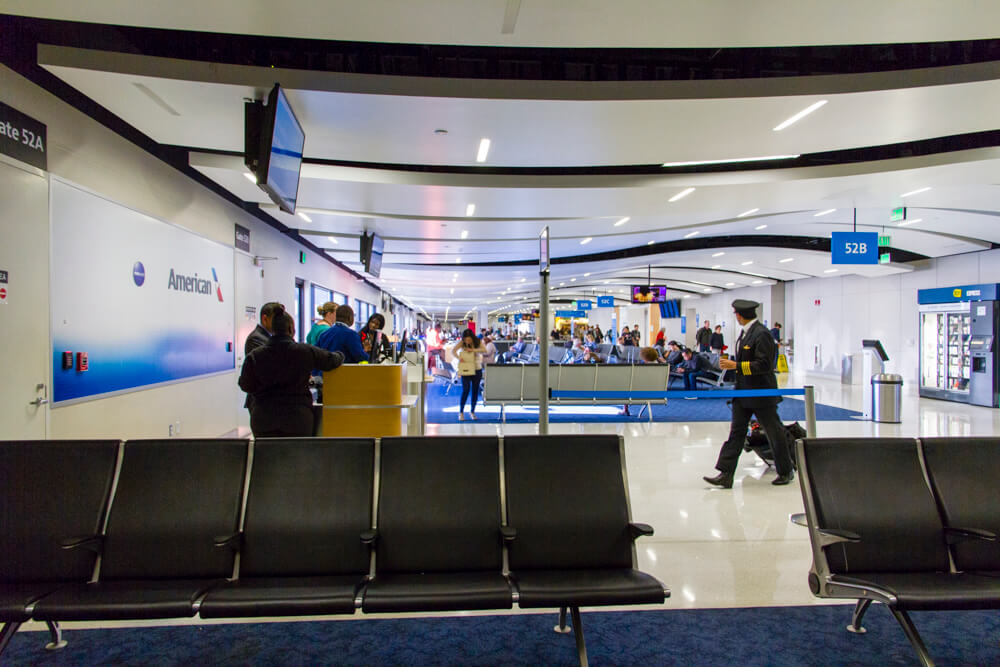 Thankfully, I finally found a working outlet, plugged in, and got some work done.  Eventually, the gate area began filling up as our boarding time rolled around.  Boarding was scheduled for 8:53 am, but our aircraft was delayed, so boarding began at 9:00 am.
Boarding
My flight to San Antonio was aboard a Compass Airlines Embraer E175, operated as American Eagle Flight 6036.  And despite this aircraft being even smaller than the previous A321, there were still 8 boarding groups!  Thankfully, I was in Priority Group 4, and was among the first to board the aircraft.  But the particular gate we were at required a bit of a stroll down a semi-permanent structure to the aircraft.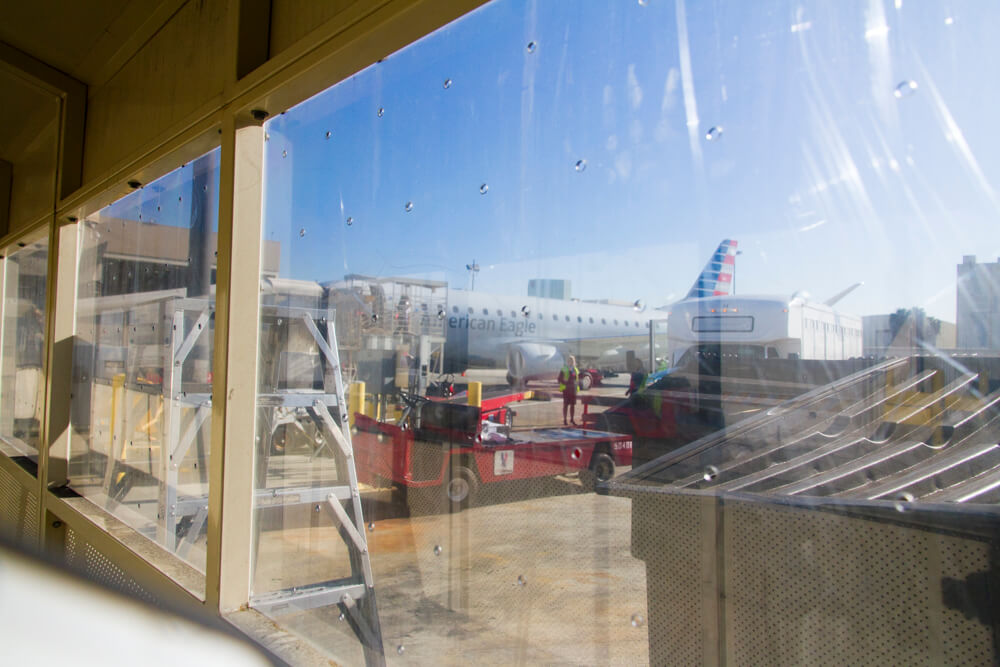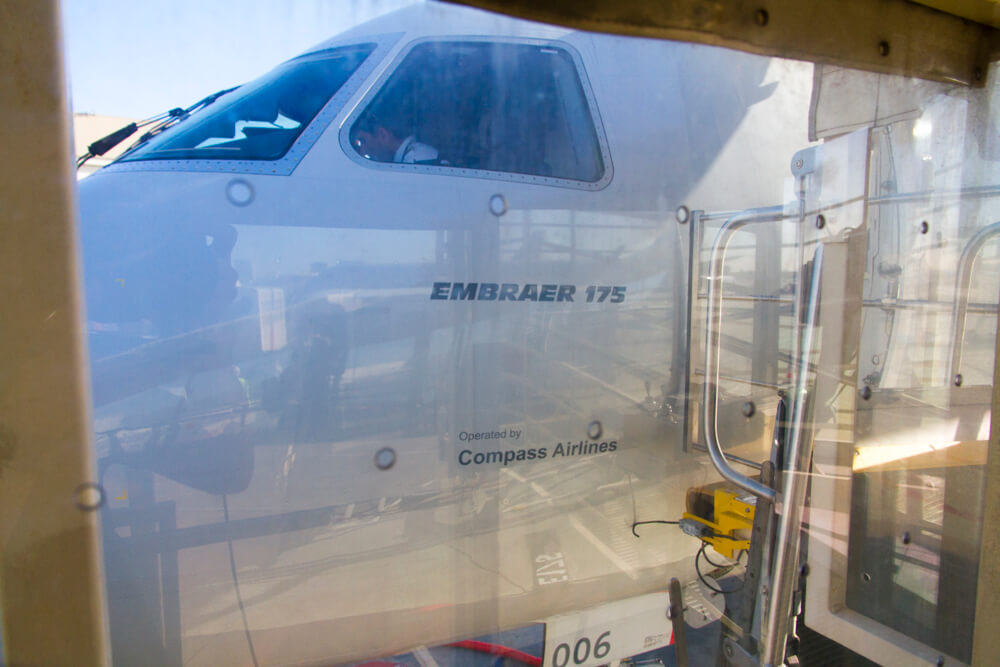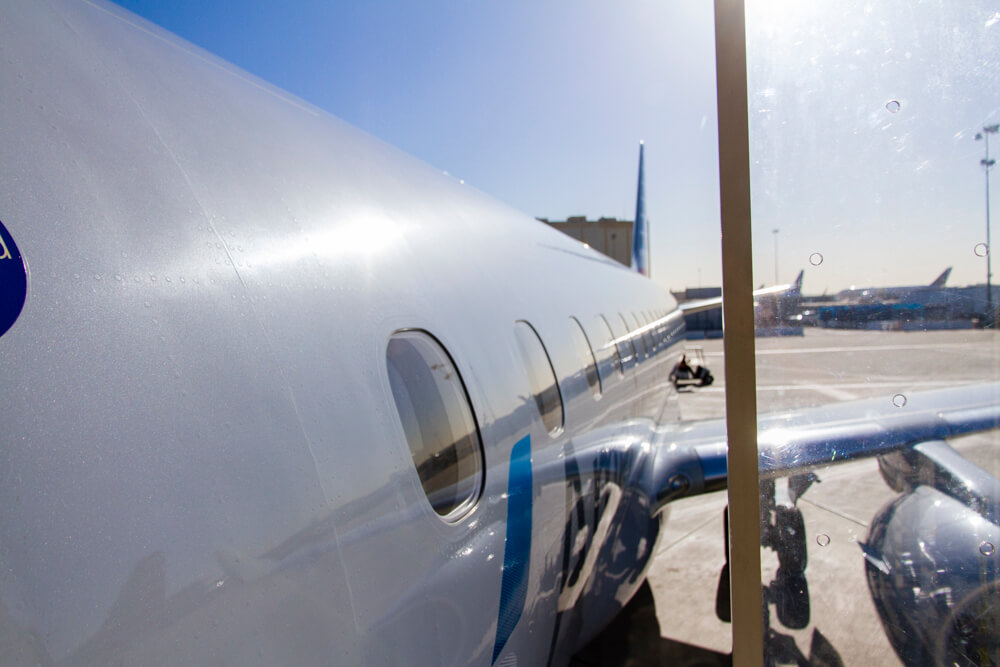 I took my window seat toward the rear of the aircraft and settled in for the short flight to San Antonio.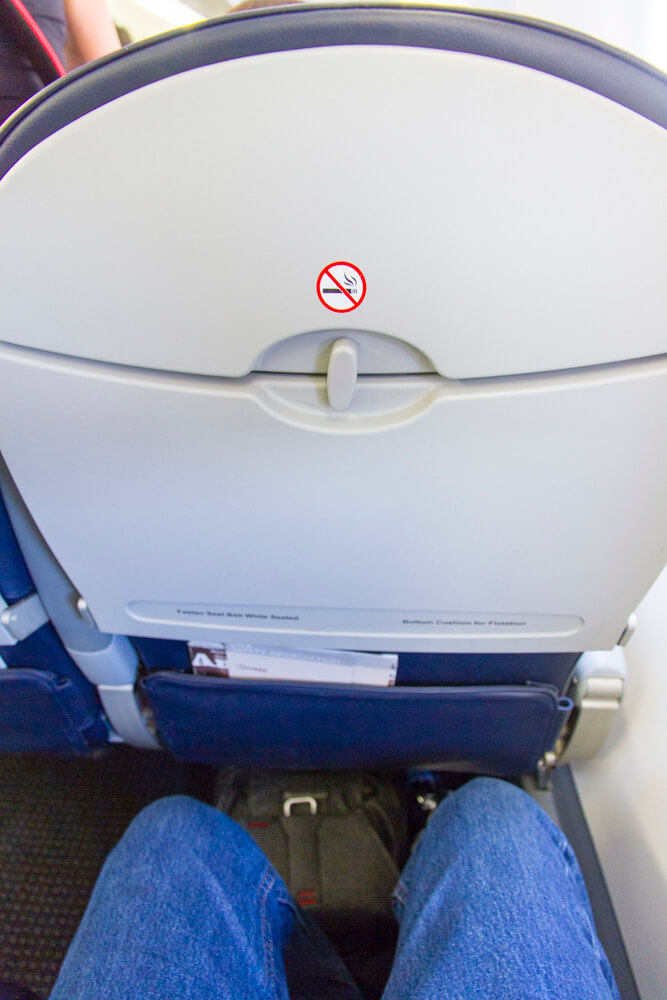 Despite the small size of the aircraft, the legroom isn't terrible, but again, I am a little short.  Unsurprisingly, though, the aircraft was pretty bare.  No in-flight entertainment here, but no matter.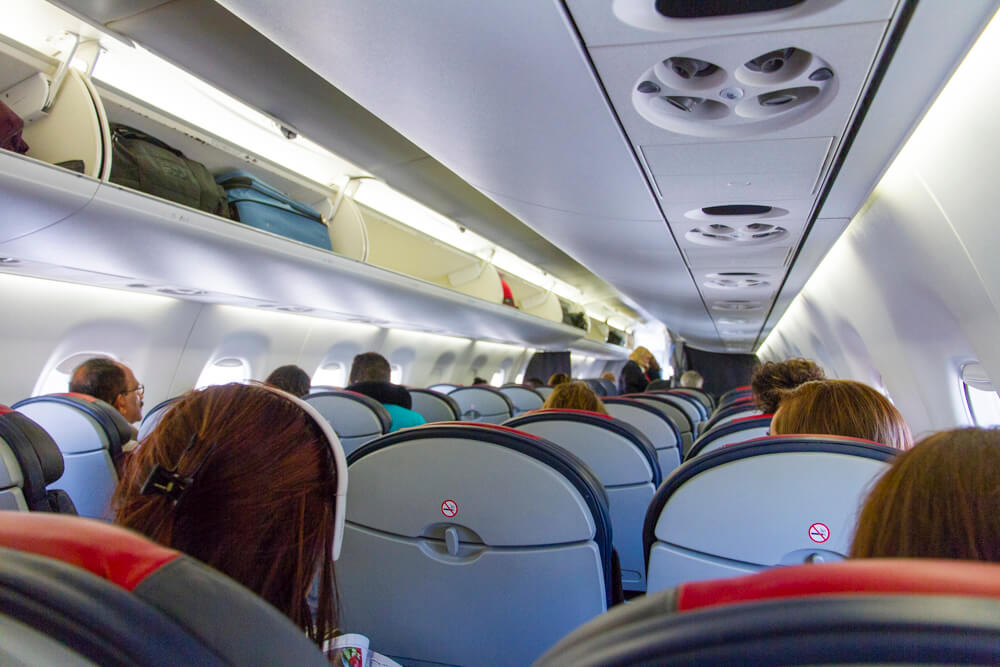 Interestingly, despite the small size of the E175, boarding took a full 34 minutes.  That's oddly 11 minutes longer than my previous, full A321 flight.  No matter.  The door was sealed at 9:34 am, but our aircraft was still being fueled.  Apparently, the fuel truck arrived late… then it ran out of fuel.  So they had to find another truck to finish fueling.  Finally, fueling finished a few minutes later, and we pushed back at 9:38 am.  That's 15 minutes late.  Oh well.
American Eagle Flight 6036
Our aircraft had to hold briefly at the gate for some traffic to clear out.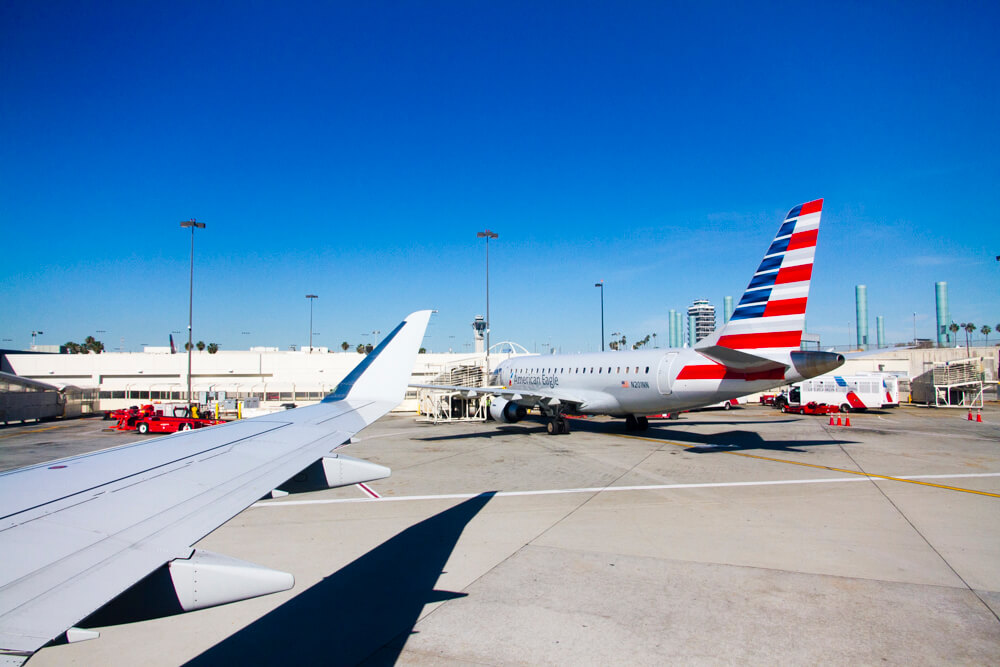 We had a relatively quick trip to Runway 25R, though runway congestion was already building.  After a short hold, we were on our way.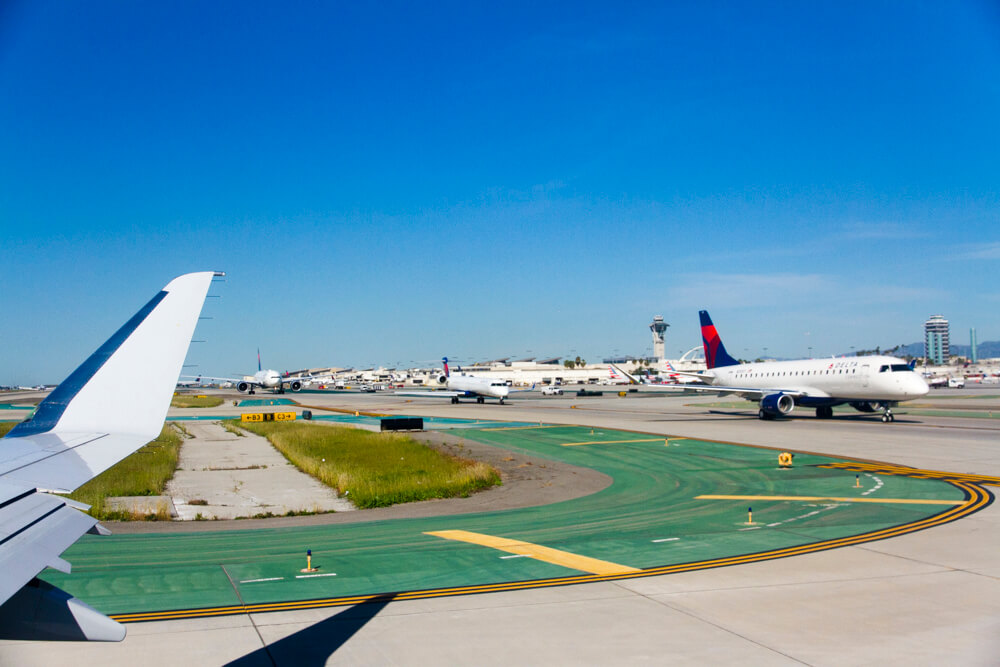 We began our takeoff roll at 9:47 am for our 2 hour, 35 minute flight to San Antonio.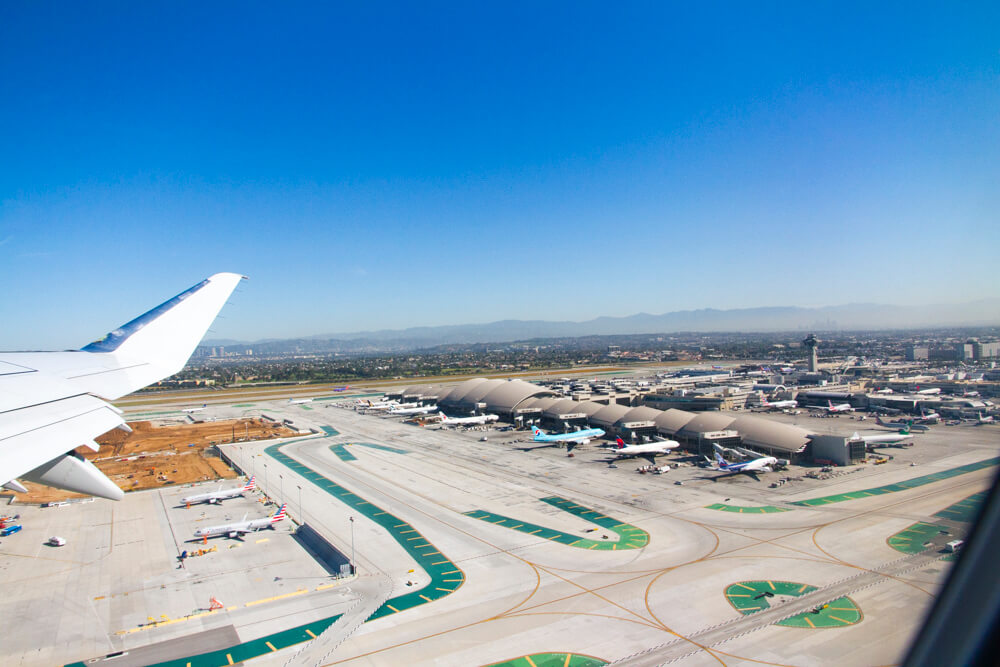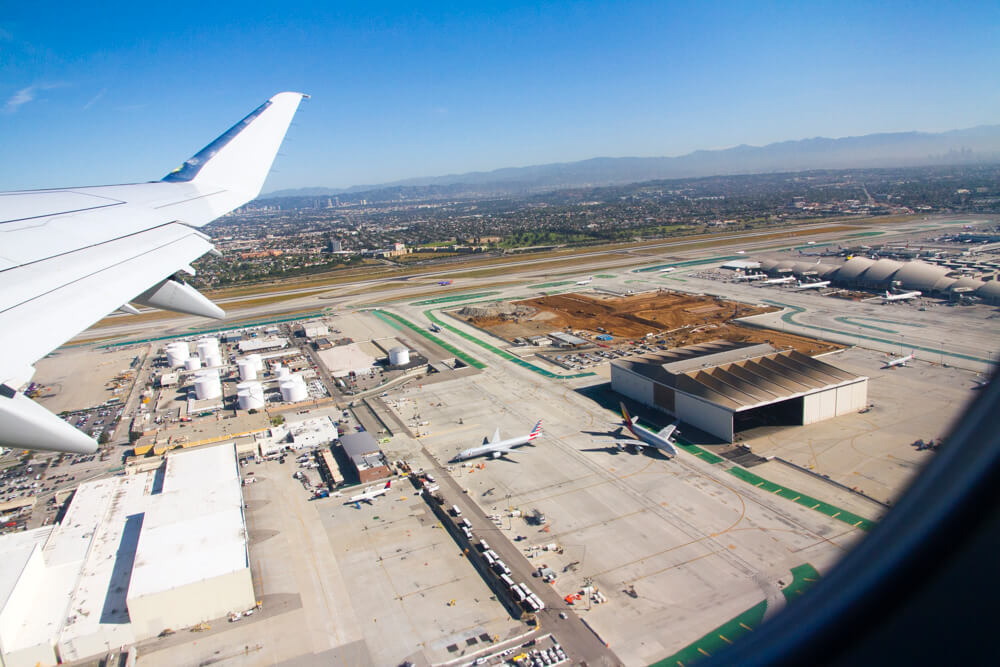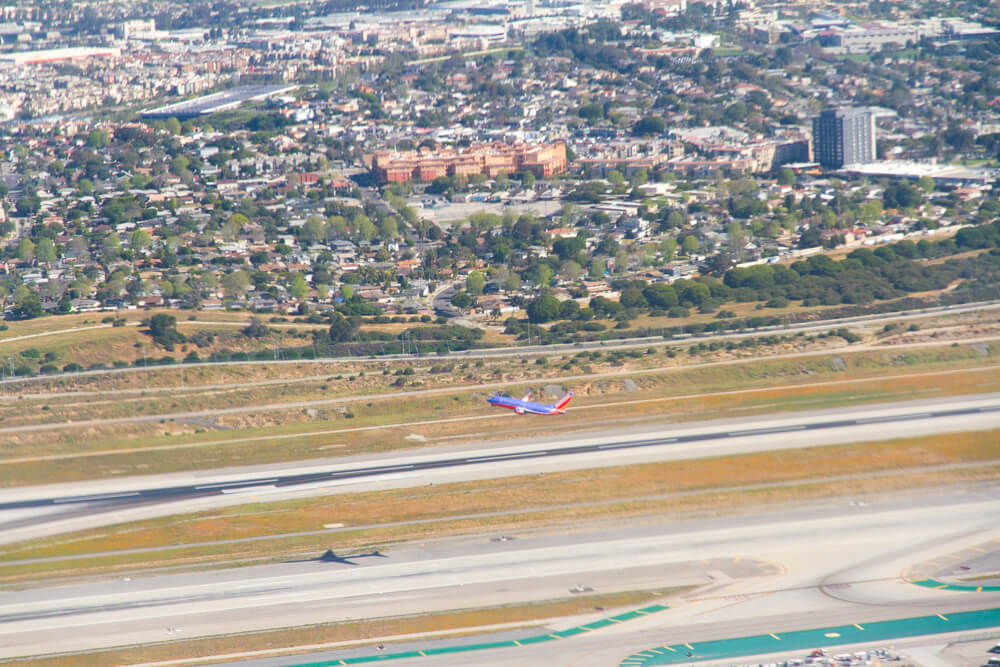 Our flight took off in a westward direction, and continued on out over the coast.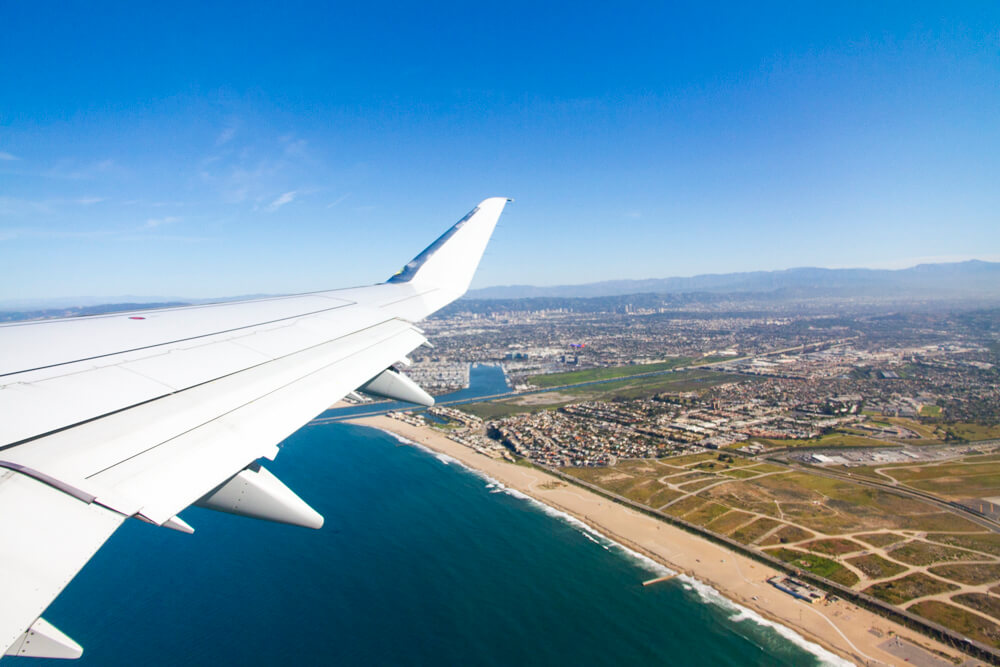 After a few minutes, we turned back eastward and headed to the Lone Star State.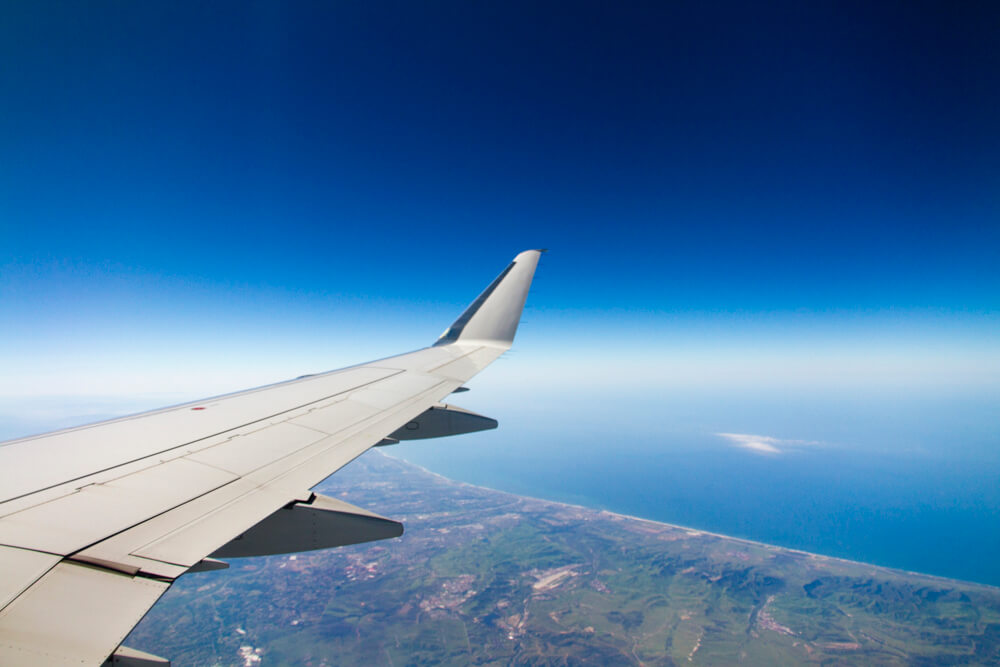 Soon after turning east, we reached our initial cruising altitude and service began.  On this American Eagle flight a choice of pretzels or Biscoff cookies and soft drinks were on offer.  This time I opted for the pretzels and a cup of water.  I also setup my makeshift inflight entertainment system.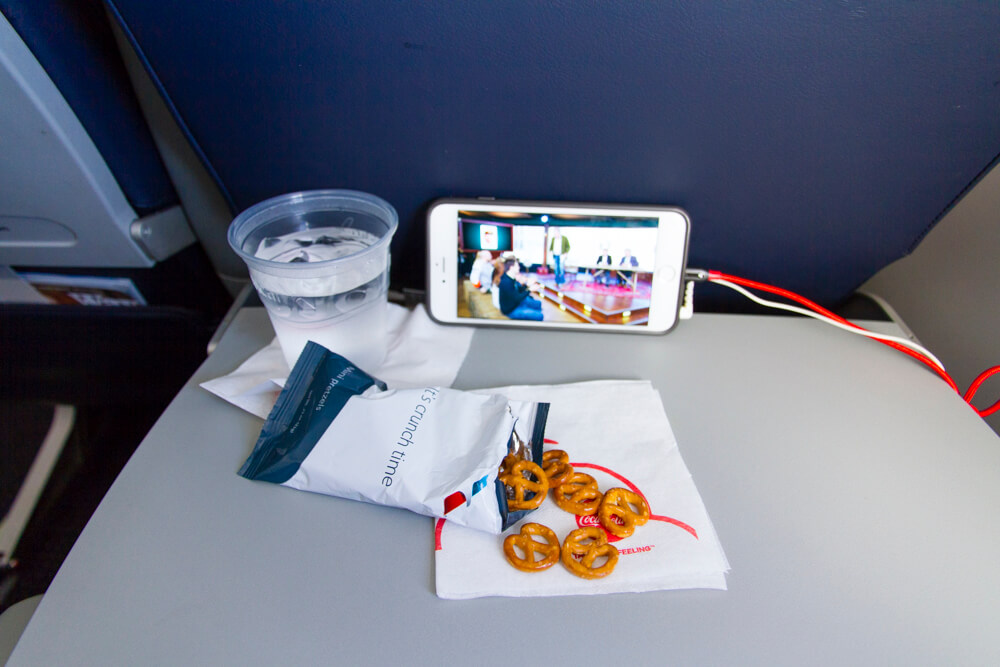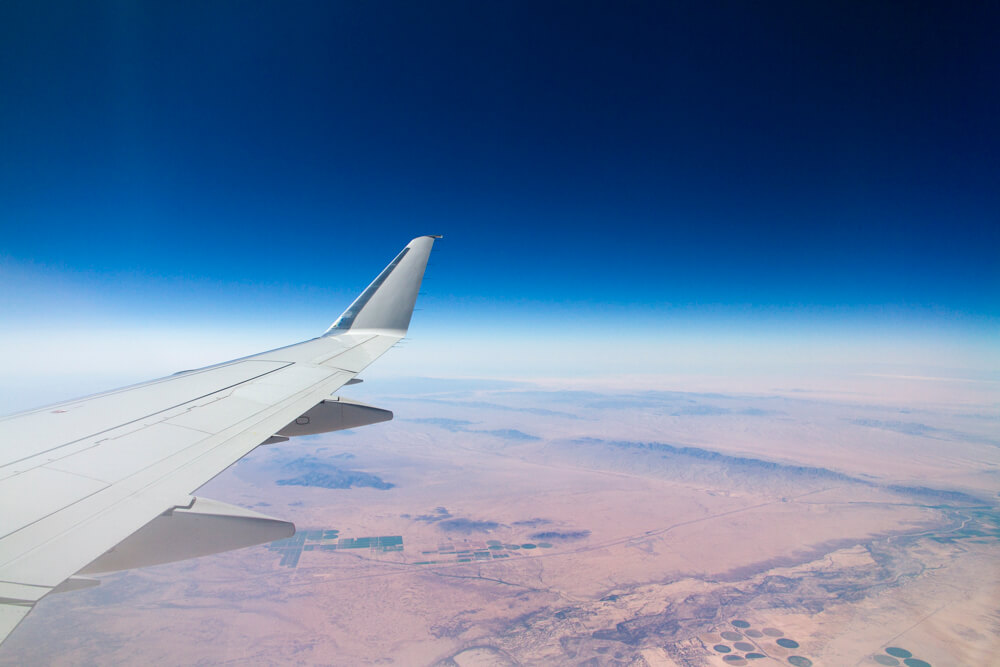 Flying over the Southwest meant that there was some interesting and varied views out the window.  Between me gazing out the window and watching some of my favorite shows, the flight went by really quickly.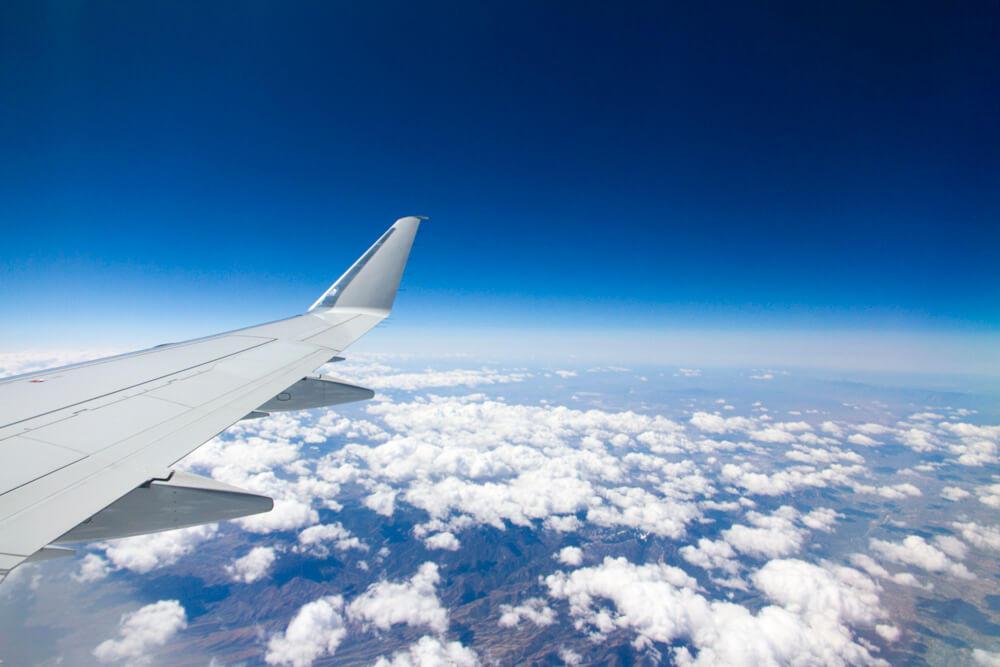 And before I know it, we were descending into San Antonio.  But as we descended through the clouds, the chop REALLY picked up.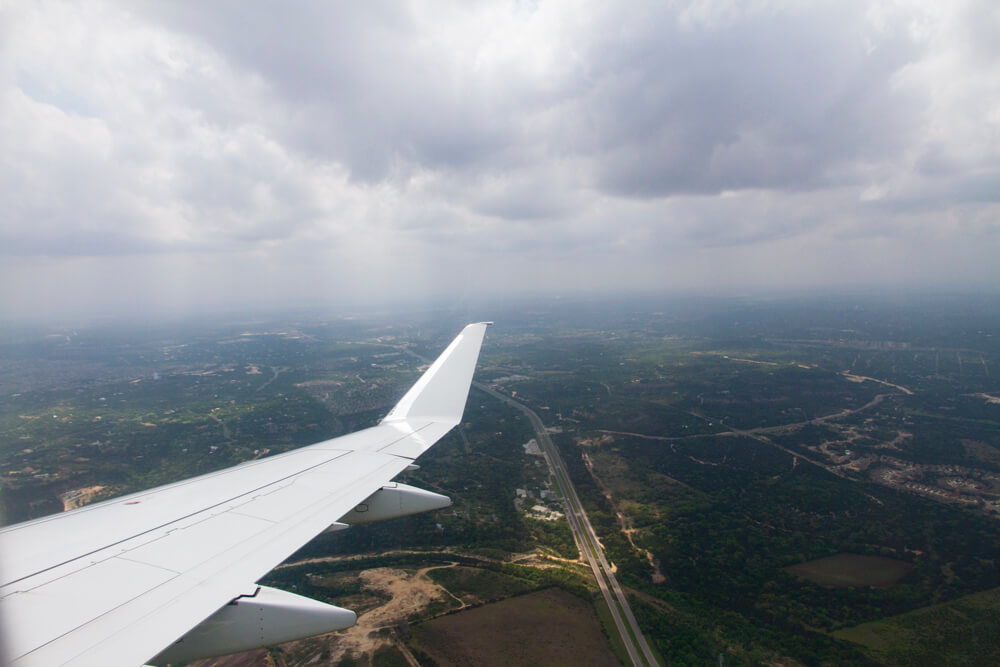 There was some unpleasant weather making its way into SAT, so the winds were really picking up.  That made the ride down a bit more interesting, with some onboard yelping here and there.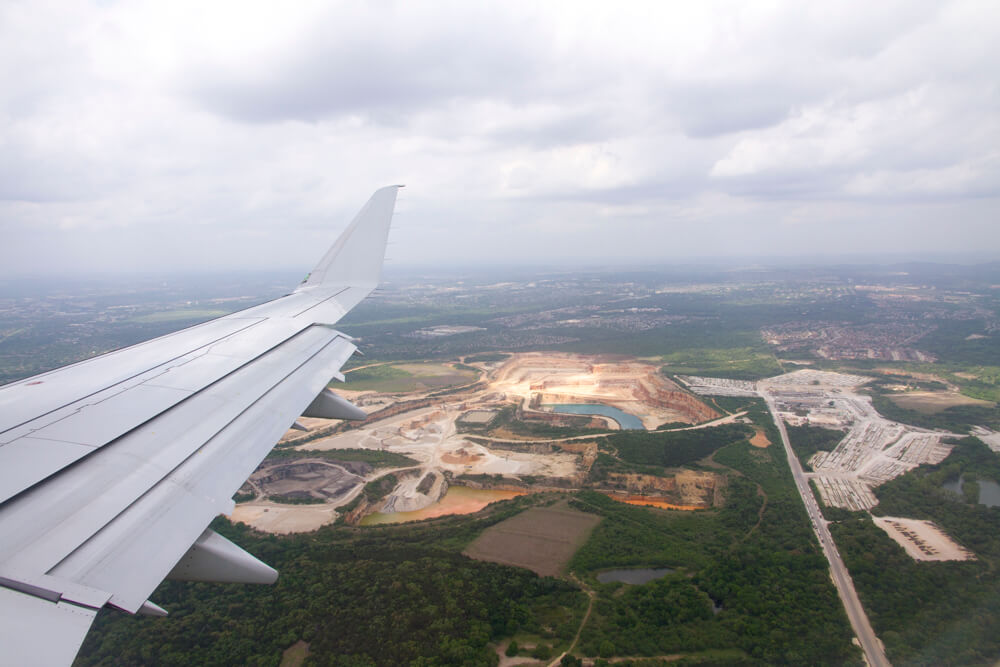 This continued all the way down, ending in a slightly bouncy touchdown at 2:11 pm, 2 hours and 23 minutes after pushing back in LA.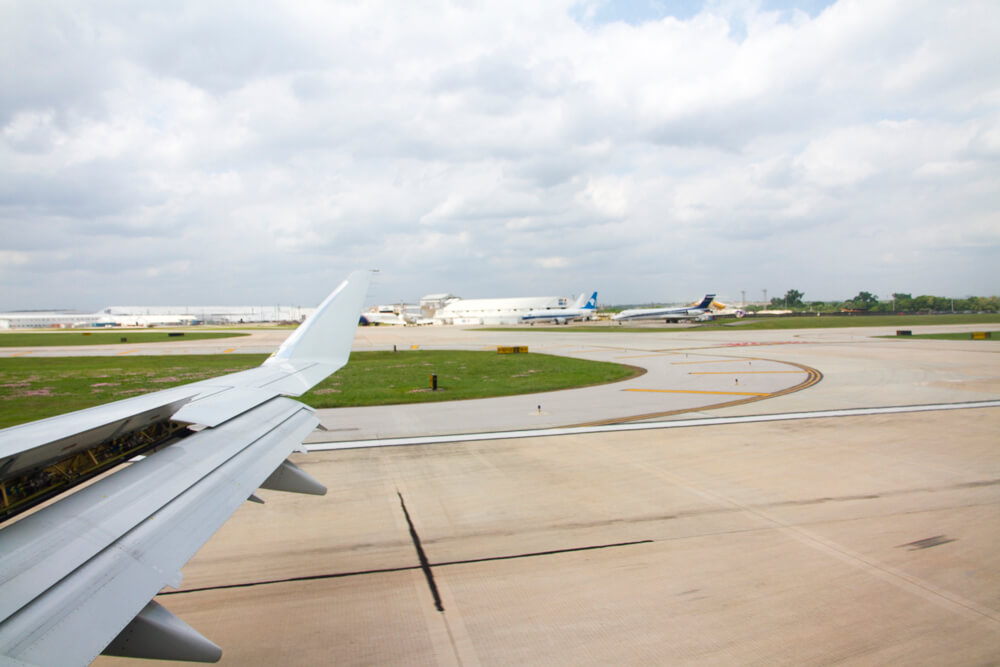 SAT being the small airport it is, there isn't much to se here.  The airport was seemingly a collection of regional jets with a small sprinkling of smaller mainline jets.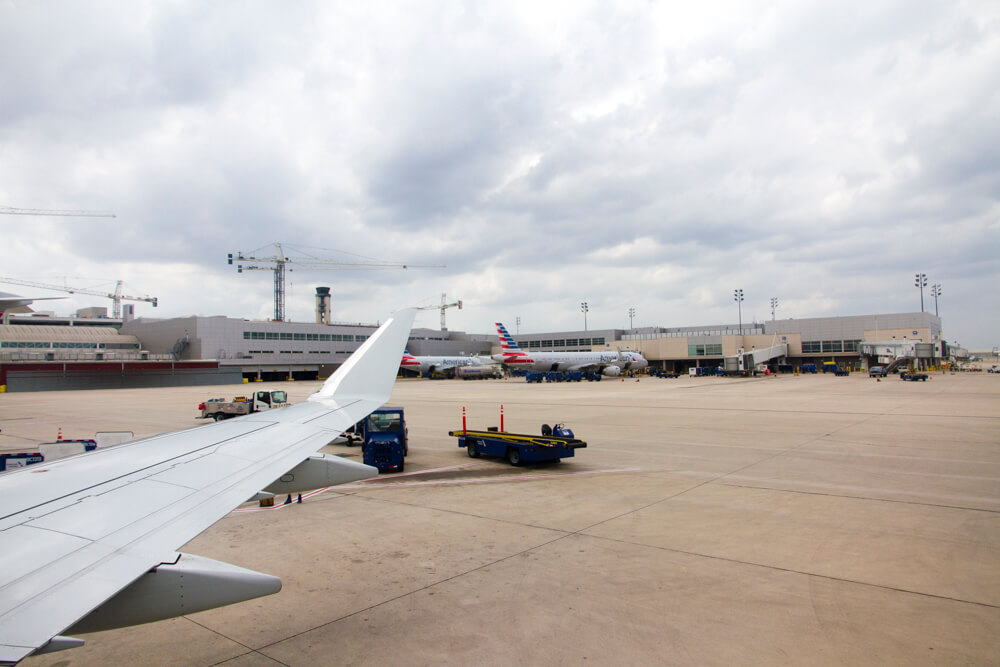 Our originally scheduled arrival was 2:20 pm, and after a 9 minute taxi, we arrived at our gate at 2:15 pm.  A few minutes early, despite the delay back at LAX.
Baggage
Once off the plane, I headed to the baggage claim.  I kind of got lost, though, since our flight arrived at Terminal B, while American uses the baggage claim in Terminal A.  Clearer signage would be greatly appreciated, especially since I wasn't the only one on my flight that got lost.
Thankfully, once I got to the baggage claim, the bags were already coming down the conveyor belt.  I quickly collected my bag and headed over to the designated ride share pickup area.
American Airlines LAX-SAT Final Thoughts
My flight from Los Angeles to San Antonio, as I've said before, represents a number of firsts for me.  Not only was it my first time visiting San Antonio, but it was also my first flight on an Embaer and on American Eagle.  Hell, this was even my first flight on a regional airline too.  And I have to say, it wasn't a bad experience, though the E175 is one of the better regional jets around.  Yes, it was a fairly basic flight, but it was good enough.  I'm just glad I didn't get stuck on a turboprop.