My final flight home from San Antonio was through Phoenix.  This flight would again represent a couple more firsts for me, though the American Airlines PHX-HNL route is one I wanted to avoid.  But, American being American these days, this flight was my best option for the final leg of my journey home.
When I have to fly on American, my strategy has largely been to avoid US Airway hubs and flights.  I was never a fan of that airline for many reasons, so avoiding them even post merger is important to me.  Unfortunately, American being American these days, this flight was the best available option for the final leg of my journey home.
The Best Option
There's two reasons why the Phoenix to Honolulu route was my best option: seat preference and connection time.  When I fly, I prefer window seats, or seats close to the window.  I love staring out the window as most AvGeeks do.  But, if I'm sitting in the middle and can't see outside, I tend to get a little motion sick on the ground and in turbulence.  So while the SAT-DFW-HNL route had good timing, it was a no-go because American classifies the window seats as preferred seats on this route.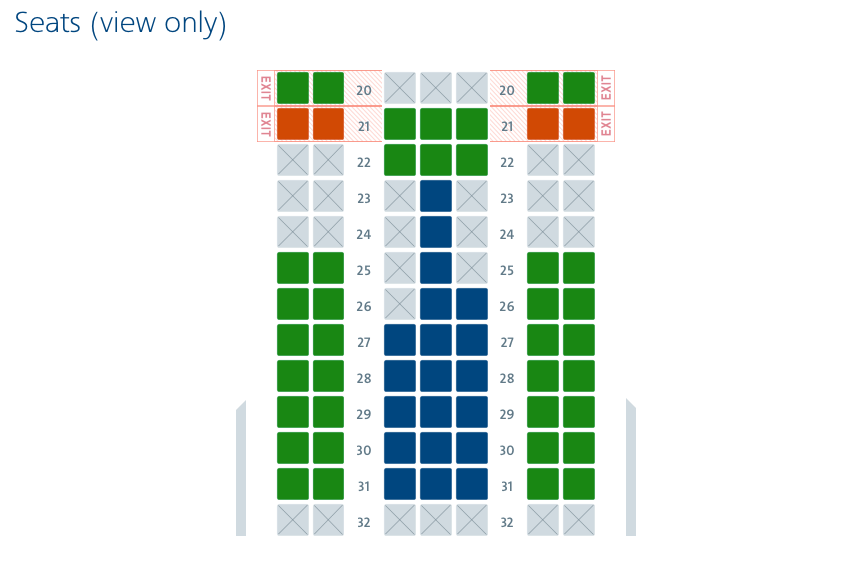 My other preferred option would have been to fly through Los Angeles.  But here, the connection times for the available flights that day were terrible.  As scheduled, I'd have between 45 minutes and 1 hour of connection time, or I'd have to arrive in Honolulu late at night.  Having to work the next day, a late night arrival is not ideal.  And with American's poor on-time performance and zero hour policy, I wasn't about to chance a tight connection.  This meant that the only other option available for me was to fly through Phoenix.
Connecting in Phoenix
My flight from San Antonio arrived at the gate a little while after the scheduled arrival time.  And even then the American app was telling me I had only 45 minutes till boarding began for my next flight.  My connection time in PHX was supposed to be 2 hours.  So I hurried off the plane, used the restroom, and headed to my next gate.  Thankfully I didn't have to gate check a carryon like most of the rest of my flight and wait for it.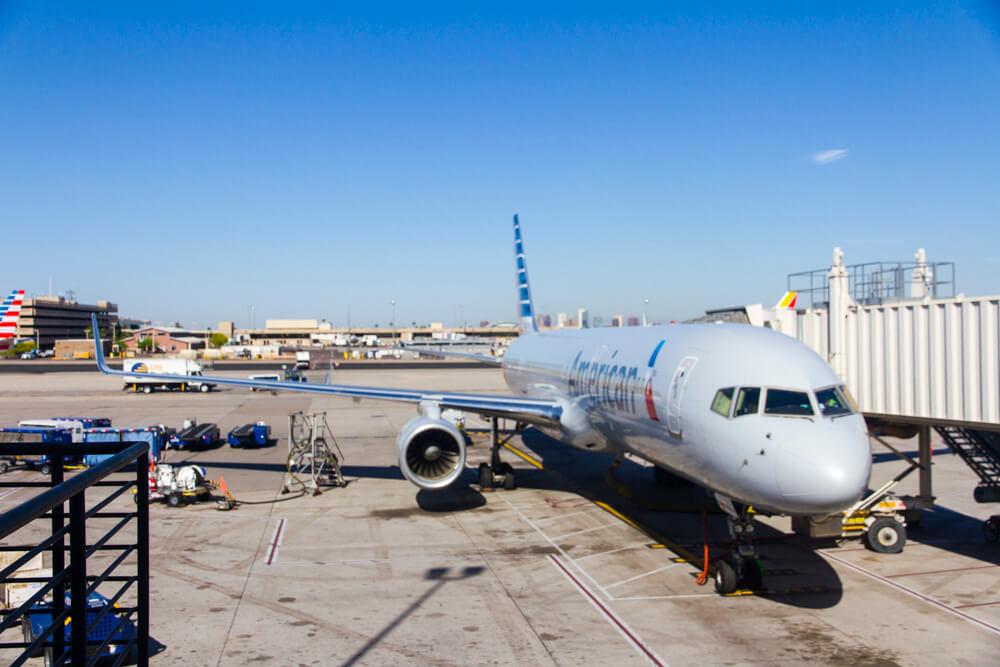 Boarding + Surprise
About 30 minutes before boarding, a buddy of mine calls me.  He's supposed to be flying UA to HNL via SFO.  But he pops up behind me saying he had to switch to American.  SFO had really bad weather delays that day, so he didn't want to chance it.  For its part UA transferred his checked bag to AA and he booked himself a regular economy seat.  Somehow, without an AA Mastercard, status, etc. he ended up being assigned Group 4 boarding along with me.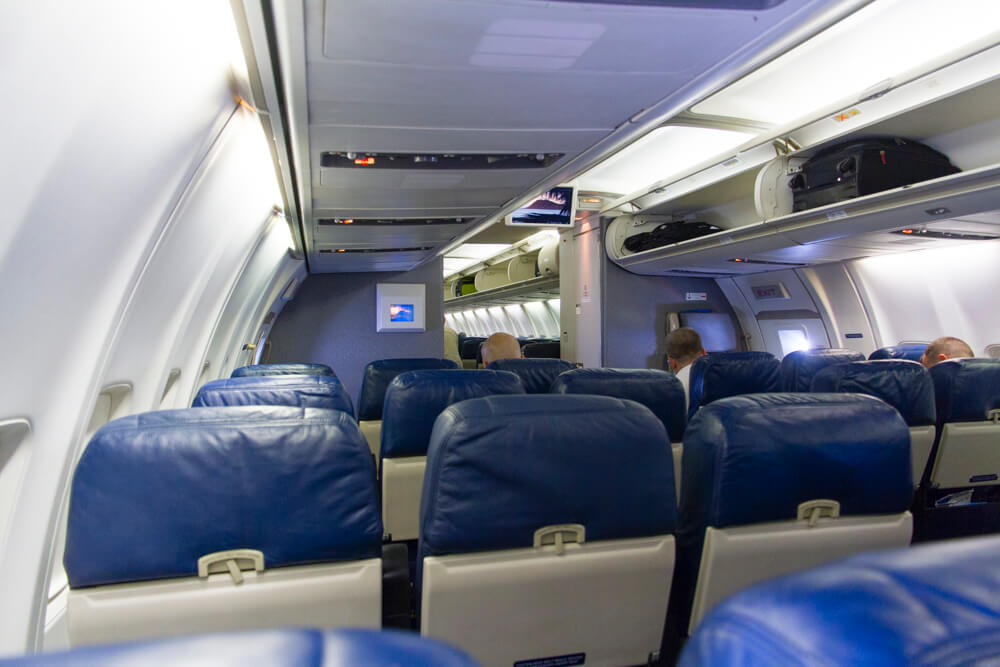 We board the aircraft through L2 and it's immediately apparent that we have a pre-merger US Airways 757-200 that day.  Yay!  This aircraft has clearly seen better days… The interior was tired and it had minuscule, widely spaced overhead displays.  Better yet, the displays were showing video footage of Hawaii that looked like it was filmed in the early 90's.  And the boarding music?  Some cheesy, horrifying steel guitar Hawaiian music from, I don't know, the 60's or 70's?  Yeah, keep on giving first-time visitors that corny, old Acme impression of Hawaii.
For what it's worth, boarding began at 10:00 am, while the scheduled time was 10:05 am.  Boarding was completed and the doors closed at 10:29 am.
Departure
A few minutes after the door was closed, we began our pushback at 10:32 am; 3 minutes ahead of schedule.  Congestion at PHX, however, was quite high at this time.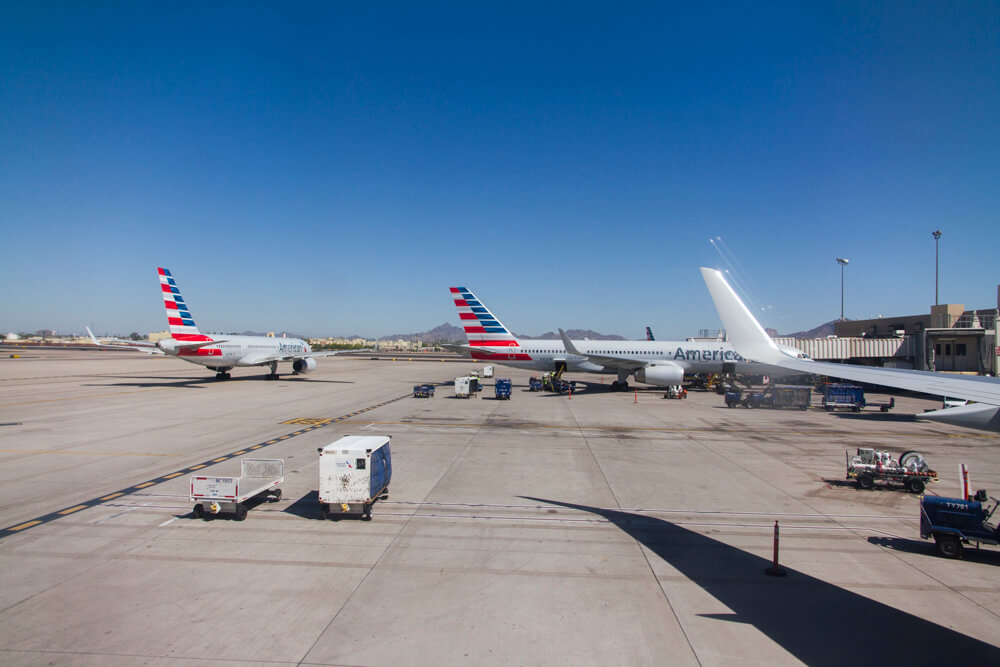 It took us about 10 minutes to taxi to our departure runway, and then we ended up queuing for another 10ish minutes.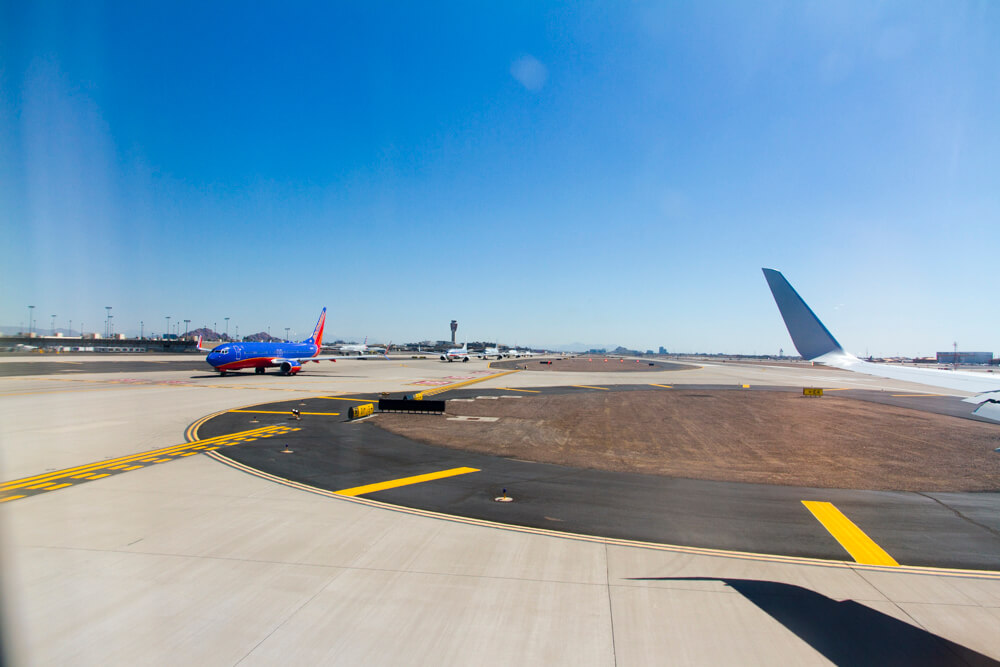 At least there were some interesting aircraft around, like this retro Southwest livery and Alaska's Employee Powered livery.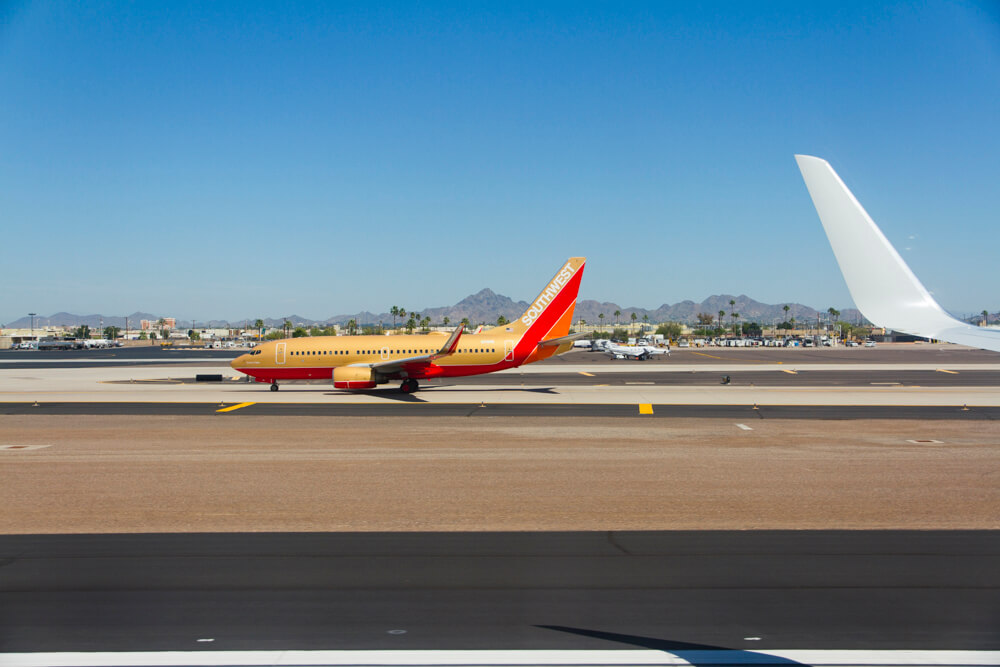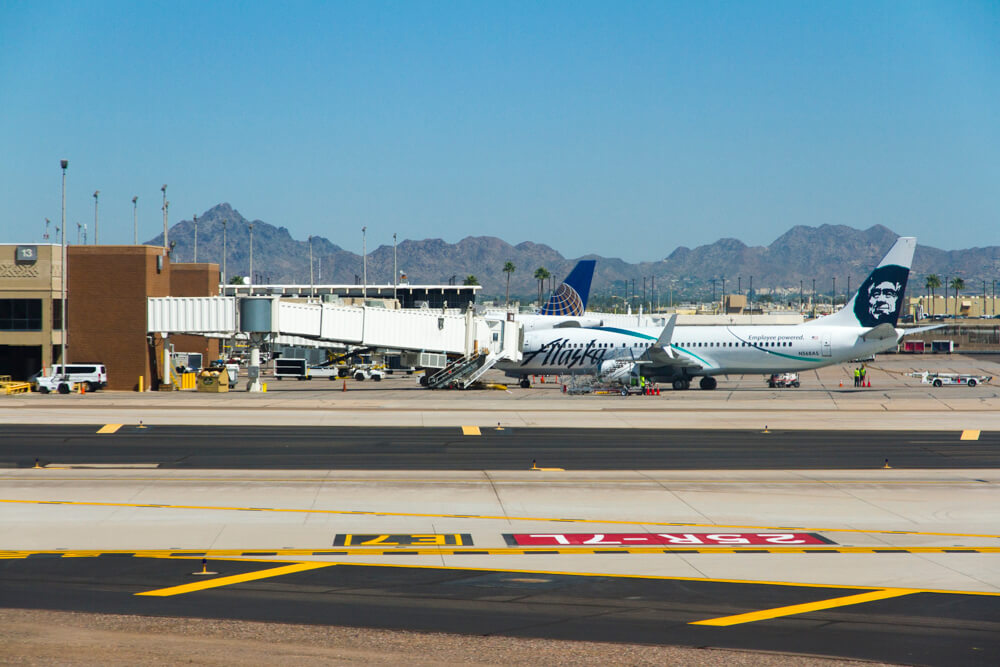 Finally at 10:53 am, we began our takeoff roll and blasted out of Phoenix.
Inflight Experience
In a way, having an ancient US Airways 757 was good.  The old seats meant they weren't rock-hard slimline seats; they actually had padding.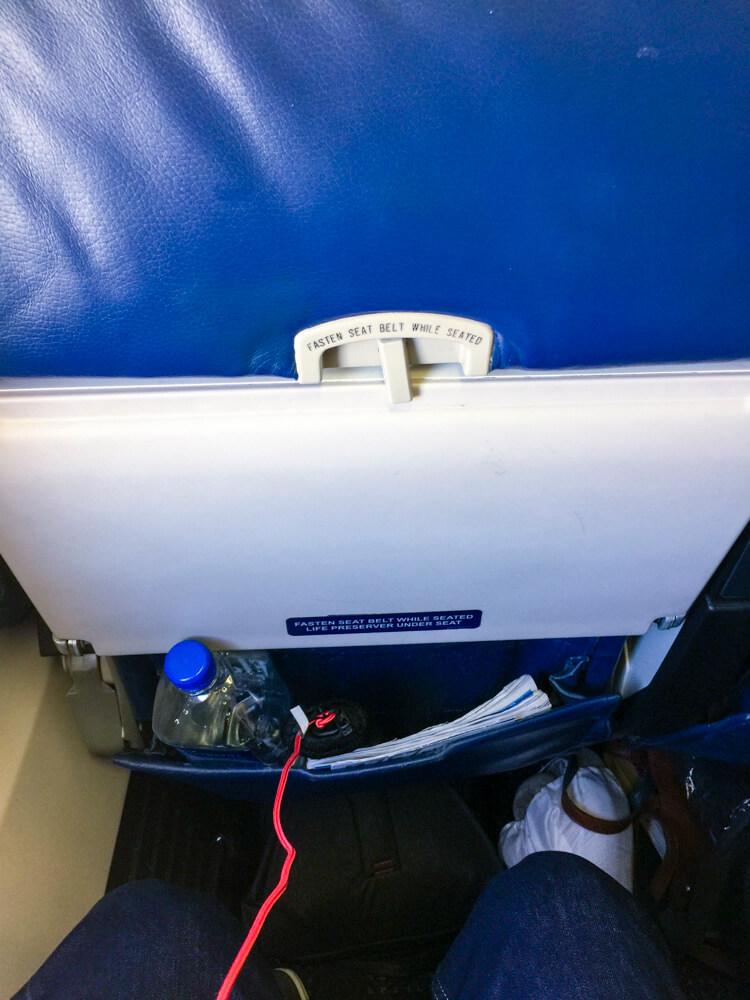 But, this also meant no seat-back inflight entertainment either.  Nor was there any power outlets or wifi.  During the flight they did show movies on the overhead screens, but the screens are pretty awful.  At least blankets and earphones were provided.
Of course this flight would be filled with families traveling with young children.  And as my luck would have it, in the row behind mine was a woman and her two sons.  Both decided to be as annoying as possible throughout the flight, one was even kicking my seat nearly the entire flight.  The mother didn't do much but talk to them about it.  I couldn't request a new seat assignment either, as my friend snagged the very last available seat.  This was, literally, a full flight and was going to be a LONG one.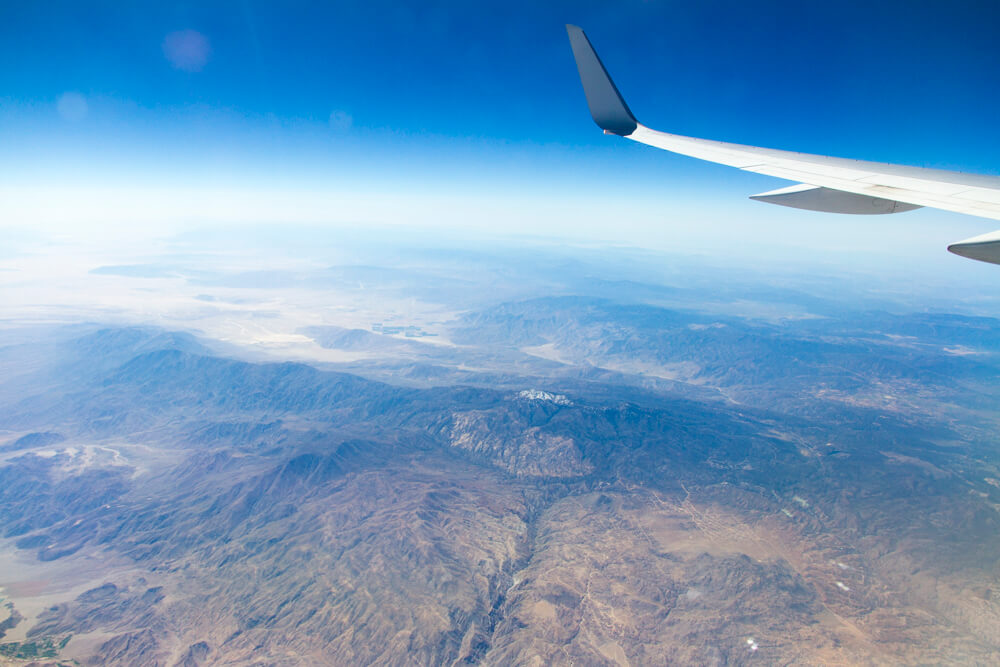 I did my best to not turn around and yell at the kids for the next 6-ish hours.  Instead, I alternated between staring out the window and watching some Netflix/Amazon Prime.  Of course those little brats were kicking my chair so hard a times that it made taking pictures out the window near impossible.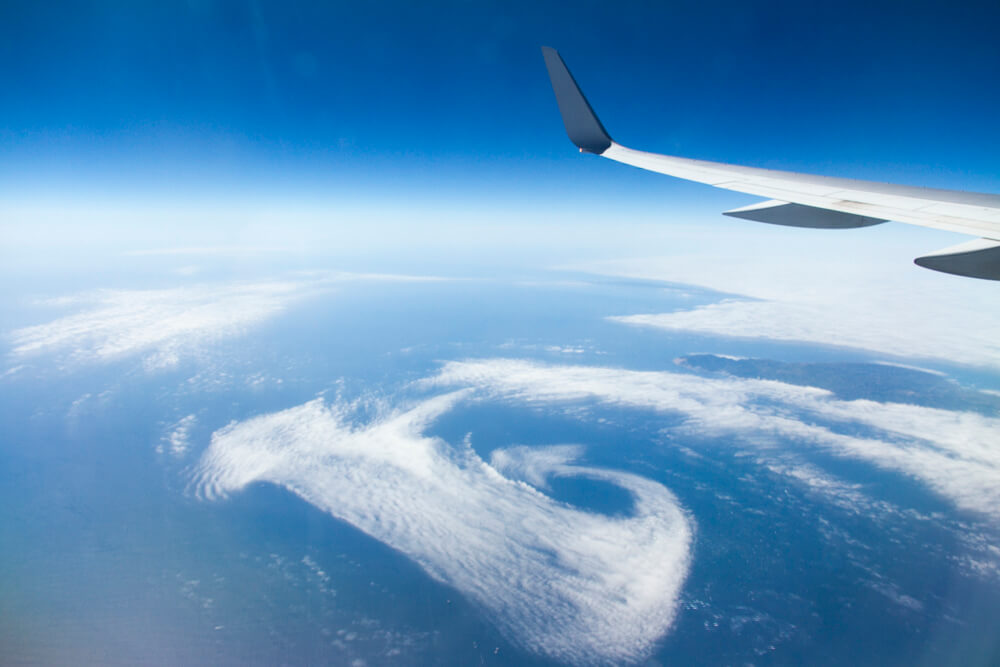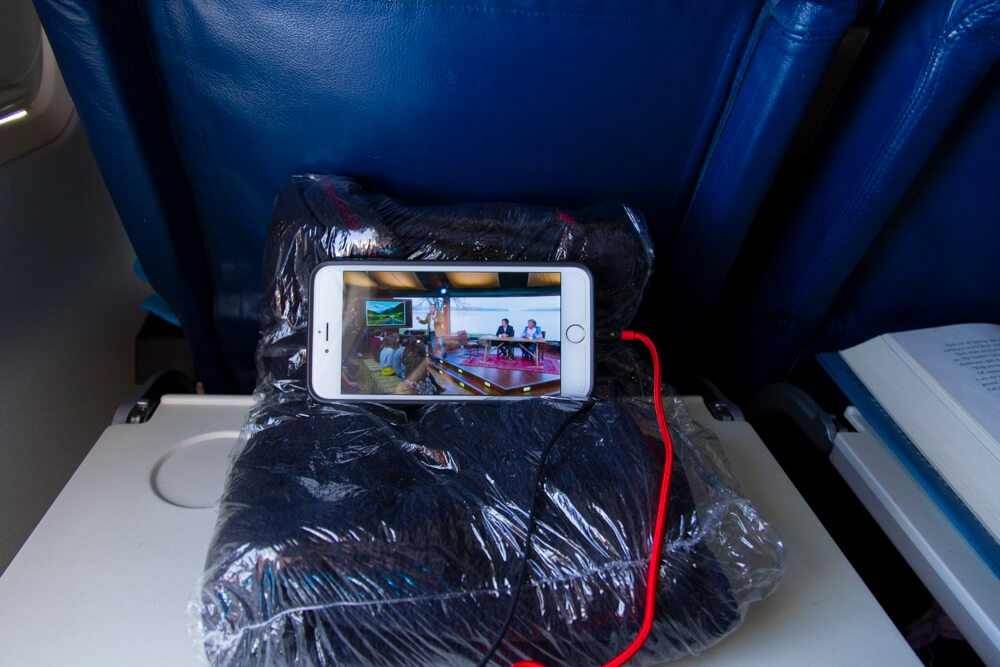 Service on this flight was minimal; soft drinks and pretzels (I didn't partake in either).  The crew wasn't the most friendly, though they weren't rude or unfriendly either.  They did, however, make their way through the cabin once in a while with water, which was nice.  But the kids… They just drove me insane!  And just as I was about to lose it, Haleakala appeared in the distance.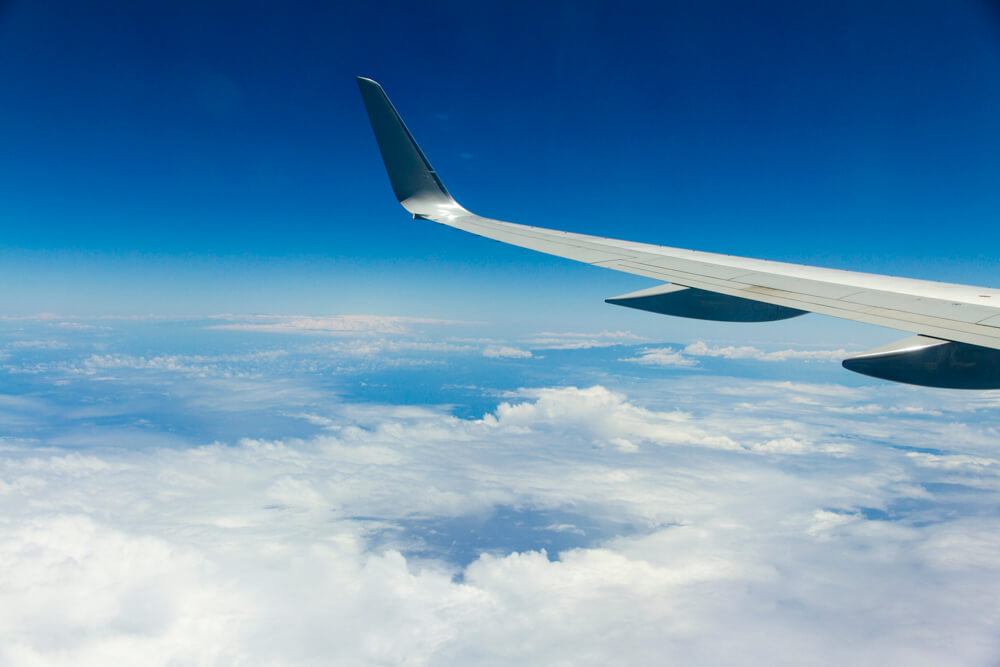 Soon after the pilot came over the PA pointing out the islands and letting us know we'd be landing in about 30 minutes.
Sit on the Port/Left Side
Our approach patter than day had us passing Molokai and Lanai to the north.  And those sitting on the port/left side of the aircraft were able to see the islands pass below.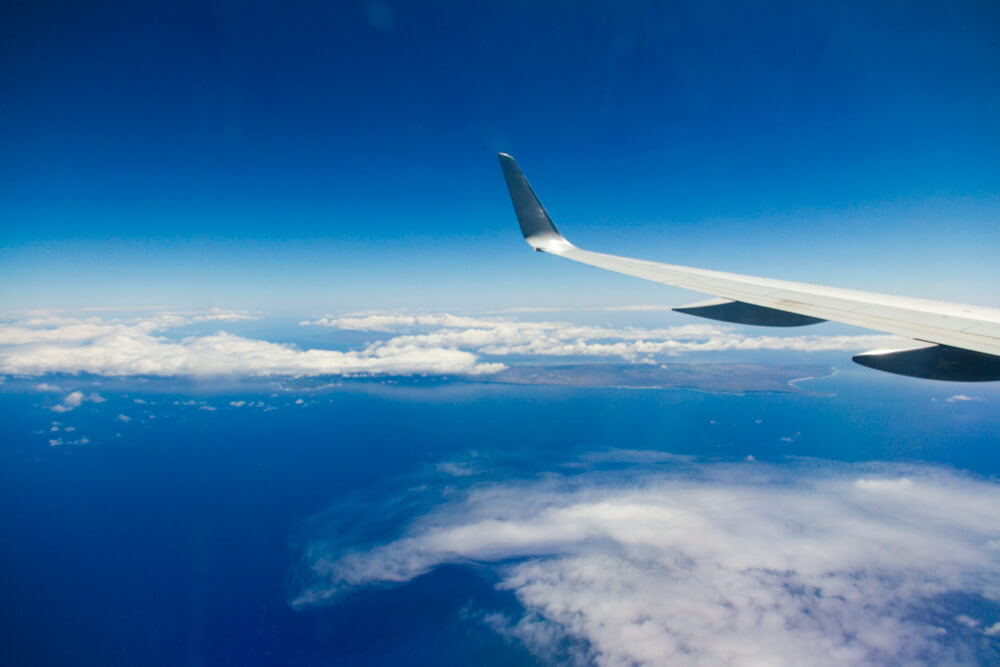 In no time we were crossing over Oahu's east coast.  In fact, we flew right over the Makapuu Lighthouse Trail.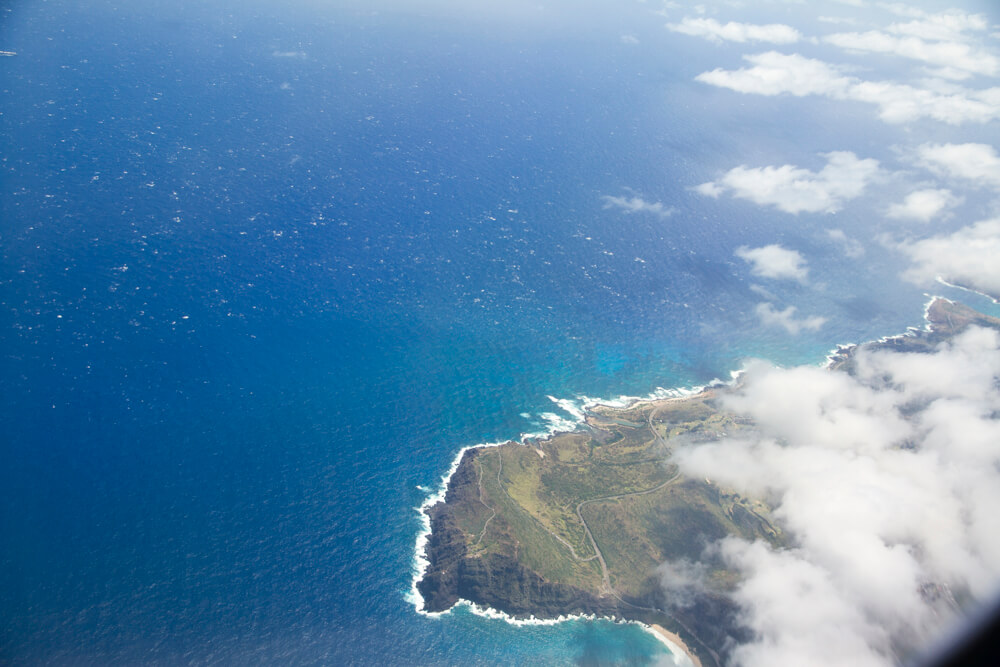 This was interesting to me, since the approach pattern usually has you flying out over the Pacific instead.  But this time we had a great view of Eastern Oahu as we made our way in.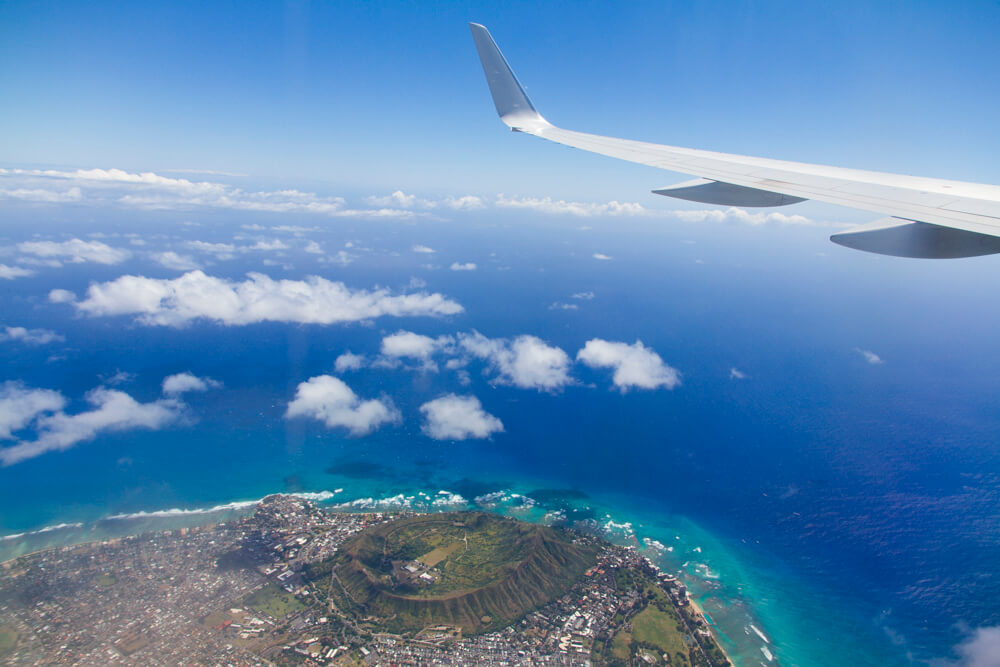 Eventually we did make our way back out over the ocean and turn back towards Oahu over the Ko Olina Resort.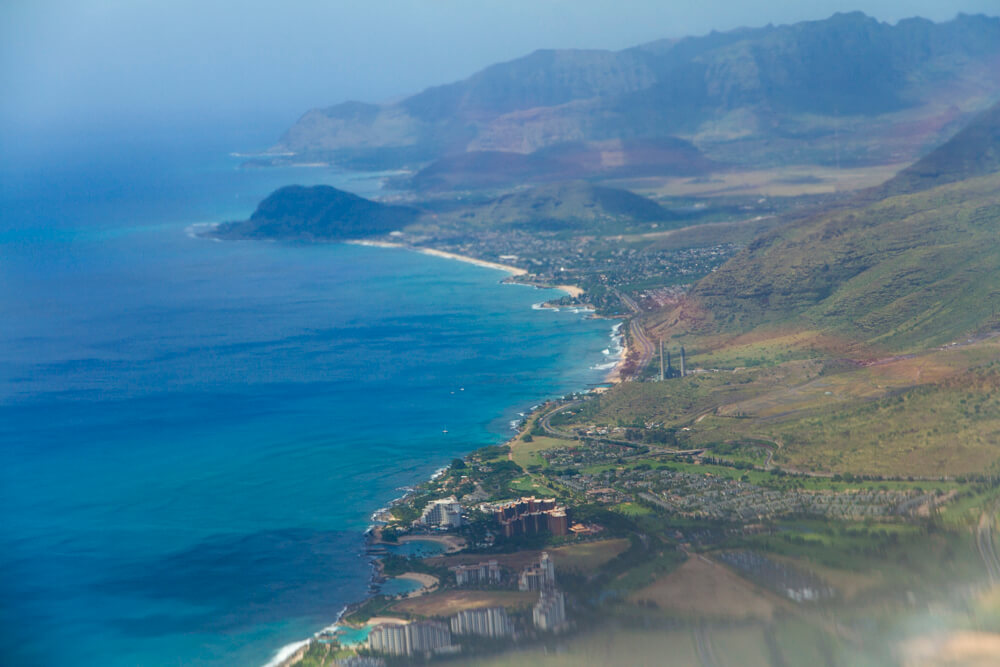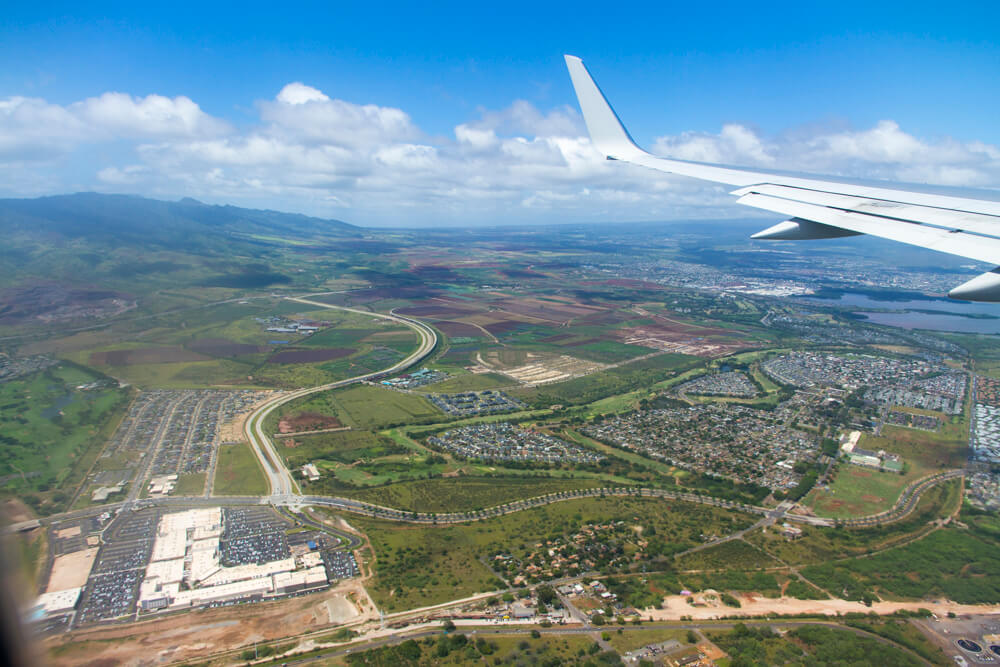 And at 2:01 pm, we touched down at the Daniel K. Inouye International Airport.  Congestion was minimal, so after a 7 minute taxi, we arrived at our gate, 3 minutes behind schedule.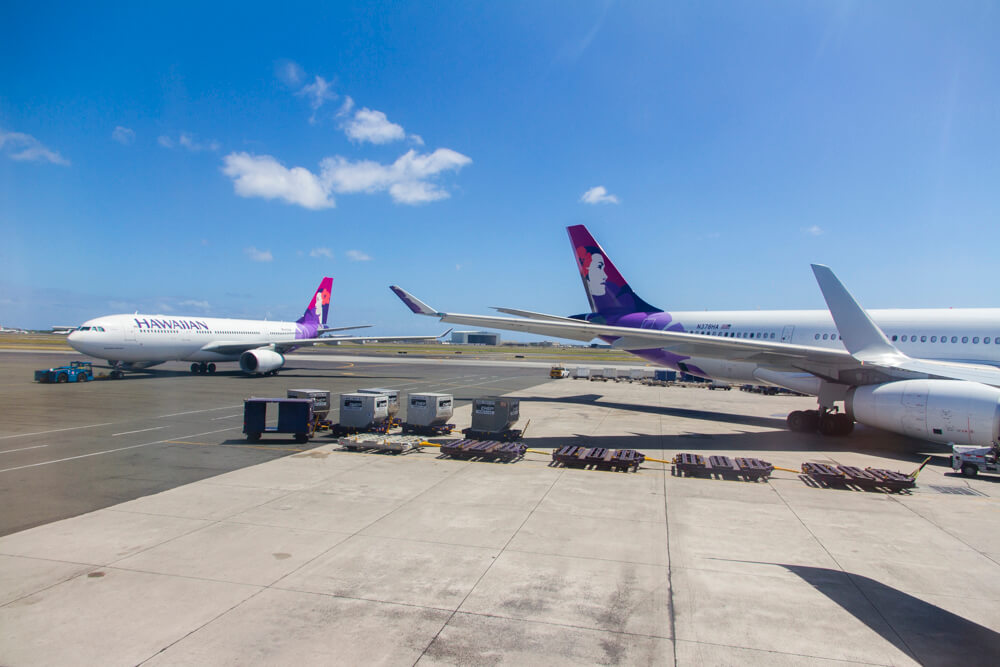 Being in the very back of the plane, I had a bit of a wait to get off.  From there, my friend I hiked over the baggage claim and waited.  Our bags specifically took quite a while to come down the conveyer belt.  We were nervous because my friend's bag was in the hands of UA at PHX, while my bag had $260 worth of bourbon in it ?.  Thankfully, they eventually show up nearly 20 minutes after we arrive at the baggage claim.
American Airlines PHX-HNL Final Thoughts
Of all the flights this entire trip, I'd have to say the flight from SAT to PHX was the one I dreaded the most.  And while that flight did suck (because of the aircraft itself), it wasn't my worst flight of the trip.  The worst flight of this trip, and perhaps my worst flight ever, was this flight from PHX to HNL.  This was no fault of the crew, as they were simply a *meh* crew… Rather, this flight sucked because of the other passengers and the unloved aircraft operating it.  And both of those are issues that likely won't change if you're flying to HNL via PHX.
My buddy, whom actually lives in the Phoenix area, says the passenger mix on that flight is pretty typical of AA at PHX.  A lot of infrequent fliers and families connect through PHX because its one of the cheaper AA hubs to connect through.  That explains why our flight was so full of screaming kids, though I had the misfortune of sitting in front of probably the worst kids on the flight.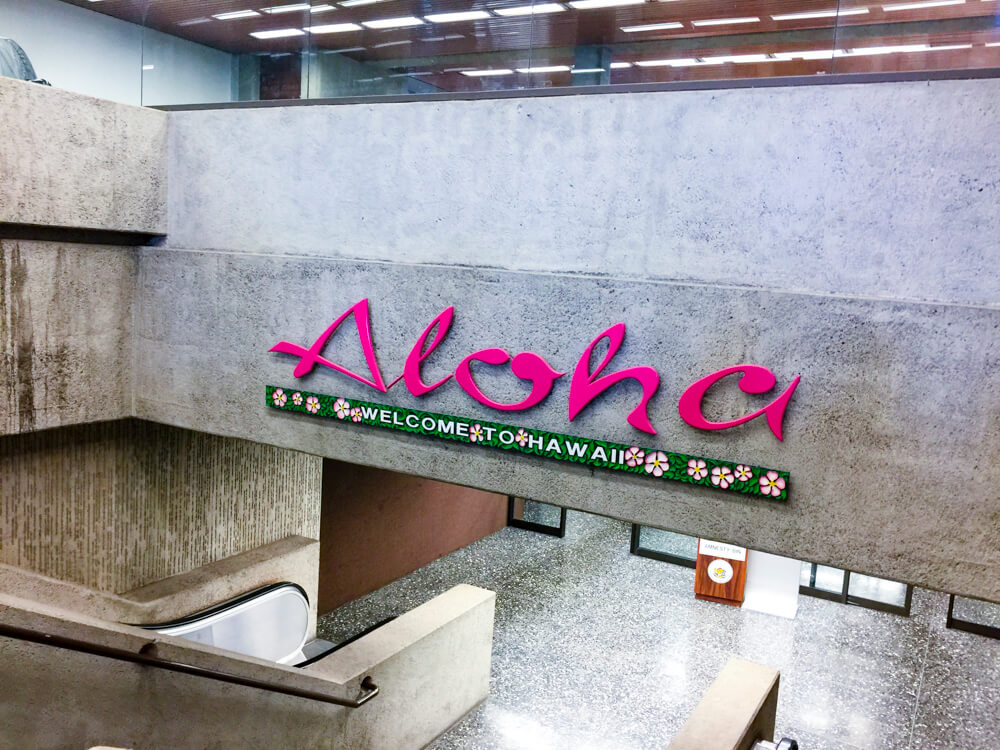 And as is the case with Hawaiian Air, US Airways American Air puts its worst aircraft on its PHX-HNL route.  For Hawaiian, its their unloved Boeing 767-300ER.  American, on the other hand uses pre-merger US Airways 757-200s on the route.  I have no issue with either aircraft type, but both airlines haven't shown much love to either of these aircraft for years.  Though, to be fair, Hawaiian will soon be phasing out its B763 fleet entirely.
So really, if you're going to fly American to Hawaii, avoid PHX.  If you must connect on the West Coast, do so via LAX.  And if you don't mind sitting in the middle or paying extra for a window seat, then connect via DFW.  At least flights from DFW and eat to HNL receive a complimentary meal in economy.  But better yet?  Simply don't fly American at all.  If you're able to, fly Alaska Air, Virgin American, Delta, JetBlue… just about anyone else instead.  You deserve better than disAAdvantage after all.