Amex has long been a proponent of small businesses. In fact, they have an annual promotion that usually happens after Thanksgiving. But, this year, the Amex Shop Small Business promotion is on now.
Amex is holding Shop Small earlier and for longer this year in response to COVID-19. There's absolutely no doubt that small businesses are suffering because of this insipid virus. So, every little bit helps.
Shop Small Business Promotion Period
Usually, the Shop Small Business promotion is actually called Small Business Saturday and happens on the Saturday following Thanksgiving. But, this year, the promotion is running from now through September 20, 2020. However, to participate, you'll need to enroll here by July 26, 2020.
The Promotion Offer
As is usually the case, you'll receive a $5 statement credit when you spend $10 or more at an eligible small business. However, this time around, you can get the credit up to 10 times, for a total credit potential of $50.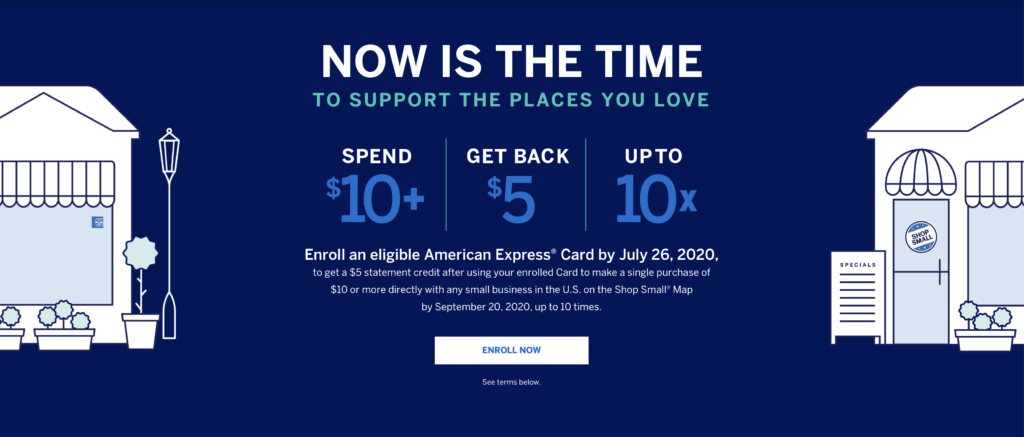 Here in Honolulu, some eligible merchants include:
Doraku Sushi/Blue Tree Cafe
City Mill
T&C Surf
Village Bottle Shop & Tasting Room
Hank's Haute Dog
O'kims
Kula Shave Ice
Sushi Sho
and many, MANY more!
Which Cards Qualify
All US-issued consumer and business credit and charge cards and registered Serve and Bluebird cards. However, you may enroll only one card for this offer. Once you enroll a card, you will no longer be able to enroll other Amex cards you may have. That said, your additional cardholders can receive the statement credit, though they'll need to enroll their additional card themself.
Amex Shop Small Business Promotion is On Now, Final Thoughts
I think it's great that Amex is, not only running this promotion early but allowing us to take advantage of it more than once over the period of a few months! It's a great way to help small businesses, most of which could definitely use it right about now. What's more, here in Hawaii, many of the participating merchants are ones I love. And while some of them like Senia aren't open for on-site dining, most are offering some sort of to-go service. In fact, take a look at some of the amazing eats I've gotten recently.