We recently stayed at the Turtle Bay Resort, and while the resort has its own restaurants, we didn't dine on property.  Why?  Because "resort prices" take on a whole new meaning at Turtle Bay.  There you can expect to pay $62 for an 8oz New York strip steak.  On the other hand, in Waikiki, you'd pay $67 for a 16oz New York Strip steak from a 3-Michelen Star chef.  That's quite a price contrast!  So, to save money and probably eat better, we decided to do almost all of our dining of-property.  So here's my North Shore Eats, volume 1.
Kahuku Farms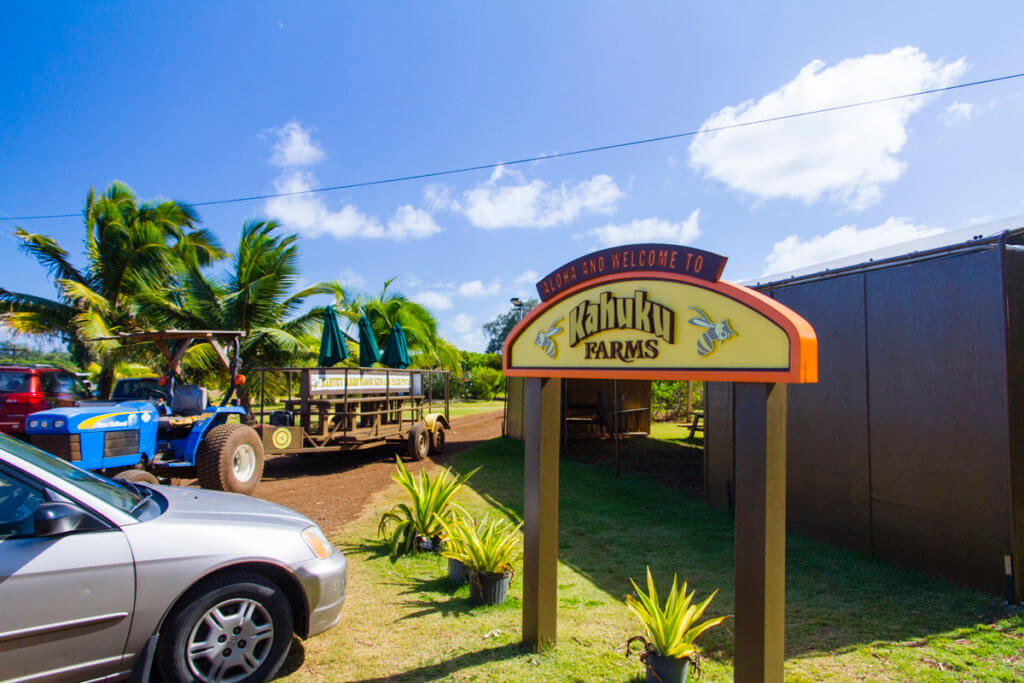 Nestled halfway between the town of Kahuku and Turtle Bay is Kahuku Farms.  This family-run operation is a real, working farm that grows a variety of produce.  The farm is open to the public and offers tours as well as a farm fresh food.  We decided to check this place out on the way out to Turtle Bay for a quick lunch.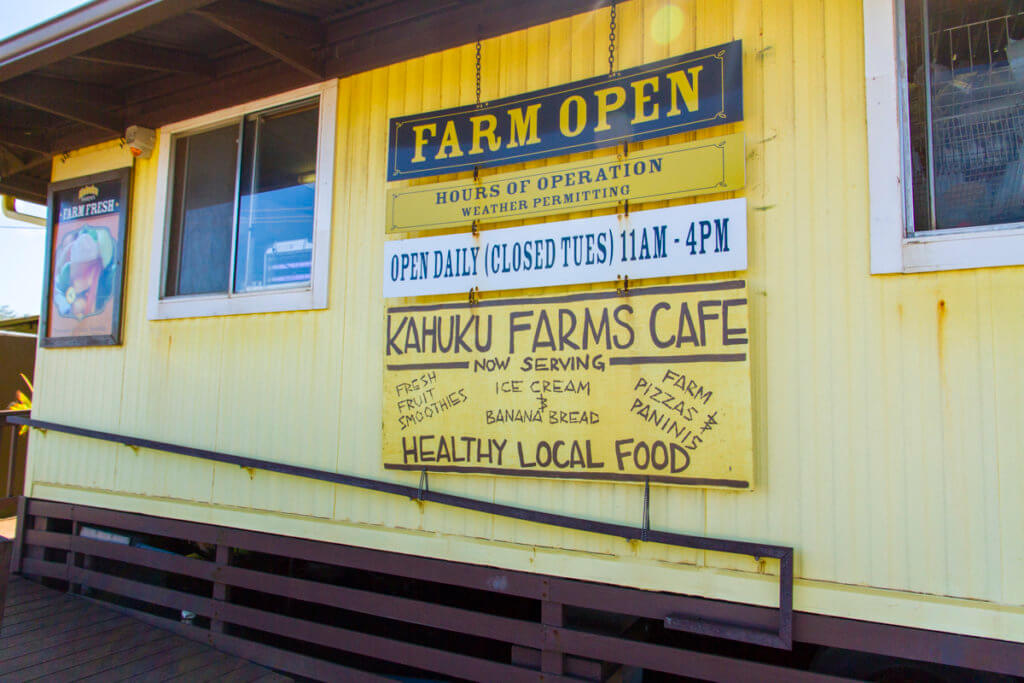 The hours of operations at the farm is fairly limited, and tours are only offered once a day.  Tours are kind of pricey, too, at $20/person.  I should also note that their entire menu is vegetarian.  Not usually my kind of thing, but I thought it's worth a shot.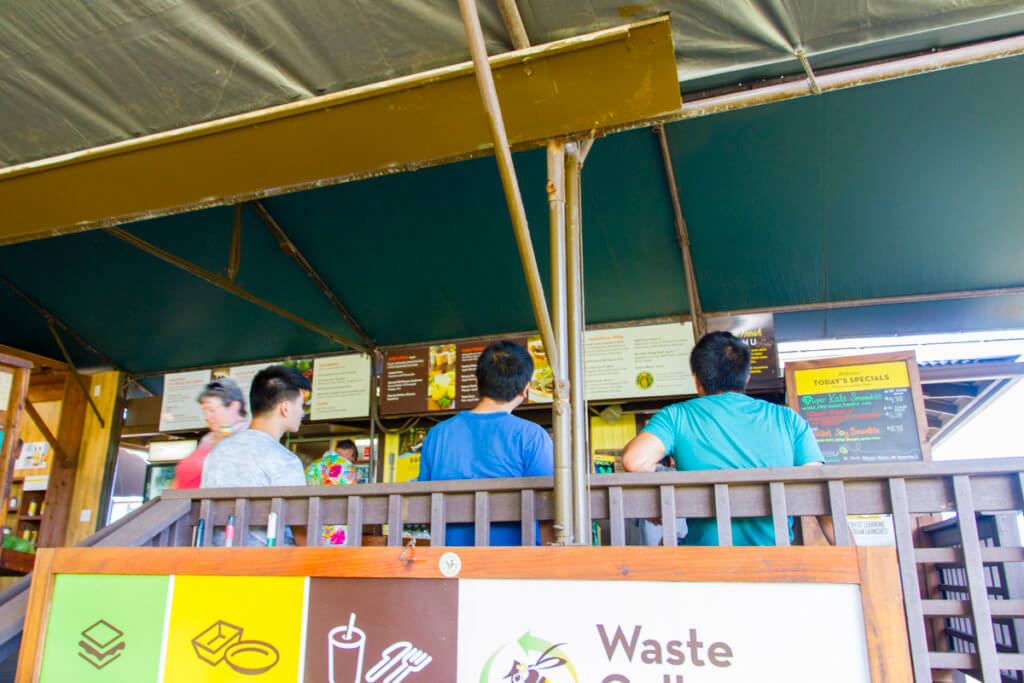 Orders are done take-out style.  Simply head on up to the window, place your order, and wait for your number to be called.  You can "dine-in" at the farms outdoor, covered seating, or take your food to go.  On this particular visit, the wife decided to try the panini, while I opted for the pizza.  The wife also got the mango iced tea, while I got a lilikoi cooler.  Cheap?  Not really.  With tax and tip, we spent around $30.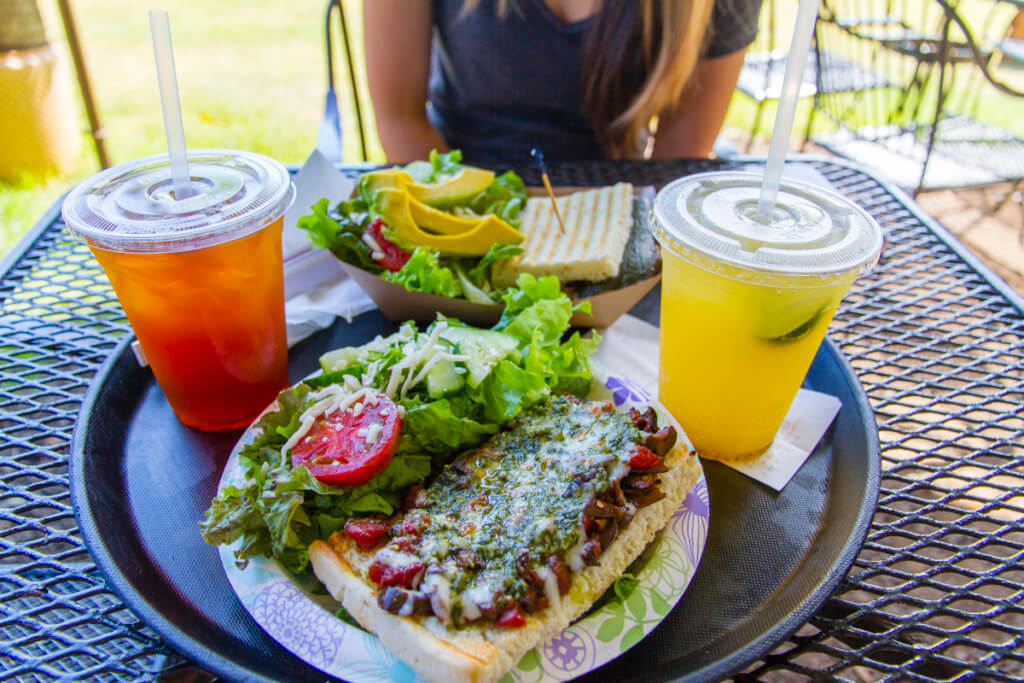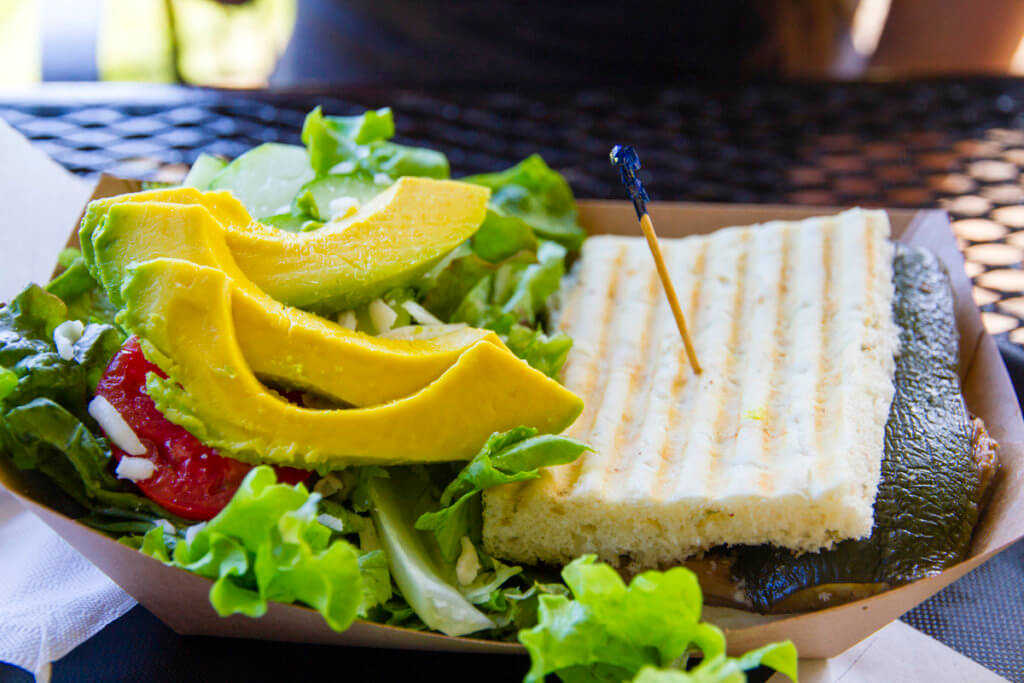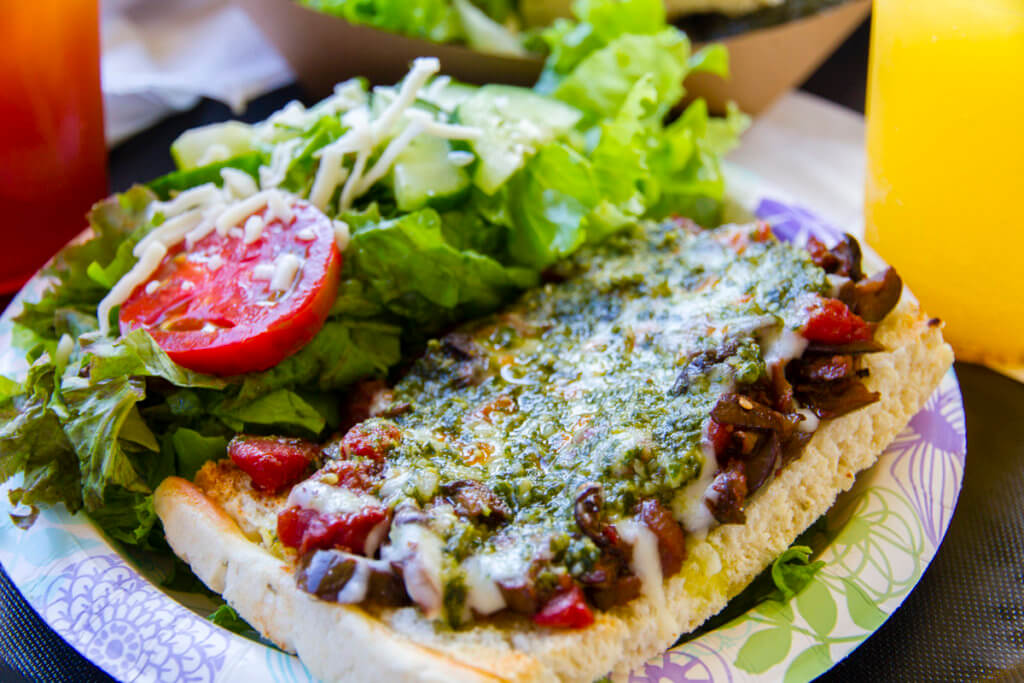 The wife enjoyed her panini and iced tea, while I thought the pizza was a phenomenal for a vegetarian pizza.  The macadamia nut pest makes it, I think.  The lilikoi cooler was also fantastic; refreshingly tangy and fruity.  The salad was super fresh, too, but I don't know if it was an oversight, or if we missed something, but there was no dressing.
Kahuku Farms is also known for their sweets, so if you have time/space in your belly, be sure to give something a try.  I've heard good things about their banana bread, but we didn't try.  There's always next time for us!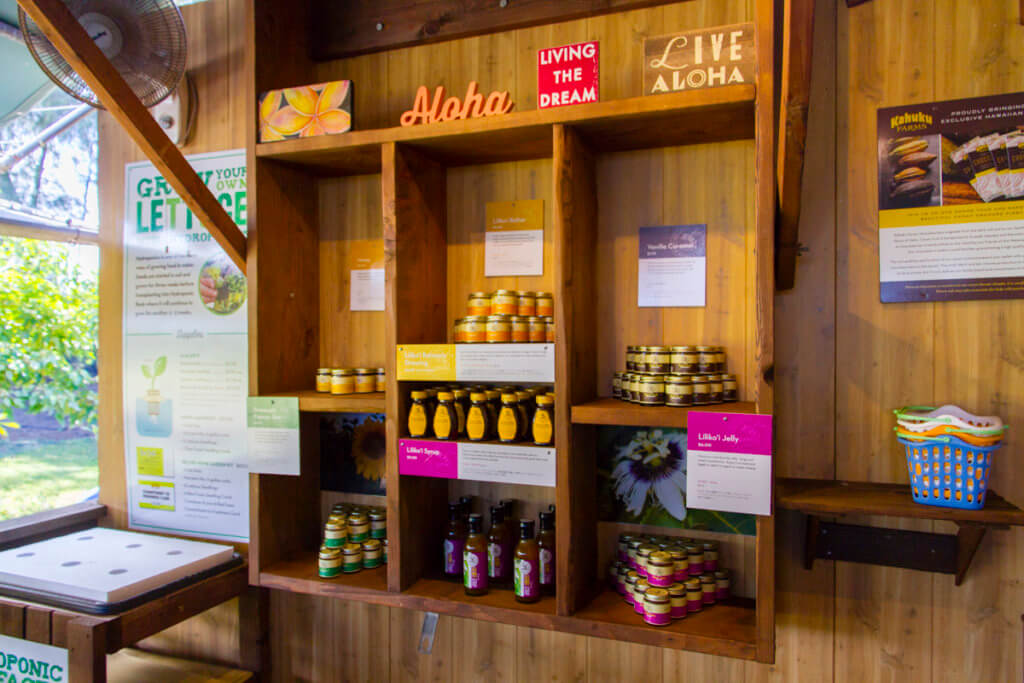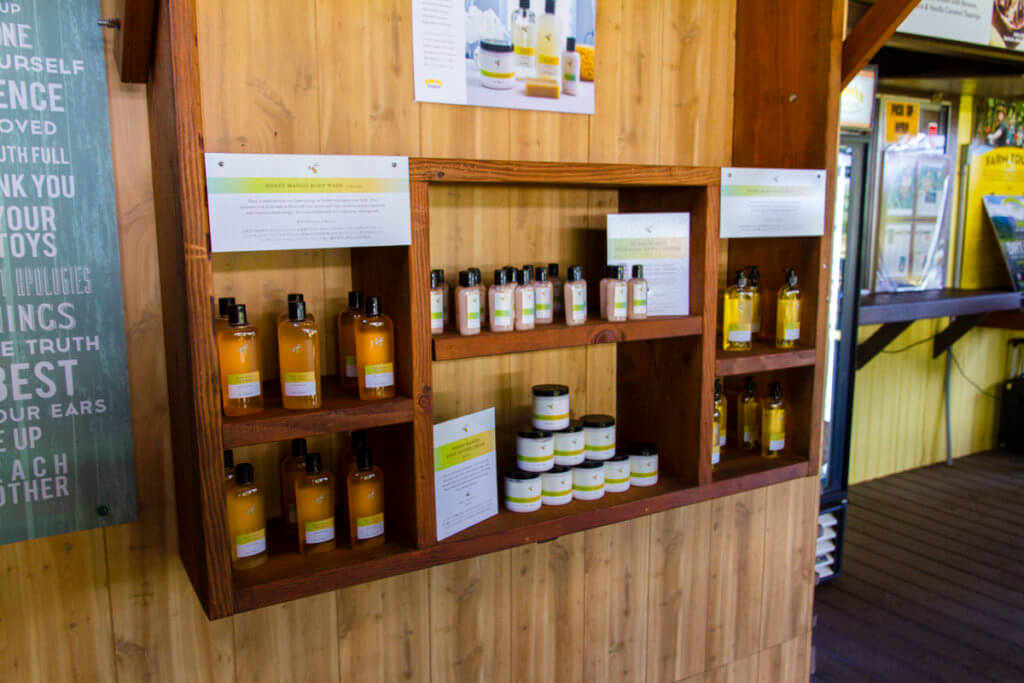 And don't forget to check out their little selection of products.  They're located next to the pickup window and include both culinary and body products.  If you try and like the lilikoi cooler, be sure to pickup a bottle of the lilikoi syrup!  All the cooler is, is the syrup, Safeway carbonated water, and basil.
Need some protein after your vegetarian lunch?  Fumi's Shrimp stand is across the street!
Sevenbrothers Burgers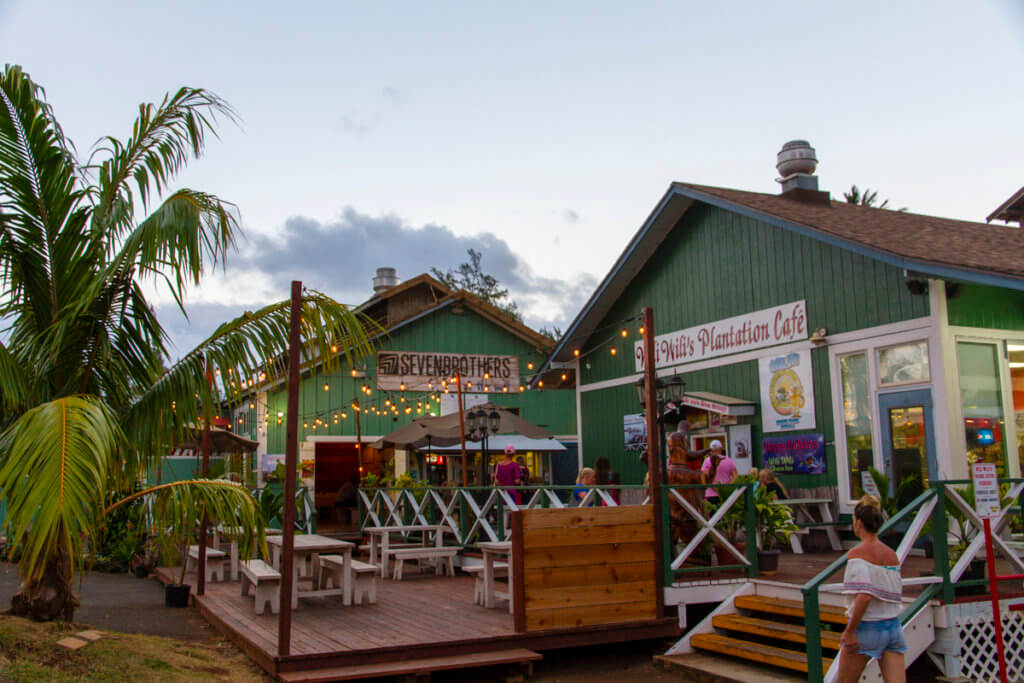 Sevenbrothers was/is a food truck that serves up, you guessed it, burgers.  They have two brick & mortar locations, one in Kahuku and one in Laie.  Both locations have different menus, so what you want to eat will depend which one you'll go to.  Specifically, the Kahuku location has coconut shrimp, while the Laie one has their crazy fries.  We opted to simply visit the nearest one and ended up at the Kuhuku location.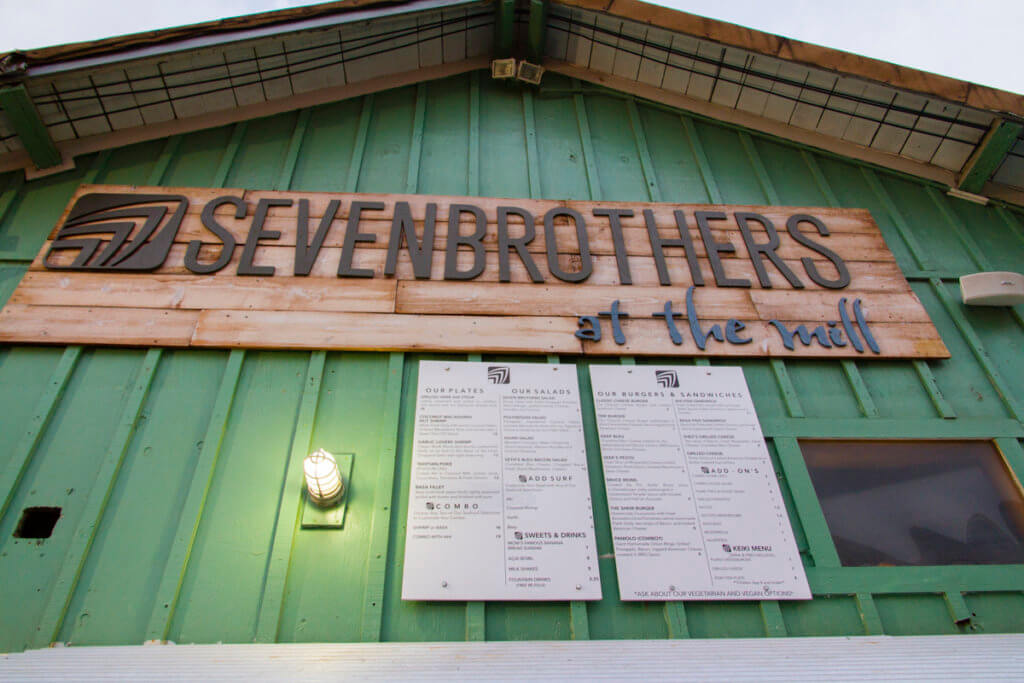 The Kahuku location has a small assortment of different dishes, including plates (fish), salads, burgers, sandwiches, and sweets.  I wanted to try the crazy fries, but I found out after that this location doesn't have it.  And I didn't feel like driving to Laie… haha. What I did try, though, was the Shem Burger, which is their standard cheeseburger with homemade guacamole and bacon.  The wife tried the Bruce Irons, which is a cheeseburger smothered in teriyaki sauce, and topped with onions and avocado.
You can choose to dine either inside, or outside.  Outdoor dining is on the picnic tables shared with the shave ice place next-door.  Indoor dining space is somewhat limited, and we were a little confused in regards to amenities.  There's a huge fridge of reusable bottles of water, but there were no cups.  Some people did have the water and cups, though.  So I don't know.  Oh and trash… After much searching, we figured out that we needed to dump our trash outside.  There was a tiny basket return shelf right above the trash can.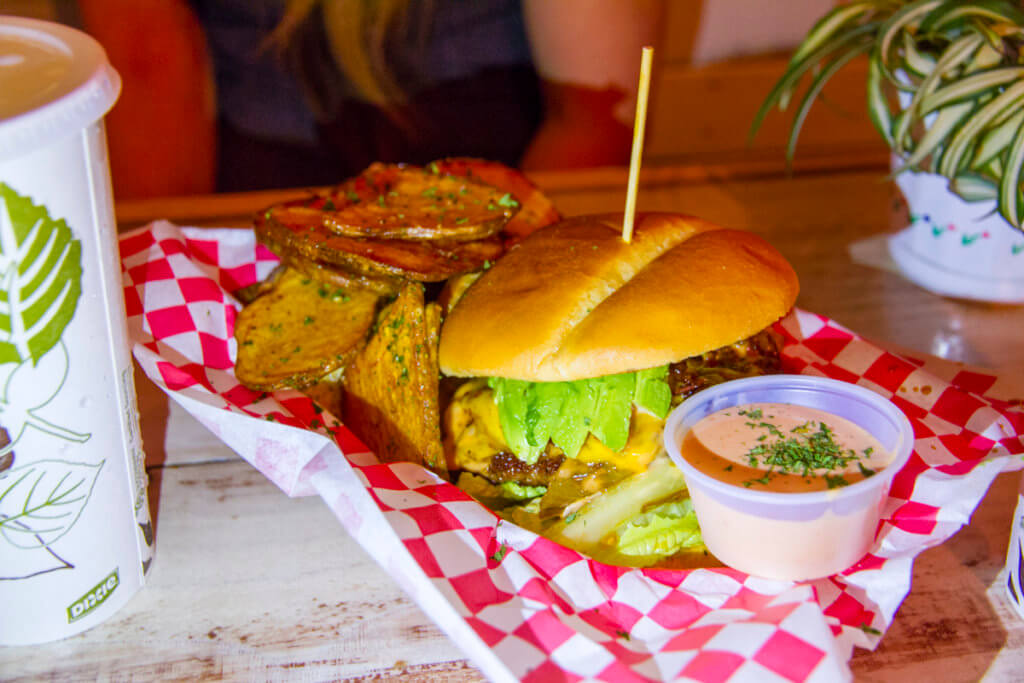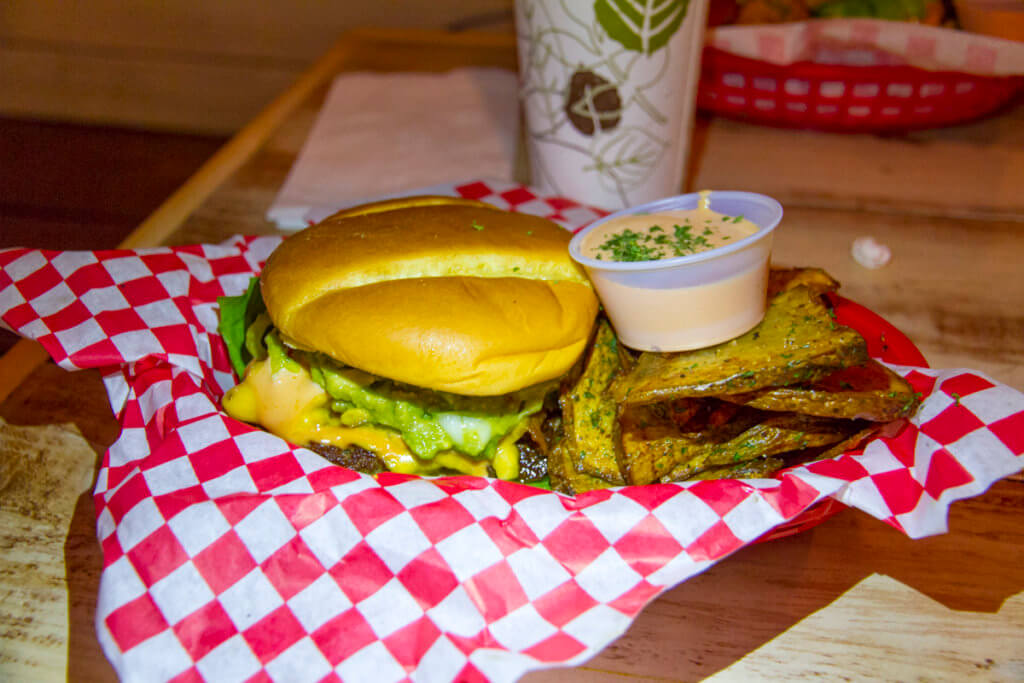 Weird service/setup issues aside, the food was pretty good.  The burger patties look kind of small, but the burgers are filling.  The flavors were good, though the patties were all well-done, something that didn't bug me too much because of all the toppings.  And that's what seems to make these burgers.  Without the toppings and sauces, the burger would probably be too dry.  The "fries" were more like super thick potato chips.  Some pieces were crispy, some were soggy, but they were well seasoned and the fry sauce was pretty good.
In terms of value, Sevenbrothers is much better than dining on-property.  We spent somewhere around the mid-$30s for our dinner, since fries are $2, and fountain drinks are $2.25.  I'd definitely eat at Sevenbrothers again, but I prefer Kua'Aina out in Haleiwa for around the same price.
Kono's Restaurant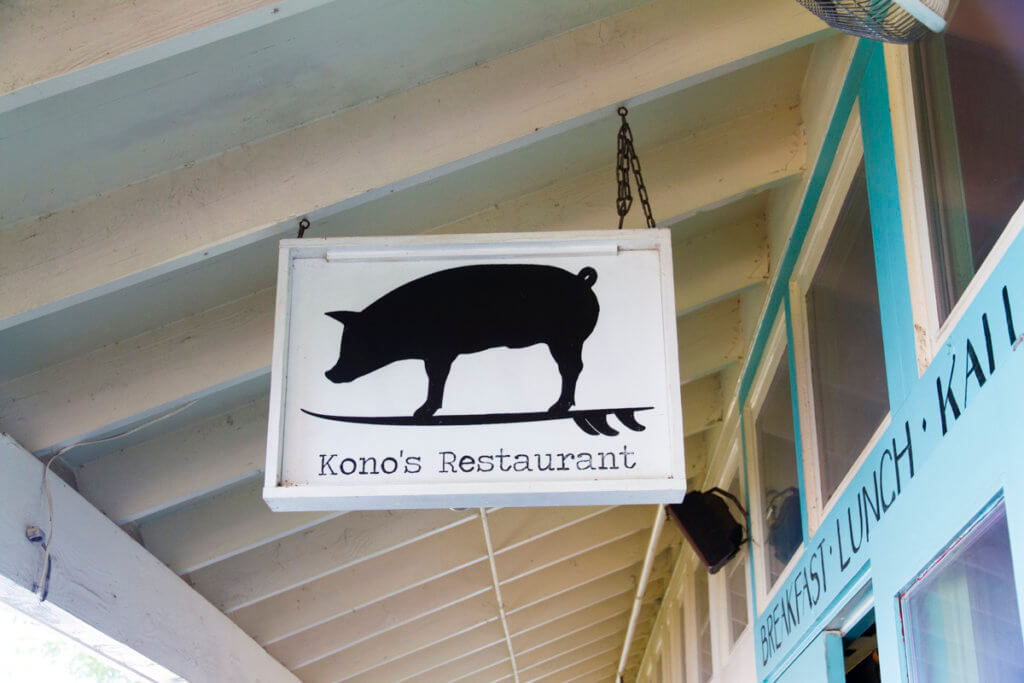 Remember those free breakfast certificates we had at Turtle Bay?  The ones we didn't use?  Well, we ended up getting a late brunch in Haleiwa at Kono's Restaurant.  Located in the North Shore Marketplace, Kono's has been on my list of places to try for a while.  Why?  A friend of my raved about their kalua pig; specifically the Haleiwa Bomber, which is basically a kalua pig breakfast burrito.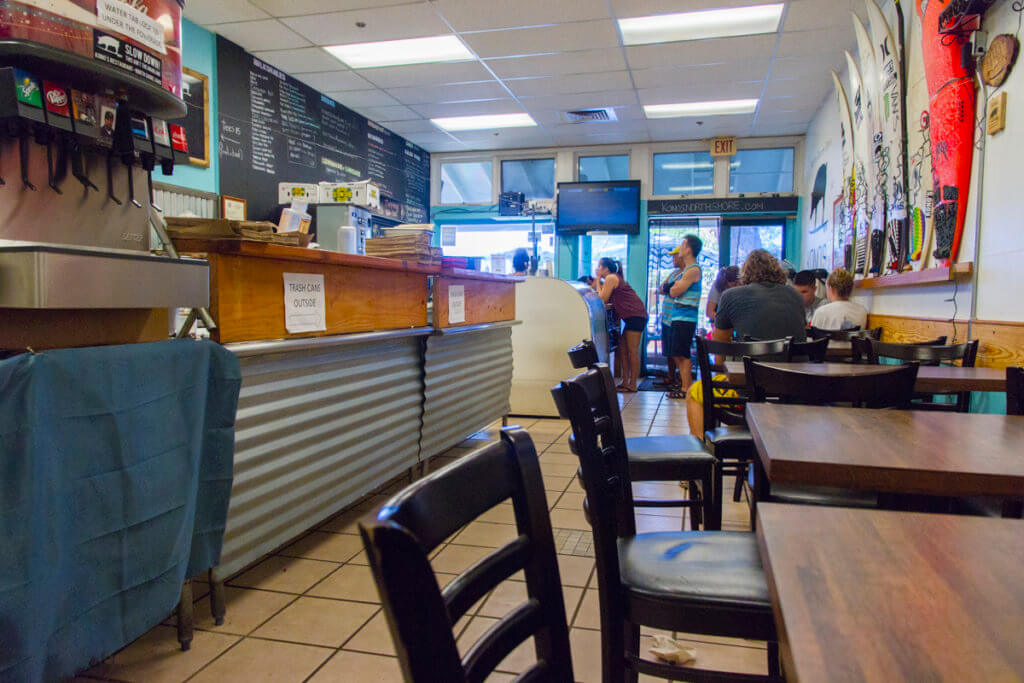 Seating in Kono's is tight, so if you'd like, phone in your order ahead of time and get it to-go.  But choosing what you want to eat is a daunting task.  The menu is HUGE.  See that blackboard?  That's the menu!  There's many varieties of bombers, sandwiches, drinks, shakes, and more.  For our brunch, the wife settled on the BLT, while I got the Haleiwa (kalua pork) Bomber.  We also got a couple of mint limeades.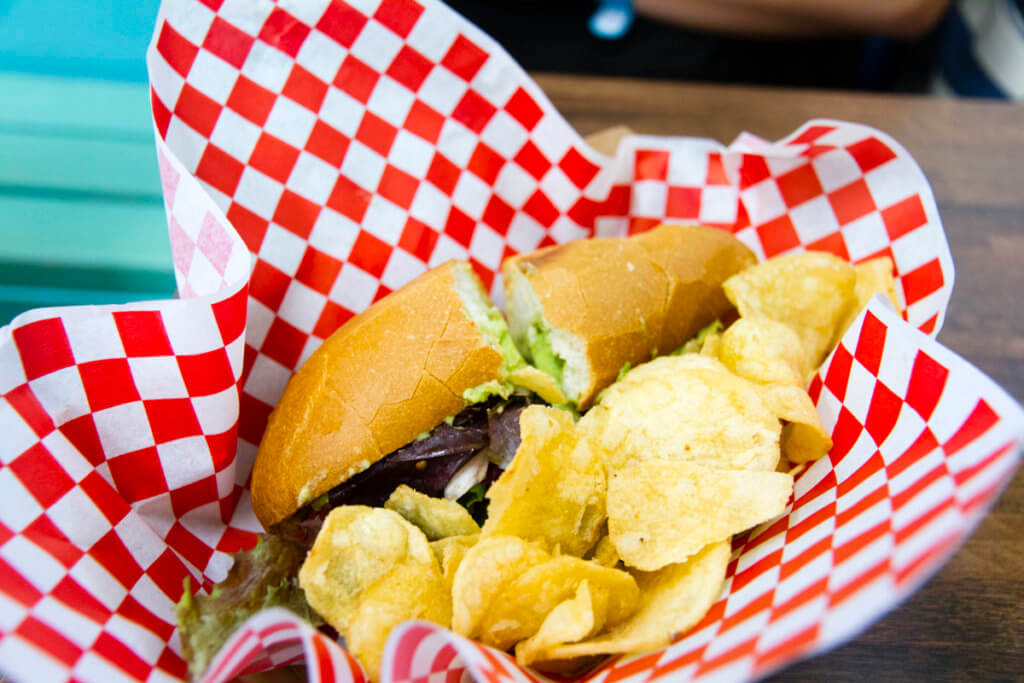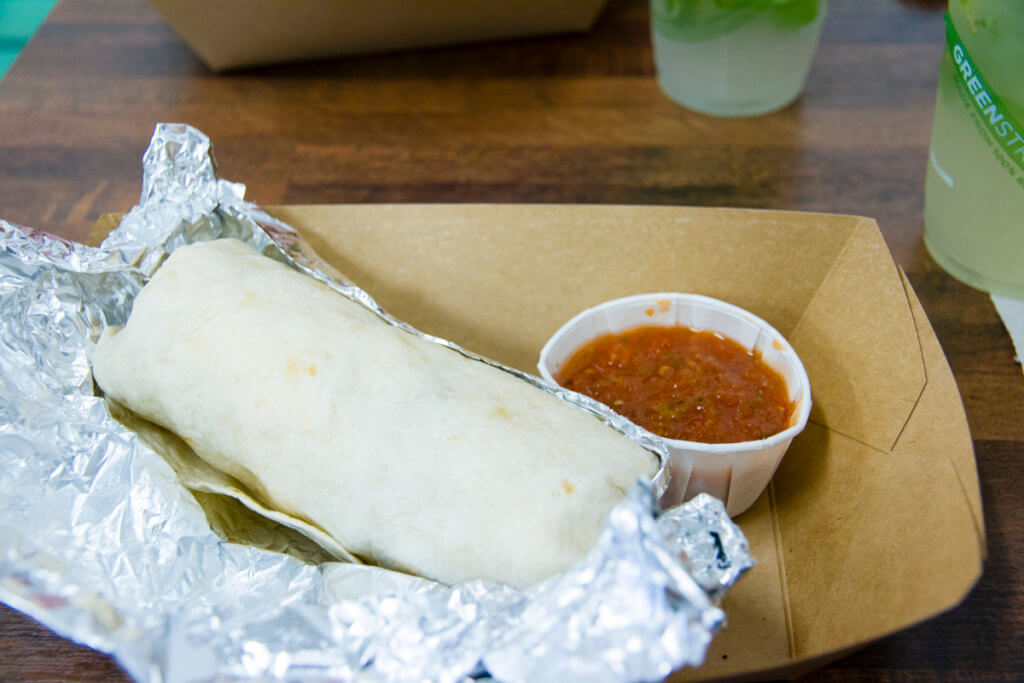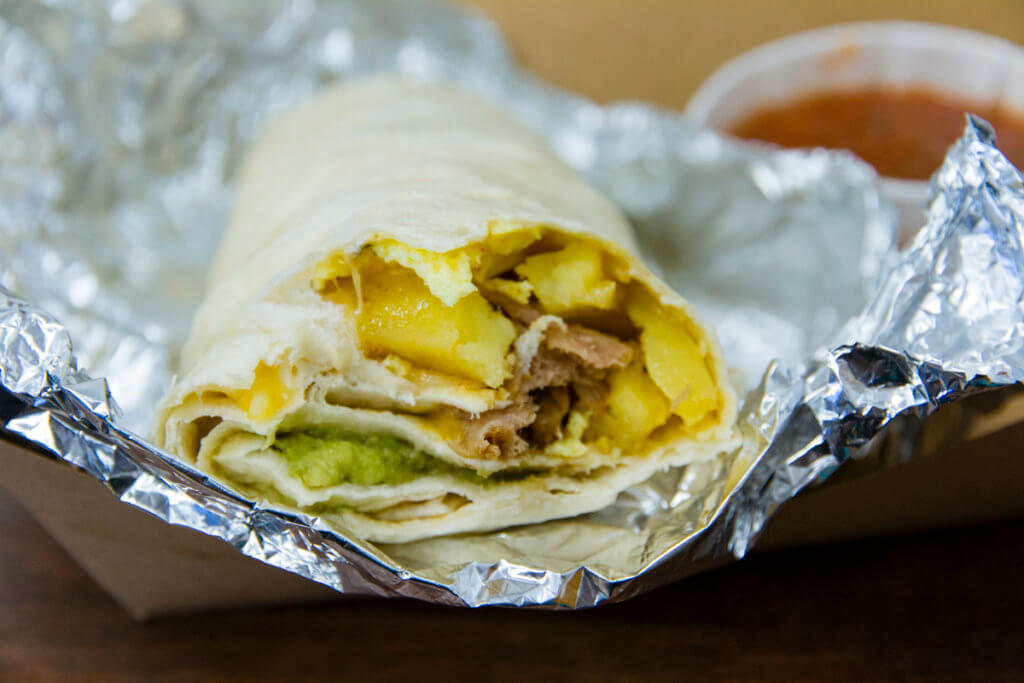 The BLT, from what it seemed, but ok.  Not bad, but nothing special either.  The bomber, on the other hand, came filled with with potatoes, kalua pig, cheese, and egg.  I added avocado to mine because, why the hell not?!  It's a thing on the North Shore… Avocado in EVERYTHING!  It was delicious and rather hearty, despite the diminutive looking size.  Would definitely order it again!  And those limeades, not sweet at all.  It was nicely tay, but not overly so.  We ended up spending, you guessed it, just over $30, but it was worth it.  Not going out to the North Shore?  Keno's has a location near Waikiki on Kapahulu Ave. too.
I've got a few more places to talk about on the North Shore, but this post is getting a bit long… So I'm going to end it here.  Stay tuned for a North Shore Eats part 2.