Last updated on March 8th, 2021 at 08:54 pm
I'm always on the lookout for unique dining experiences – especially those unique to specific locations. Well, a recent Na'au Hilo + PAI Honolulu collab dinner presented exactly that kind of experience. It was an opportunity to, literally, taste Hawaii.
Backstory
I've been following Na'au since they first appeared on the Hawaii food scene back in June 2019. They're an extremely new initiative by Chef Brian Hirata that focuses on creating cuisine using modern techniques from foraged and sustainable, locally farmed ingredients. Just take a look at their Instagram and you'll see that this isn't your average restaurant. And that's not only because they don't have a physical location, but because of the unique ingredients they use.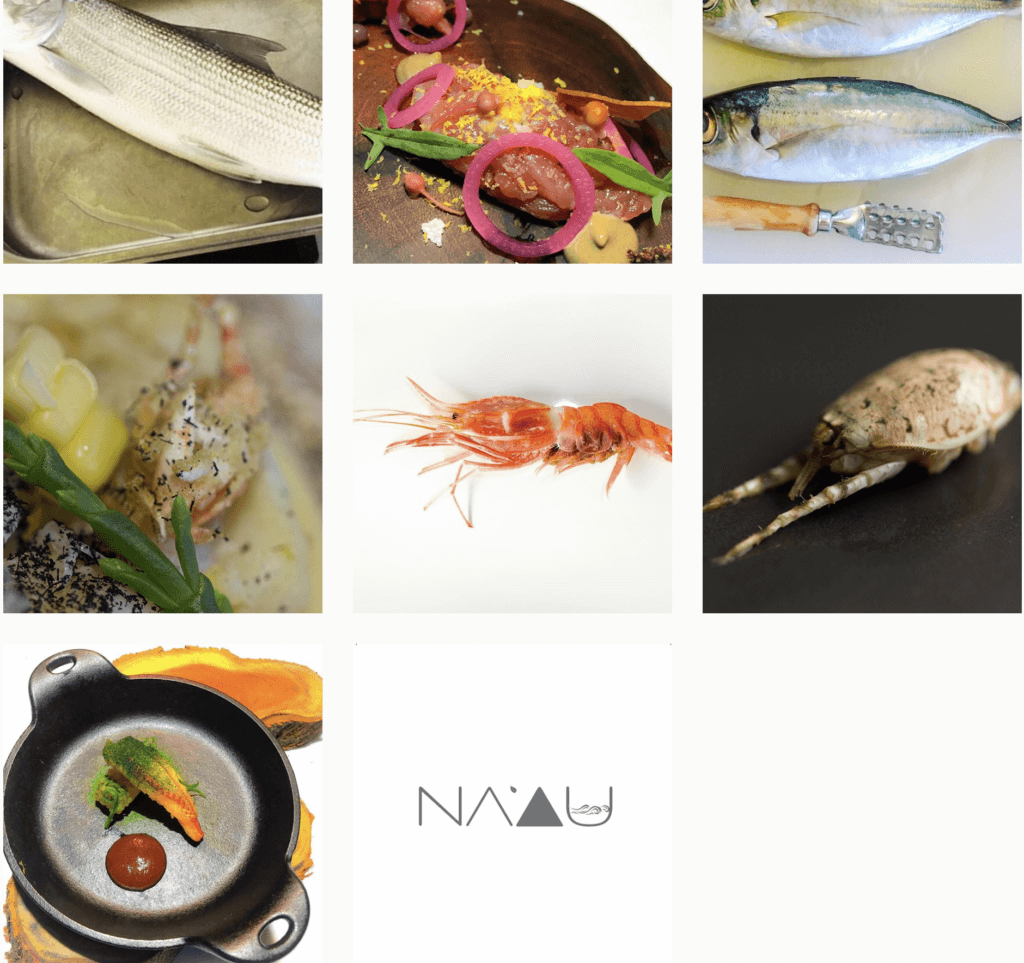 Na'au's first pop-up dinner came about in August 2019 on the Big Island, with a series of dinners that followed. Unfortunately, I wasn't able to attend any of them, so when I heard that they'd be doing a collab dinner with PAI Honolulu – one of my favorite restaurants – here on Oahu, I knew I had to go.
The Dinner
The Na'au Hilo + PAI Honolulu Collab Dinner happened on Sunday, January 12, at PAI's restaurant in downtown Honolulu. It was a 12-course extravaganza that introduced many of us to, not only new flavors, but an exciting new movement in Hawaii's food scene. And, lucky you, I'm going to take you all on the journey with me. So, without further adieu, let's jump in.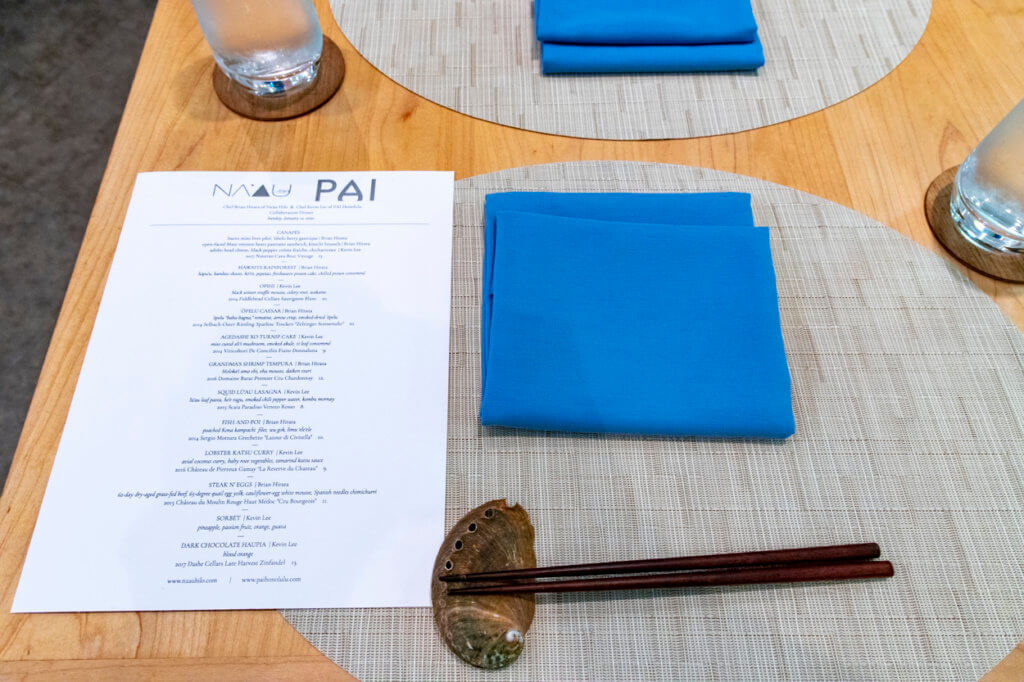 Canapes
The meal started with a flavor bomb consisting of three small bites – burnt miso liver pate with pickled ohelo berries, Maui venison heart pastrami sandwich, and adobo headcheese on chicharron with black pepper creme fraiche.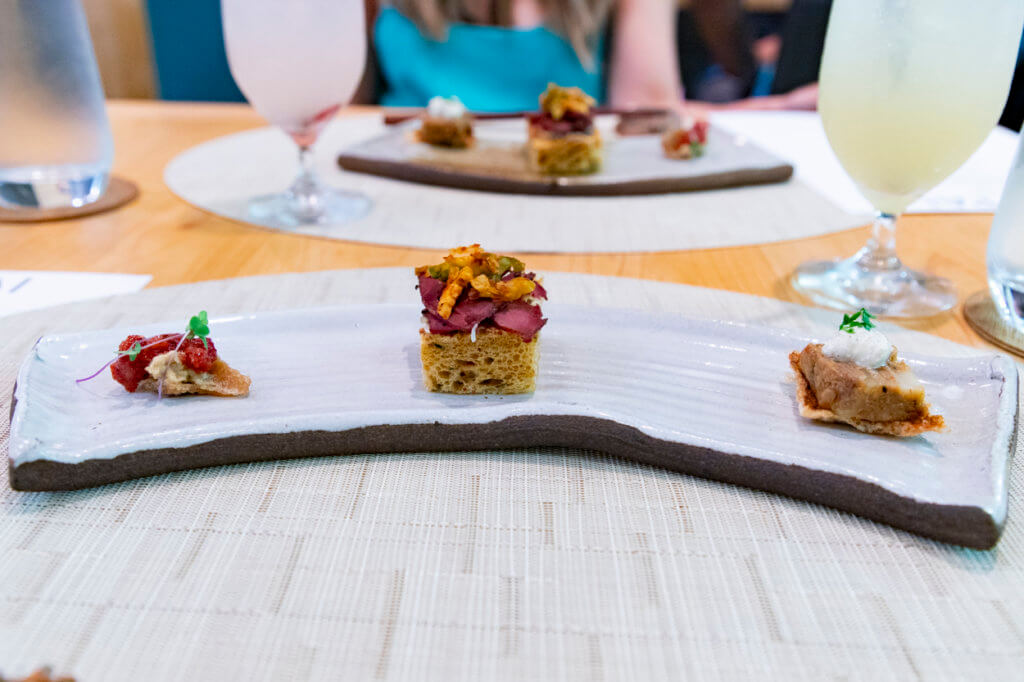 As Chef Hirata mentioned, the pate tasted nearly exactly like foie gras, which was their inspiration. The venison heart too tasted exactly like pastrami – no irony flavors whatsoever. And the brussels sprouts kimchi on top was a unique riff on the classic, too. The adobo headcheese is honestly something I've had before at PAI, but the change to a chicharron punched up the meaty, umami flavors and provided a wonderful textural contrast.
Hawaii's Rainforest
As its name suggests, Chef Brian Hirata's first solo dish utilizes ingredients his team foraged from the rainforests Hawaii. Specifically, the ingredients are what you'll find growing in some of Hawaii's last native rainforests on Chef Hirata's home island – the Big Island. Here, Chef Hirata uses foraged Hapu'u (fern), Ho'i'o/Pohole (fern), bamboo shoots, Pepeiao (woodear mushroom), and stream-caught freshwater prawns to construct this dish.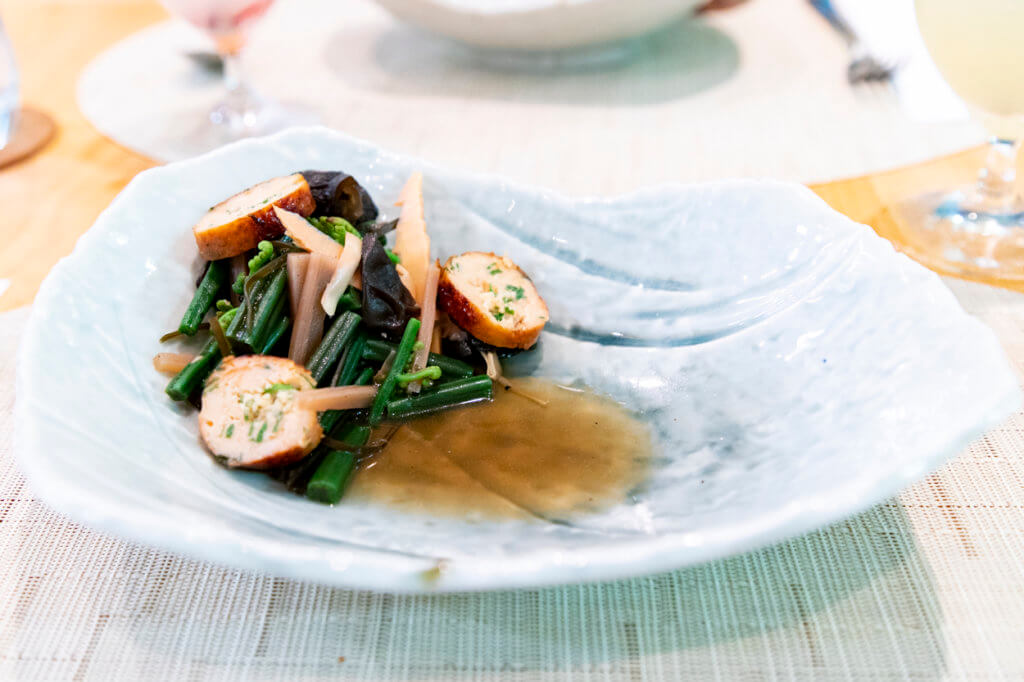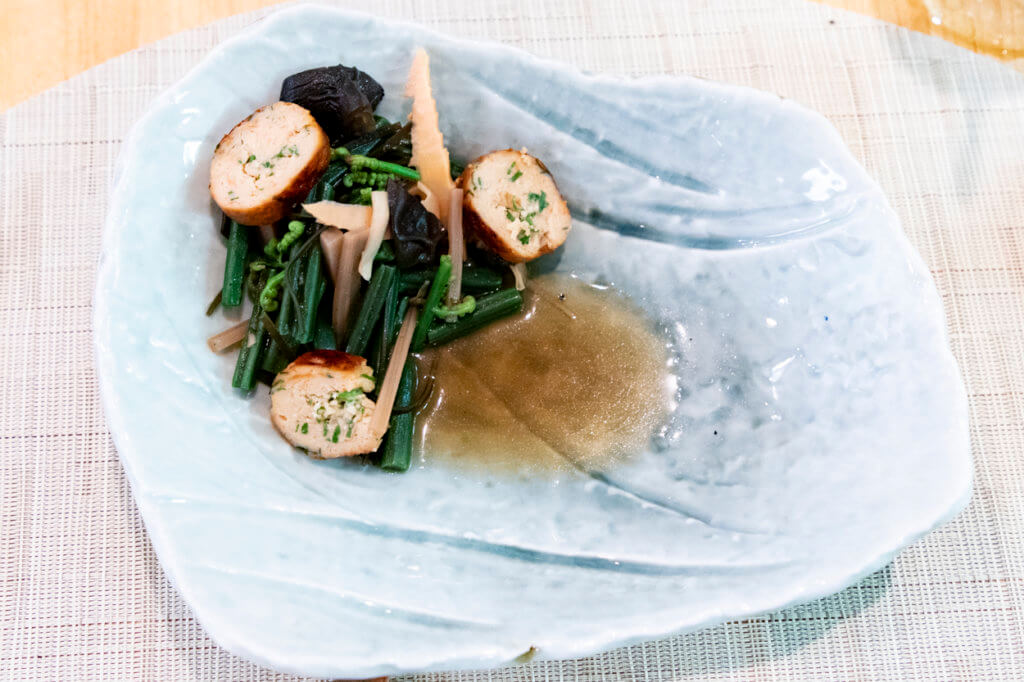 Admittedly, I was apprehensive about this dish. I don't normally like fern shoots or Pepeiao. But everything was prepared beautifully in a way I had not experienced before. The fern shoots weren't excessively slimy, while the Pepeiao was tender, but still retained some bite. The prawns were turned into a fantastic prawn cake that's envelopes your tongue in an umami-rich prawn flavor. And the chilled prawn consomme at the bottom of the dish provided a salty, intensely prawn punch that tied everything together.
Opihi
Course three featured the Opihi, which is a limpet that's endemic to Hawaii. Actually, there are three different species in Hawaii characterized by the color of their flesh – the Alinalina (yellowfoot), the Makaiauli (blackfoot), and the Ko'ele (giant). Of the three, the Alinalina is considered the tastiest and also the most difficult to pick. That's because they live on jagged, rocky coasts that are pounded by rough surf. They're also rare on Oahu and Maui thanks to over-harvesting, so it's become an expensive treat with prices frequently exceeding $50/pound. But, Chef Kevin Lee got his hands on some Opihi Alinalina for our dinner and paired them with black winter truffle mousse, celery route, and wakame.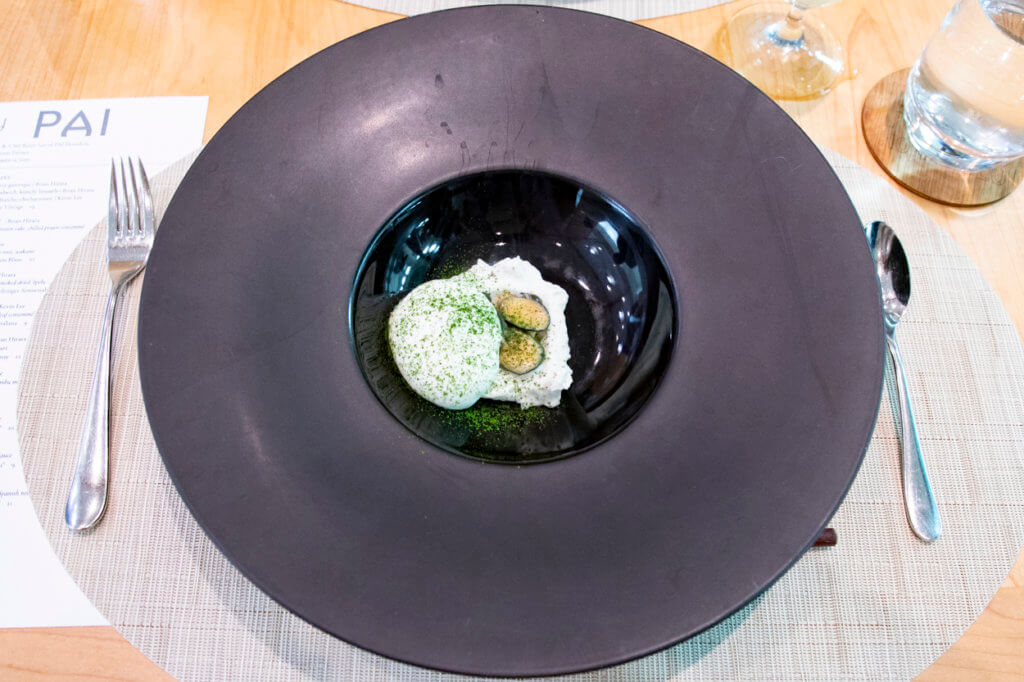 If you've never had Opihi, they taste of the ocean. They're briny with a subtle richness and a slightly chewy and crunchy texture. It's closer to abalone in texture, though not as tough or crunchy. While the taste, to me anyway, is somewhere between abalone and oyster. As a result, the three shelled opihi in the dish went nicely with the mashed potato-like texture of the celery root and the added umami of the truffle mousse.
'Opelu Caesar
Chef Hirata's goal for this dish was to make something that tastes like Caesar Salad, but uses no sardines or raw eggs. So, instead, he uses a local mackerel scad called 'opelu. Specifically, he makes and 'opelu "baba-bagna" and pairs it with shredded carrot, arrow crisp, and smoked-dried 'opelu.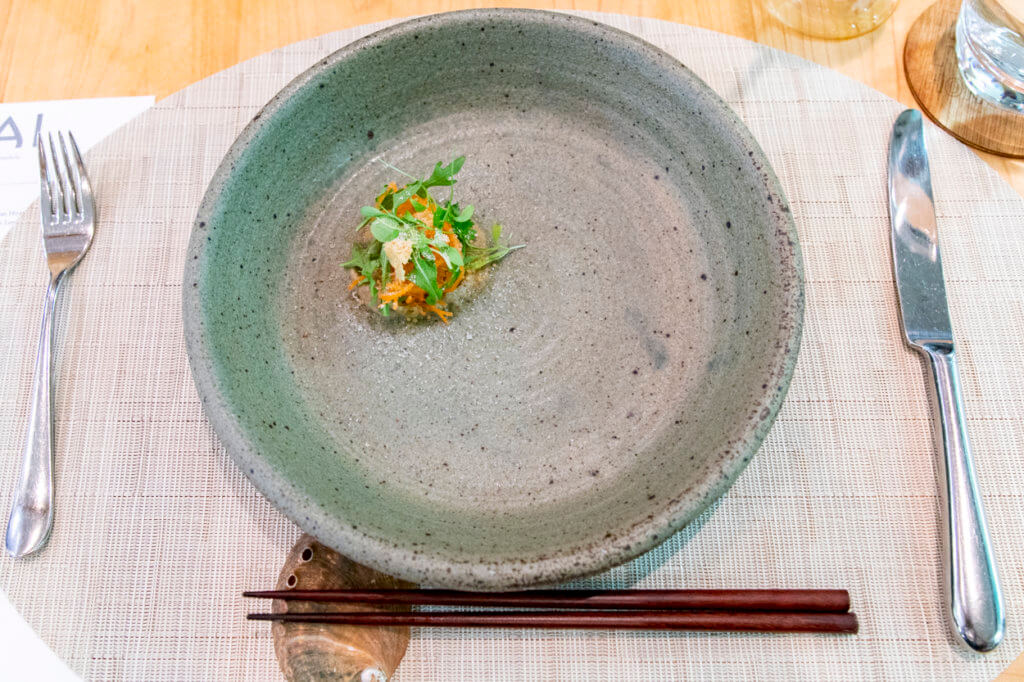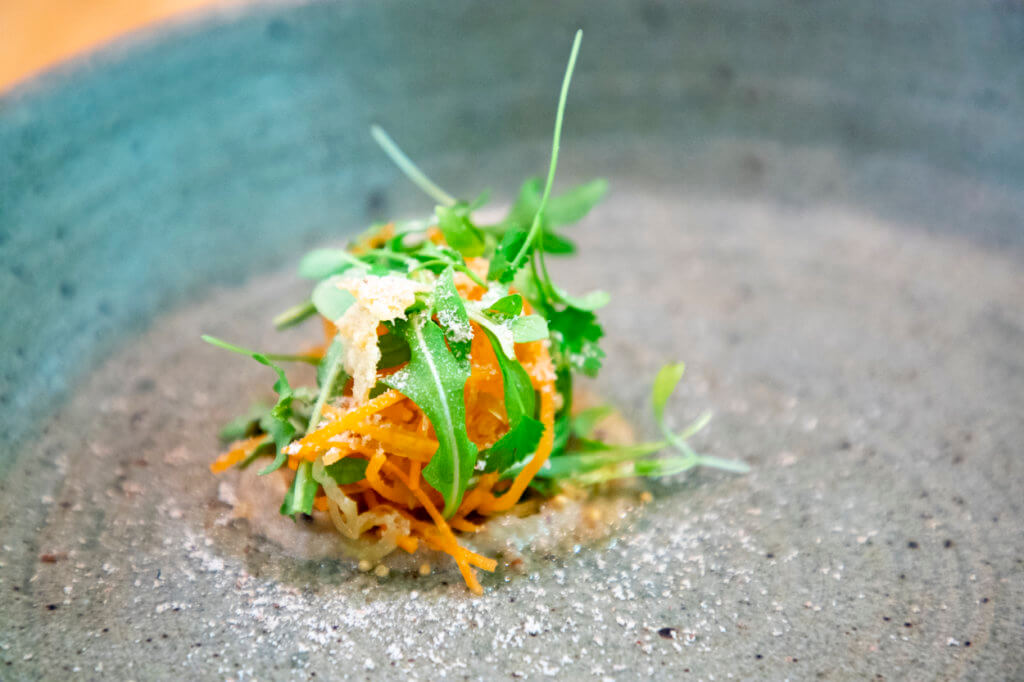 It's safe to say that Chef Hirata hit his goal on the mark. Yeah, the sauce was thicker, chunkier, and slightly fishier, but it was damn good. I couldn't get enough of that smokey fish flavor!
Agedashi XO Turnip Cake
This dish is PAI Honolulu's signature dish and has remained on the menu since the restaurant opened. Here, Chef Lee combines Japanese (agedashi tofu), Chinese (turnip cake), and Hawaiian (ti leaf) influences to create something truly unique. And it, as always, tastes amazing.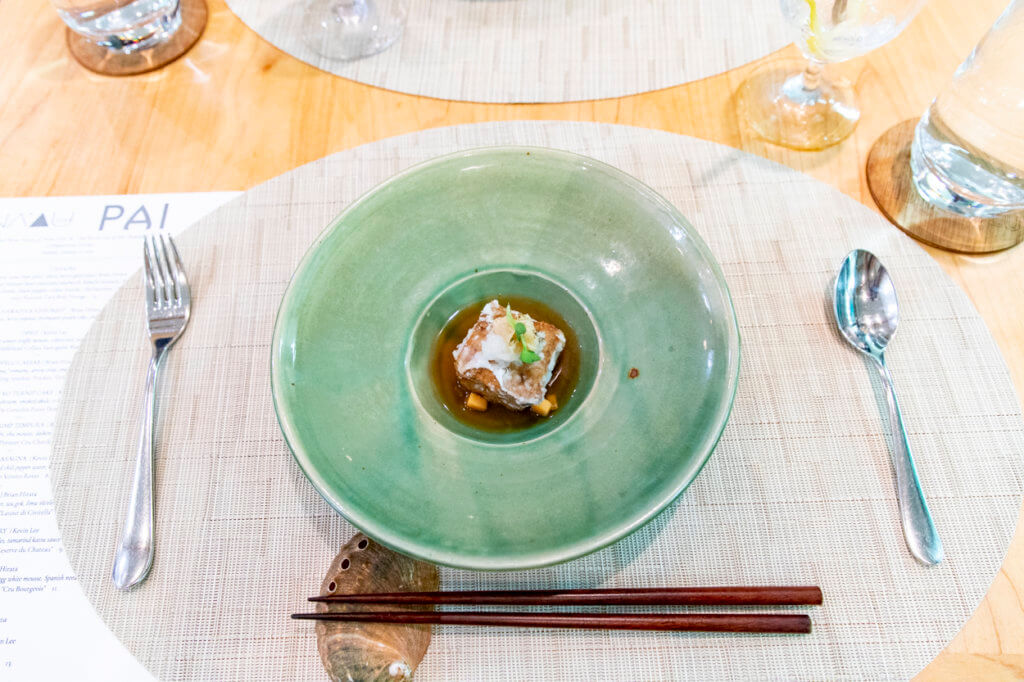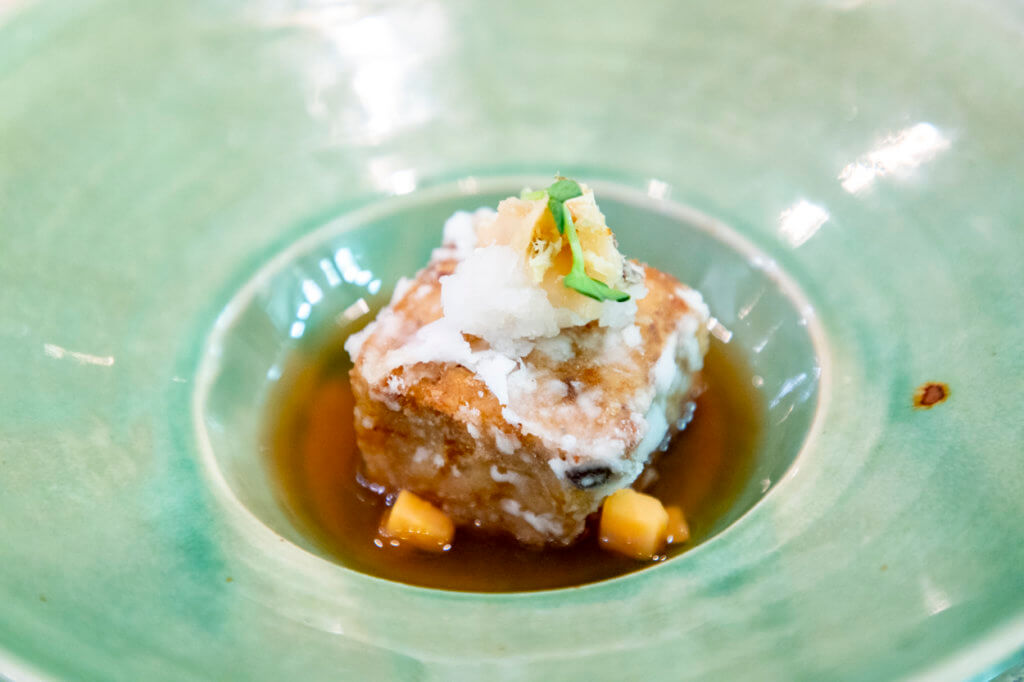 The turnip cake is what you'd expect from a great dim sum house. But here, it has smoked akule (bigeye scad) and miso cured ali'i mushrooms inside. The result is a soft, almost tofu-like cake with a crispy exterior and a powerful kick of flavor. This iteration was a little spicier than I'd like, but it's still good. And, of course, the ti leaf consume has an addictive, complex, smokey, flavor.
Grandma's Shrimp Tempura
As the name suggests, Chef Hirata takes inspiration for this next dish from his grandmother's cooking. But, instead of using standard shrimp, he uses luxuriously sweet Moloka'i ama ebi paired with an ehu (snapper) mousse, and served with a daikon tsuri.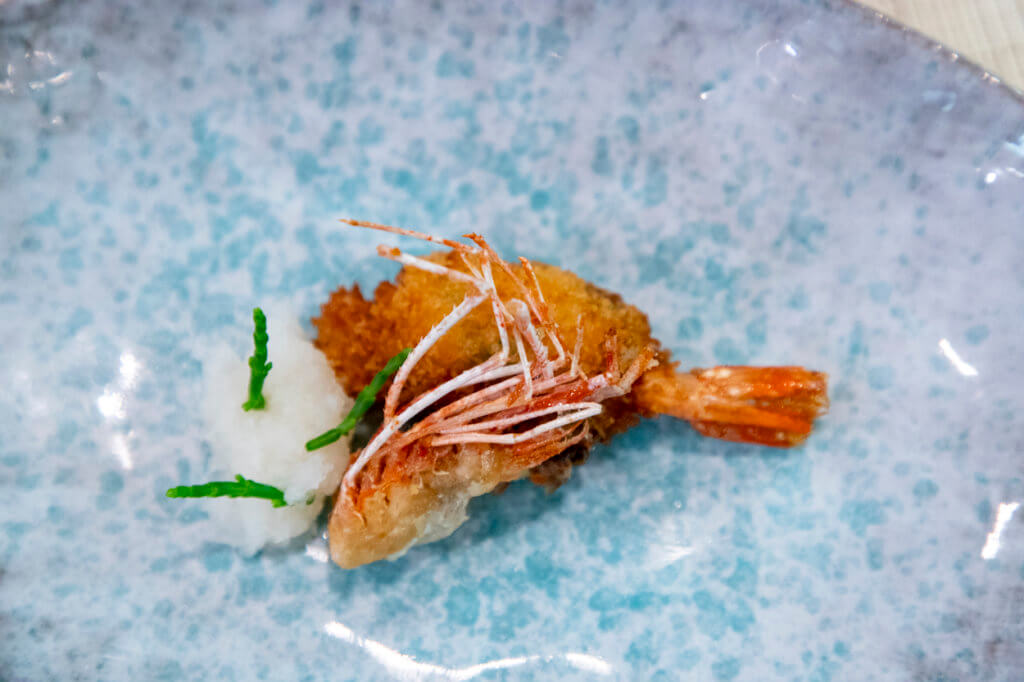 In this preparation, the ehu (similar to onaga, but smaller) mousse is pipped on top of the ama ebi before battering and frying. The head is also shelled, battered, and fried. And, that daikon tsuri adds a nice salty hit to the whole thing.
Squid Lu'au Lasagna
To kick-off the second half of the meal, Chef Kevin Lee serves up Squid Lu'au Lasagna. Here, Chef Lee incorporates lu'au (taro) leaf into his pasta dough, makes a ragu out of he'e (octopus), and services it alongside a kombu mornay with smoked chili pepper water.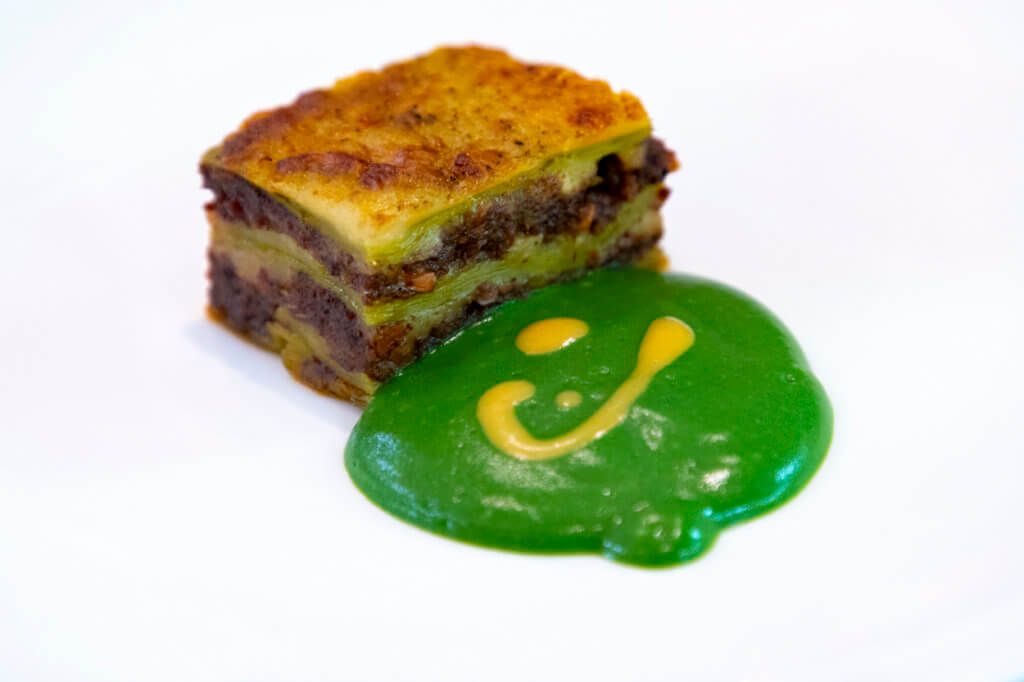 In my opinion, the lasagna tastes like laulau in pasta form. I know that isn't Chef Lee's intent, but that's my opinion! The he'e had an almost beef-like quality to it, while the kombu mornay got another dash of luau leaf, which made that flavor really shine through.
Fish and Poi
Chef Hirata's iconic fish dish is his interpretation of the classic native Hawaiian combo of fish and poi. But, here, Chef Hirata prepares the poi wu gok-style (Chinese taro puff). The fish of the evening was Kona Kampachi, which is a fatty, sustainably farmed fish that he tops with limu 'ele'ele.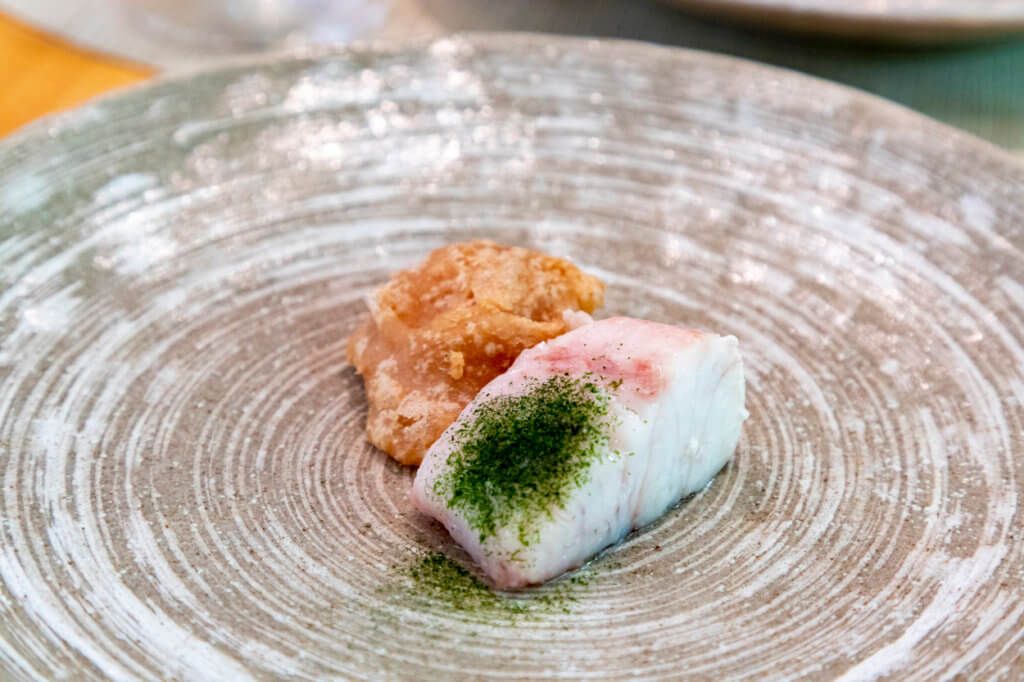 The Kampachi was poached at a low temperature, giving the fish a luscious, silky mouthfeel. The wu gok, on the other hand, had a stiffer, crunchier texture and wetter, chewier interior than dim sum classic. But I liked it that way. And the flavor of the poi continued to shine through which, of course, paired nicely with the fish. The limu 'ele'ele is, we're told, and extremely labor-intensive garnish to make, but adds a roasted Korean seaweed quality to the dish.
Lobster Katsu Curry
For Chef Lee's final savory dish, he served up Lobster Katsu Curry. It sounds like a Japanese dish, but here he uses and Indian avial coconut curry with baby root vegetables and a tamarind katsu sauce.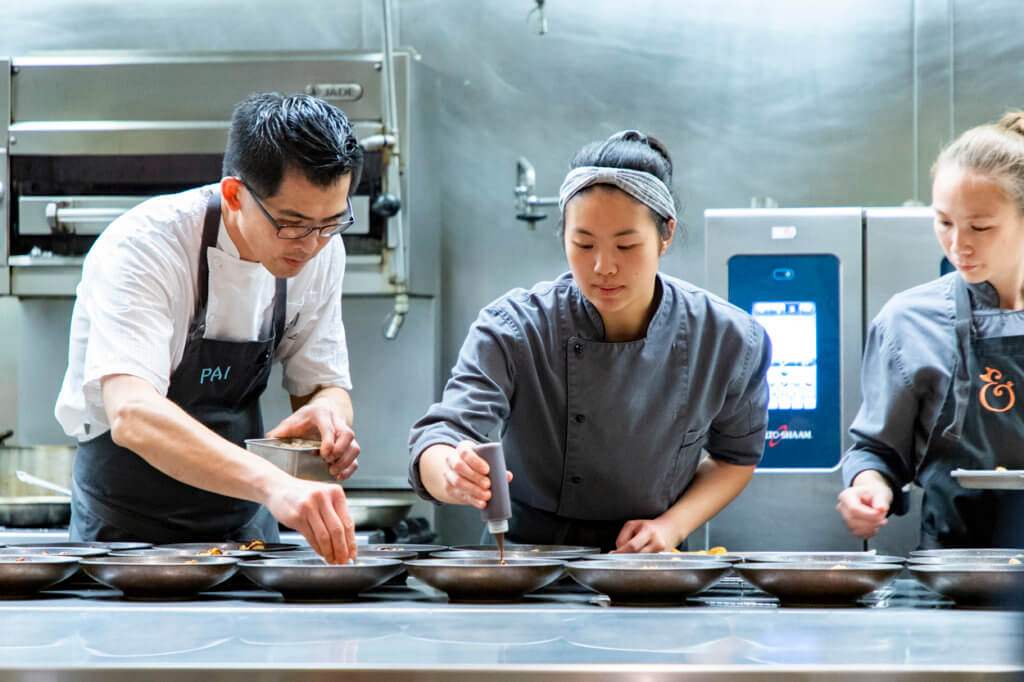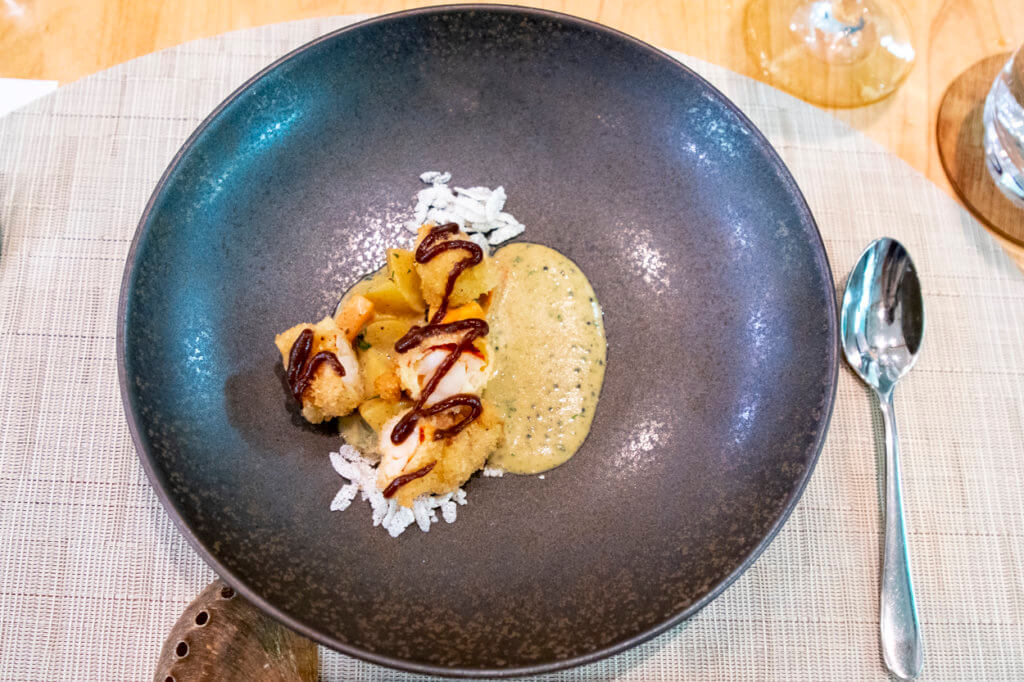 The avial coconut curry is somewhat reminiscent of Japanese curry, but with more spice and a more assertive flavor. The lobster katsu is basically lobster tempura and is cooked perfectly. That tamarind katsu sauce, though, was my favorite part. It had a nice tart-savory quality to it that's delicious.
Steak N' Eggs
For Chef Hirata's final dish of the night, he presented us with his interpretation of a breakfast classic. In this case, though, it's 62-day dry-aged grass-fed beef from Kona's Lewis Cattle Co. That's then paired with a 65-degree local quail egg yolk atop a cauliflower-egg white mousse. And, on the side, he includes a Spanish needles chimichurri.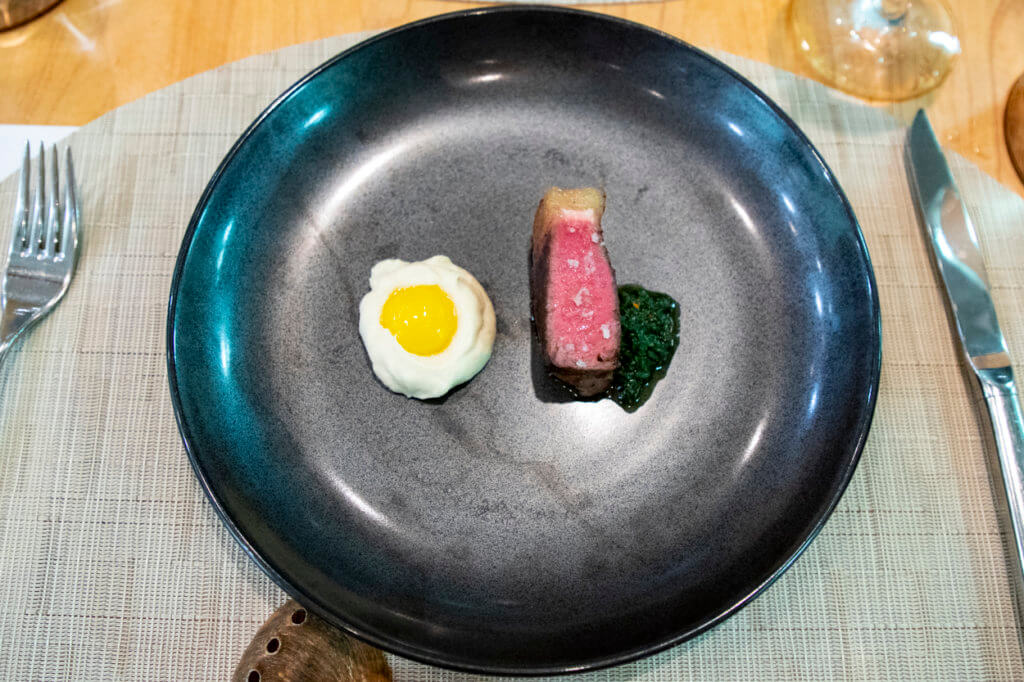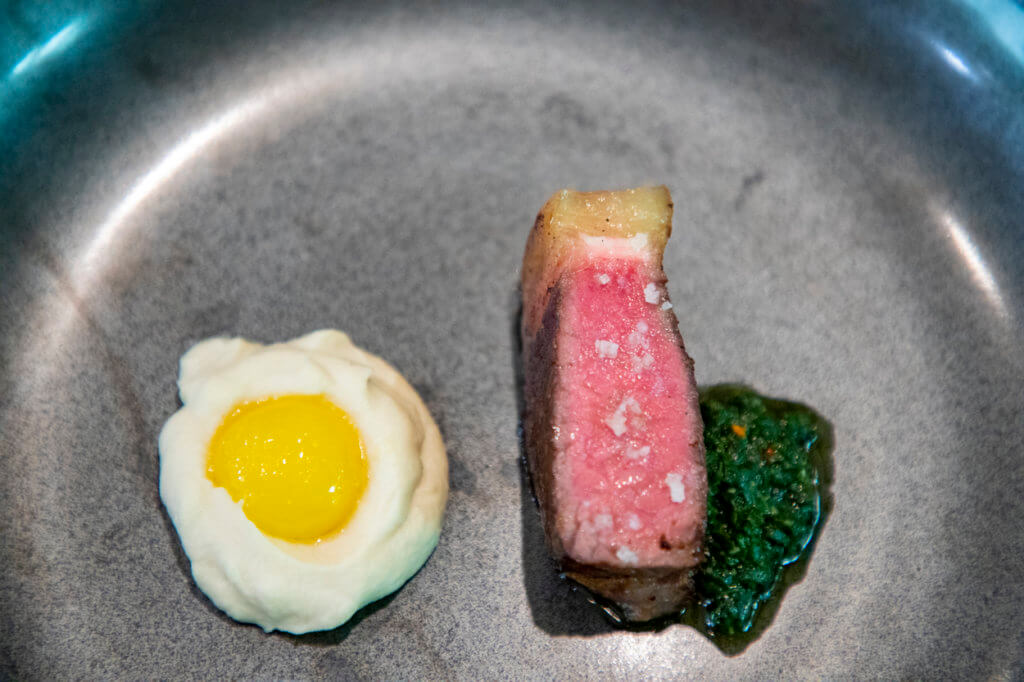 I gotta say, this steak was the best steak I've ever had. Though I normally don't like grass-fed beef because of how lean, tough, and flavorless they can be, that wasn't the case here. The steak has a nice amount of intramuscular fat, is really tender, and has the richest beef flavor I've ever had. It is better than the 30-day dry-aged Pat LeFrieda steak I had at Old Homestead in Vegas. I simply loved how the mild gaminess and funk combine to create an umami-rich, nutty, beef flavor. This is how a steak should be! The "egg" was, of course, a rich, buttery, wonderful side. And, that Spanish needles chimichurri – WOW! I don't even know how to explain the flavor, but it was fantastic. Of course, it's also a foraged ingredient.
Sorbet
For a palate cleanser following the phenomenal steak, Chef Lee presented us with a pineapple, passion fruit, orange, and guava sorbet. It's his take on the local favorite POG juice but adds pineapple, which serves to add some extra depth. Better yet, the sorbet is only mildly sweet and retains some of the natural tartness of the fruits.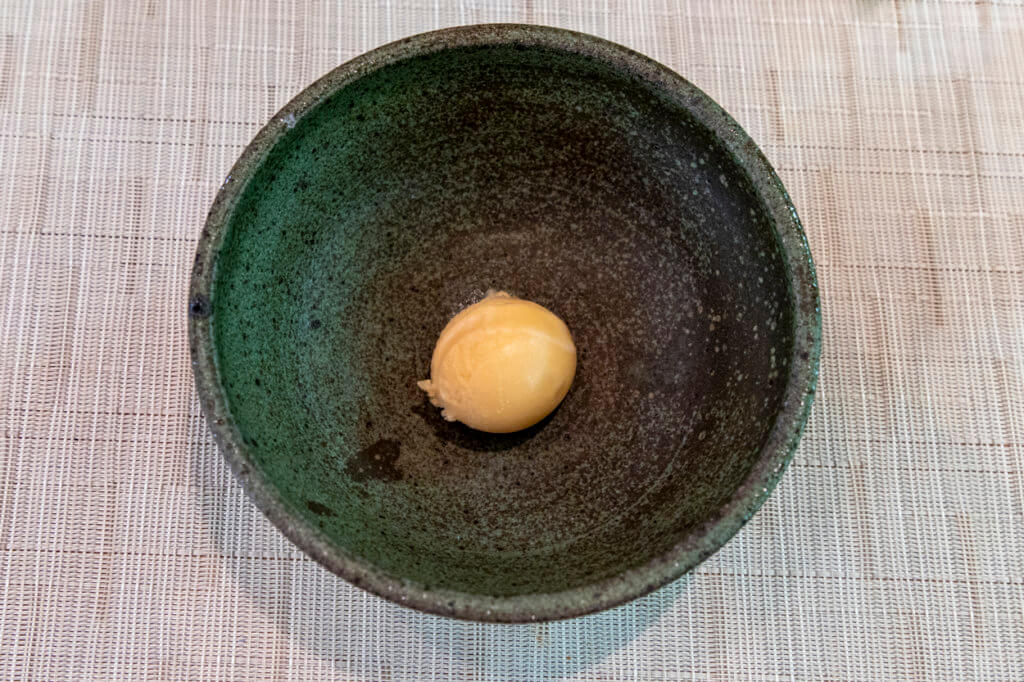 Dark Chocolate Haupia
I have to admit, I was hoping for Chef Hirata's Ohelo Berry Cheesecake for dessert. But, when I saw Chef Lee's Dark Chocolate Haupia on the menu, I was still happy. I love his take on the classic Hawaiian dessert. It has a lovely coconut-chocolate flavor, though no one flavor overpowers each other. Cocoa nibs add some texture, while the blood orange coulis adds some contrasting flavor. Oh, and I honestly don't care for citrus and chocolate, but I thought the coulis paired very nicely with the haupia!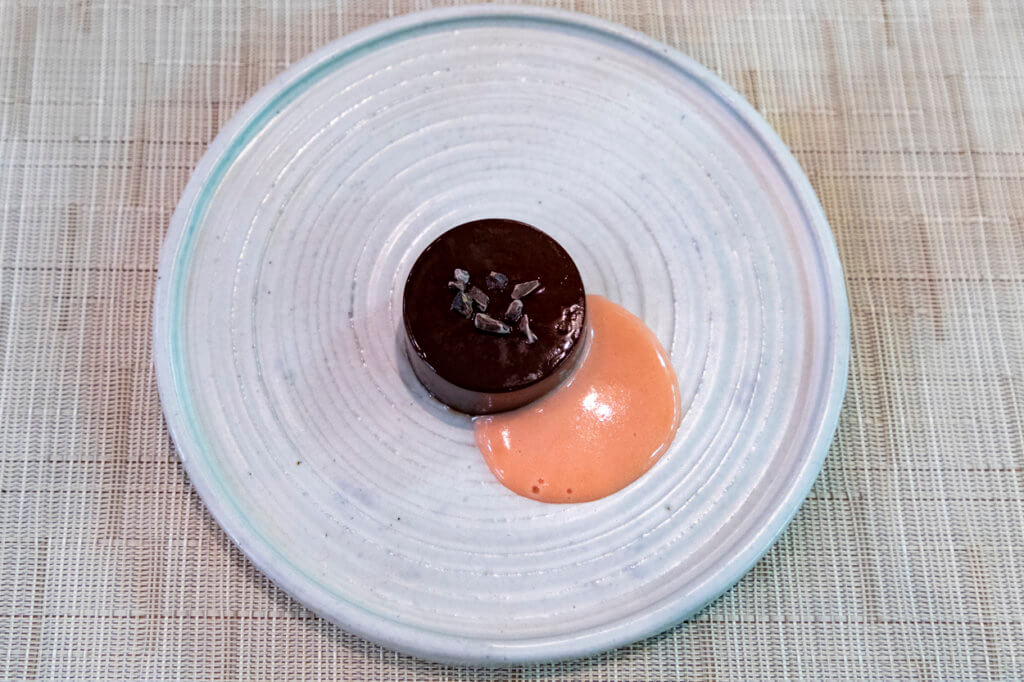 What Next?
Did you miss out on the Na'au Hilo + PAI Collab Dinner? Well, you're in luck! Word has it that PAI will be adding many of Chef Lee's dishes to their Seasonal Chef's Tasting Menu. Oh, and Na'au already has a few pop-ups planned this year, the first of which is already this coming weekend. Check out naauhilo.com to see where they'll be popping up next and to purchase tickets. Even better Na'au and PAI are planning another collab dinner around the same time next year. So stay tuned to both restaurants' pages for details!
Na'au Hilo + PAI Honolulu Collab Dinner, Final Thoughts
I love eating local and farm-to-table dining – especially when talented chefs take incredible products and elevate them. But this dinner wasn't that, at least not entirely. No, it was eating local taken to the next level. And that made the Na'au Hilo + PAI Honolulu Collab Dinner truly something special. There aren't too many places that let you taste the place in which you live or visit and Na'au Hilo does just that. In fact, I'd liken Chef Hirata to Hawaii's version of Noma's Chef Rene Redzepi. After all, Chef Hirata's mission for Na'au is Ka ho'oilina mālamalama, which is to enlighten through heritage.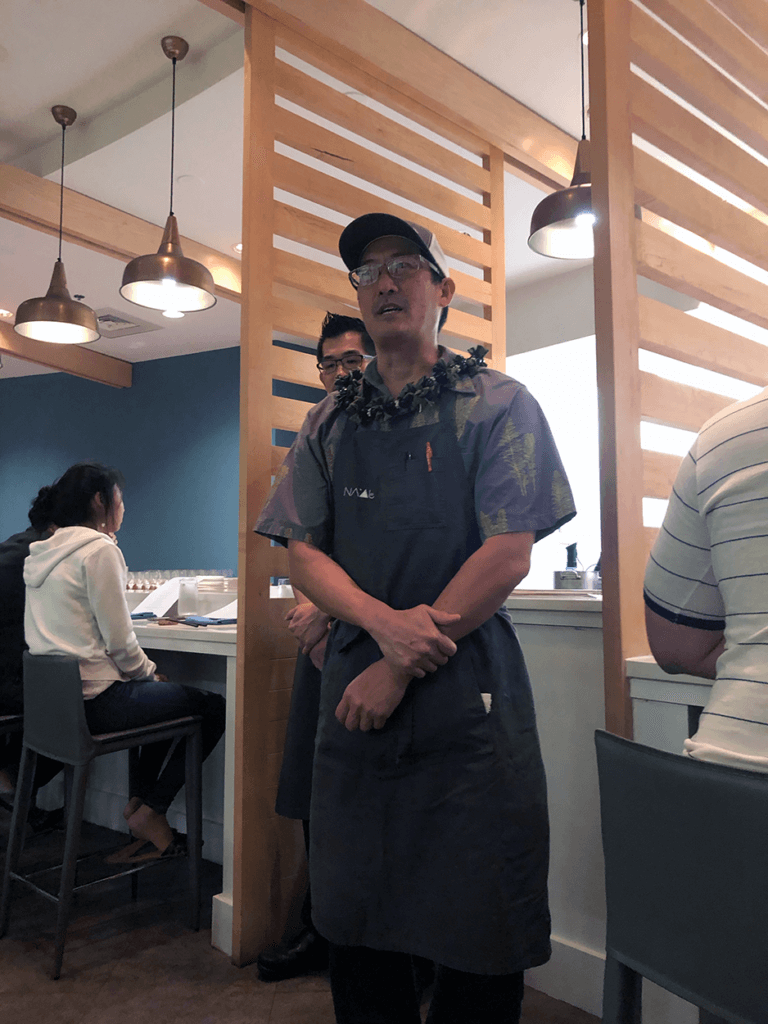 As for PAI, what can I say? I always love dining with them. Chef/Owner Kevin Lee and his wife Justine are some of my favorite people on earth. Mrs. Island Miler and I always love everything we eat at PAI, and we love getting to chat with Kevin and Justine even more when we drop in. Oh, and if you do go to PAI, give their pickled grape soda a try. It sounds weird, but it's fantastic! But, again, pretty much everything is anyway.