Restaurant Senia in Honolulu's Chinatown has to be the most anticipated restaurant in Hawaii.  Ever.  So naturally, I had to try it.  And Mrs. Island Miler was kind enough to treat me for my birthday!
What is Senia?
Senia is a new fine dining restaurant located right next-door to The Pig and The Lady.  It is owned by Andrew Rush and Chris Kajioka.  Both of these amazing chef's worked for the legendary Thomas Keller at some point, while Christ Kajioka is also the former Executive Chef of the hyper-exclusive Vintage Cave restaurant.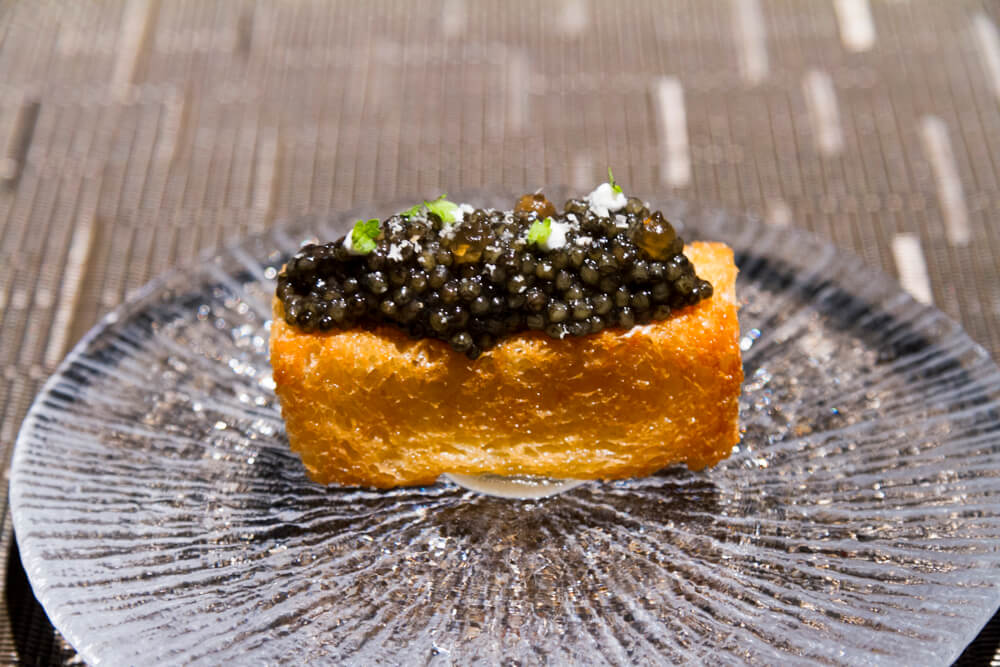 So when the two originally announced they were opening a restaurant together, people got really excited!  And then we waited, and waited, and waited.  Opening dates came and gone, largely thanks to Honolulu's insipid building permit mess.  Then the highly anticipated restaurant opened in December 2016.
Atmosphere + Service
If you're dining at Senia, reservations are highly recommended.  The restaurant itself is split between the Dining Room and Chef's Counter, both of which have a different experience.  In the dining room guests order from the ala carte menu.  However, at the Chef's Counter, guests receive a Tasting Menu, which can change daily.  And while the Dining Room is a simpler, humbler type of cuisine, the Chef's Counter is more like Vintage Cave.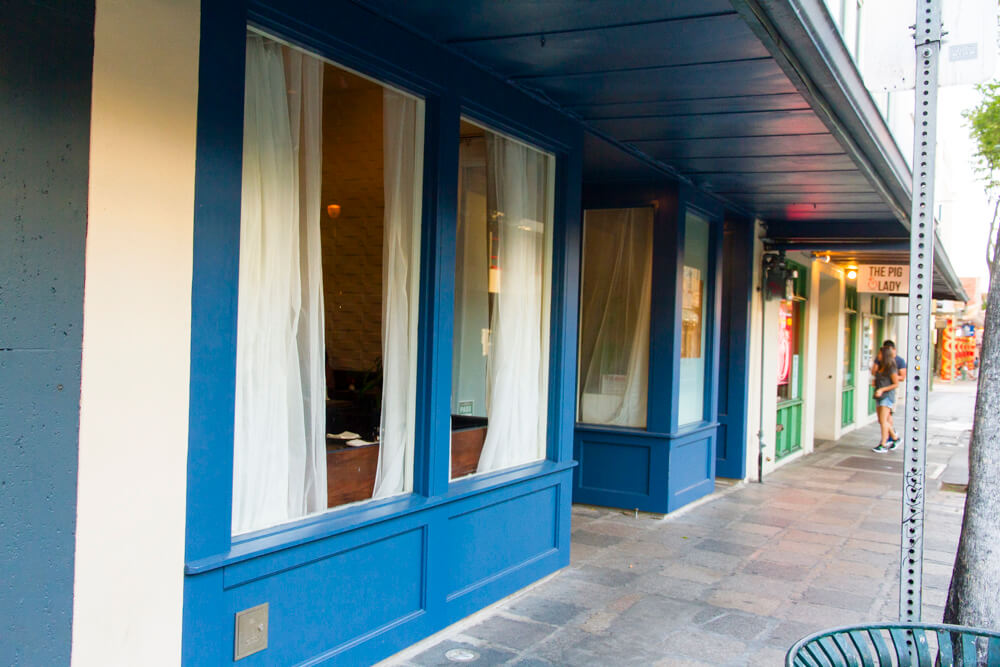 But no matter where you sit, Senia has a wonderful atmosphere.  Its very clean, fresh, modern, and rustic all at the same time.  There are a lot of earthy wood and exposed brick, mixed with whites, blown glass, and even plants.  The music playing throughout is a mix of older and new songs, with a lot of contemporary selections.  And the waitstaff are clad in white t-shirts with jeans and casual shoes.  No stuff uniforms or music here!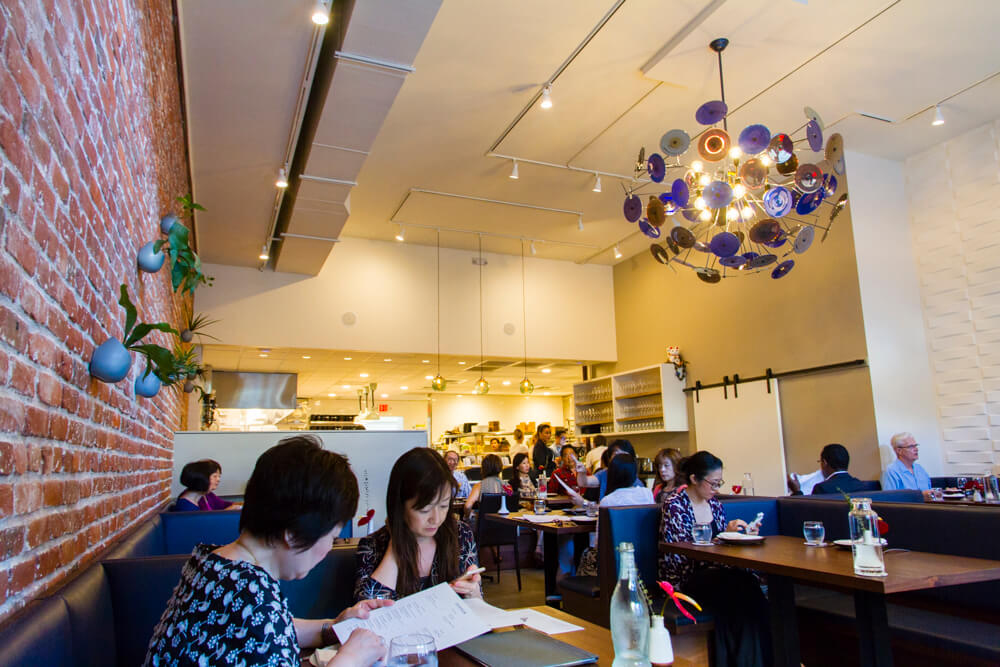 Despite the toned down atmosphere, however, service is very professional and friendly.  But again, service isn't stuff either.  It's a very different experience from the Vintage Cave.  I will say, though, that service is similar to Le Bernardin, just a little more relaxed and airy if that makes sense.
Cuisine
For our first visit to Senia, the wife and I dined in the Dining Room.  While we'd like to try the Chef's Counter one day, the Dining Room is a great introduction to the intended purpose of the restaurant.  Kajioka and Rush have long stated that they wanted Senia to be a neighborhood restaurant, somewhere people could afford to come often.  They wanted it to be more approachable too, and so much of the ingredients in the Dining Room are ones you and I could buy easily.
In fact, when the wife and I ordered, most of our meal ended up being vegetable based.  This wasn't on purpose of course, but that's just the way things turned out.
Drinks
But to start, Mrs. Island Miler ordered a mocktail, while I went with "The Kaji."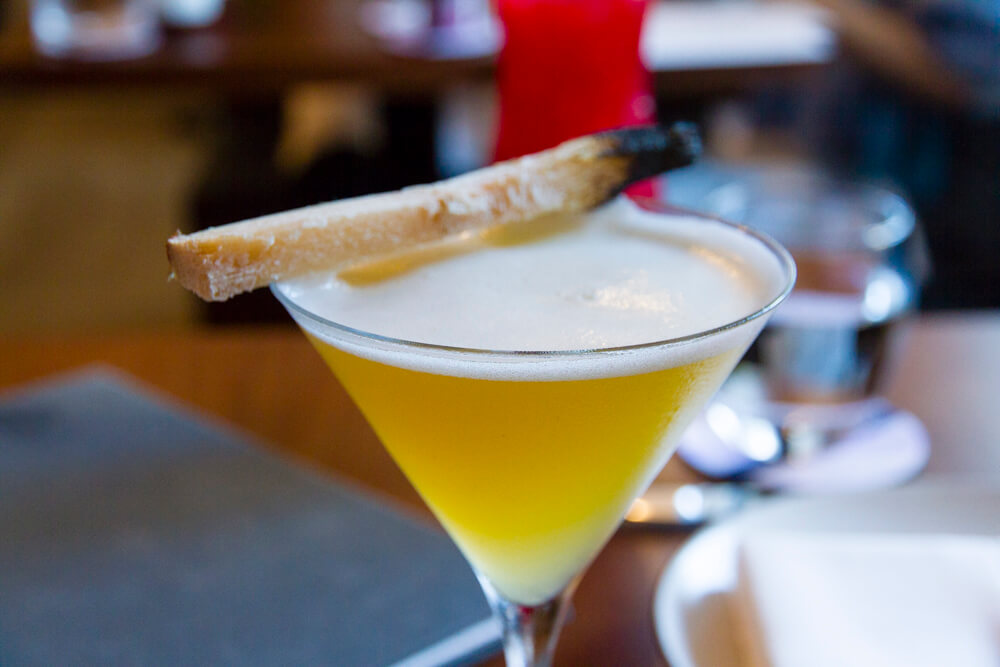 Named after Chris Kajioka, this DANGEROUS cocktail is made of roasted pineapple, vanilla, and cardamom infused Prairie Vodka; pineapple juice; black tea; lemon; spiced simple syrup.  It's delicious but far too easy to drink.
Snacks
Soon after receiving our drinks,our orders started arriving.  First up, some oysters.  Kusshi oysters to be exact, which is our favorite type of oyster.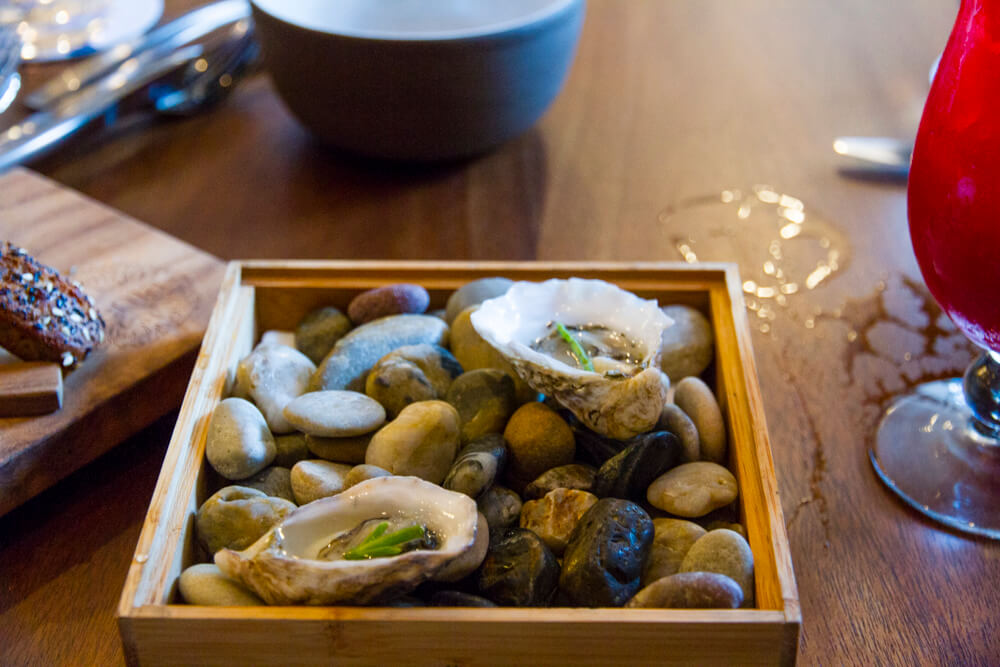 The oysters were accompanied by a yuzu kosho mignonette with sea asparagus.  And while I normally don't care for PNW oysters in Hawaii, these were perfect.  They tasted just as fresh here as they did when we had them in B.C. and Seattle.
Next up was the Chicken Liver Mousse with "everything" spice caramelized onion financier, honey vinegar gel.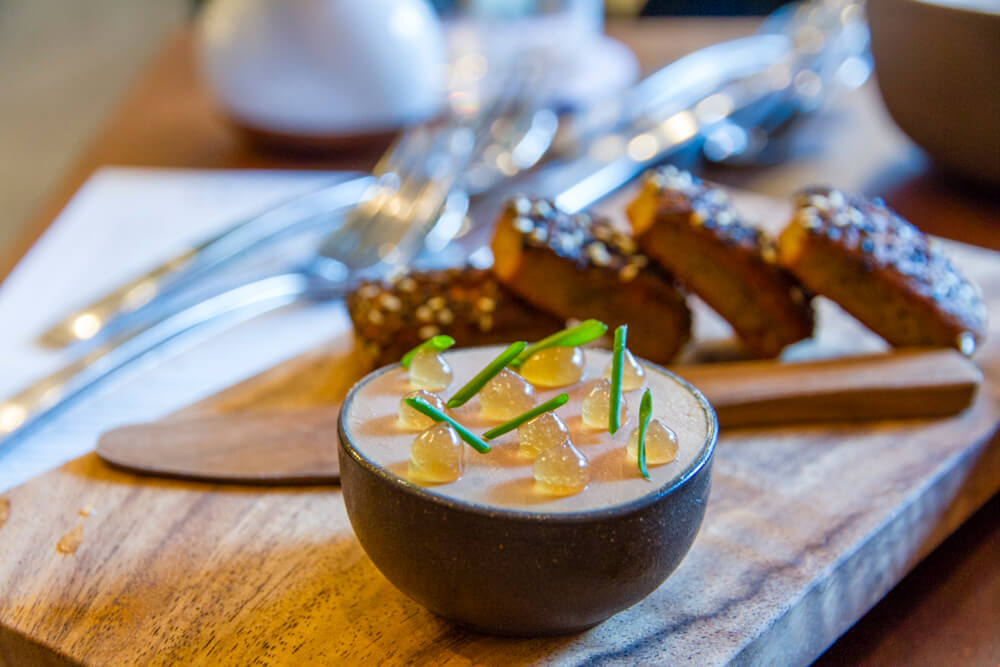 I know many people that think this is gross, but let me tell you, chicken liver mousse is delicious.  When properly made like this, its just a smooth, silky umami bomb!  The financiers were really good too… Like everything bagels but WAY better.
The last of our small bites was the Poke Crackers.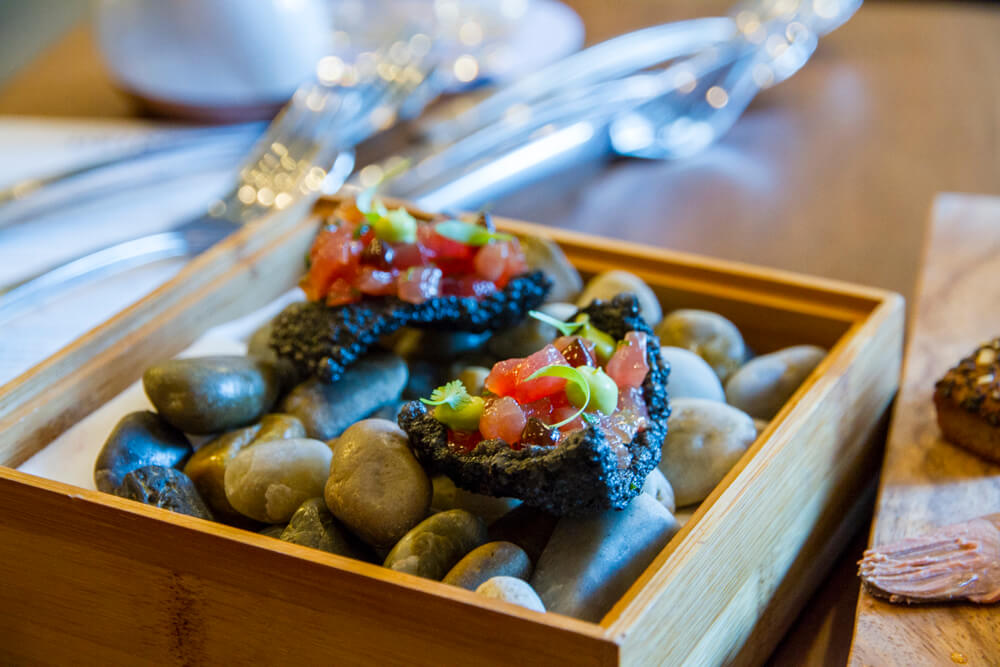 Not much to say about this dish except that the poke was very good quality, and squid ink crackers.
Plates
Our first larger plate was the Foie Gras.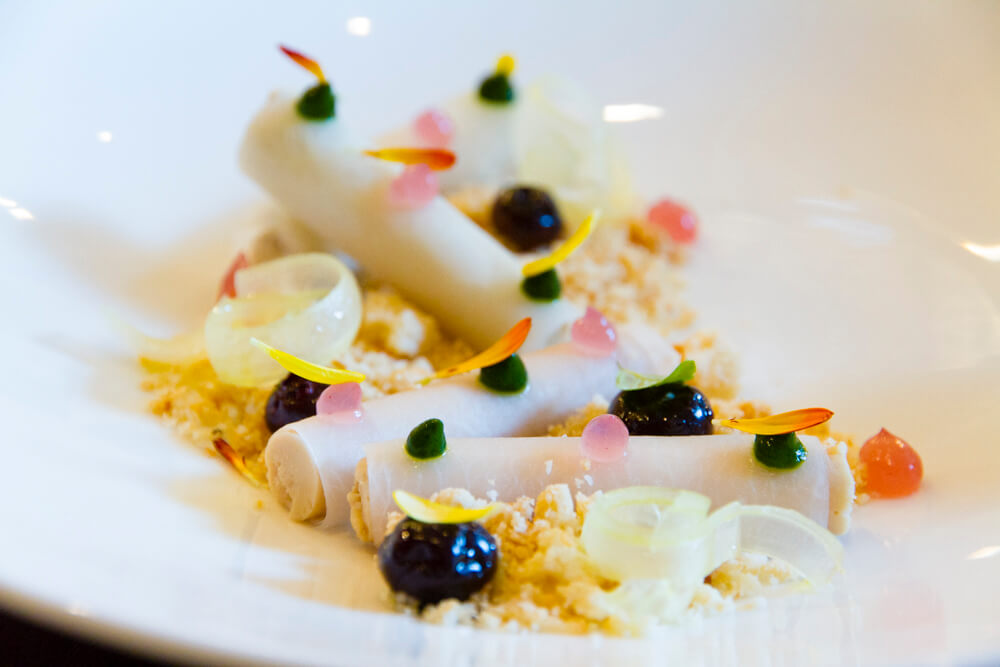 Much lighter than your standard foie gras dish, this was similar to an au torchon preparation.  But instead of serving it as-is, Senia rolls it in thinly sliced radish on a bed of coconut crumble.  It's a fairly sweet and rich dish, but not overly so.
Next up was a really interesting dish: BBQ Beet Salad – Cucumber, crushed avocado, seed mix/ quinoa mix.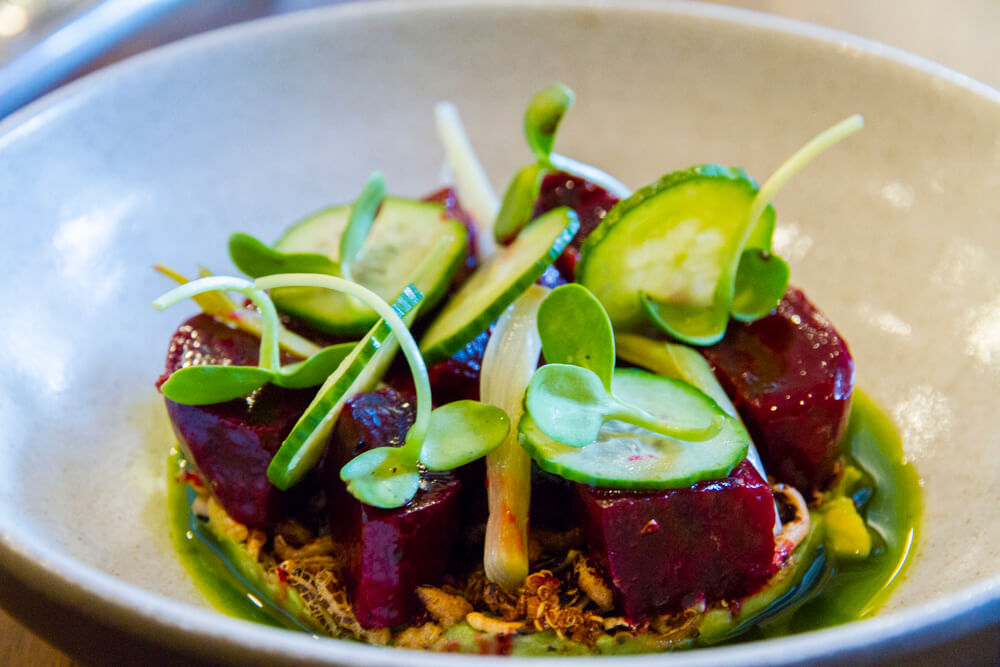 This dish was soft, toothsome, and crunchy.  Flavors were primarily earthy, sweet, and slightly smokey, with the avocado providing a bit of fat to tie everything together.
If there were ever a signature dish for the restaurant, the next one up would be it: the Charred Cabbage Caesar – Kombu, green goddess, buttermilk.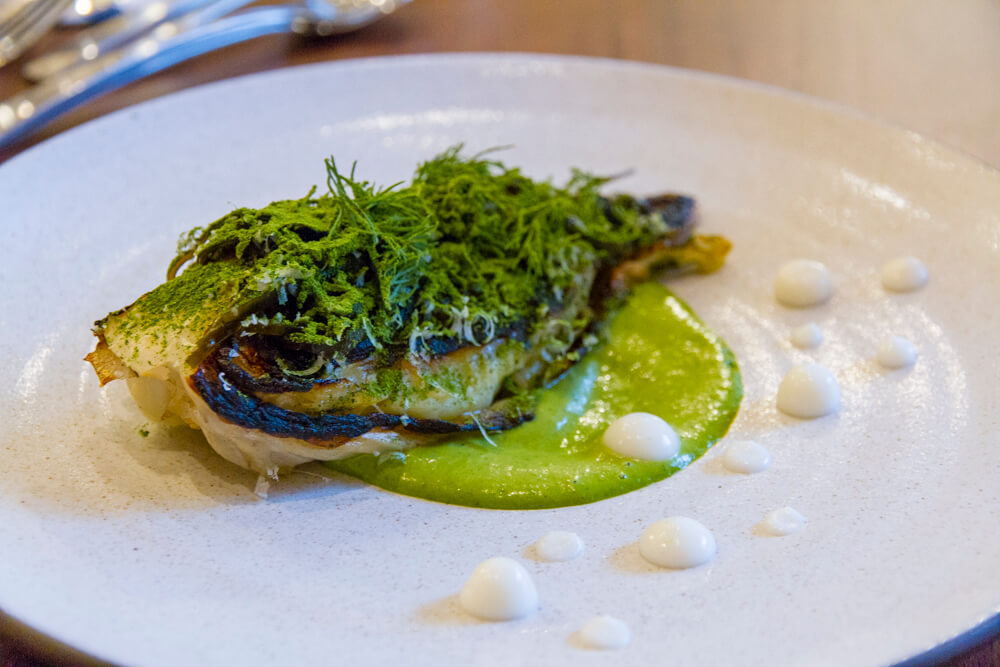 Everyone gushes about Kajioka's cabbage preparations, and this one is no different.  Not only is it interesting to look at, but its delicious.  The cabbage is tender, but retains some bite.  Its slightly sweet, savory, and has a nice char.  It's almost a little meaty, but this is completely vegetarian.  Mrs. Island Miler isn't a fan of cabbage and didn't want to order this, but even she loved it.
The night we dined at Senia, they had a special pasta, which was sort of a squid ink and octopus ragu.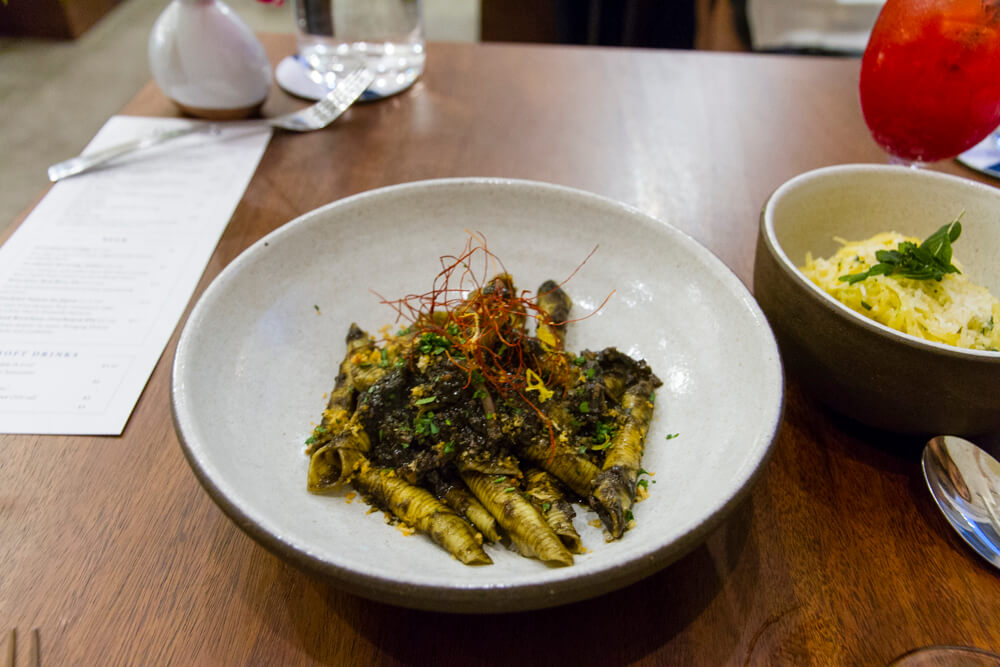 While it looks heavy, it isn't.  The dish is so light, especially with the bright citrus notes.  It was delicious, and the house-made pasta had the PERFECT texture to it.
Our pasta dish was accompanied by a faux pasta side: Spaghetti Squash Cacio e Pepe.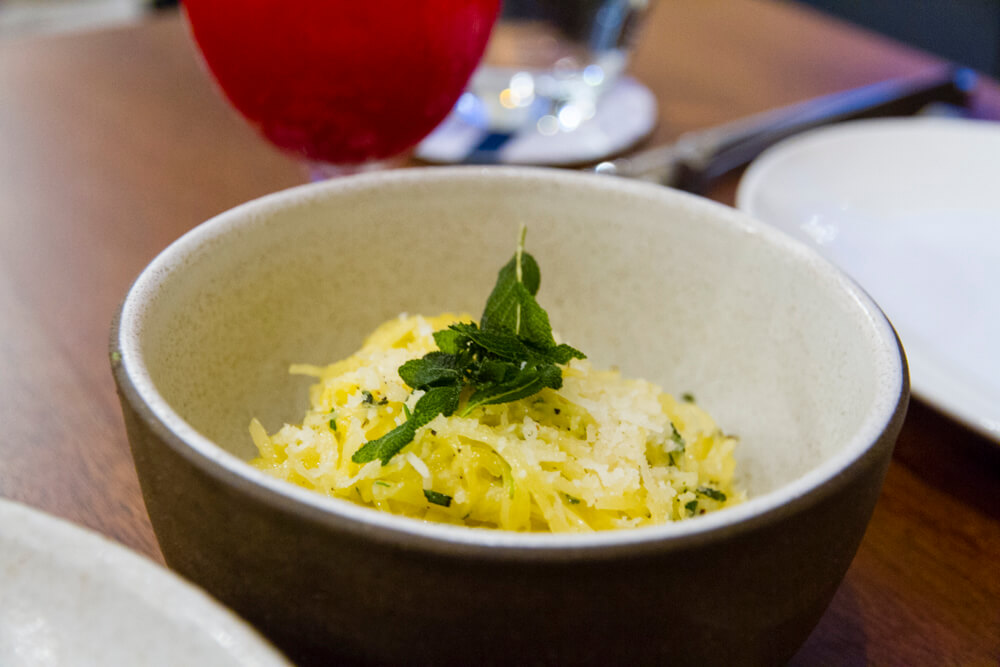 Our waiter said this is dish is super good, and she wasn't kidding.  I almost didn't mind that it isn't pasta.  Almost.
Dessert
By this point we were begging to get pretty full, so we skipped the last dish I wanted to try (Bone Marrow + Beef Cheek Marmalade) and went right into dessert.  And for her dish, Mrs. Island Miler ordered the Strawberries & Cream.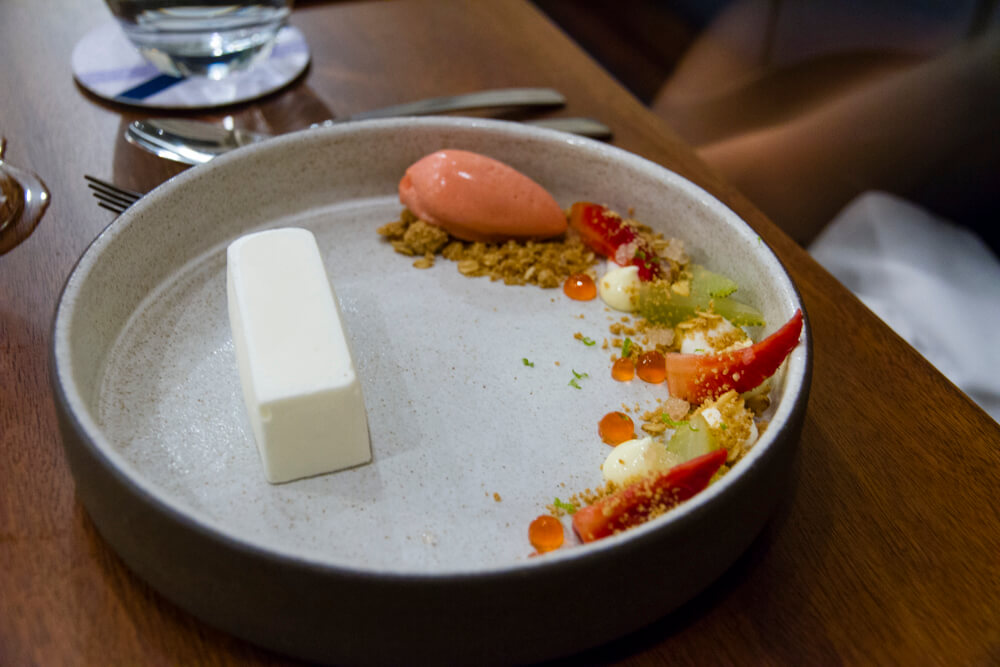 That thing that looks like a stick of butter?  Its a semifreddo, which is accompanied by compressed strawberries, strawberry gel, and strawberry sorbet.
I'm a chocolate person so I went with the Chocolate Fondant Gateau.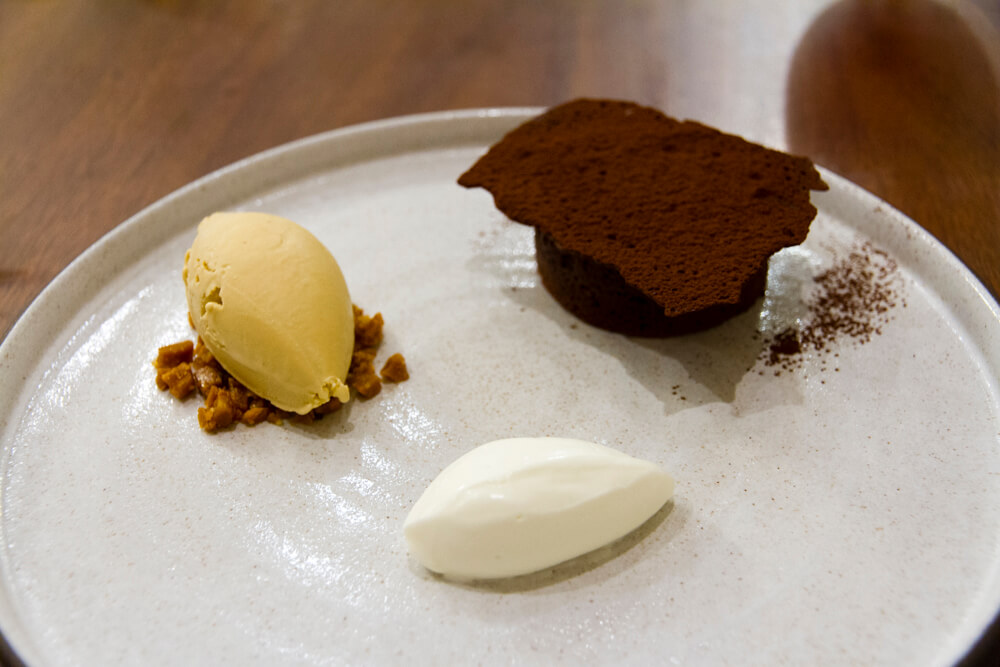 This bad boy was like a molten chocolate cake, only better, as it was just slightly sweet, but very rich and dark.  It was accompanied by a slightly sour creme fraiche semifreddo and a smoked maple ice cream.  Very nicely balanced, in my opinion.
And to close the night out, the restaurant sent out these small bites for my birthday.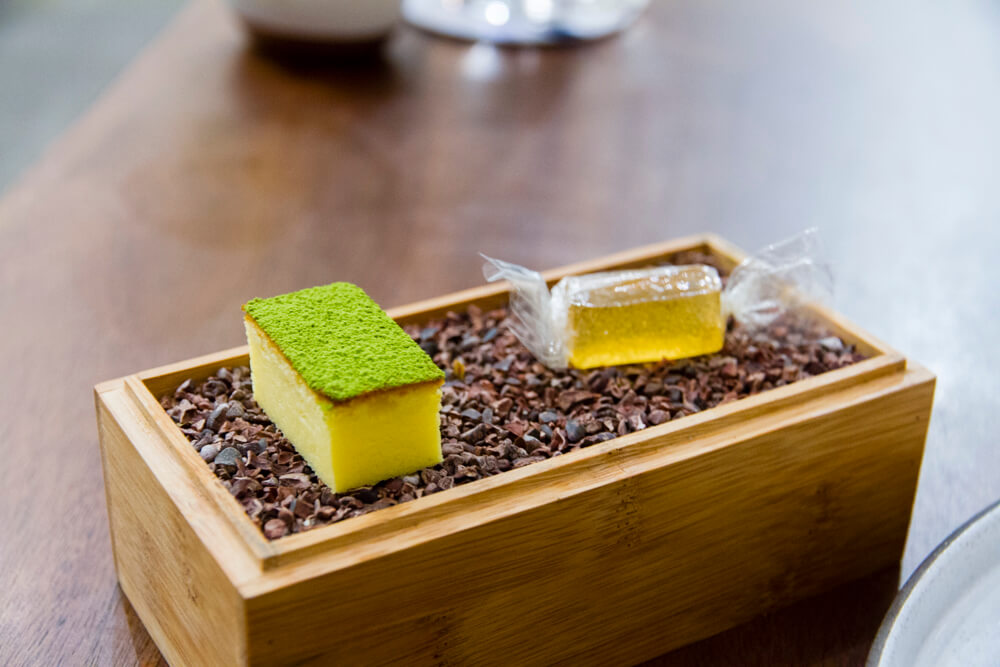 The one on the left is a Japanese-style cheesecake that had a light yuzu flavor and matcha on top, while the other piece was a lilikoi + pineapple gummy.  Both were amazing.
Senia Final Thoughts
Much like the rest of Hawaii, I couldn't wait for Senia to finally open.  And despite all the hype, I thought Senia hit the mark perfectly.  Its definitely someplace I can see myself coming back to over and over again, especially since there's most stuff we have yet to try!  Oh, and the Chef's Counter.  Let's not forget that!  So if you're in Honolulu and looking for a spendy meal, I highly suggest you give Senia a try.  Just remember to book reservations as early as you can.