Recently I had to travel to San Antonio on business.  There isn't much to write about, so I'm not going to do a full trip report.  But, I will share my flight and hotel reviews, and talk about some food too.  To begin my journey, though, I found myself on an American Airlines HNL-LAX flight.
My recent trip to San Antonio is the first time since 2013 that I've flown on American.  I was actually trying to avoid the airline, however, Alaska Air was a no-go thanks to an insane itinerary.  And while I wanted to give Delta a try, pricing meant I had to choose between American and United.  So American it was!
American Airlines 298
The first leg of my journey found me on an American Airlines HNL-LAX flight.  At first, I was going to connect through DFW, but American now charges preferred seat fees for all window and outside aisle seats on that route.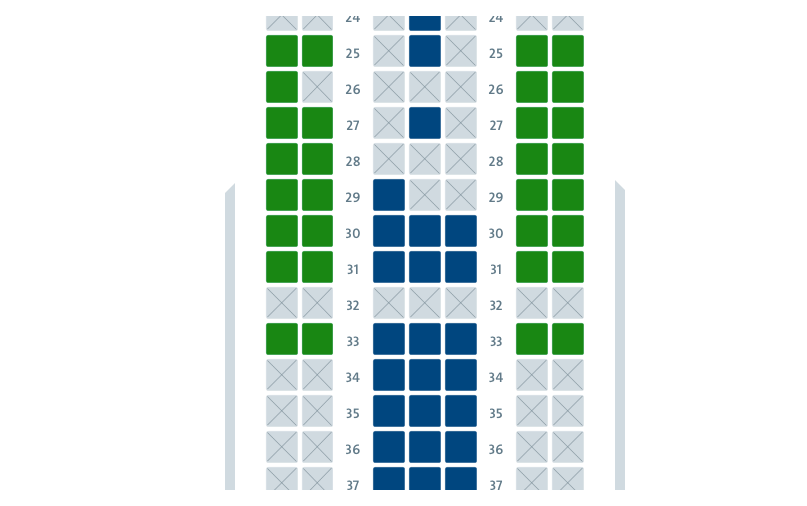 So I decided traveling through LAX would be the next best option.  Besides, I've never flown on American's new A321s, so this would be a great option try out this newer aircraft type.  After all, the last time I flew this flight, it was still being operated by Americans Boeing 757-200s.
American does have a number of frequencies on this route daily, but to maximize my time, I chose the red-eye flight AA298.  My flight was scheduled to depart at 9:52pm, so I arrived at Honolulu International around 7:30pm.  After passing through the Agriculture inspection, printing my bag tag, and dropping my bag off, I headed to the TSA checkpoint.  There are a few late-night flights out of HNL, so the TSA lines can be quite long at this time of night.
This time was no different with the standard TSA lines snaking around.  But, the TSA Pre-Check line was short, and I breezed through in about 5 minutes.
Terminal
American flights operate out of Honolulu's Central Concourse, and my flight that night was no different.  My gate was at the very end of the concourse, which isn't a far walk at all, given HNL's relatively small size.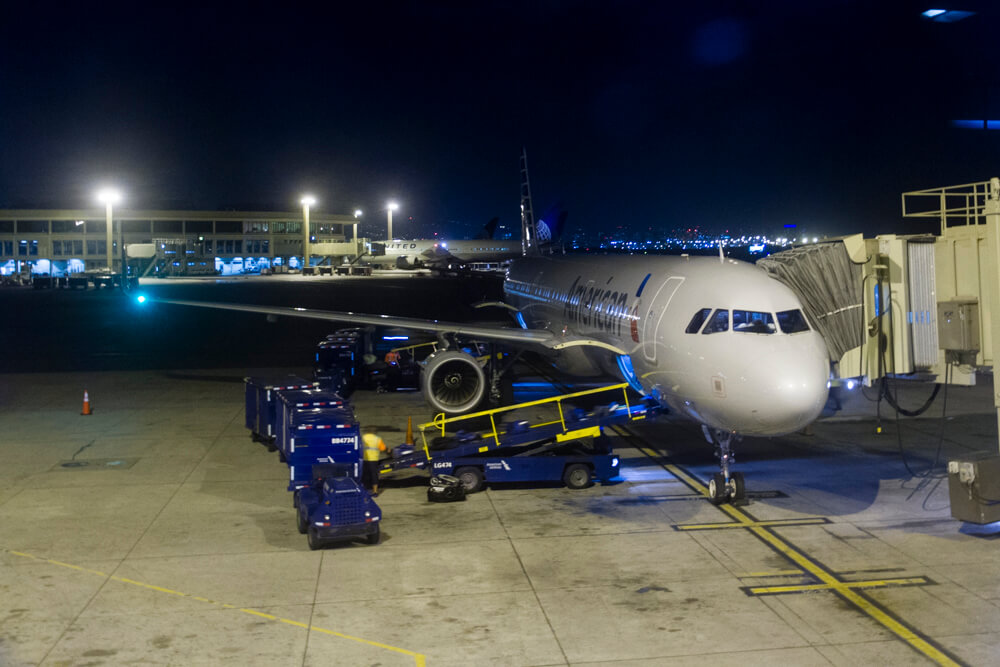 With no Alaska Air Lounge and since the Hawaiian Air Plumeria Lounge closes at 9:00 pm, there was no Priority Pass lounge access for me.  Well, except for the awful IASS Hawaii Lounge, but no thanks.  Instead, I decided to wait out the hour I had till boarding in the gate area.  This being HNL, there is no wifi service or power outlets either, so thankfully I didn't have that long a wait.
Boarding for our full flight began promptly at scheduled at 9:07 pm.  Thanks to my Citi AAdvantage Platinum Mastercard, I received Priority Group 4 boarding.  And despite the relatively small size of the A321H, American still has 8 boarding groups.  Despite being a full flight with an obscene number of boarding groups, boarding was completed rather quickly.  And at 9:30 pm, the cabin door was secured.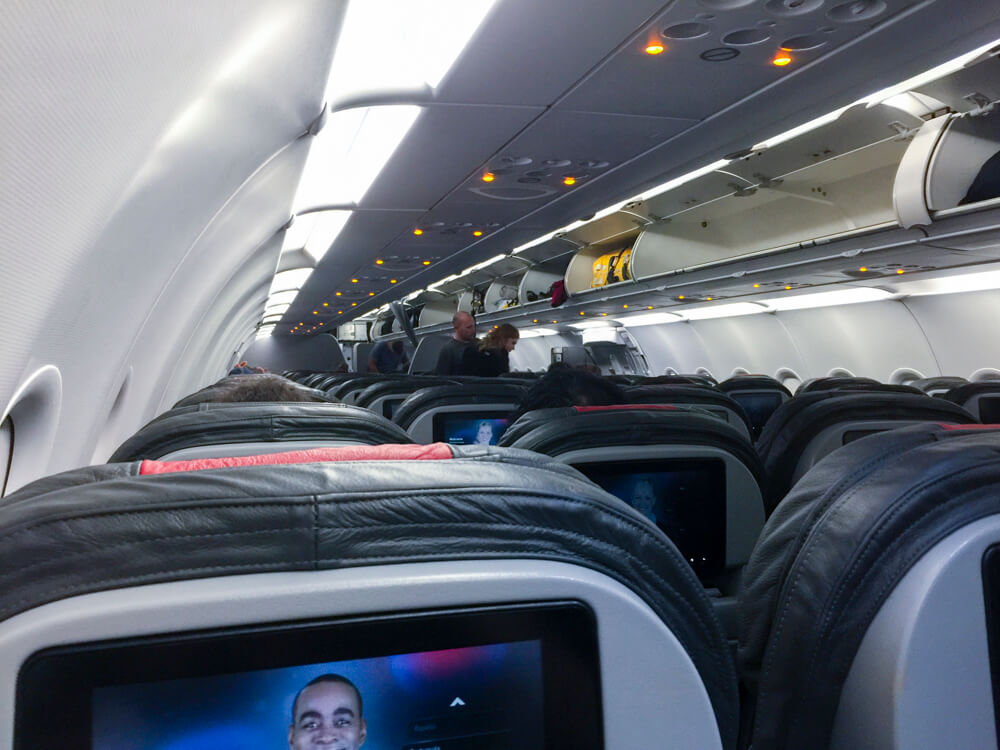 I was seated about midway down the aircraft, right over the wing.  I do think AA's newer interiors are attractive, though I'm not a fan of those slimline seats.  But even with the thin seats, comfort wasn't quite as bad as I was expecting.  In fact, leg space wasn't too bad either, though I'll admit that I'm on the shorter side.  Better yet?  Seat back IFE with free options an in-seat power.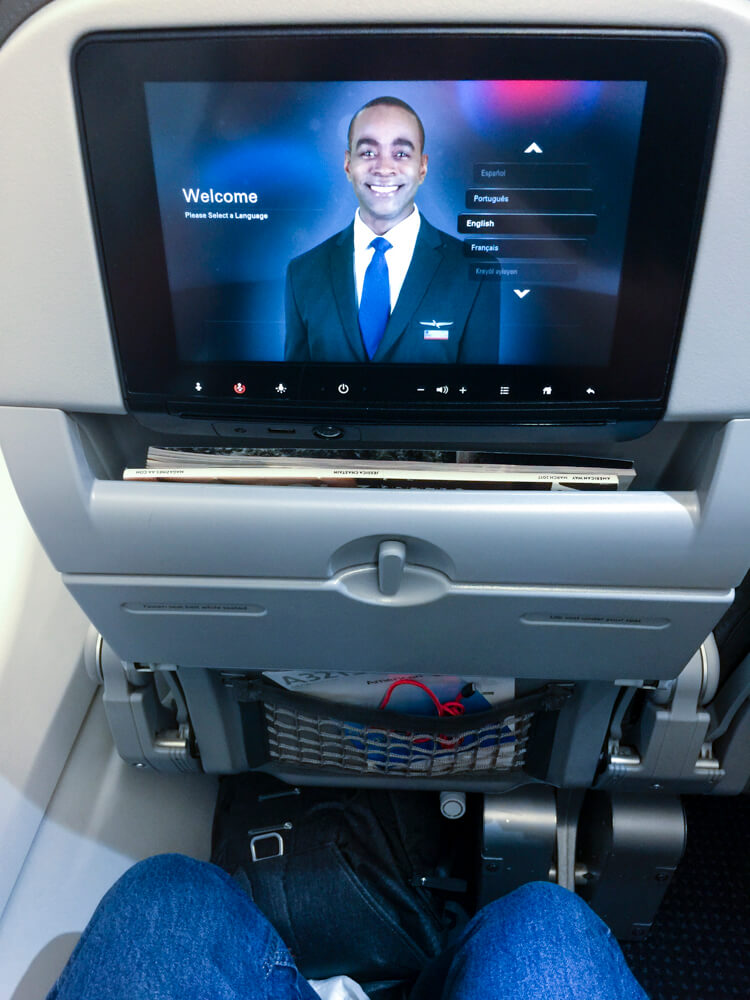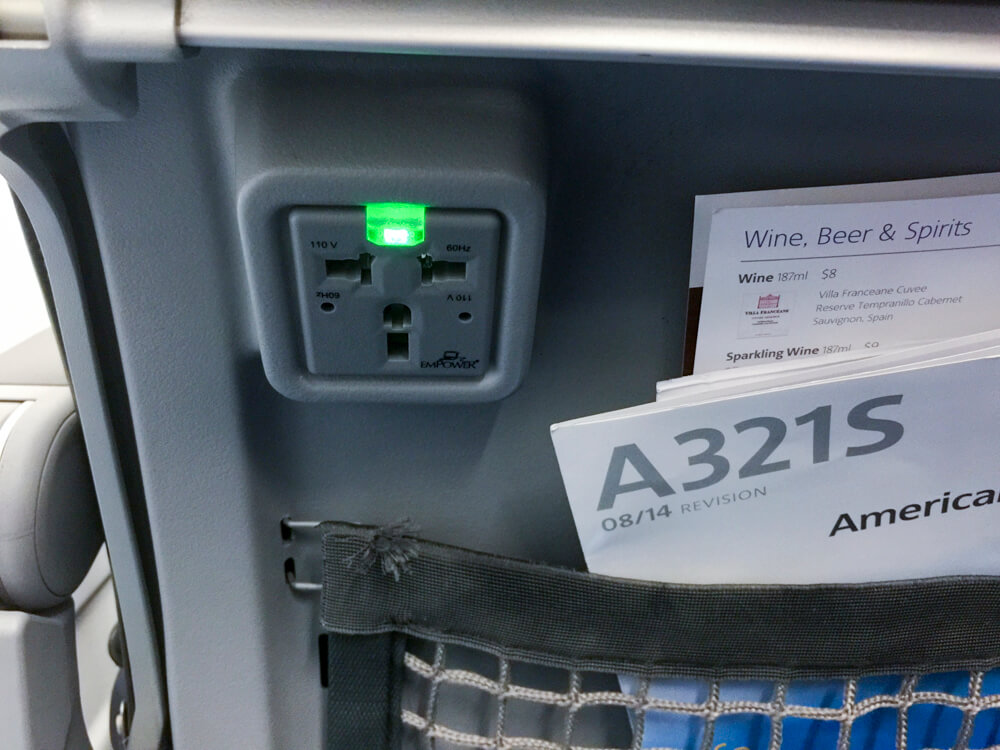 Delay
Despite the door being sealed, our plane continued to sit at the gate.  After a few minutes the flight crew announced over the PA that and indicator light was preventing pushback.  They gave us a few more status update over the next 30 minutes, and then at 10:15, they announced they were going to try one more thing.  They had gotten permission rom Dallas to shut down and restart the aircraft, so that's exactly what they did.  Thankfully the restart fixed the problem, and after a 1 hour delay, we finally pushed back from the gate.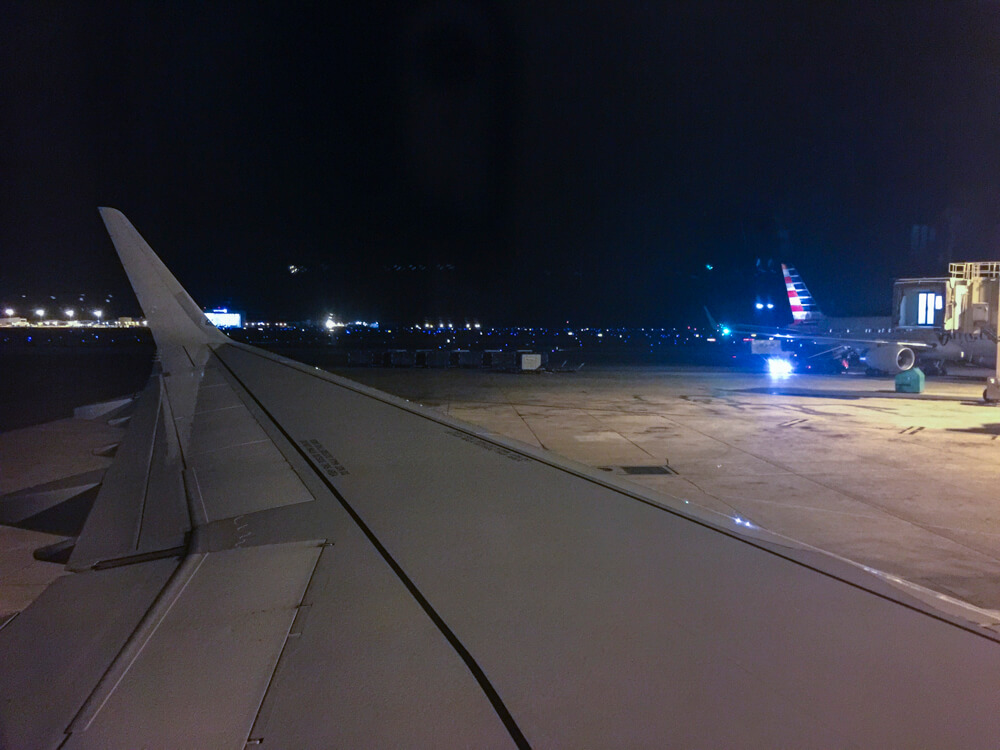 The captain announced a flight time of 4 hours and 55 minutes, stating that they'd try to make up as much time as they could.  There were a few other flights leaving around the same time as us, so our taxi time to the Reef Runway 8R and wait time totaled 22 minutes.  Then, finally at 10:54 pm, we began our takeoff roll.
In-flight Service
Knowing most passengers wanted to sleep, the flight attendants kept the cabin dimmed most of the flight.  There was a sack service with your choice of pretzels or Biscoff cookies, but I decided to skip and get some sleep.  By the time I woke up, we were about an hour or so outside of LAX.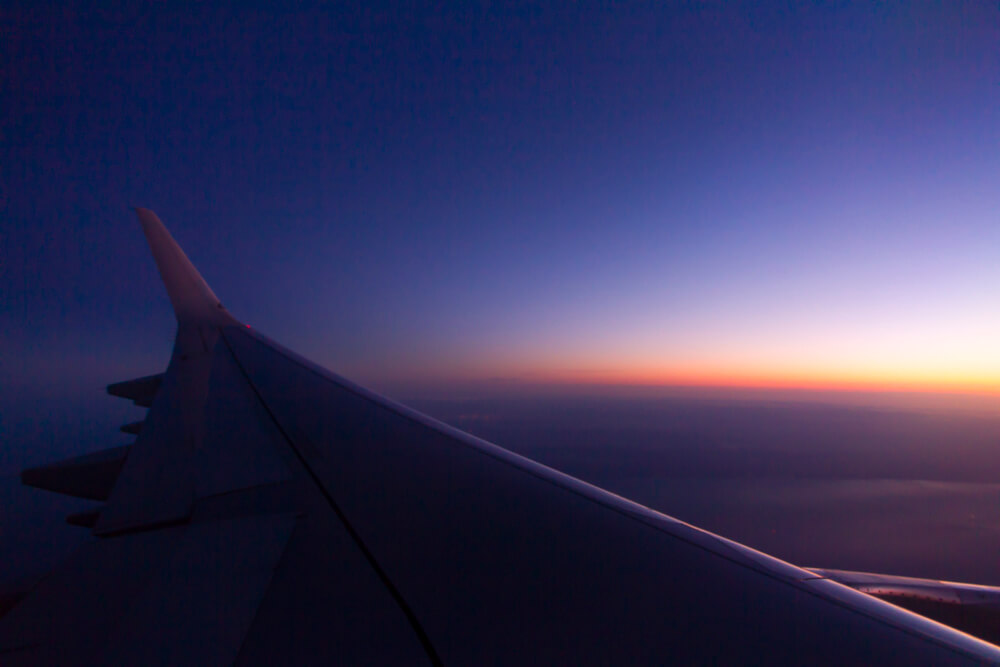 Luckily, this was just in time to catch the beautiful sunrise and approach over the coast!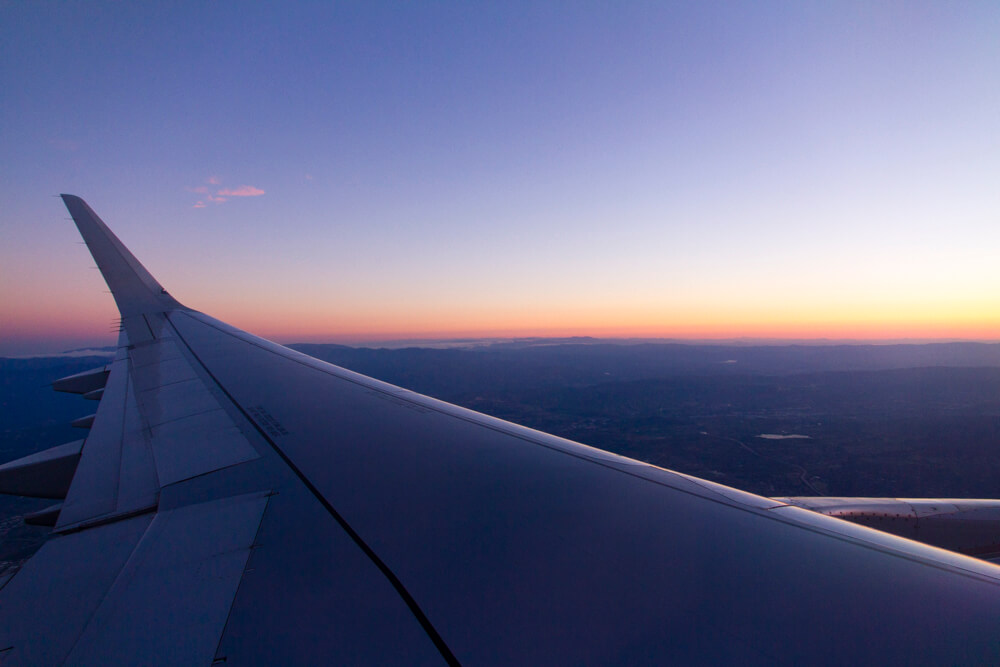 It was a slightly hazy morning, but that's ok!  It made a great, colorful glow.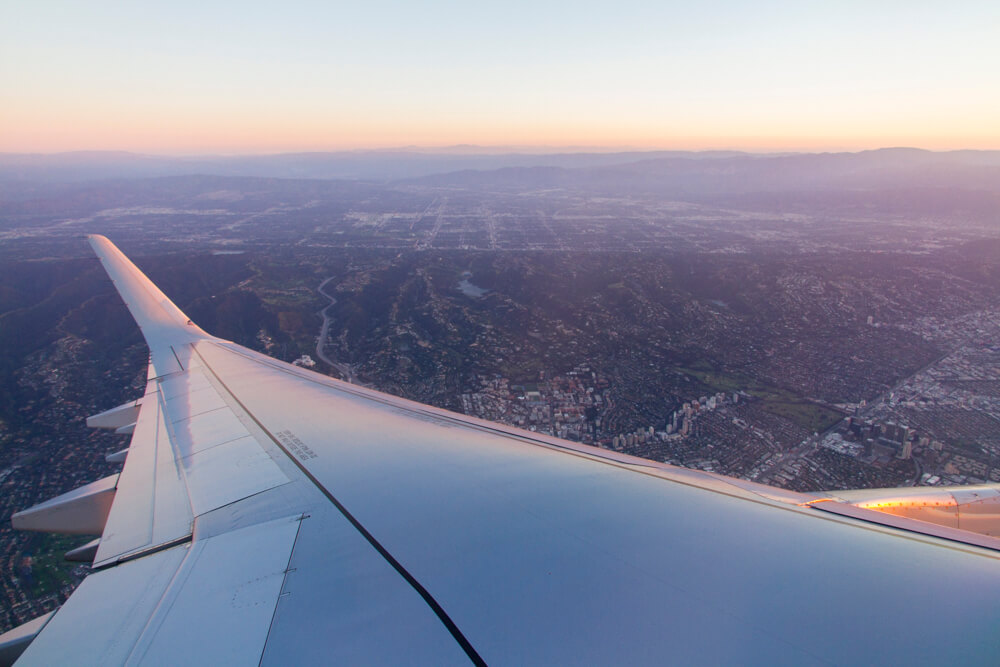 And no time we were on final approach to runway 24R at LAX.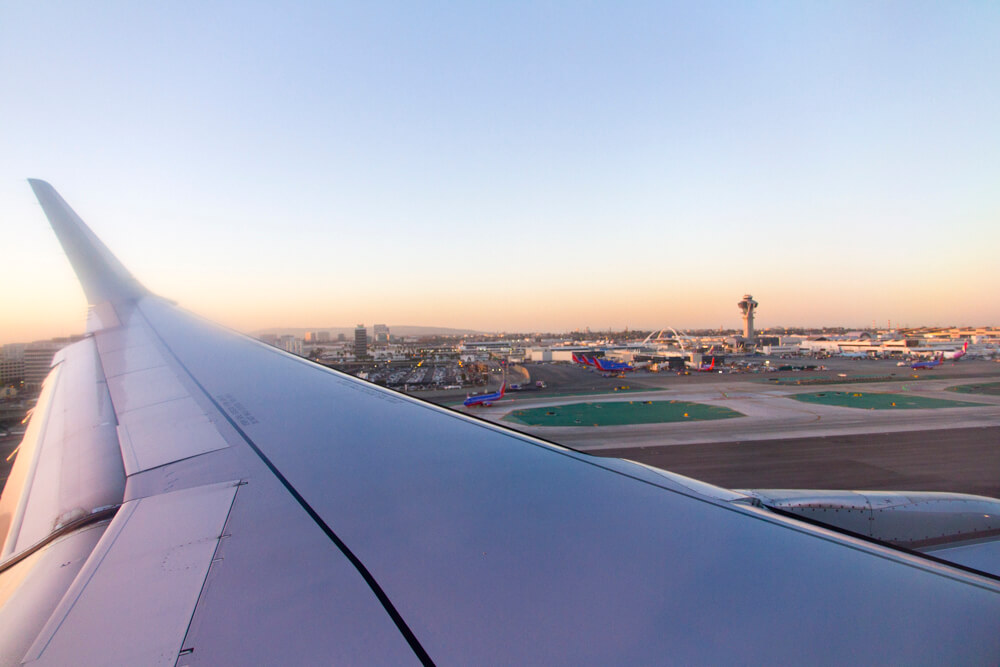 We finally touched down at 6:56 am, 5 hours and 20 minutes after pushback at HNL.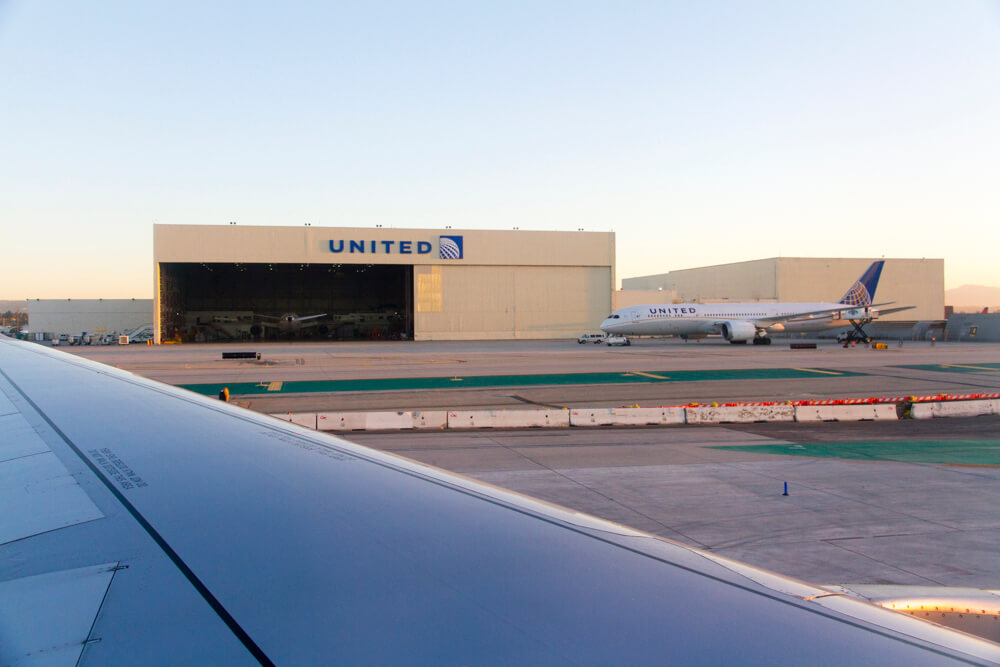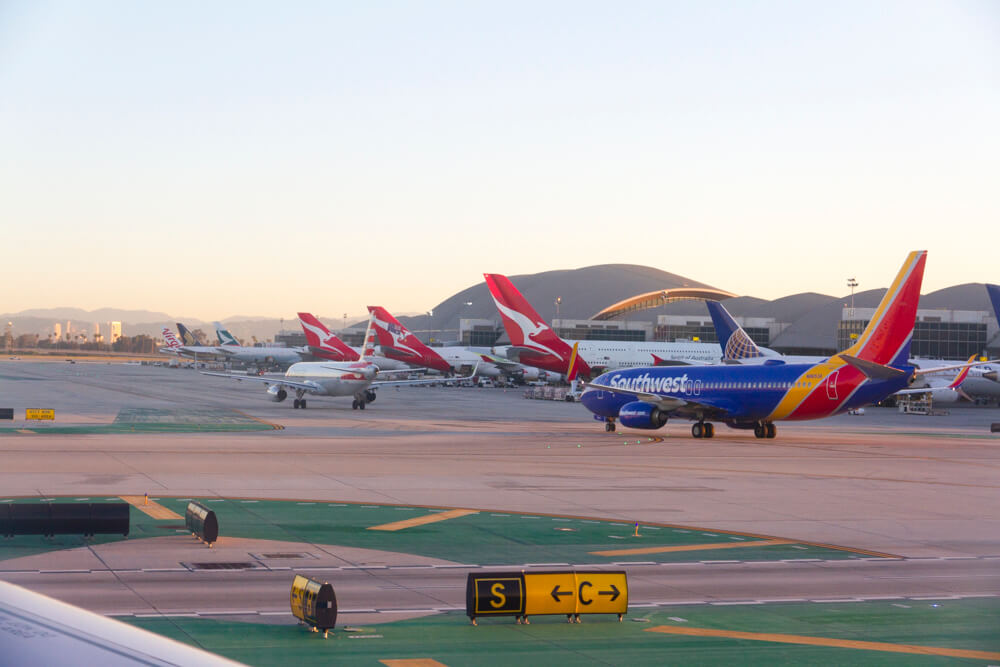 Our originally scheduled arrival time was 6:24 am.  And with traffic already building at LAX, it took us 15 minutes to taxi to our gate at Terminal 5.  We finally pulled into our gate at 7:11 am.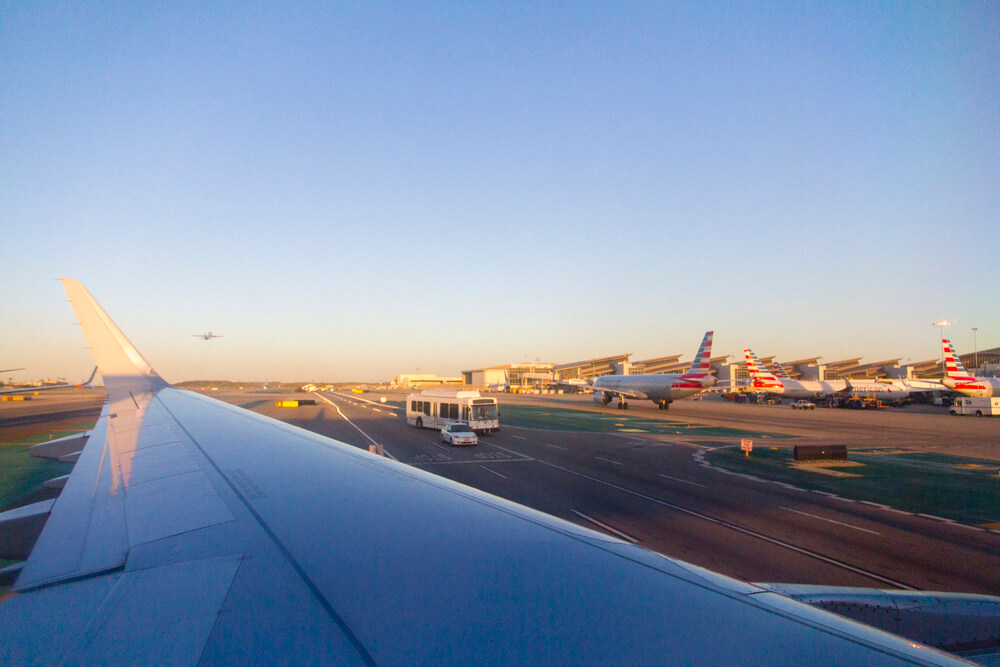 Thankfully, I had given myself a 2 hour connecting time.  Many others weren't so lucky, however, and ended up missing their connections by as little as five minutes.  Of course, American doesn't hold flights thanks to their insane zero hour rule, but that's just one of the many reasons I no longer care for the airline.
Final Thoughts
Despite the delay out of HNL, my flight to LAX was relatively uneventful.  I do like the new A321Hs more than the old 757-200s American used to use on the route, but only from an interior standpoint.  After all, if it's not Boeing… hehe.  In-seat power is always a welcome feature, and the in-flight entertainment was responsive, though I didn't browse the selections much.  Suffice to say American's in-flight amenities do far outpace those of Hawaiian Air.
While American's HNL-LAX's service is, in many ways better than Hawaiian's, I still prefer Alaska.  They also offer in-seat power and streaming entertainment, though you'll need to remember to download the GoGo In-Flight.  Oh, and in case you're wondering, I did credit this flight to Alaska Air, though I only accrued 25% of miles flown for this particular flight.