Lest you think I never leave the rock islands, last October the wife and I took a trip to the Pacific Northwest to visit my friend in Portland, make an AvGeek pilgrimage, eat a ton of good food, and just have an amazing adventure overall.  Of course to get there, I decided to fly Hawaiian Air Long Haul HNL-PDX and SEA-HNL.  My choice of Hawaiian Air was based on the low price being offered at the time and the need to use my Hawaiian Airlines World Elite MasterCard 50% companion certificate.  The companion certificate must be used, meaning you must book your flight but not complete travel, within 13 months of account opening.  All in I paid about $700 RT, while we both earned miles at the normal rate.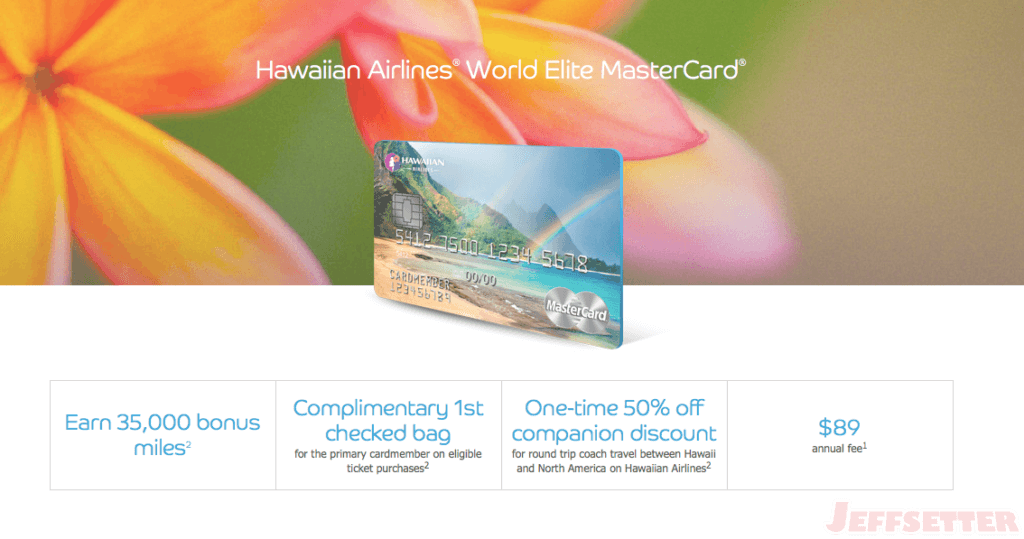 For all flights on Hawaiian Air, passengers must check-in at Hawaiian's lobby at the Hawaiian Airlines (inter-island) terminal (gates 49-61).  While many of Hawaiian Air long haul flights depart from their own terminal, many also depart from the overseas terminals.  Unfortunately, the  Hawaiian Air long haul service to Portland, OR and to Seattle, WA, both depart from the Diamond Head concourse of the overseas terminal (gates 6-11).  As you can imagine, these gates are clear across the airport, which means a lot of walking and/or a ride on the Wiki-wiki Bus.  It also means that you'll need to go through USDA Agriculture inspection when crossing over between the inter-island terminal and the overseas terminals… Which means you end up having to go through this inspection TWICE.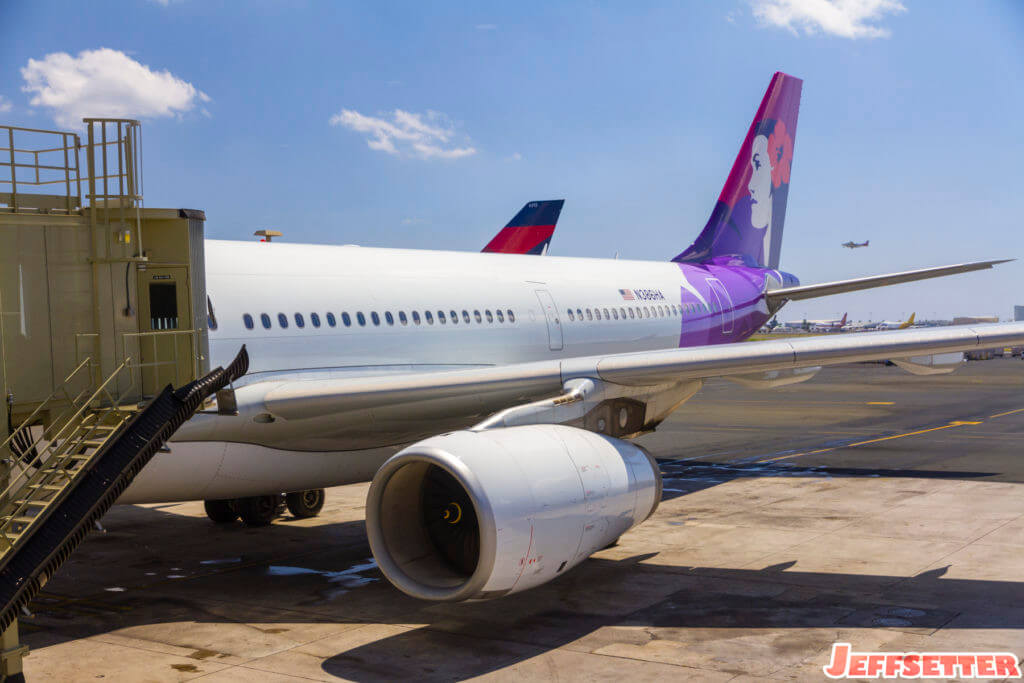 Our flight for the day was HA26 operated by N386HA, a four year old Airbus A330-200.  Upon boarding, the wife and I took our seats in steerage economy, selecting seats near the window.  Hawaiian's A332s have an arrangement of 2-4-2, making the window seats particularly good for traveling pairs.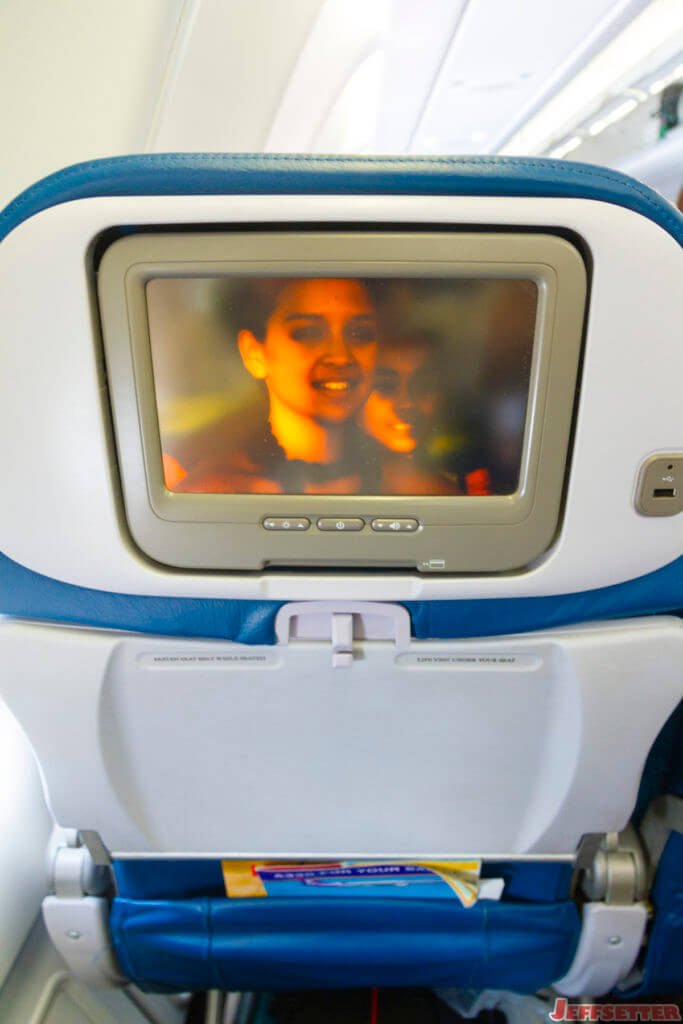 We settled in to the slimline seats wrapped in blue leather and got ready for departure.  Hawaiian's economy cabin features a seat pitch of 31-32″ and 18″ of width, which isn't bad.  Unfortunately, even though the seats are slimline, they do recline into the person in back of you, so just be aware of that.  The Panasonic eX2 IFE systems on the aircraft feature on-demand content plus a USB port, however, the USB port can only be used to charge mobile phones (tablets won't charge) and do not display content from your device.  Perhaps even more disappointing, though not surprising, is the fact that all video content on Hawaiian's IFE is for purchase only.  So be sure to load up your mobile device prior to boarding, and if you have a tablet, bring along a battery pack like the awesome Anker 20000mAh PowerCore 20100.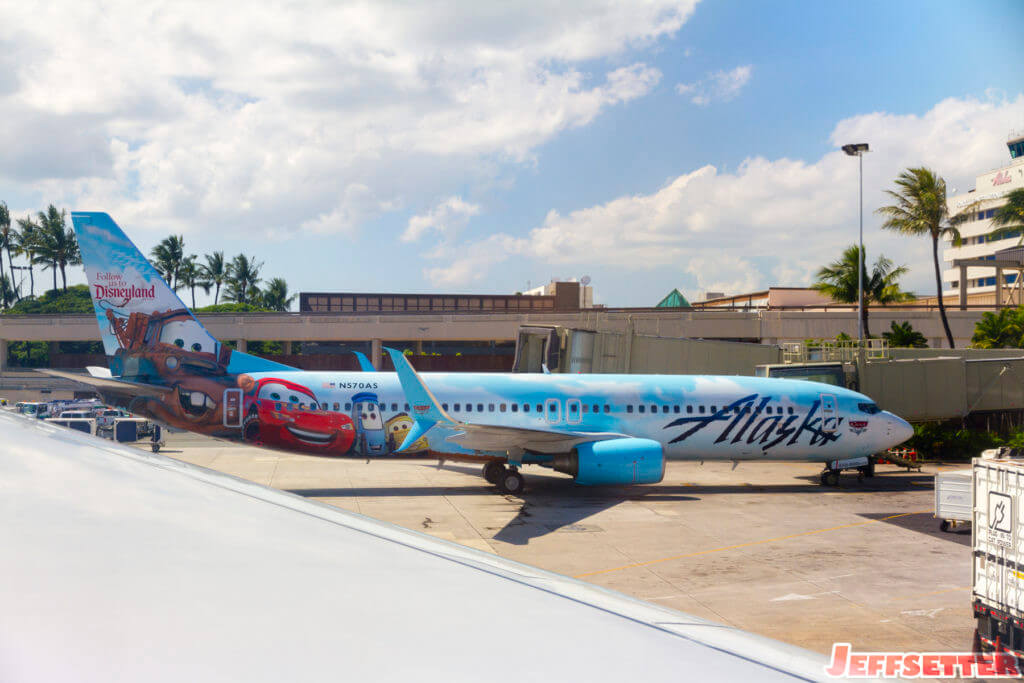 Luckily for me, on the ground there was some interesting scenery, like this Alaska Air's N570AS, a Boeing 737-800 with split-scimitar winglets and a Cars Land livery.
Unfortunately, what has become a typical Hawaiian Air experience for us, our departure time of 2:30pm came and went.  We sat at the gate for another 30 minutes with zero explanation, though Hawaiian Air techs were continuously walking on and off the plane.  Nice.
Finally around 3pm, we pushed back and were on our way.  At the time of this flight, Hawaiian had recently debuted a new safety video, and while it's quite long, it's pretty interesting.
This newer video features Hawaiian Air employees doing various activities around Hawaii and looks to be pretty well throughout.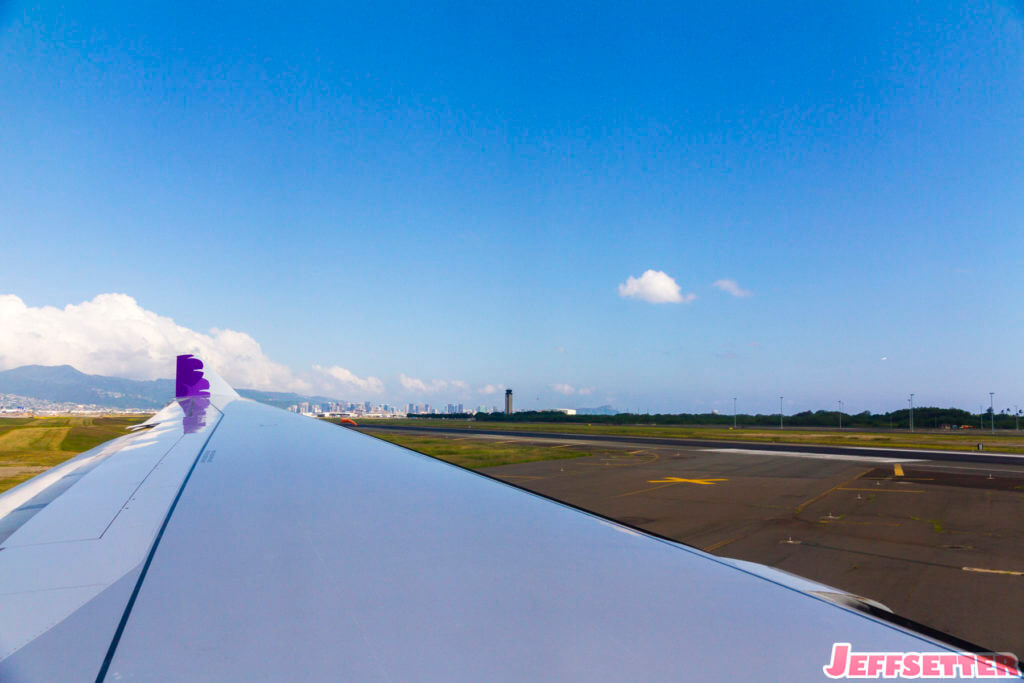 Like most Hawaiian Air long haul flights, we taxied out past runway 8L and headed to the usual departure runway, 8R, the Reef Runway.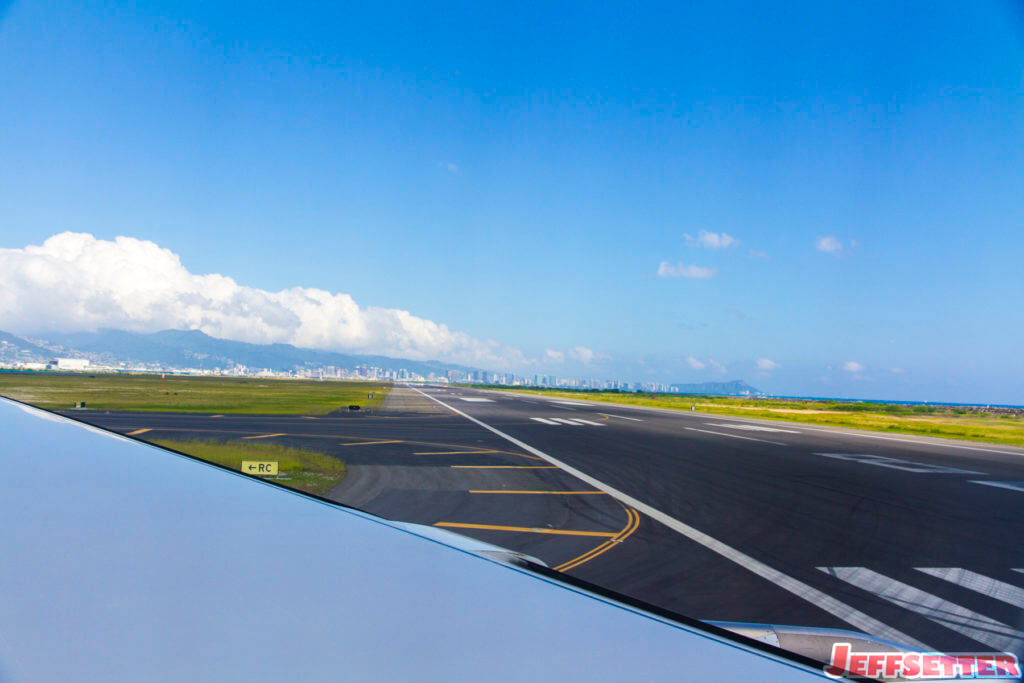 Once we reached the runway, queued behind a short line, and were cleared for takeoff after a few minutes.  Our climb out was smooth, and we quickly reached our initial cruising altitude.   Despite it being a beautiful day, I didn't seem to snap any photos on the climb out… Not really sure why!  But as we began to cruise, the flight attendants came around the cabin for the initial beverage service and light snack.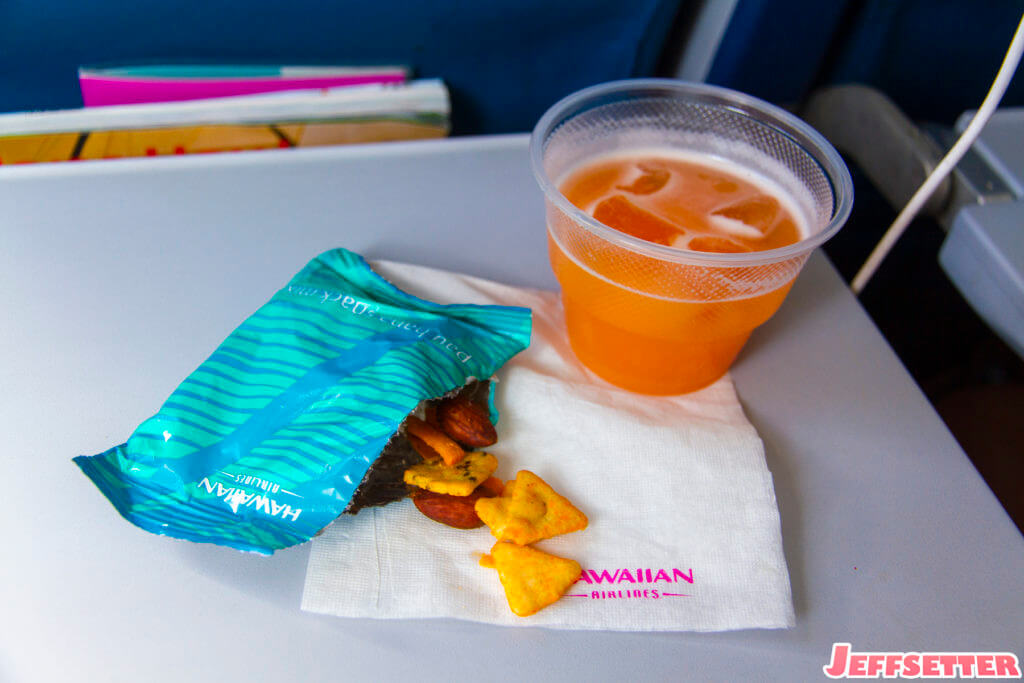 On Hawaiian Air long haul routes, non-alcoholic beverages and a bag of Hawaiian's Pau Hana snack mix are complimentary.  I chose a cup of guava juice to go along with their tasty snack mix.  This initial service also included alcohol, other snacks, bottled water, and some gift items for sale.  The flight crew serving our side of the aircraft were friendly, though they seemed to be just going through the motions.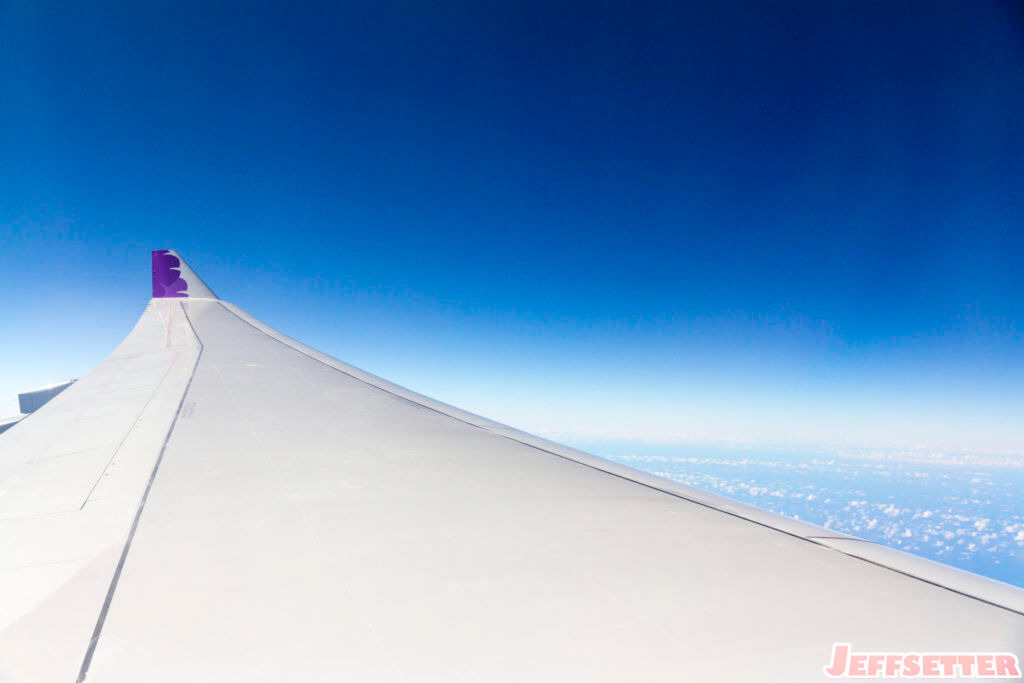 About an hour after the completion of the snack and beverage service, the crew began the meal service.  Hawaiian Air is the only US carrier that continues to provide complimentary meals in economy on nearly all of it's long haul domestic flights (select redeye flights do not have a meal service).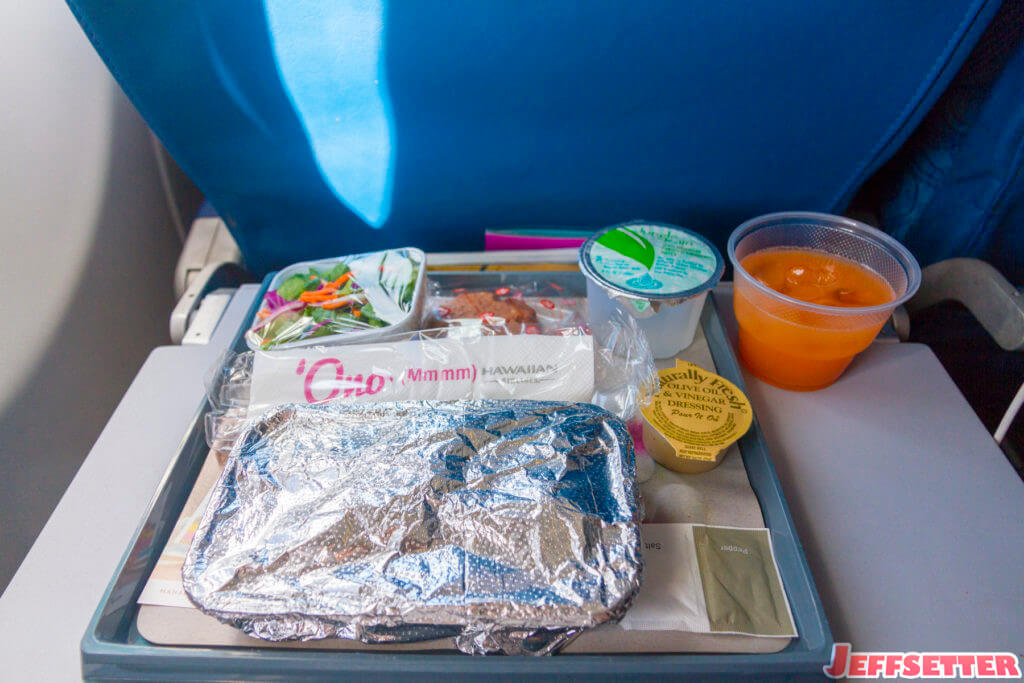 Meals are served on a single tray and come with a cup of mineral water.  You're also offered another beverage, and I again chose a cup of guava juice.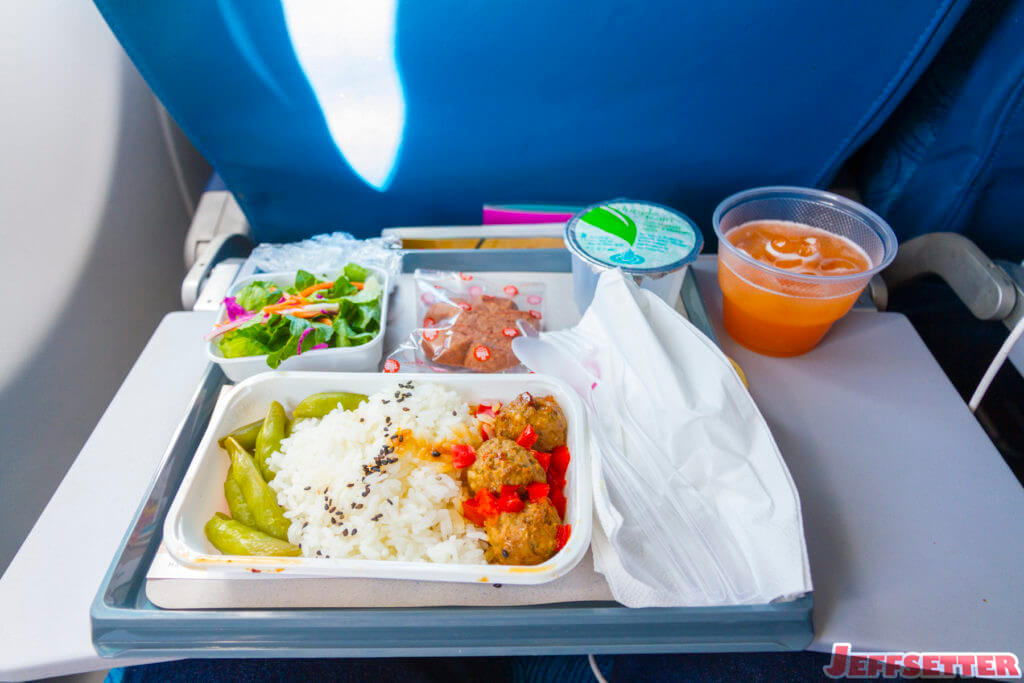 The meal itself was of surprisingly good quality, though the portion sizes were quite miniscule.  On this flight the meal included a nice, fresh (but tiny) salad with a light vinaigrette.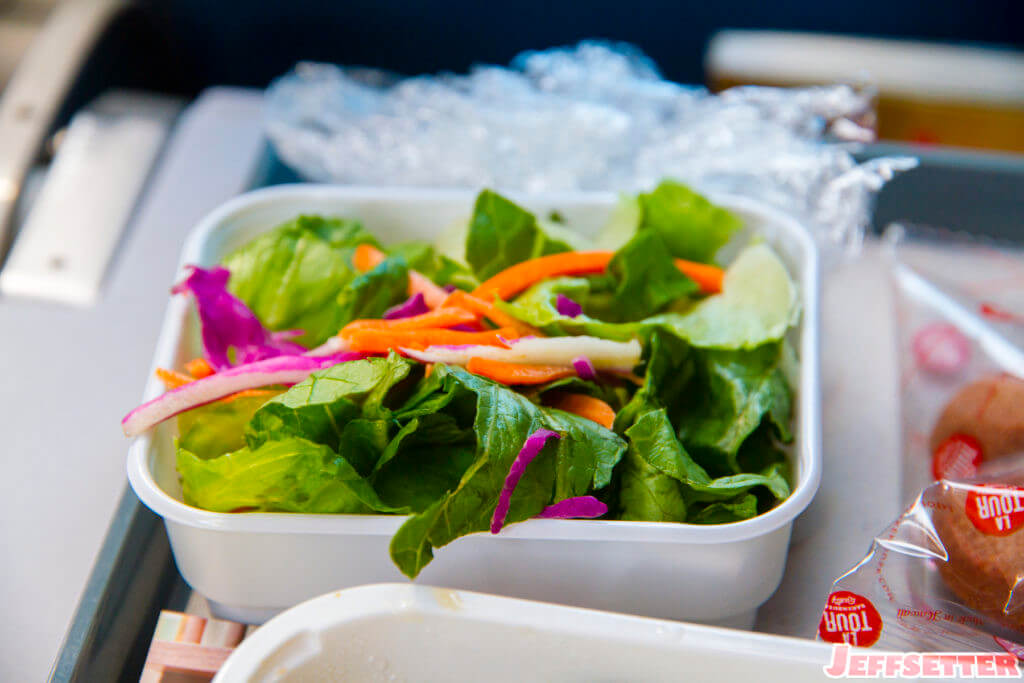 The entree consisted of three teriyaki chicken meatballs with rice and green beans.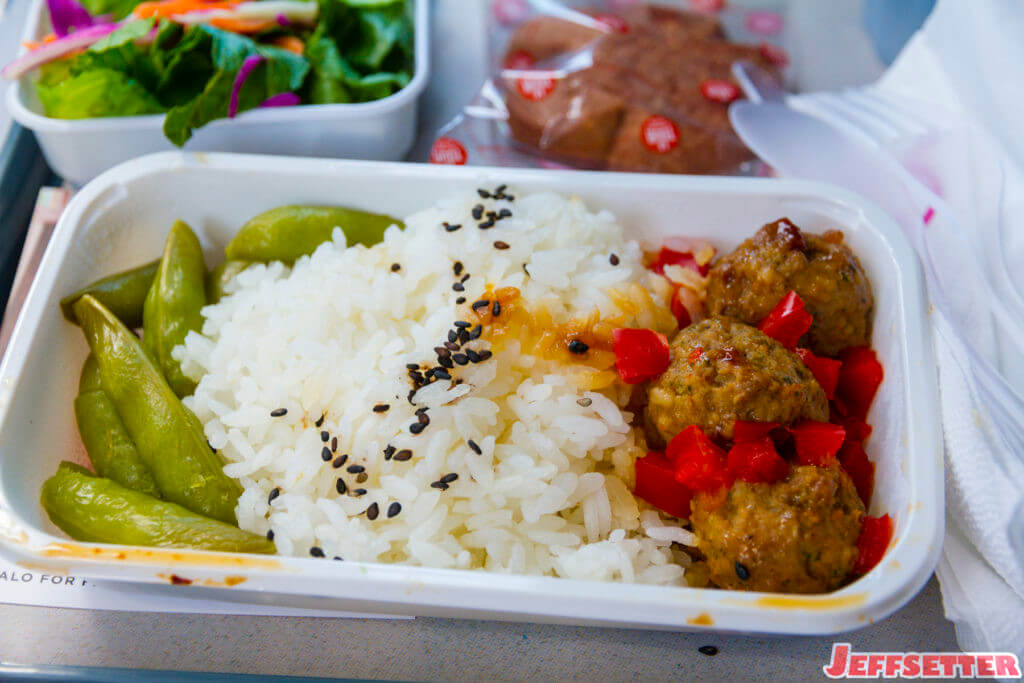 The meatballs were delicious and moist.  The rice was nice and fluffy, while the green beans had retained at least some of their green color.
For dessert, there was a small cookie from Honolulu-based bakery, La Tour.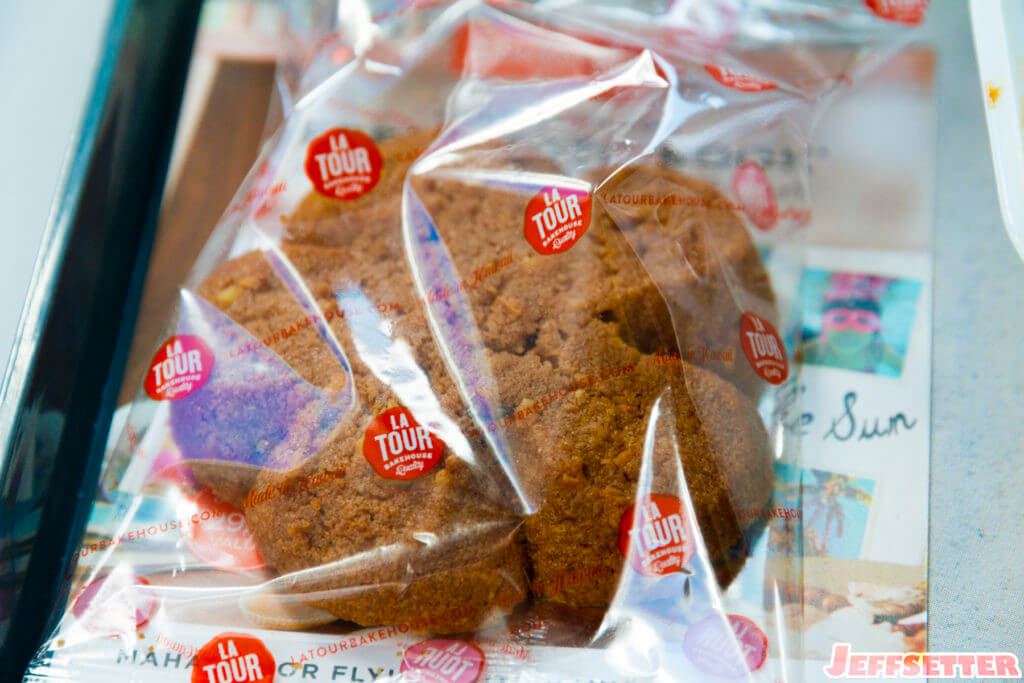 While I appreciate the seemingly good quality complimentary meal, it was also very tiny.  And being served early on in the flight meant that I was hungry again when we arrived in Portland… Which was late at night.  But that issue wouldn't plague me till later.  Instead, I watched some shows on my iPhone and also enjoyed watching the sunset over the Pacific.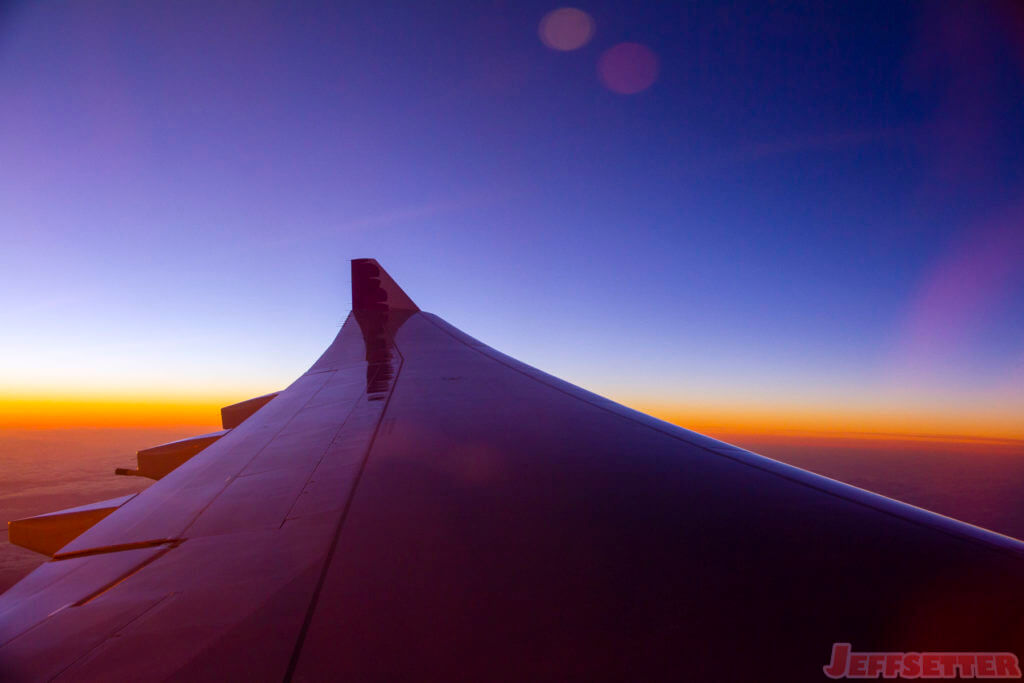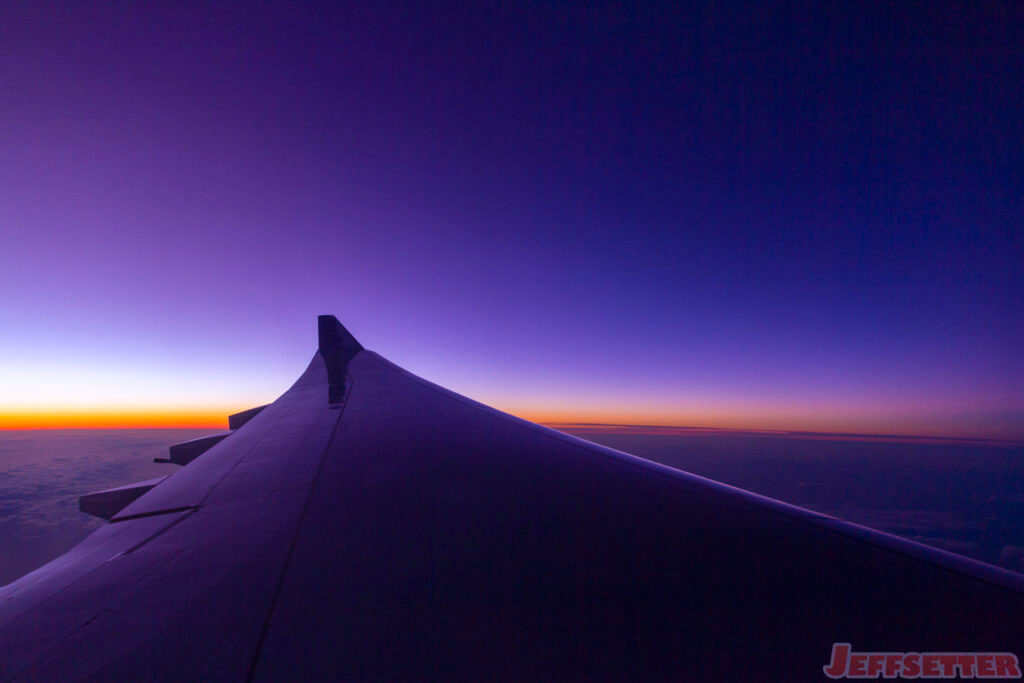 The TV shows and movies may not be free, but at least the airshow is ?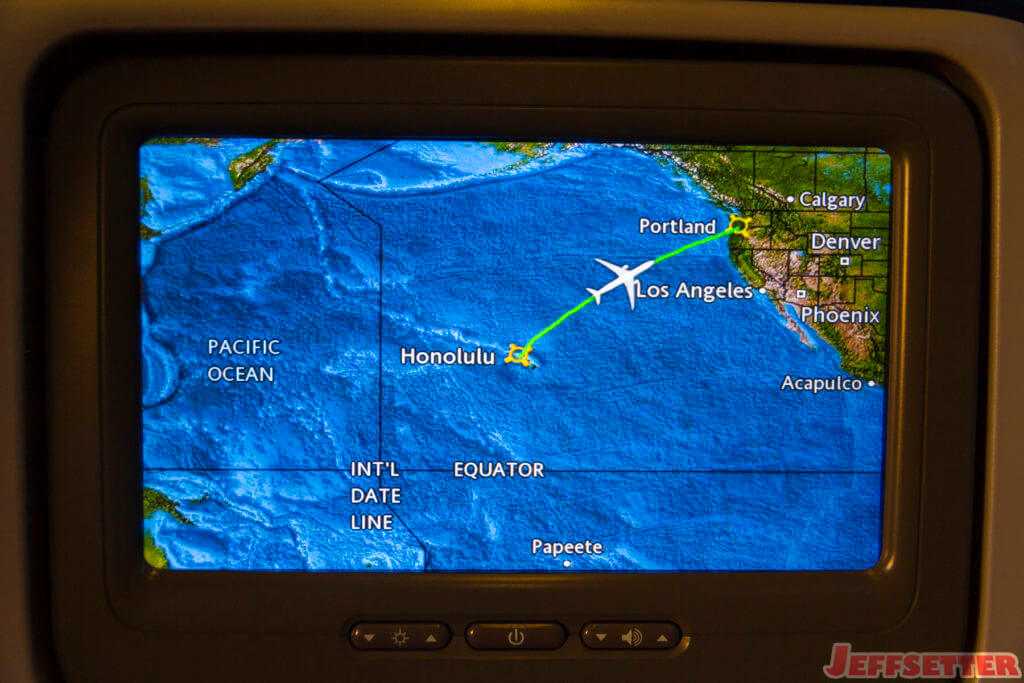 And with the sundown, the cabin was dimmed slightly and the mood lighting was turned up.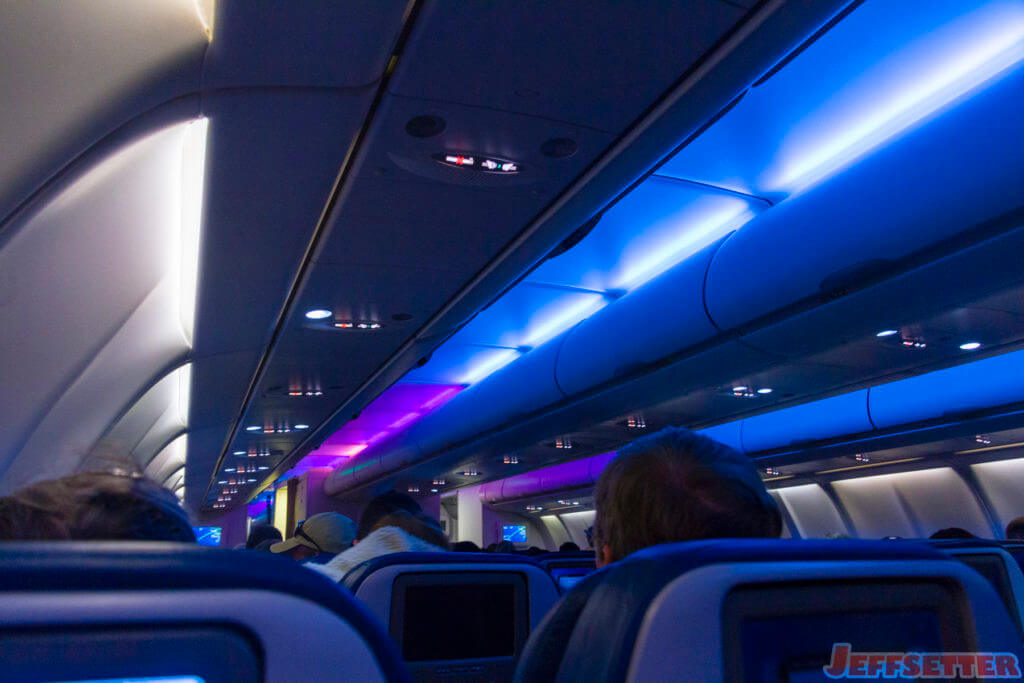 Before long were began our descent into Portland.  There was no pre-landing beverage or snack service, and in-fact, we hadn't seen the flight attendants in the cabin since the meal service concluded.  But we were on the ground soon enough, and eventually parked at a gate next to some Southwest jets.  Despite our late departure, we were only slightly late on arrival, having landed around 10:30pm local time.  This doesn't surprise me at all, as the flight block time was around 6 hours… which is a little excessive if you ask me.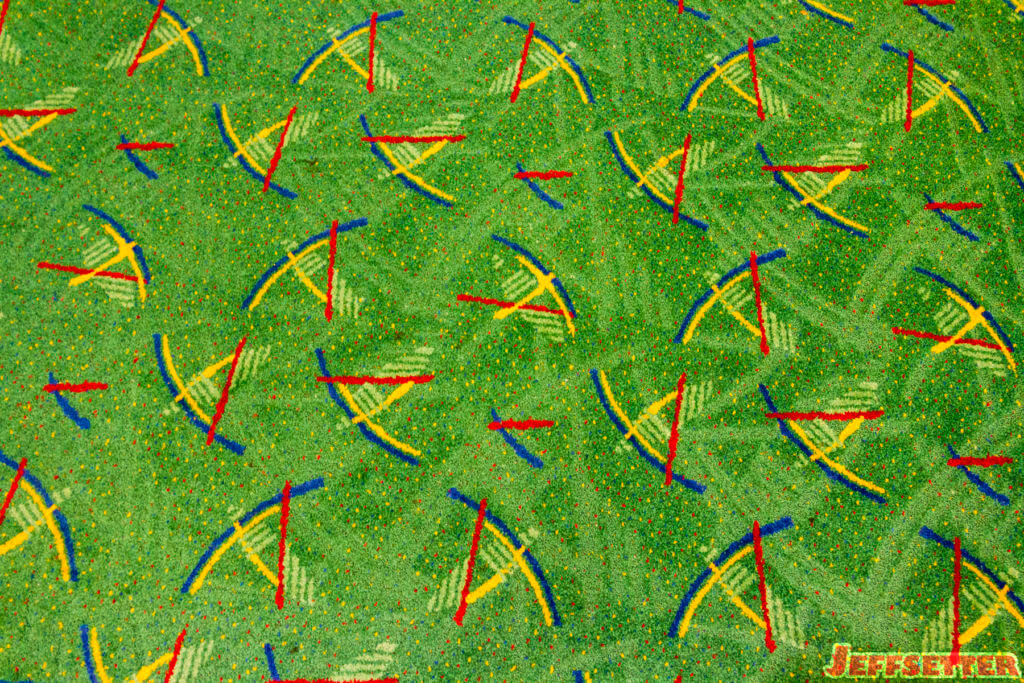 We deplaned as quickly as we could, used the facilities and headed to the baggage claim to collect our bags.  Of course I had to take the requisite PDX carpet picture, though I'm not a fan of the newer carpet… I think they should have left the old carpet or replaced it with the same print.
After we got our bags, we hailed an Uber and took a ride into our city.  Our Uber driver was very friendly.  He took care of our bags, offered us some waters, and we chatted with him nearly the entire way to our hotel, the Portland Marriott City Center.  When we finally arrived it was already around 11:30pm, again, thanks to our initial delay.  But despite that hiccup by Hawaiian Air, our trip was off to a good start, and we looked forward to what the days ahead would bring.
Stay tuned for more!
Our Pacific Northwest Adventure
Hawaiian Air Long Haul HNL-PDX