Well, after losing nearly an entire quarter to COVID-19, the world is now a different place. And, I'm pretty sure many new habits are here to stay. So, let's talk about the Chase Freedom Q3 2020 bonus categories (which are awesome!).
In recent years, Chase Freedom's quarterly 5% cash back categories have become kind of blah. Understandably, Chase wanted to make us work harder for the bonus when times were good. But, things are different now. Credit card usage has fallen off a cliff as many of us stay cooped up at home and try to be more financially responsible. Plus, when we are spending money nowadays, it's often for essentials and for online shopping. And the online shopping component isn't something I see going away even as things return to normal. So, it's nice to see Chase bring back a bonus category that we haven't seen in quite some time!
Chase Freedom Q3 2020 Bonus Categories
The bonus category I'm talking about that's been MIA is, of course, Amazon. Typically, we used to see this category at the end of the year. But, it makes sense to bring it back now. Especially as many across the country have switched to online shopping for most of their needs.
Joining Amazon for Q3 2020 is Amazon's subsidiary, Whole Foods. So, basically, the Freedom has the same bonuses as the Amazon Prime card, which is also issued by Chase.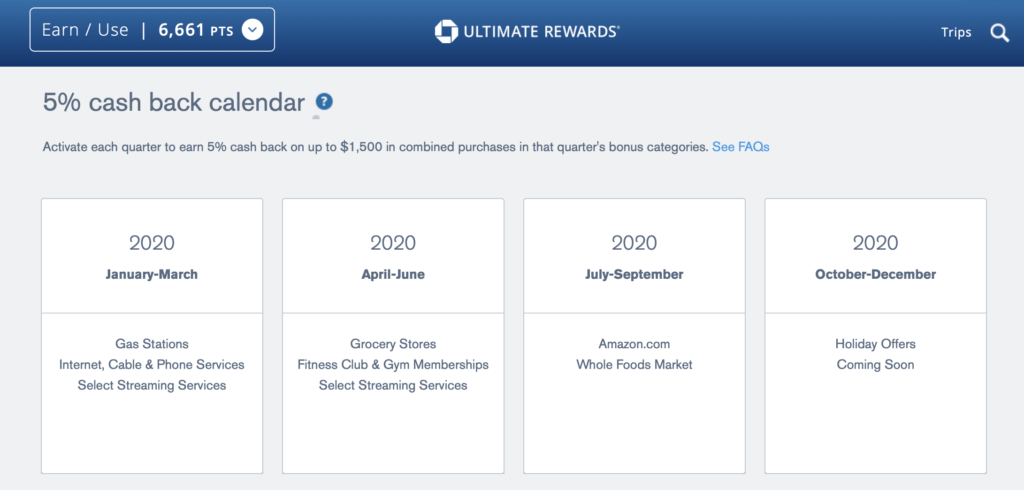 Ultimate Rewards vs Prime
Now, some of you might be wondering, if you've got the Amazon Prime Rewards Visa, what's the difference compared to using your Freedom? Well, it depends. I've you've got the Chase Sapphire Reserve, using your Freedom to earn 5x Ultimate Rewards points on Amazon and Whole Foods purchases makes more sense. That's because, at minimum, Sapphire Reserve cardholders get 50% more when redeeming their points via Ultimate Rewards Travel. As a result, when redeeming this way, the 5 points year earn per dollar with the Q3 bonus at Amazon and Whole Foods effectively turns into 7.5 points. Not bad, huh?
But, if you don't have a Sapphire Reserve, then you simply have to ask yourself what matters more to you. Ultimate Rewards points you can transfer to airline and hotel programs or the straight-up cash back from the Prime card.
Chase Freedom Q3 2020 Bonus Categories, Final Thoughts
Though I don't see myself maximizing the Q3 2020 bonus categories for my Freedom, I do love that Amazon is back. And I like that Whole Foods is joining the party this time around too! Now, if only we had an Amazon Go store here in Hawaii… Or, hey, Amazon should sell suborbital flights from Blue Origin on their site 😉.
At any rate, don't forget to register for the Chase Freedom Q3 2020 bonus categories here or by logging into your account. These categories go into effect on July 1 and run through September 30.