Recently, I went over the state of credit card award travel to Hawaii in the post-Korean Air environment.  Things aren't as good as they used to be, but there are still good values around.  But then, Amex made a massive update to the Gold Card.  So, it's time for another Hawaii credit card award travel update.
There's no doubt that American Express's new Gold Card is changing the points and miles game.  It provides generous bonuses for categories Americans spend the most on and even comes in a limited edition Rose Gold color.  But how exactly does the card impact earning Hawaii award travel?  Let's take a look.
Earning Power
As you'll remember from my last post on this subject, the cards that'll get you the most points through regular spend is the American Express trio.  Of course, that trio was the most expensive group of cards to have.  And this time around, Amex still takes the points earning crown.  Let's take a look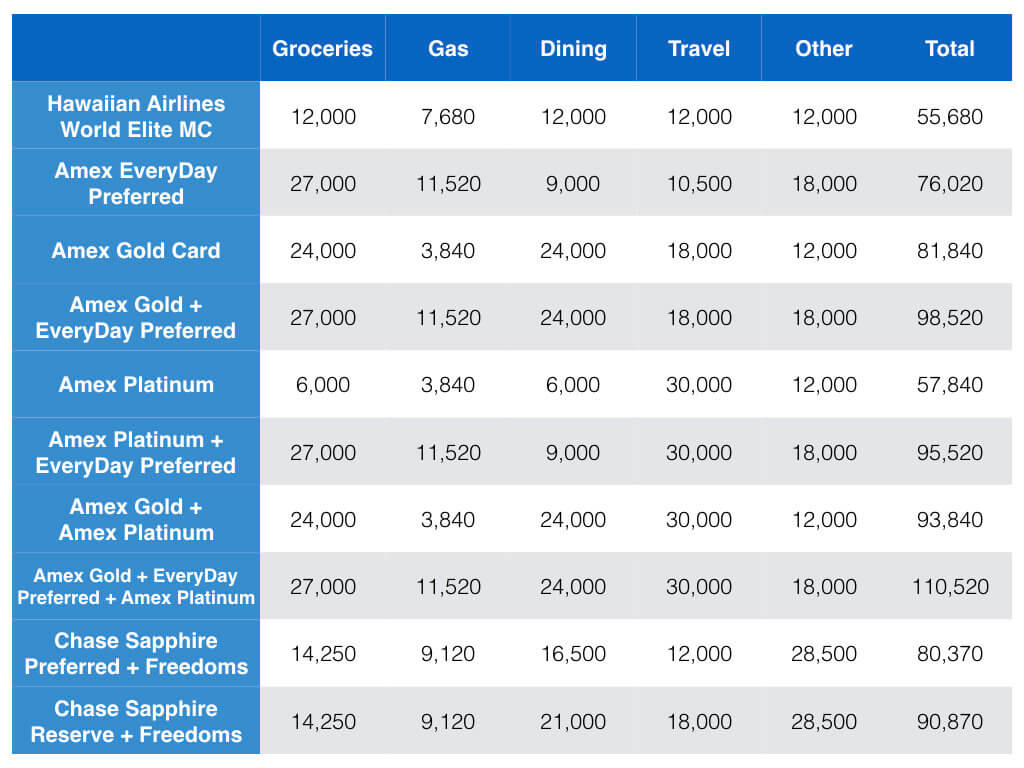 Yes, I'm still omitting Citi ThankYou Rewards, as their premium product is still in flux.  But not like that really matters right now.  As you can see in the table above, Amex is really killing it with their cards.  Their cards take the top four spots on my list in terms of earning power.  Heck, the Amex Gold Card even earns more points than the Chase Sapphire Preferred trio.
However, when looking at annual fees, the Amex combos end up being the most expensive to keep.  Even when you consider the net annual fees less the statement credits.  So if you're not keen on paying a lot in net annual fees, the Sapphire Reserve trio still reigns supreme.  However, if annual fees don't deter you, then any of the Amex duos or trios will work well.  In fact, in my opinion, the new sweet spot is the Amex Gold + EveryDay Preferred combo.
But earning points aren't the complete picture when it comes to cards.  For example, as good as the Amex Gold Car is, it doesn't have primary rental collision protection like the Sapphire cards.  Nor does it have Priority Pass Select Membership or the superior service of the Platinum Concierge that the Platinum Card has.  And no American Express card comes with the outstanding travel protections Chase cards offer.  So, in addition to earning points, these and other benefits such as discounts, are things you'll need to consider when selecting cards.
Transfer Partners
Of course, while earning are important, what's equally important is the ability to transfer them.  And there too, American Express reigns supreme.  Membership Rewards has far more transfer partners than Chase Ultimate Rewards.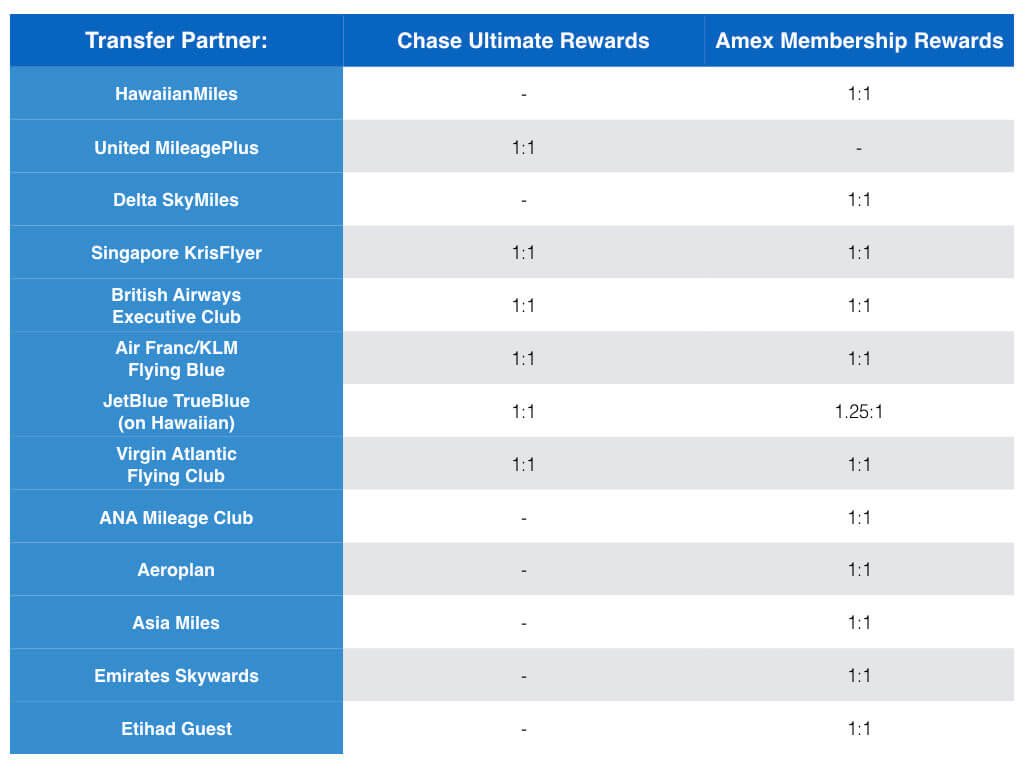 There are, of course, overlaps, which is great.  These overlaps can really help in achieving your mileage earning goals.  But none of these programs are created equal either.  So let's take a look at the redemption component of these programs.
Redeeming for Hawaii Award Travel
In my last post, my redemption information was a hot mess.  That was due to laziness and rushing.  But this time, I've organized my information into an easier to digest table.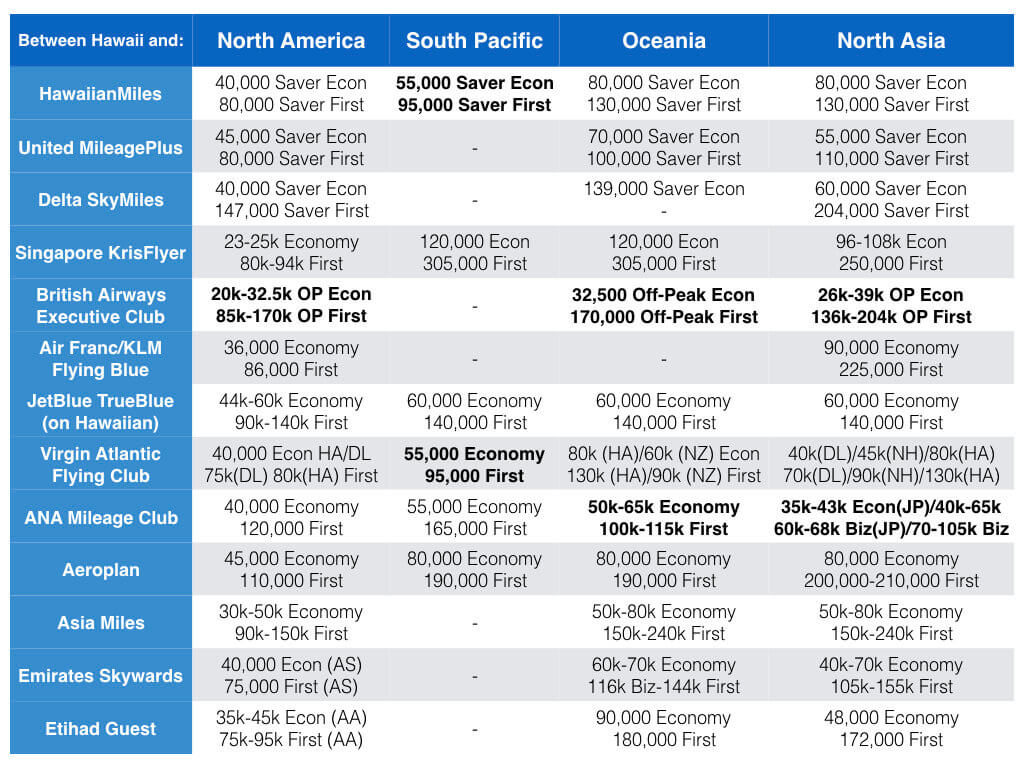 Now, redemptions with the various programs are more nuanced than my table allows for.  However, this is a high-level overview of the various programs in which you can transfer points to.  And, as you can see, there are sweet spots depending on where you want to go.  For example, flights to the West Coast in economy are cheapest via British Airways Executive Club redemptions on American.  However, first class awards to the West Coast are cheapest via Emirates on Alaska or Etihad on American.  ANA, on the other hand, offers the best redemption values for Premium travel to Japan, while British Airways remains the best for travel to Japan in economy.
Luckily, British Airways Executive Club is a transfer partner for both Chase Ultimate Rewards and American Express Membership Rewards.  So too is Virgin Atlantic Flying Club.  But the other sweet spots are transfer partners with just one of the programs.  HawaiianMiles, Emirates, and Etihad, and ANA Mileage Club both participate with Membership Rewards only.
Hawaii Credit Card Award Travel Update, Final Thoughts
For me, while earning miles are important, protecting myself while I travel is important too.  So I need to balance my credit card strategy to give me the best of both worlds, which complicates things.  Especially as I look for ways to reduce the number of annual fees I pay.  For sure, I'm keeping the Chase Sapphire Reserve, at least for now.  I'm still on the fence regarding the Amex Platinum, though, and am contemplating keeping the Amex EveryDay Preferred or jumping over to the Amex Gold.  Hopefully, I can figure things out soon, and if and when I do, I'll provide another credit card strategy update.