What a rush – I just booked a Lufthansa First Class ticket for some random dates in July using United Miles and learned some important lessons along the way.
First of all, I want to give credit to DeltaPoints for his Google chat message that sparked me to read Lucky's blog post on Lufthansa first class award space being released to partners. I'll pause while you read Lucky's fantastic post about Lufthansa award space from Toronto to Munich.
Now that you have read through Lucky's post, you know that Lufthansa rarely opens up first class award space to partner airlines more than 15 days in advance of a flight. However, since Toronto and Mexico City routes are new, it appears that their first class award space is wide open to partners like United. When I say wide open, I mean it's open at unprecedented levels like 8 first class seats per flight. As Lucky says, this won't last long, so it's good to take advantage of this deal now.
My Experience Redeeming Lufthansa First Class
I am used to booking awards on Delta because I am a masochist. The United booking experience couldn't have gone more smoothly.
First I went to United.com and typed in that I wanted an award flight from Toronto (YYZ) to Munich (MUC). As expected, I saw just about any date I wanted available.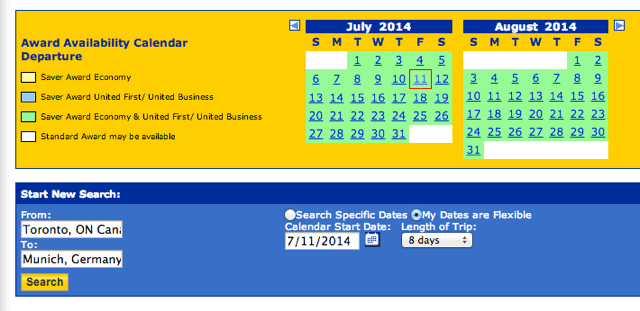 Not knowing my schedule this far in advance, I chose a date in the future and started the booking process. A few clicks here, a few clicks there and I was ready to reserve a flight to Munich in Lufthansa First Class.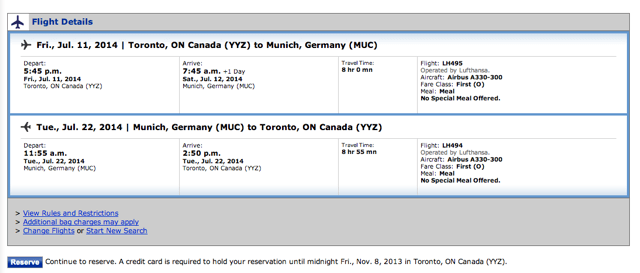 The total cost? 135,000 miles and $143.70 in taxes and fees. Not bad!

The best part is that I learned several lessons during this process. In the spirit of transparency, here is what I learned:
Lesson #1: Booking on United is SO EASY
I can't even begin to explain how surprised I was to actually be able to book a United award online with a partner airline. This is not something that comes easily with Delta, and usually isn't possible. From learning about the deal to ticket booking it took around 5 minutes. I knew that there was a reason why I have been amassing miles to use on United and this is the reason why.
Lesson #2: I Was Wrong to Undermine United After Devaluation
As some commenters pointed out in my post earlier this week about Doubling Down on Delta, I was wrong to compare Delta and United in the same phylum of program after United's devaluation. United is 10x better for redeeming awards than Delta, even after their devaluation. You were right, please forgive me.
Lesson #3: United Gives You 24 Hours to Reach Mileage Balance
I knew this all along, but it's cool to see it actually happen. I only had 57k United miles in my account and yet I was able to book something that required more than 2x that many miles. I have 24 hours to hold the ticket while I transfer the remaining balance into my United Account. I will be transferring Chase Ultimate Rewards points.
Lesson #4: Time to Start Hoarding Ultimate Rewards Even More
Ultimate Rewards points are simply amazing. Using my medley of Chase cards, I'm able to amass hundreds of thousands of points that transfer to many places. I used these points for the Park Hyatt Milan and now I can use them for Lufthansa first class. You can't beat that flexibility!
Lesson #5: Booking an Arbitrary Date in the Future Makes You Feel Stupid
After I booked the flight I looked at Flyertalk to see what others were doing and learned that most people were booking Oktoberfest trips. DUH. I should be going to Munich in September rather than July. Time to look into changing those flights!
Lesson #6: United is Down but Not Out
Points are just one piece of the game. Sure it will cost more miles to book United award flights in the future, but the ease of booking and vast partner network are still top notch. I would take Lufthansa first class over Air France/KLM business class any day.
Now I'm off to look into changing my July trip into an Oktoberfest bonanza. I loved Oktoberfest the first time and hopefully I can find my way there again!
Update: 5 minutes after publishing this post I was able to secure flights for September. Woohoo!