Last time I was in Vegas, I rented from Silvercar, and overall it was a great experience.  So, naturally, I rented from them again this time.  But things were a little different this time.  So let's do a Silvercar Las Vegas revisited post.
I love Silvercar and rent from them whenever I can.  And so far, that means renting from them in Las Vegas and Seattle.  In fact, my first time in Vegas was also my first time renting from Silvercar.  But while that rental was just over a year ago, things have changed at Silvercar Las Vegas.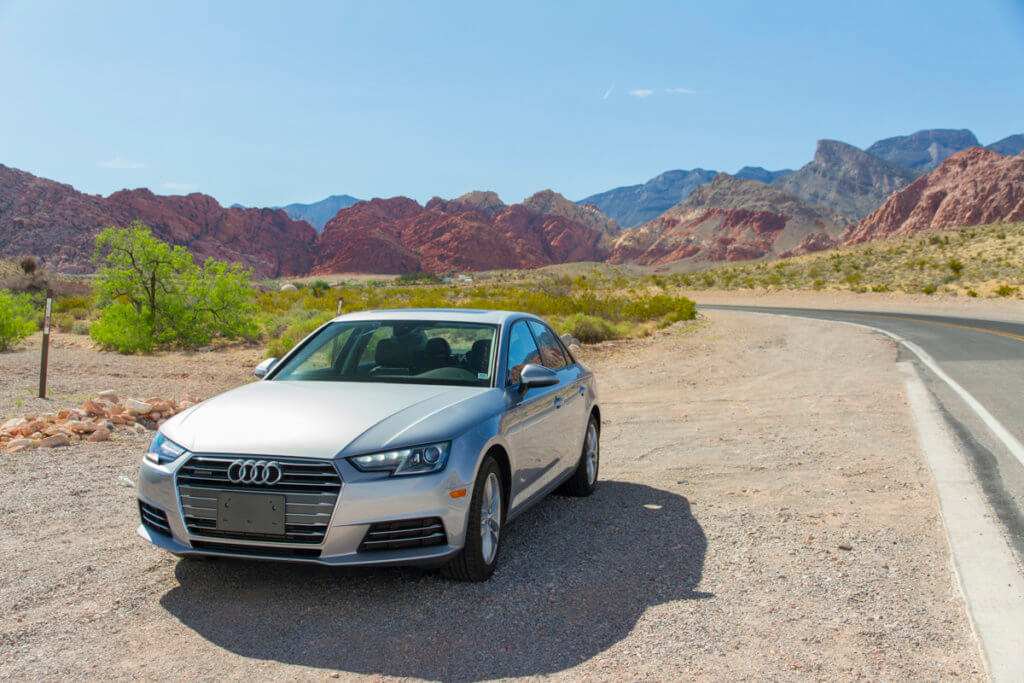 What's New
Aside from newer cars (more on that later), there are a couple of significant differences with Silvercar Las Vegas now.  The first one you'll notice is the pickup experience.  You'll still have to head over to the McCarran International Airport CONRAC, but they no longer meet you with your car.  Instead, Silvercar now picks you up in a van and drives you back to their facility.  And, that's where the next difference comes in.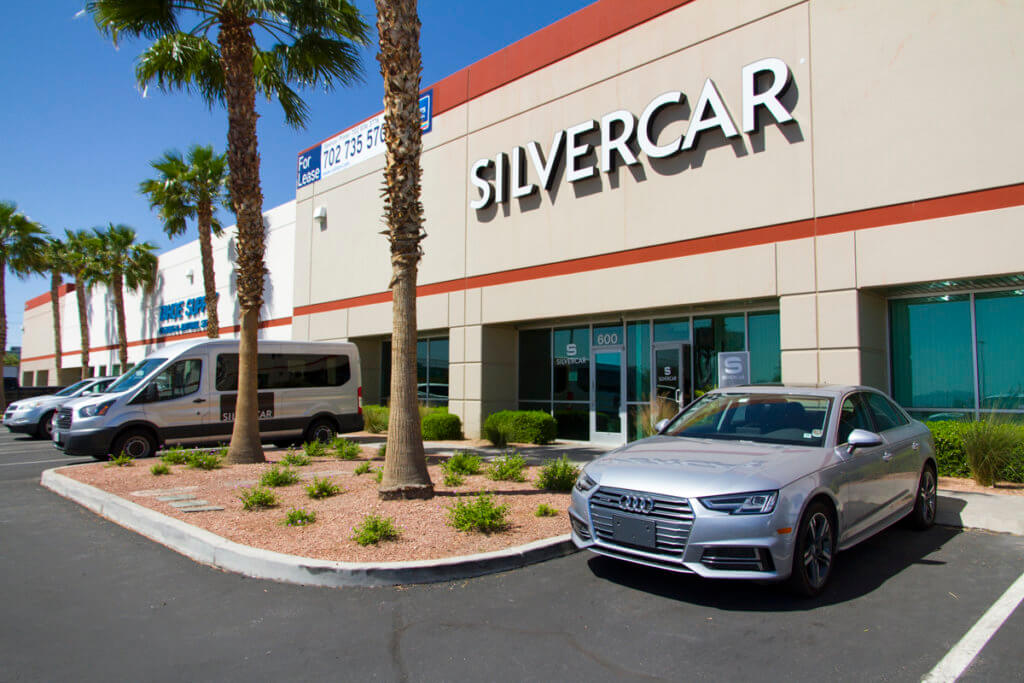 Silvercar Las Vegas is now South of the CONRAC facility, which itself if south of McCarran International Airport.  They used to be right next to the airport, but this isn't a big deal.  In fact, the new location is right next to I-15 and S Las Vegas Blvd, making access to the Strip a lot easier.
Once you get to Silvercar's new facility, everything else is the same.  You'll pick your car, scan it with the ap, and you're on your way.  At the time of this writing, though, the Las Vegas locations has only A4's.  The Q5's have yet to arrive in Vegas, and according to the gentleman that picked us up, they'll also be adding the A5 Cabriolet.
The Car
When we arrived, at Silvercar, we were informed that they have 2018 and 2017 model.  However, at the time, all 2018's were out, so we ended up with a 2017, which is fine with me.  It's the same car we had in Seattle, and I'm sure there aren't a lot of differences between it and the 2018 models.  And because of this, I'm not going to go into detail describing the car.  The self-dimming mirrors and lack of blind spot monitoring still irk me, after all.  Especially since the damn mirrors are so small.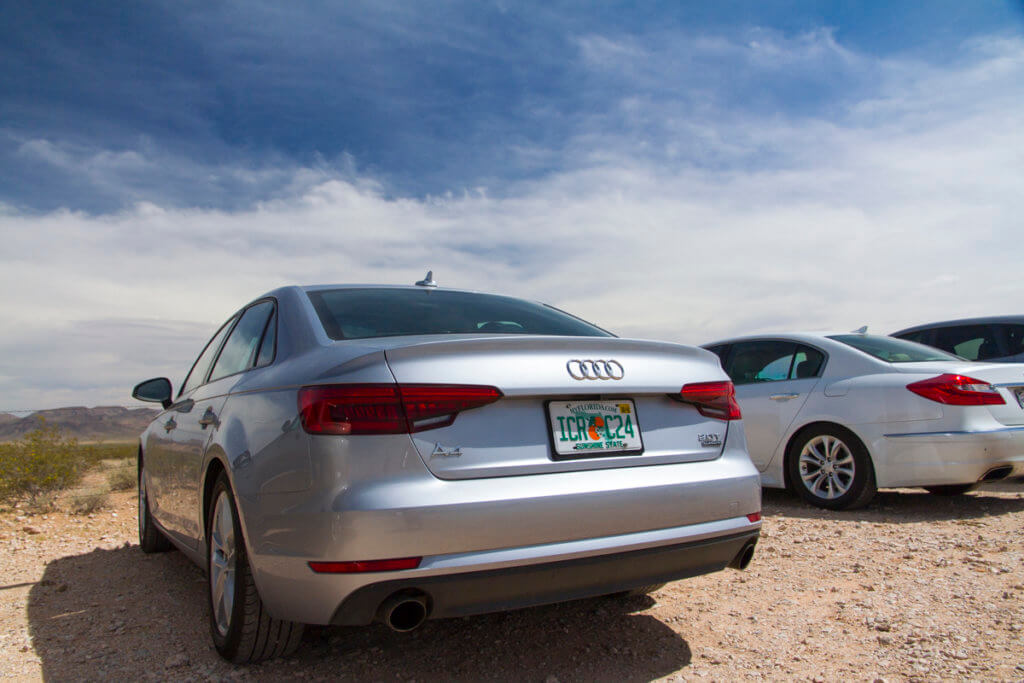 One thing I hadn't noticed last time, though, is the presence of Vehicle-to-Infrastructure (V2I) communications.  Not that the V2I system makes a huge difference in your driving experience, but it does give you an estimate on how long the light will remain red at the intersection you're sitting at.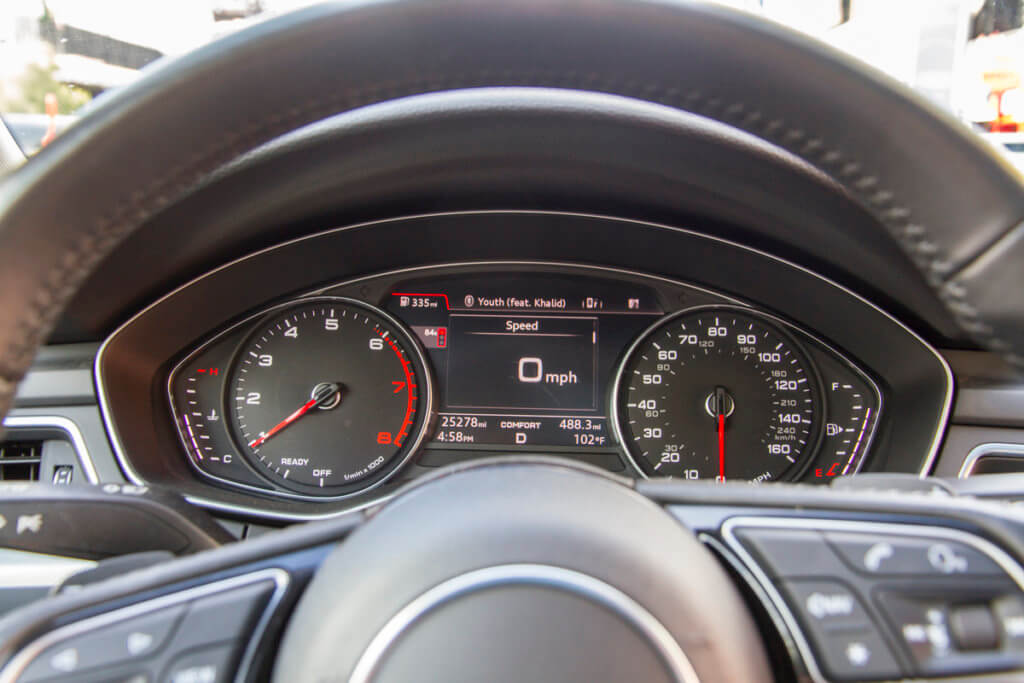 I say estimate because it isn't always right.  The red light countdown worked really well at major intersections along the strip but seemed to get confused out in the suburbs.  And sometimes when I was driving on the interstate, the countdown timer would appear for nearby signals.  Despite the inaccuracies, the system is still pretty cool and useful.
Returning Your Vehicle
What hasn't changed at Silvercar Las Vegas is the return experience.  When I pulled up, an associate came out to greet me, scanned and inspected the car and told me to leave my bags in the trunk.  From there we both hopped back into the car and she drove me back to the CONRAC.  Ok, so it is a little different now, as they no longer drive you to the terminal, but this wasn't a big deal to me.
Silvercar Las Vegas Revisited, Final Thoughts
The negative changes at Silvercar aren't due to decisions made at Silvercar (or Audi).  No, these changes are thanks to the port authority.  And while the changes suck, I still think Silvercar is the way to go in Vegas.  Renting with Silvercar represents a good value, especially when using your Sapphire Reserve 30% discount code.  Plus, you always know what you're going to get when renting with them.  Not like the crapshoot renting experience at other companies.  You know, like the time I got stuck with a substandard Dodge Dart on Maui.
Las Vegas 2018
Silvercar Las Vegas Revisited