One of Honolulu's newer restaurants is Bar Maze in the trendy Kakaako neighborhood. The brainchild of Bar Leather Apron co-owner/head bartender Justin Park, the Bar Maze Omakase Dinner is a unique experience that takes food and drink pairings to a whole new level.
The concept at Bar Maze (Māh-zēh) is unique among its peers. Here, Justin Park seeks to integrate food and drink pairings in a way that seamlessly intertwines with one another. Naturally, given Park's panache for creating incredible cocktails, that is the type of pairings they focus on at Maze. And it works fiendishly well. The cocktails even share ingredients with the dish you're eating at times to heighten that intertwining further. Of course, the food is fantastic, too, coming from the creative mind of Chef Ki Chung, formerly of Aubergine Caramel (*), The French Laundry, Manresa, Benu, The Fat Duck, and Jean-Georges.
As you can imagine, before the restaurant opened, I already wanted to give the place a try. Mrs. Island Miler and I have long been fans of Justin Park, so trying his restaurant concept was a must. Being such a popular spot meant that finding reservations can be a challenge. So it wasn't until earlier this month that we finally made it here. And I'm glad we did!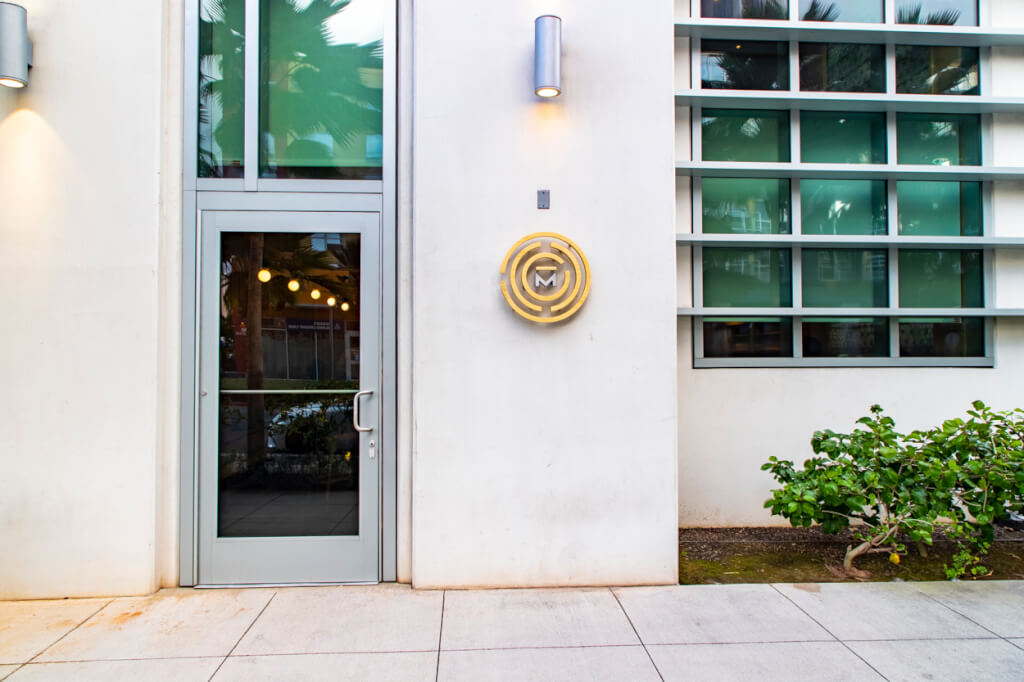 Bar Maze Omakase Dinner
It's important to note that, like so many high-caliber restaurants, the menu at Bar Maze changes every day. There's no way to tell for sure what you're going to get going in. Unfortunately, the restaurant also can't accommodate allergies. While this wasn't an issue for me with my peanut allergy that night, those with shellfish allergies will run into more difficulties. Also, while cocktails are part of the menu, they do have equally enjoyable zero-proof options too. In fact, during our visit, we got one menu as-is and one zero-proof to compare and contrast the two.
With all that out of the way, let's get into the dinner, shall we?
Ambiance
Bar Maze is a small space. There aren't more than a couple dozen seats in the restaurant, though capacity has been reduced to promote social distancing. In fact, we were seated at the tables between the entrance and the stairs to the mezzanine rather than at the bar. And, in this area, the restaurant is only using every other table and rotates between them during the different seatings of the night. While the bar is definitely where the action is at and provides for a more immersive experience, the seats off to the side provide a more intimate, date-night friendly setting. Make no mistake, the restaurant isn't a quiet one, but noise levels never got high enough to be bothersome at all. What's more, the soaring ceilings in the main dining area help to further dispers the sounds and contribute to the spacious feeling of the restaurant.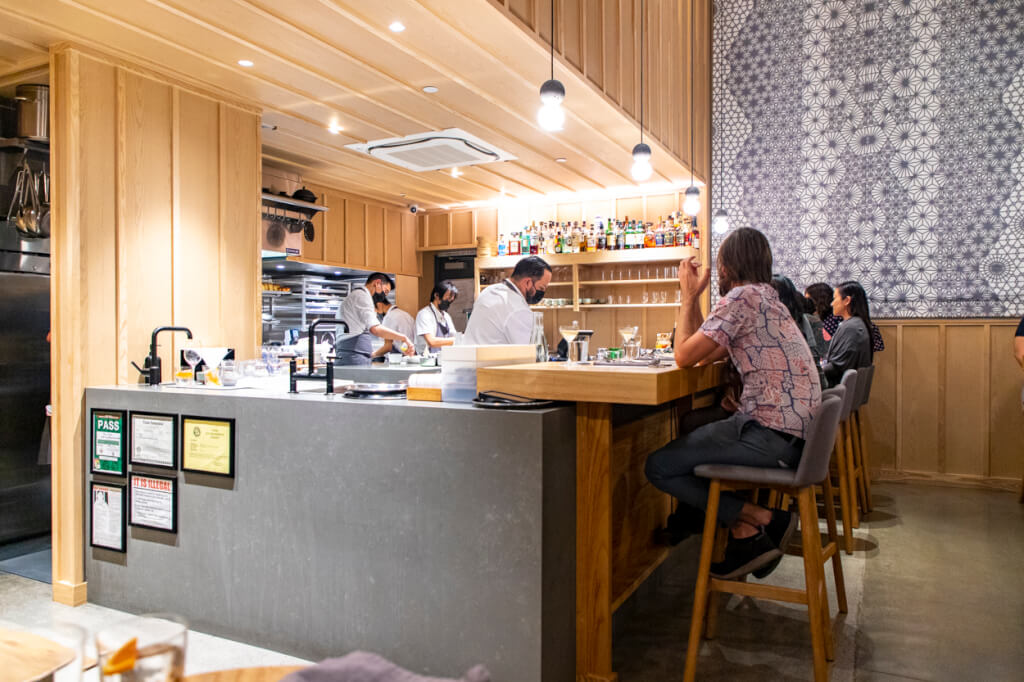 Service
Our server for the night was none-other than Justin Park himself. He and the entire staff were phenomenal! Everyone was very polished while also being a lot of fun. We cracked jokes, got real opinions from the staff, and had meaningful conversations about our experiences that evening. Without a doubt, a night at Bar Maze is one of Hawaii's pre-eminent hospitality experiences today.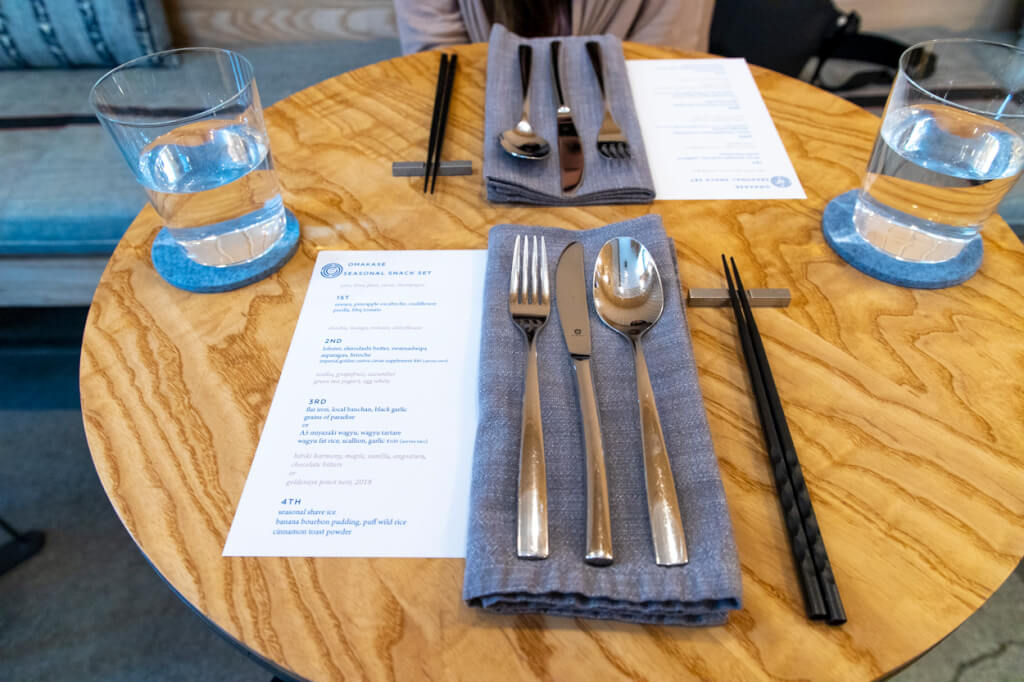 Seasonal Snack Set + Sake, Kiwi, Pear, Yuzu, Champagne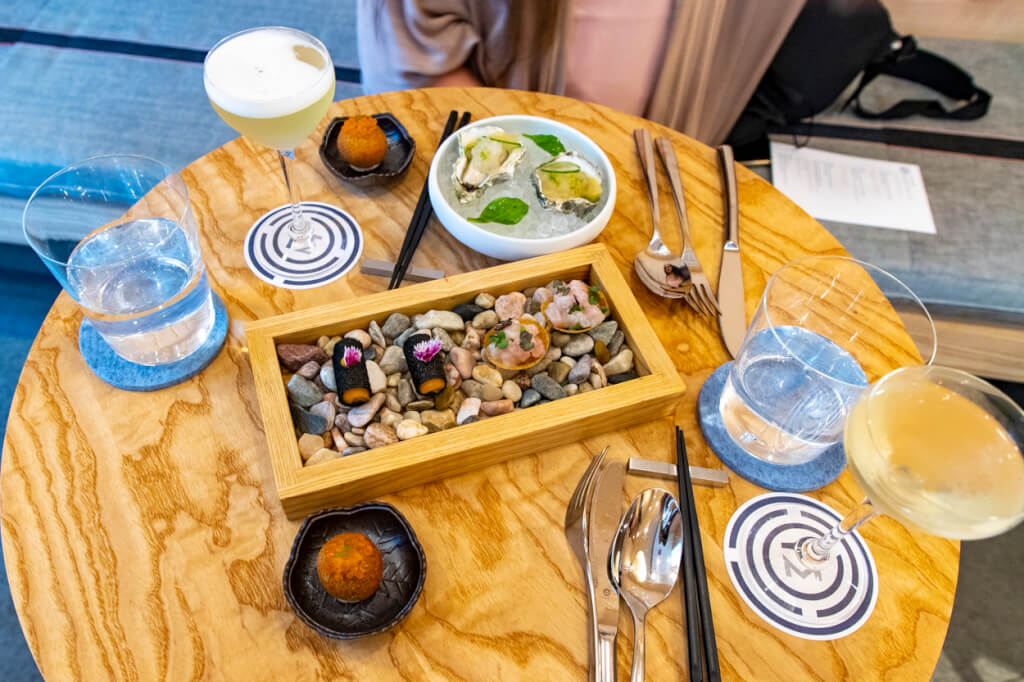 Our first course was comprised of a few small bites paired with a sake, kiwi, pear, yuzu, and champagne cocktail. The drink was largely the same on the zero-proof side, though they omitted the sake and champagne and added a sparkling jasmine tea. Both drinks were wonderful, featuring a delightful yuzu flavor. The primary difference was that the zero-proof version was slightly sweeter and had a more pronounced floral note.
First up in our snack set were oysters with white kimchi granita and "oyster leaf." The oysters were among the best we've ever had. Not only are they fresh and ice cold, but the granita lends a mildly spicy/tart flavor profile that helps to balance the rich, brininess of the oysters. The oyster leaf was an intriguing addition, adding a briny vegetal component to the dish.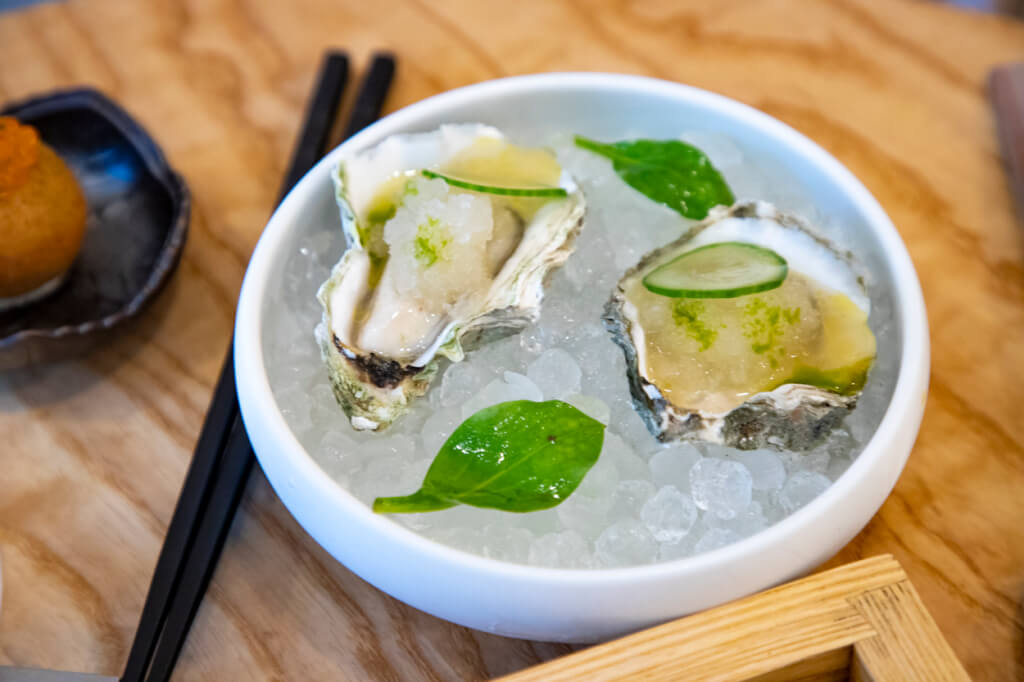 Next, we moved on to the hamachi tarte. These crispy little pastry cups came filled with hamachi tartare topped with micro shiso and scallions. Again, this was a refreshing, yet delicious little bite, with the shiso playing exceptionally well with our drinks.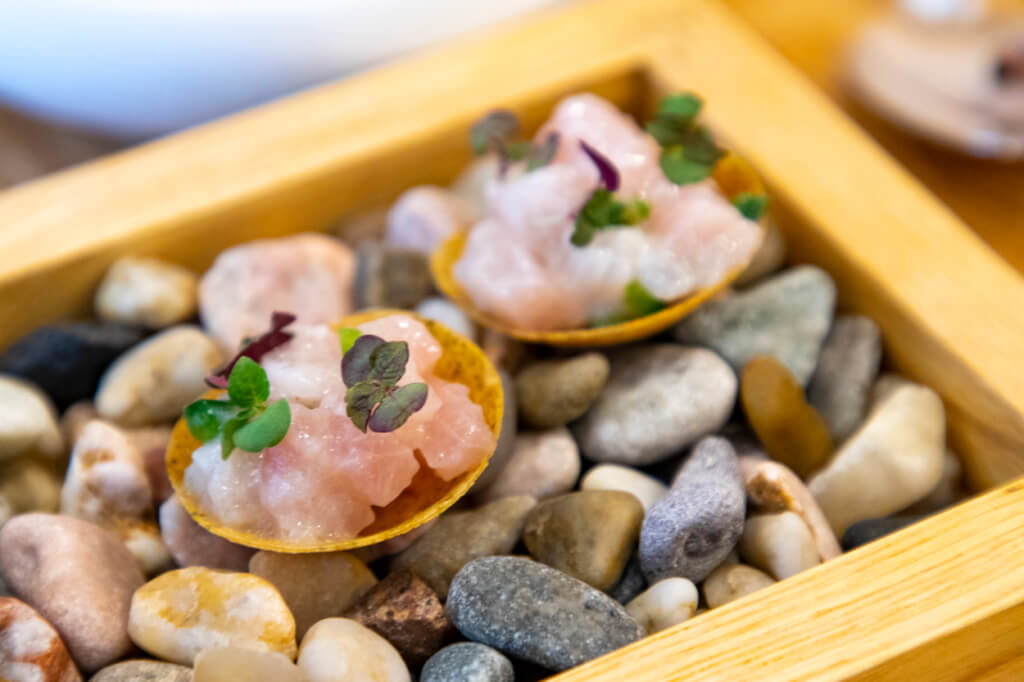 Third was the shiitake and butternut jam nori rolls. Here, extra-crisp tubes of nori are filled on one side with a butternut squash jam and on the other with a bit of shiitake mushroom. Shiitake is a strong flavor, which dominated the overall roll. The butternut lent a mild sweetness to the dish.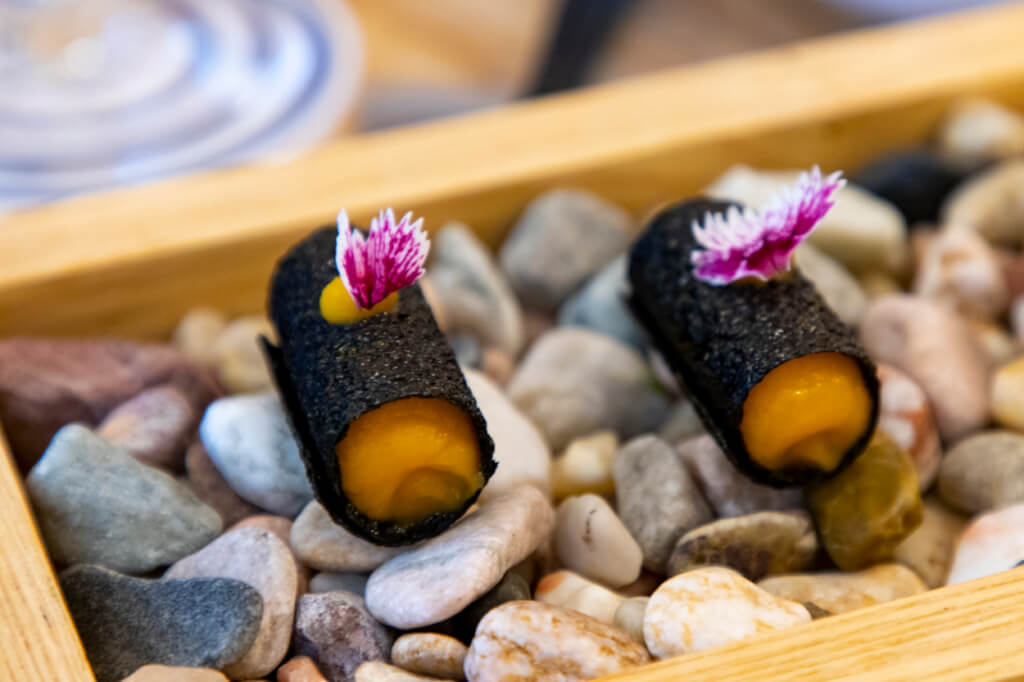 Finally, we each received a donut filled with Maui Onion Cream and topped with smoked trout roe. Think bagels and lox and you kind of get the idea here. However, the doughnut is much lighter and airier than your typical bagel. We probably could've eaten a few more of these 😉.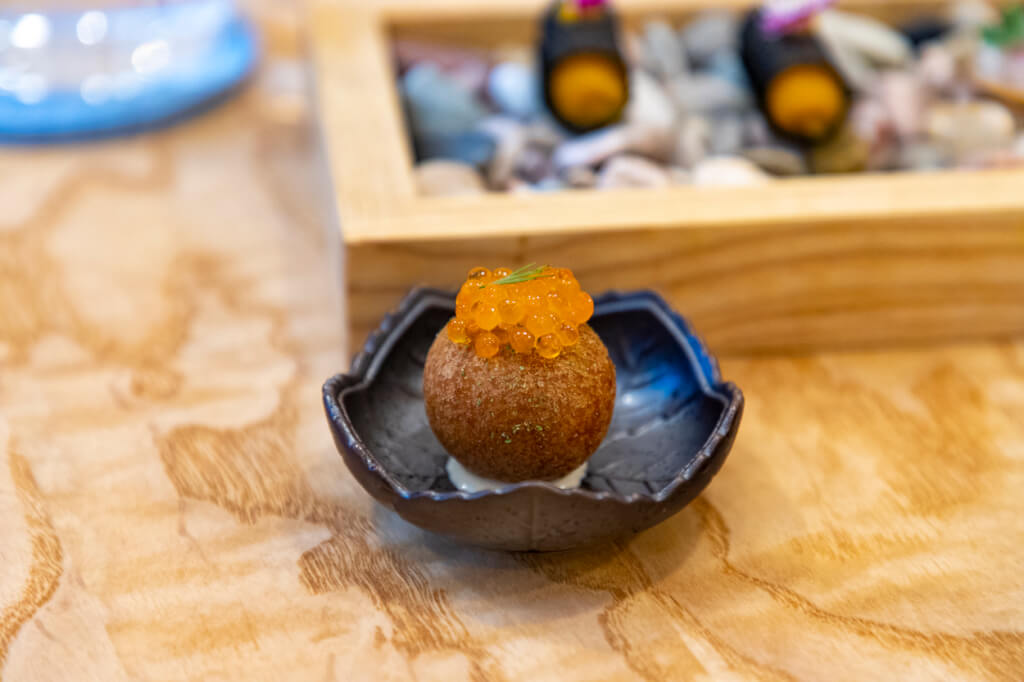 1st Course – Sawara, Pineapple Escabeche, Cauliflower, Perilla, BBQ Tomato + Shochu, Mango, Tomato, Elderflower
Our next drink landed ahead of our first course and consisted of shochu, mango, tomato, and elderflower. The drink starts off sweet with a slight acidity and finishes with a light bitterness. Lychee flavors from the elderflower and mango dominate the overall flavor profile, while calrified tomato juice help to add complexity and acidity. The zero-proof version of this drink omits the shochu, negating the slight bitterness and amping up the sweet/sour flavors.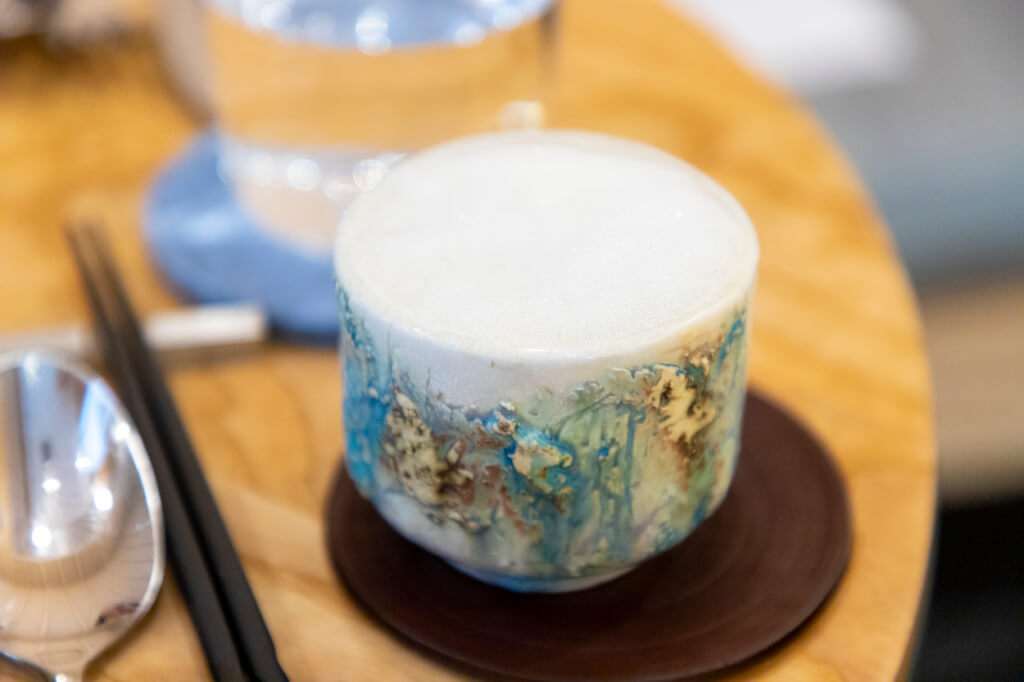 Sawara – Japanese Spanish Mackrel – was delivered to our table lightly torched with puffed rice, shaved cucumber, watermelon radish sakura, and BBQ tomoatoes. It was then finished tableside with the pineapple escabeche, which is made by fermenting both the pineapple flesh and skins together. This resulted in a wonderfully balanced dish with the strong mackrel flavor being countered by the musty (in a good way) pineapple and acidic, umami-packed tomatoes. As you might imagine, taking a sip of the cocktail after a bite of the dish helped to accentuate the tomato flavors of the drink. Neat!
Second Course – Lobster, Shirodashi Butter, Swarnadwipa Asparagus, Brioche with Imperial Golden Osetra Caviar + Vodka, Grapefruit, Cucumber, Green Tea Yogurt, Egg White
Our third drink was a departure from the first two, prominently featuring a more vegetal flavor dominated by cucumber. The green tea yogurt further enhances that vegetal flavor, though the addition of coconut oil adds a hint of sweet, tropical notes to the drink. The zero-proof version is identical save for the vodka, which allowed more of the yogurt flavor to shine through, making it a bit more tart.
Overall, I think the second course was my favorite of the night. The sweet, succulent Kona Lobster pairs exceedingly well with the boderline too salty shirodashi butter. I know many have complained that this dish or its previous incarnations are too salty overall, especially with the caviar, though neither myself or Mrs. Island Miler found this to be the case. Yes, the shirodashi butter is on the saltier side, but it balances nicely with the sweetness of the lobster and is further muted by the asparagus. Taken together, the caviar, lobster, and asparagus provide a perfect balance, in my opinion. I should note that the caviar is an $80 supplement. And while it was fun to eat it with the other elements together, I ended up sandwiching the shirodashi butter-drenched lobster in the etheral Breadshop brioche and enjoying the caviar seperately with the asparagus – or even on its own.
Third Course – A5 Miyazaki Wagyu, Wagyu Tartare, Wagyu Fat Rice, Scallion, Garlic, Local Banchan, Black Garlic Grains of Paradise + Hibiki Harmony Maple, Vanilla, Angostura, Chocolate Bitters
Our fourth and final drink of the night was a Hibiki Harmony, maple, vanilla, Angostura, and chocolate bitters Old Fashioned. This was the only hiccup of the night, as Mrs. Island Miler was presented with the same cocktail as I. However, she didn't try to have the discrepency corrected, as she likes Japanese whiskey. And the drink really is a whiskey-lovers dream. All of the elements added to the drink serve to enhance the flavors of the whiskey. Of course, if you so chose, you could've gotten a glass of Goldeneye Pino Noir 2018 instead.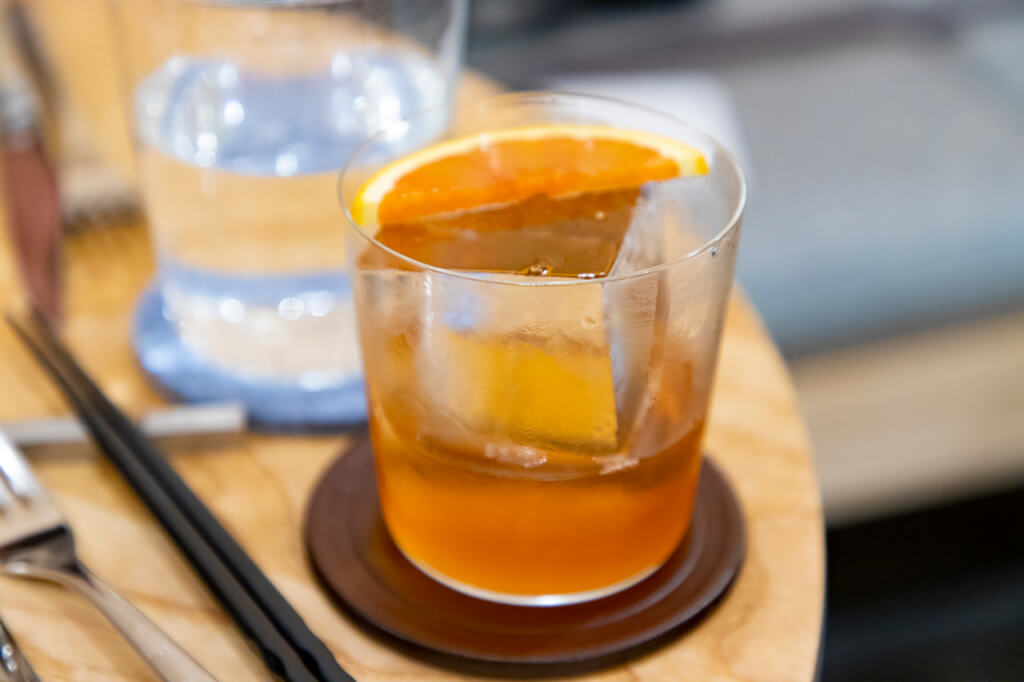 Now, the standard dish comes with a good-quality flat iron steak. But after discussing the options with Park, we settled on the A5 Miyazaki upgrade ($100). While I'm typically not a fan of A5 wagyu beef, Park said he though it'd be worth the upgrade to get the extras like the tartare and the wagyu fat rice, noting that he'd actually prefer to stick with the flat iron. I really appreciated his candid opinion as he wasn't trying to actively upsell us but gave us his own pros and cons.
Tartare
The tartare was the first part of the dish to land, coming atop a piece of ultra-crunchy, broasty potatoes. The nearly burnt flavor of the potatoes provided a nice contrast to the richness of the beef, which was also cut by a lovely amount of onion. Of course, the intense crunch provided an excellent textural contrast as well. I could easily eaten a few of these too!
A5 Miyazaki + Banchan
Next was the show-stopper of the night. First came a large plate filled with the local banchan. In the center, there's luau crepes surrounded by (clockwise from 9) Sensei Farms greens and shiso, pickled onions, corn sauce, white daikon kimchee, red daikon kimchee, pickled cucumbers, woodear mushroom, and lion mane mushroom.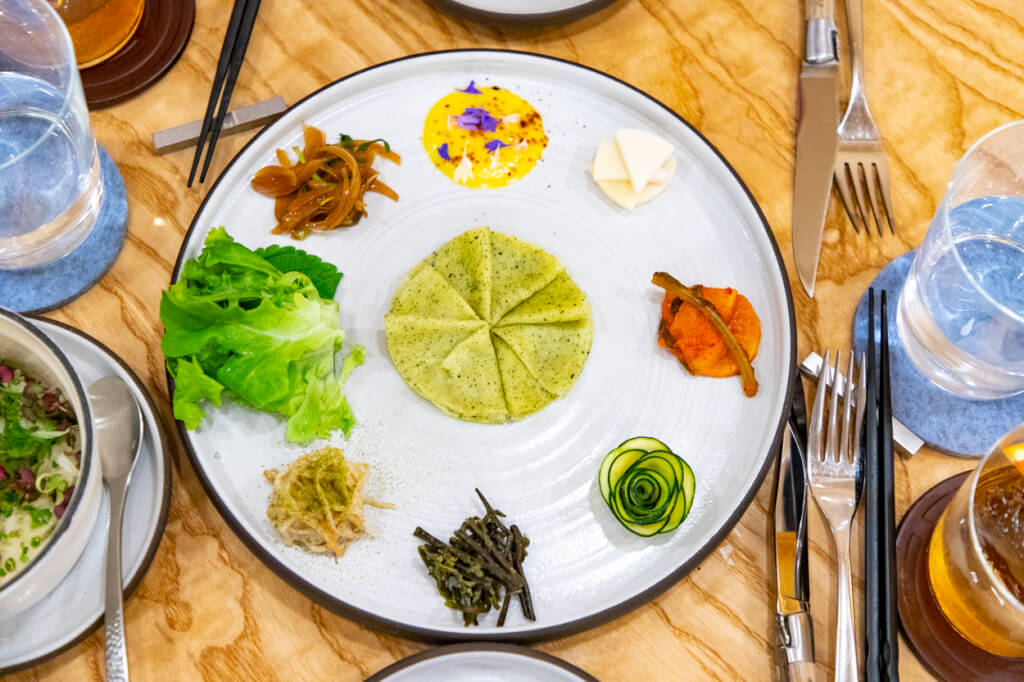 Following the banchan was our thick slices of A5 Miyazaki beef with a dollop of black garlic grains of paradise.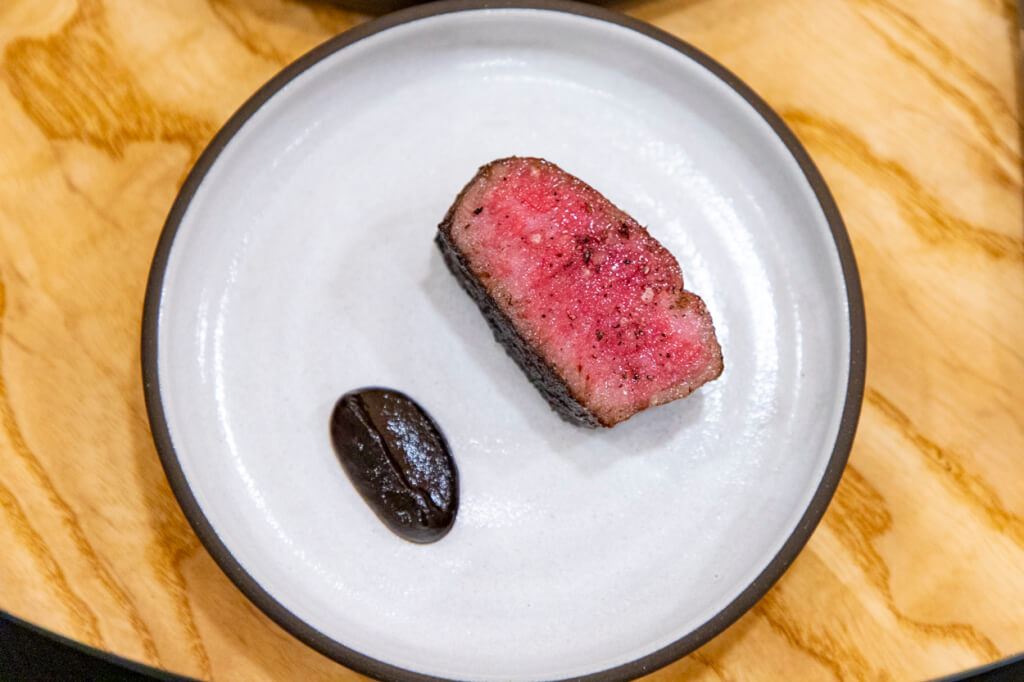 Finally, a coquette was brought out and opened table side revealing the wagyu fat rice in a puff of smoke.
To start, I cut myself off a sliver of the beef to enjoy on its own. As expected, the meat was unctious and mind-blowingly good, though that one little sliver is all I can handle on its own. Luckily, eating the beef Korean-style really balances things out. I particularly enjoy pairing a sliver of beef with a crepe, the black garlick grains of paradise, some kimchee, and some mushroom. To me, that was a perfect bite! As for the rice, it wasn't fatty or greasy at all. The wagyu fat helps to capture and retain the smoke, while the herbs give it a fantastic brightness.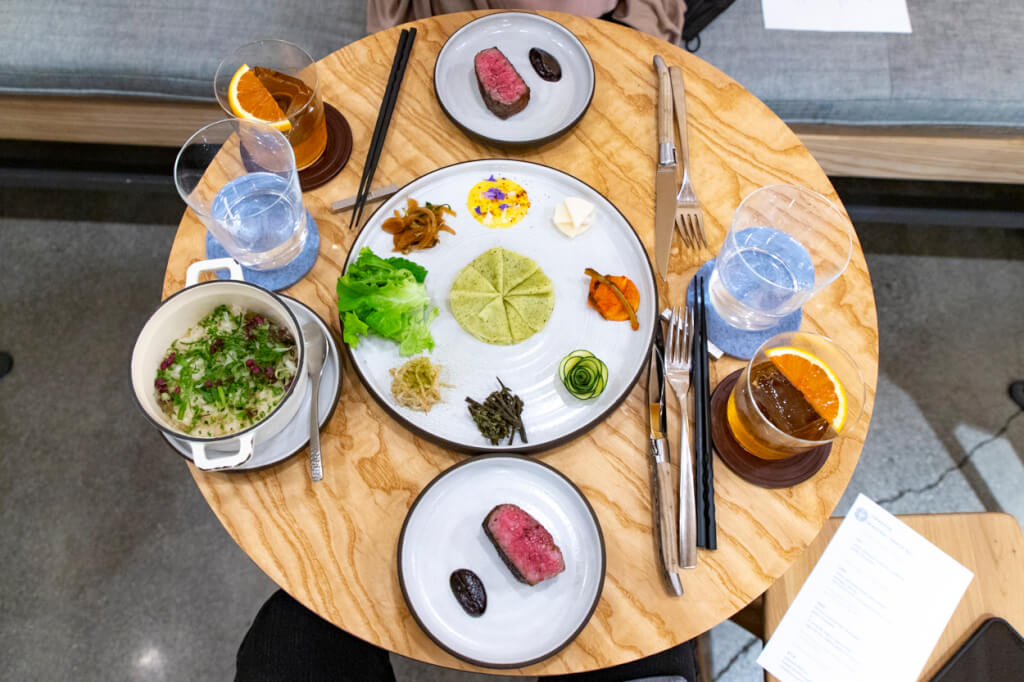 Fourth Course – Seasonal Shave Ice
Dessert at Bar Maze always consists of a unique take on the local classic – shave ice. That night the offering included banana bourbon pudding, puff wild rice, and cinnamon toast powder. Sounds funky, doesn't it? It even looked a little funky compared to what our perception of what shave ice should be. But, Mrs. Island Miler and I both LOVED the shave ice. Sure, it's different. However, it's that difference that makes it great. I couldn't quite put my finger on it, but the shave ice definitely tastes like an adult version of a childhood cereal. It's creamy, roasty, and slightly sweet all at once and definitely left me wanting more!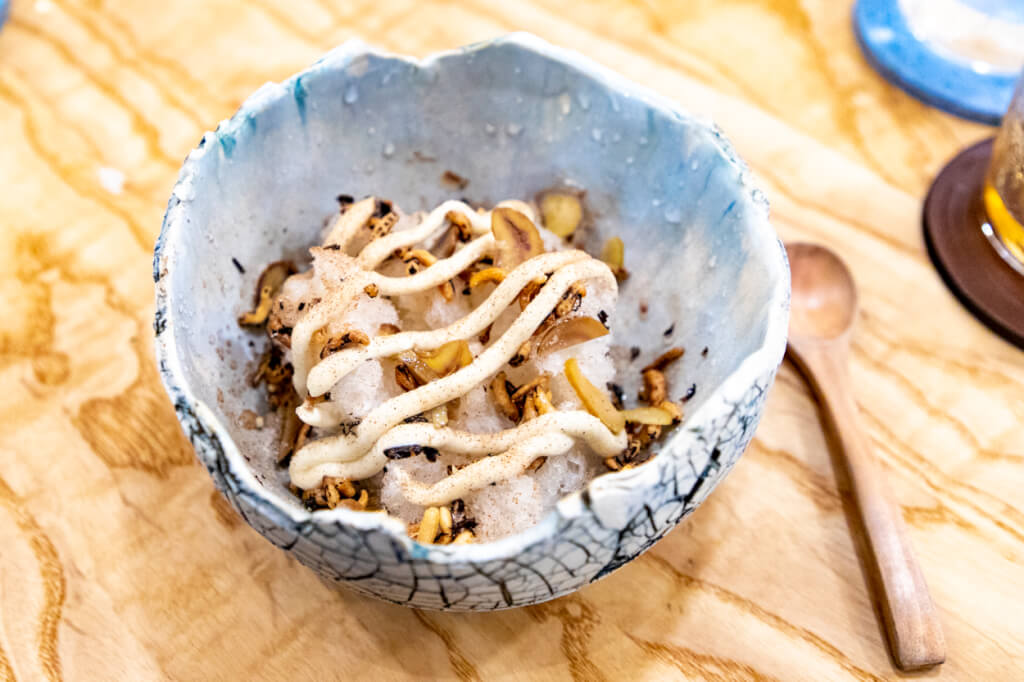 Petit Fours – Chocolate Bourbon Activated Charcoal Stones
To close out the night, we were offered a plate of stones. Only, two of the stones had mint leaves on them. We were instructed to eat those stones (and only those stones) as they were chocolate bourbon activated charcoal stones. They were ice-cold, yet rich and chocolatey. The bourbon serves to enhance the chocolate and is barely noticeable. It was a delightful little bite that's sure delight all the chocoholics out there – myself included.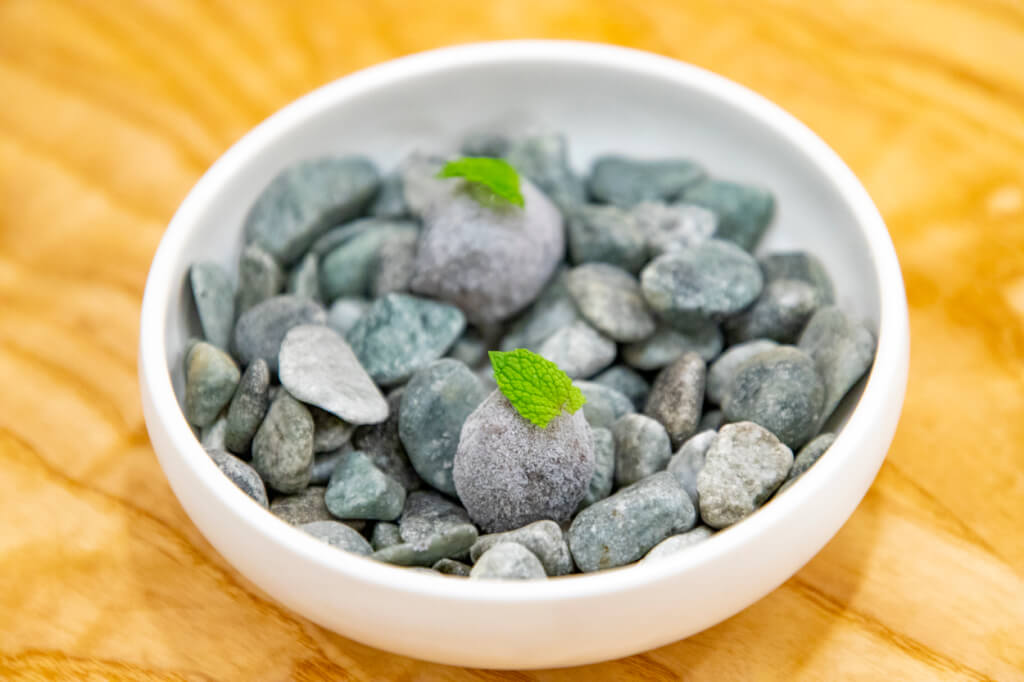 Bar Maze Omakase Dinner, Final Thoughts
At $150 per head before upgrades, Bar Maze's omakase experience is one of the pricer options available in Hawaii today. However, it is also likely one of the most unique as well. Where else in Hawaii are you going to find cocktail pairings? Especially cocktails done to this standard? Plus, unlike most other places, the upgrade cost is applied per couple – not per person. So that $100 we paid for the wagyu upgrade? It was charged only once. And that makes sense since your dishes are served family-style anyway. But that means the value proposition of Bar Maze is only better. Plus, remember, the drinks are INCLUDED. Where else do you see that? Considering that prices over at Bar Leather Apron average about $16, the value propositions only improves.
The only caveat I have is the lack of allergen flexibility. I get why they don't make accomodations, most of which have to do with the size of the restaurant. However, if you have an allergy to a common food like shelfish, it's probably best that you stay away or enjoy the ala carte mezzanine for the time being. For those of you that don't have this issue, though, I whole-heartedly recommend Bar Maze. They are, without a doubt, one of my favorite dining experiences in Hawaii today.