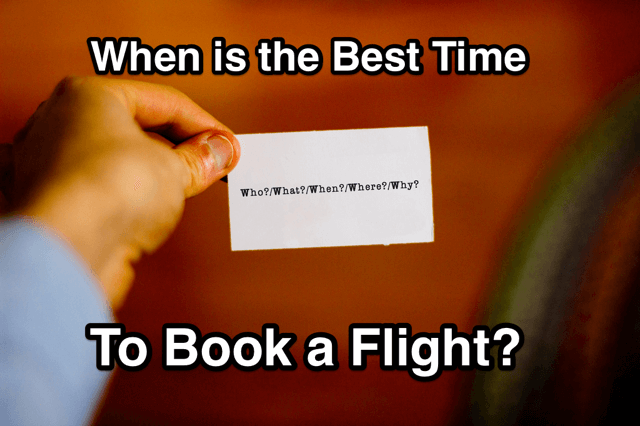 Since I started travel blogging, "When is the best time to book a flight?" is probably the most common question asked of me by friends and family who are casual travelers (the second is "what is the best travel credit card if I could only choose one?").
Without insight into the exact details, circumstances and budgets of your specific trip, it's not an easy question to answer without firing up a computer or mobile phone to do some searching. That's not situationally appropriate to do in most cases.
Because I often don't know specifics of your travel needs, my advice has to both be generic enough to account for situations, but consistent with how I try to find the best value. Here's what I say to most people in answer to this question:
"Figure out when you want to go and how much you want to pay. If the flight is available at the price you want and the dates you want it, book immediately. Don't even think about it. Just book. If it is more expensive than you want to pay, you can wait to see if it goes down, but don't wait too long."
If you know what you want and it's within your pre-conceived budget, don't hesitate to book. With many airlines you can cancel your flight within 24 hours of bookingwith little to no penalty (research your particular airline before booking of course). This means that you can book on a speculation and not suffer a penalty if you need to make a change within the 24 hours of booking.
Why book right away?
Many airlines have systems in place that log every single search between destinations and can intelligently understand when there is more demand for a certain route. If you and your friends all start to search for your trip to Las Vegas at the same time, the airline will pick up on the demand for this route. From there the principles of microeconomics apply and when they see demand rise for a limited supply of seats, they know that they can charge more for the flight. (For more on the economics of flights, I highly recommend the excellent Milenomics blog)
If you search for the same flight the next day or a few days later, you might find that your flight price has risen by hundreds of dollars. In essence, your indecision may be the reason why you end up paying more for a flight.
This is exactly what happened to me months ago while trying to coordinate a group trip to Las Vegas. We saw flights at the prices we want, but waited too long for a consensus on flight times (and I wasn't sure if I would be staying the next week to attend a conference). For the desired weekend, our search options went from this on January 9, 2014: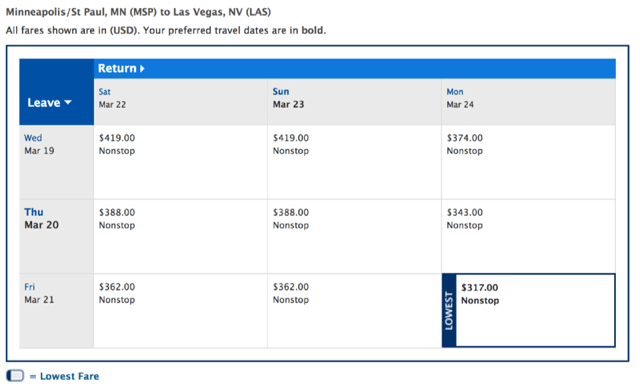 To this on January 15, 2014: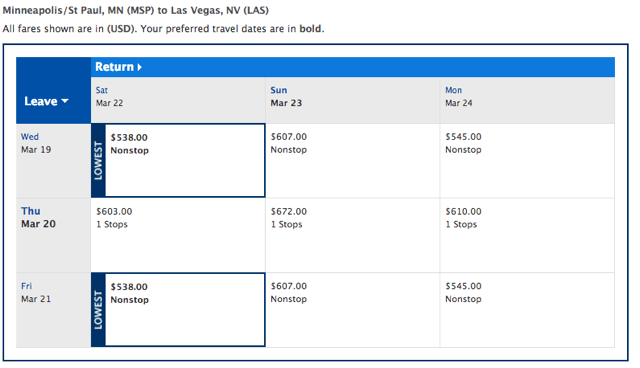 Because I violated all of my own rules in this booking, everyone's flights ended up costing between $200 and $600 more to get to Vegas. I should not have initiated my search on delta.com to find flight dates, but rather used the ITA Matrix or another third party flight search tool that Delta can't access. This is one of the reasons why Delta is so profitable – they knew from our searches that demand was going up and used this understanding to increase fares by an average of $200 each.
The lesson: If you see a price in your desired range, JUST BOOK IT! Don't be a fool like I was for our Vegas trip.
Note: These flight prices were more than I was prepared to pay, so I got creative with this booking and started looking for alternatives. I was able to apply my Skymiles Companion Certificate to the flights for Mrs. Jeffsetter and me for only $384 total by staying one extra night in Vegas. Another night in a hotel to save over $800 in flights? That was a fair exchange for me.
How do you figure out how much you are willing to pay?
Now that you understand to book a flight the moment it falls into your price range, it's time to understand how much you should expect to pay for a flight in the first place. This can range from very easy to very difficult based on how scientific you'd like to get with your research. Here is how I decide on the price I'm willing to pay for a flight:
How much I am willing to pay to get somewhere
How much I can afford to pay to get somewhere
Historical perspective on how much I paid to get there in the past
Research average flight prices between destinations using the ITA Matrix in a monthly view (or Kayak.com or Hipmunk)
Add it all together and you should have a pretty clear idea of whether you should be paying $400 or $4,000 for a flight.
Scientific approaches to finding the best time to book a flight
Lately I have come across several articles talking about the perfect time to book a flight. It ranges anywhere from Cheapair determining that it is best to book flights 54 days in advance all the way to the best time to book airline tickets is Wednesday at 1AM.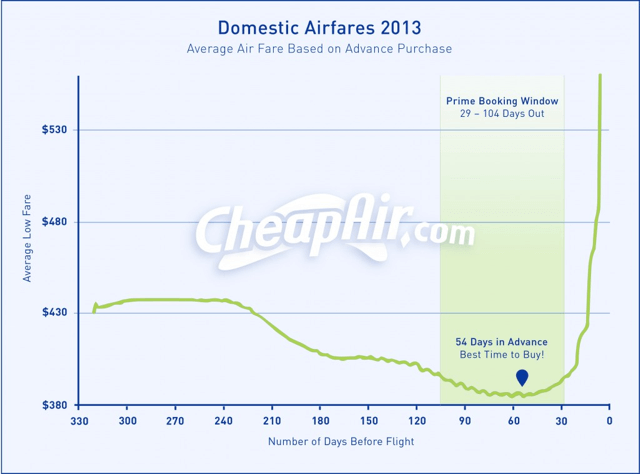 Many news sources have picked up on the Cheap Air study and began writing articles about how 54 days out is the "golden rule" for booking a ticket. These articles are highly misguided and have nothing to do with reality. This 54 day rule is essentially a statistical lie.
One of my day jobs is a professor at the University of St. Thomas in Minneapolis, MN. I teach digital marketing and analytics to my students and one of the mantras I have developed help them understand the need for deeper analysis is that:
"All Averages are Lies"
The average US Male is 5 feet 9 inches tall and weighs 195.5 pounds. That means it's safe for me to assume that every male blog reader I have is 5'9" and 195.5 pounds, right?
Wrong. That is a ridiculous notion. I would be surprised if a single blog reader fit the profile of the average american male. Yet this is what the Cheap Air article and ensuing journalists are trying to get us to believe when they say that you should buy airfare 54 days before your trip.
Any data presented to you in aggregate is telling you a one sided story that fails to take into account the individual parts that make up the whole.
Let's take my Las Vegas trip for example. I first looked for the flights 70 days before departure and they were consistently priced around $400. I looked again 64 days before the flight and they were now an average of $600. Prices only went up from there.
In this instance the best time to book would have at least 70 or more days before the trip. If I were using the Cheap Air study as my guide, I would have cost myself at least $200 per person.
Note: I don't meant to discredit or denounce the tremendous amount of effort that surely went into the Cheap Air study, but instead I wanted to help people to interpret what they are seeing in a way that will be more effective for their needs. 
Stop Dancing around the subject Jeffsetter: When is the best time to book a flight?
The best time to book a flight is precise second you know your dates of travel and that you see a flight available in your expected price range. There is no magic "54 days out" rule for flights. That is simply lying with statistics.
A case against booking too early: If you book before your dates are firm, with many airlines you are subject to a $200 change fee to modify your tickets.
A case against booking too late: If you don't book after searching on an airline website, you may see a price increase because of your search history.
I don't know the exact date, time, minute you should book a flight because there is not a perfect time. There are too many variables making up the prices of flights for a magic number to work. A magic number doesn't take supply and demand of an airline into account. If doesn't take seasonality, holidays or special events into account. A magic number isn't analysis, it's an average. And all averages are lies.
There you have it, my consistent answer to the question "when is the best time to book a flight?" as well as some insight and analysis into why that is my answer.
Cover Photo courtesy of: Hello Turkey Toe via Compfight cc