One of the new IT places to grab a bite to eat on Oahu isn't a restaurant – it's a store that just so happens to make food too. Specifically, they make sandwiches and pizzas using cheeses they make in-house. Recently, I paid my first visit to try the Bocconcino Hawaii Pizzas.
Bocconcino Hawaii is a newish Hawaii shop that specializes in house-made mozzarella, fior di latte, burrata, and high-end Italian ingredients that are hard to find elsewhere on the island. Think high-quality dried pasta, Balsamico Tradizionale, Colatura, and more. But, of course, most people come here for the prepared food.
Bocconcino Hawaii Location
The most challenging part about visiting Bocconcino Hawaii, aside from figuring what to eat, is finding parking. Located in Kakaako just steps away from Rice Factory and Hana Koa Brewing Co, Bocconcino Hawaii is on a cramped, busy street with almost no street parking. That's an issue, since the shop only has space for about four or five cars out front. Please don't park in other business' spots – everyone is tight on space in the area. If you really can't find parking, as was the case for me, park at Ward Village and walk over. The walk isn't ideal but should take about five to seven minutes, so long if you park near Whole Foods.
The Shop
Bocconcino Hawaii consists a large, open space. Along two sides and in the center of the space are all the shelf-stable goods for you to peruse. Along the left side is the chilled items, the register, and the coffee bar. The back side of the space is the pizza and sandwich area. To order, you need to head to the register, though you can also order online via Toasttab. It's worth noting that you can order EVERYTHING on Toasttab, including all of the grocery items.
Menu
As I mentioned earlier, Bocconcino Hawaii's menu consists exclusively of pizzas and sandwiches. Specifically, they have a selection of eight pizzas and eight sandwiches. Pizzas are Roman-style, so don't expect the super tender crust of Napoli-style pizza. Regardless of which way you go, all of the items are on the large side. You could easily share either with another person if you aren't a large eater or aren't particularly hungy, though you won't want to so you can try more things.
Bocconcino Hawaii Pizzas
During our one (and so far only) visit thus far, Mrs. Island Miler and I opted to try the pizzas. Mrs. Island Miler went with the Margherita, while I went with the Salsiccia e Porcini. We both wanted to try something featuring their signature cheese, which is why we got what we did.
The Margherita ($15) is fairly standard. It's a balanced pizza that really lets the cheese shine through, though I'd prefer a little more sauce. The crust, as you can see, has some nice charring and is a bit more on the crispy side. My preference would be for a Margherita in the Napoli style, but this one is still pretty good.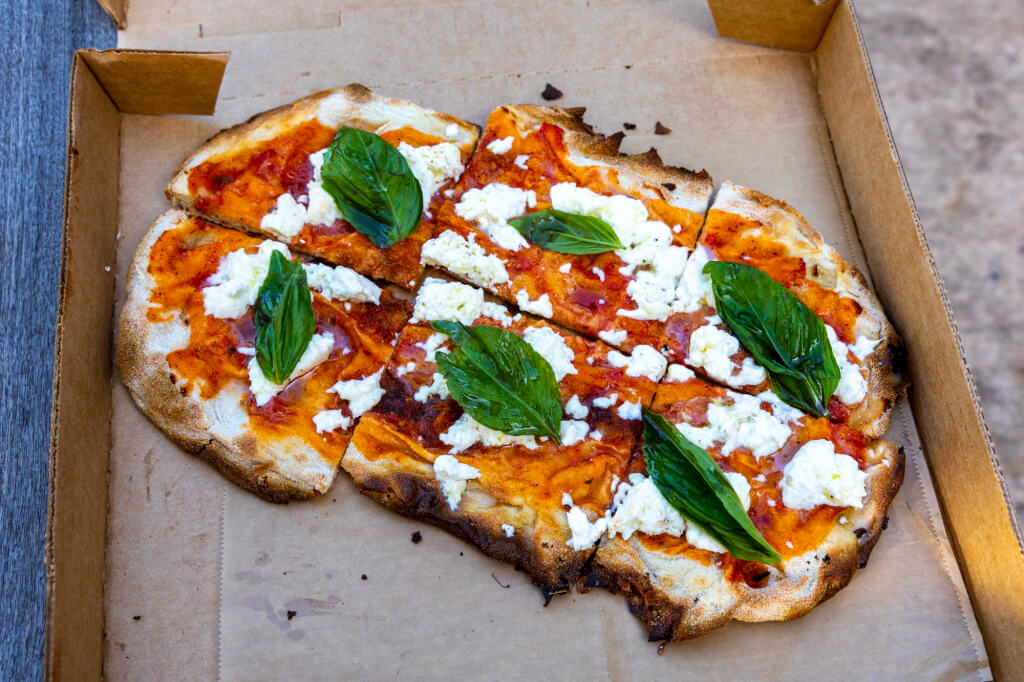 The star of our visit, in my opinion, was my Salsiccia e Porcin ($19)i. Here, Bocconcino combines red sauce, fior di latte, house-made Italian sausage, and mushrooms. As you can see in the below photo, they're very generous with the toppings, which is great because they are all very good. The creamy, rich cheese pairs wonderfully with the flavorful sausage, and the meaty mushrooms. This was total pizza bliss! My only criticism is "Porcini" in the pizza's name – I didn't taste porcini in here at all. That said, I do think it's worth it.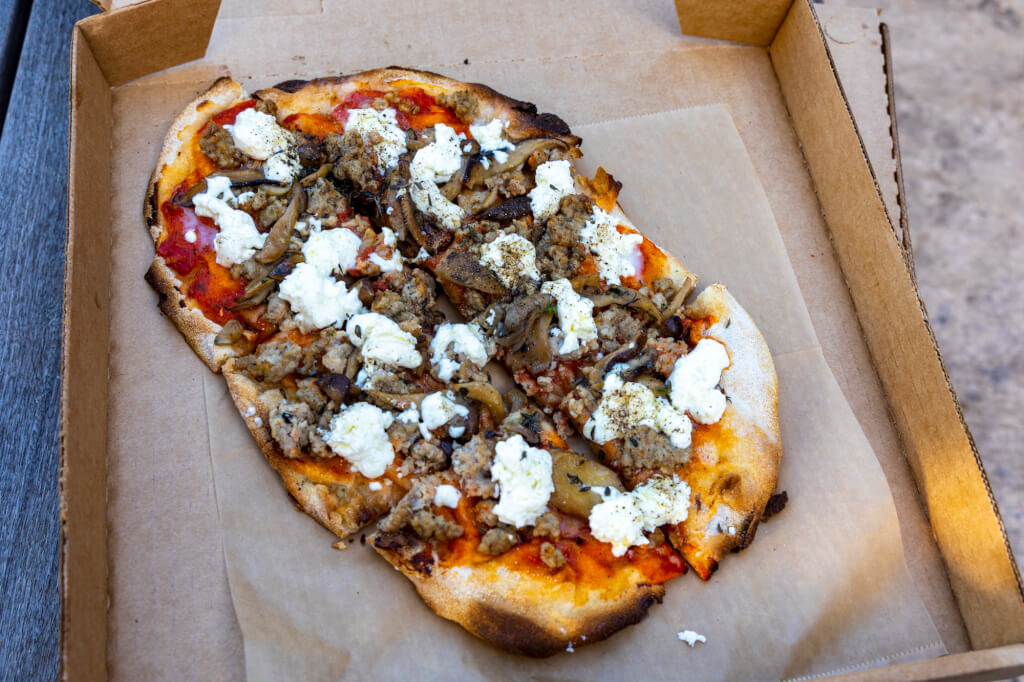 Final Thoughts
I don't know when, but I'll definitely head back to Bocconcino Hawaii one of these days. I do want to try the Proscuitto pizza and the Romano sandwich. Next time, though, I'll be sure to order online ahead of time.
If you've been, what did you try and how did you like it?