With the pandemic continuing to rage on its seems that Chase is playing it safe with the Chase Freedom Q1 2021 bonus categories. As a result, we're seeing the return of a long-absent and much-beloved bonus category. The rest of the categories are common repeats that are difficult to maximize.
2020 Bonus Categories
Chase began 2020 with rather ho-hum bonus categories for the Freedom (and later, the Freedom Flex) quarterly bonuses. But, with the freak change brought about by the COVID-19 pandemic, things got really interesting. As a recap, here are the categories we enjoyed over the last (awful) year.
First Quarter 2020: gas stations; select streaming services; and internet, cable, and phone services
Second Quarter 2020: grocery stores, select streaming services, and gyms and fitness clubs
Third Quarter 2020: Amazon and Whole Foods Market
Fourth Quarter 2020: Walmart and PayPal
The gyms and fitness clubs categories were a bit odd considering that the pandemic was already exploding in the US. But, I don't think Chase had time to change course before that one went into effect. That said, the grocery store category for Q2 2020 was really useful, though Q3 and Q4 were my particular favorites. After all, it's incredibly easy to spend a ton with Amazon and Whole Foods and with PayPal or Walmart. Especially since tons of smaller online businesses and even major retailers like Best Buy, Macy's, and Home Depot, among others, accept PayPal.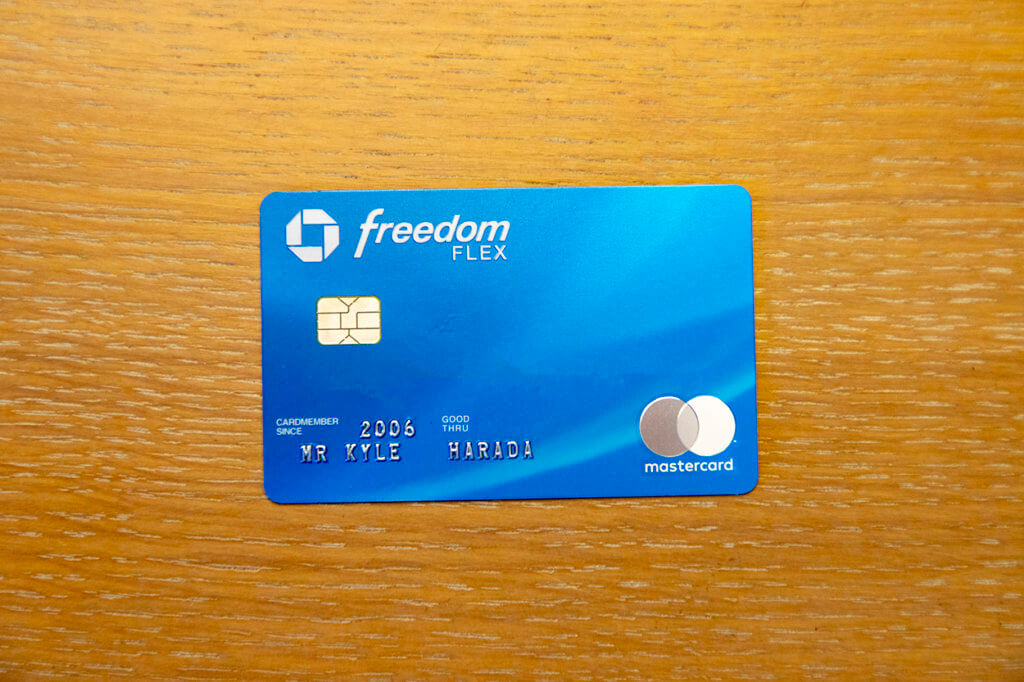 Q1 2021 Bonus Categories
For the first quarter of the new year, Chase is repeating many of the same categories on offer in Q1 2020 with one big exception – wholesale clubs. This is a category we haven't seen since Citi launched its Costco Visa a few years ago. That category joins select streaming services and internet, cable, and phone services as the repeat categories for Q1 2021.
While it's great to see wholesale clubs make their return as a bonus category, it does come with some new implications for those with the Chase Freedom Flex. That card, as you'll recall, is a World Elite Mastercard. As a result, you cannot use it for in-store purchases at Costco. You can, however, use it at costco.com, which means you could buy gift cards online for in-store use.
Yes, I did say I didn't think this would be an issue when I converted to the Freedom Flex. But, I still don't think it's that big an issue for the reasons outlined above. Plus, for me personally, I can always use Mrs. Island Miler's Freedom Visa at Costco if need be.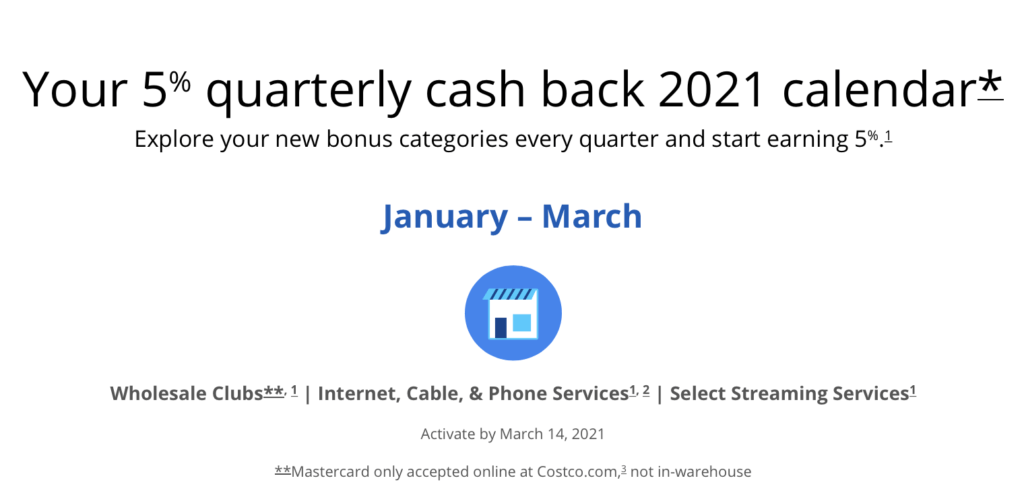 Chase Freedom Q1 2021 Bonus Categories, Final Thoughts
As always, you need to activate your bonus categories and can do so beginning today at chasebonus.com.
Personally, I think the Q1 2021 bonus categories are good. The addition of warehouse stores gives us a lot of opportunities to max out the quarter's bonuses. However, for me, the categories aren't quite as lucrative as the past two quarters. But, that's ok. These categories are still far better than what we got a year ago. Though, with vaccines beginning to roll lout now, it'll be interesting to see how these categories evolve throughout 2021.