If you've been following along with the blog recently, you'd know I flew Southwest for the first time this month. A trip report is coming soon, but for now, I'm comparing the Southwest and Hawaiian experience.
For the first time in a long time Hawaii has two mainline carriers providing interisland service. But these airlines, Hawaiian and Southwest, are wildly different animals. Hawaiian bills itself as a premium carrier (debatable), while Southwest is a low-cost carriers. Both airlines currently offer inter-island service within the State of Hawaii, as well as flights between Hawaii and California. But, that's kind of where the similarities end.
Inter-Island Service Comparison
Flights within Hawaii are SHORT. 20 to 30 minutes are the average flight times, with Hawaiian's Kona – Lihue being the longest at around an hour. And, as you can imagine, there isn't a whole lot you can do with these flights. But, there are some pretty significant differences.
Aircraft
On inter-island routes, Hawaiian operates a fleet of Boeing 717-200's. These aircraft are on the smaller side, but offer a fantastic 2+3 seating arrangement in extra legroom (comes with zone 2 boarding) and economy with 30 to 31 inches of pitch or 2+2 in first with 37 inches of pitch. These aircraft do not have in-flight entertainment of any type, nor is power available at your seat.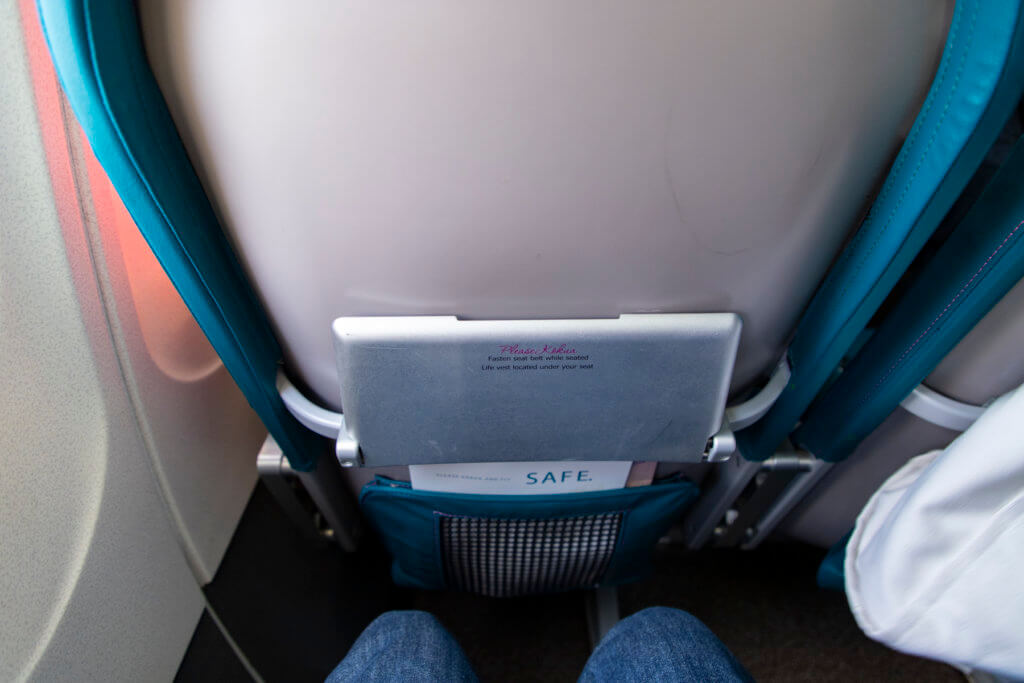 Southwest, on the other hand, operates larger Boeing 737s on its inter-island routes. In fact, these aircraft are the ones they use to fly to Hawaii and then operate inter-island flights to keep utilization up. They're configured in an all-economy 3+3 arrangement with 32 to 33 inches of pitch and do not offer in-seat power either. Southwest does offer complimentary streamed TV, movies, and live TV on these flights, though, along with instant messaging. WiFi is also available onboard at $8 per 24-hour period.
In-Flight Services
As has always been the case, onboard Hawaiian's inter-island flights, passengers can expect complimentary soft drinks and alcohol for purchase (free for first class). Hawaiian does also offer maps of the island you're traveling too, which is a nice touch, but kind of irrelevant for all US-based visitors with smartphones.
Like Hawaiian, Southwest does offer complimentary soft drinks and alcohol for purchase (free for certain elites), but they also provide a bag of pretzels too.
Fees
If you're flying Hawaiian and are checking a bag, there's a fee for that. First checked bag will run you $25, while the second comes in at $35. HawaiianMiles members enjoy reduced bag fees of $15 and $20, respectively. Hawaiian Airlines World Elite Mastercard cardholders also receive their first checked bag free, but only for the primary cardholder. Hawaiian also charges a $30 change or cancellation fee.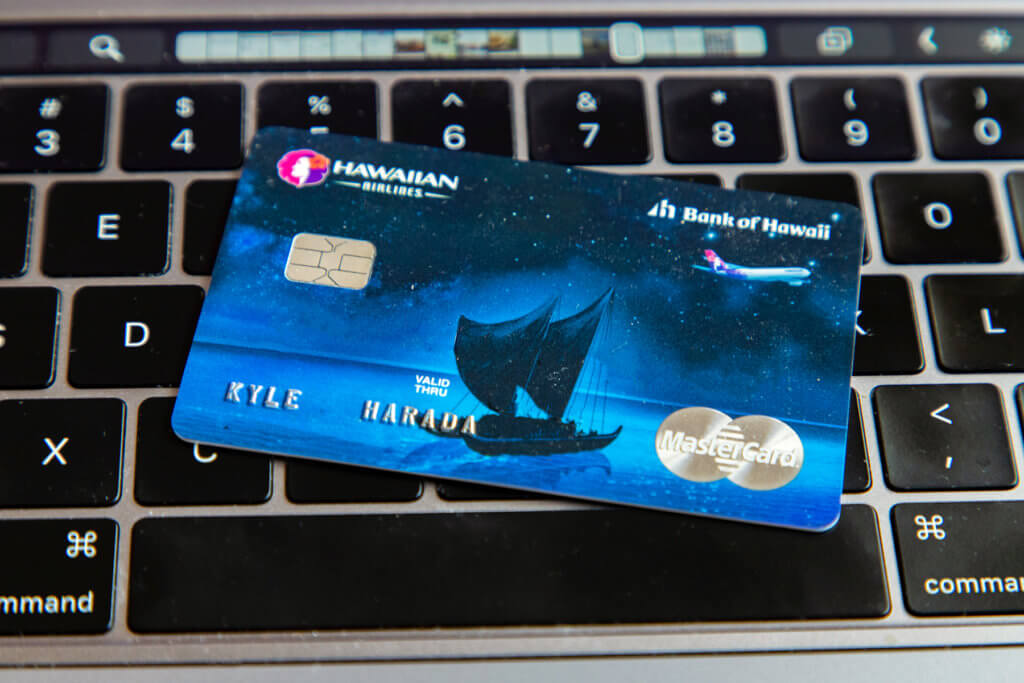 Over at Southwest, things are drastically different. Your first two checked bags are completely free, while there are no change or cancellation fees. However, canceled flights are issued back as a credit that must be used within a year. You'll also need to pay for the difference between the original and new flight, as is the case with all other airlines. Plus, with Southwest, there's an optional EarlyBird check-in fee and an optional early boarding fee. You can read more about those in my Southwest Boarding post.
Hawaii-California Service Comparison
Medium-haul flights are where comparing these two airlines gets a little more tricky. You see, Southwest utilizes the same Boeing 737s it uses for inter-island service on all its flights. While Hawaiian, on the other hand, uses a mix of Airbus A330-200s and A321neos. They're also adding the Boeing 787 into their fleet in 2021 too.
Hard Product
Since Southwest uses the same aircraft across its system, the hard product is going to be the same between Hawaii and California and on inter-island routes. So, I'm not going to talk about their aircraft again here.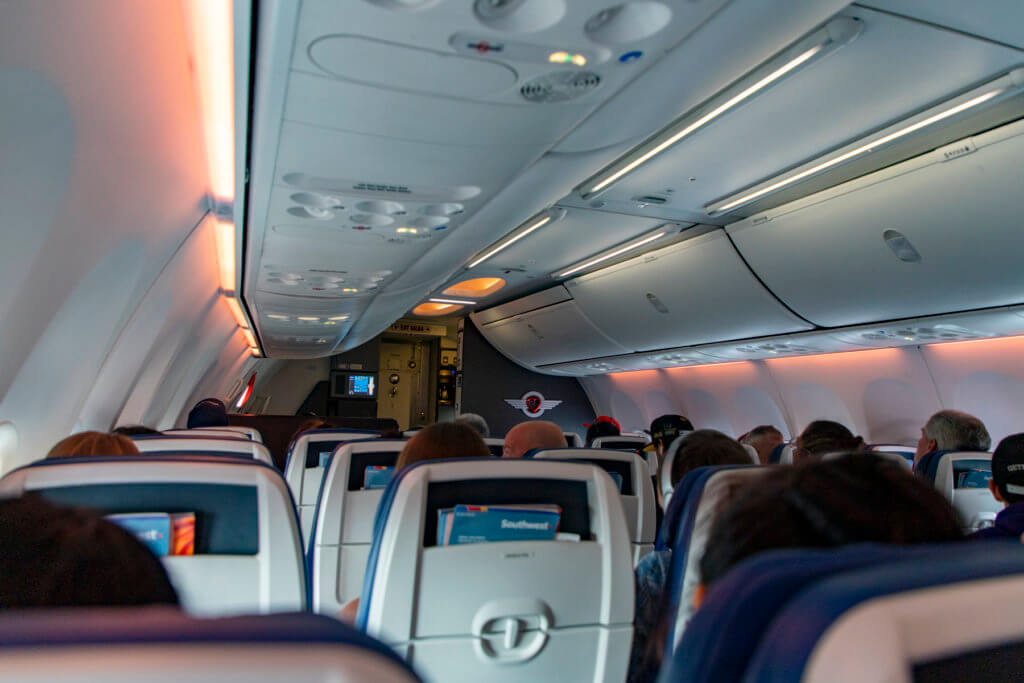 If you're flying Hawaiian, though, you could have a somewhat similar hard product as Southwest. That because Hawaiian's Airbus A321neos are configured in a 3+3 arrangement in economy (30 inches of pitch) and Extra Comfort (35 inches of pitch), much like Southwest's 737's. But, the A321s do have a first class cabin as well featuring typical domestic recliner seats featuring 39 inches of pitch. Heck, these seats actually look like what American uses in International Premium Economy. Hawaiian also offers free streamed in-flight entertainment and in-seat power, though its USB only in the back and ac power for those in Extra Comfort and first.
On the A330, Hawaiian continues to offer first, Extra Comfort and economy. However, first class on the A330 takes the form of lie-flat sleeper seats in a 2+2+2 configuration with 76 inches of pitch or bed length. First class seats also receive iPad Pros for their in-flight entertainment, though their holders leave much to be desired. In-seat power is available via an ac outlet and USB port. Out back, Extra Comfort (36 inches of pitch) and economy (31 inches of pitch) are arranged in a 2+4+2 configuration. Power is available via an ac outlet and USB port in Extra Comfort and just USB in economy. The A330s also feature Panasonic seat-back entertainment systems throughout the Extra Comfort and economy cabins. Hawaiian does not offer WiFi or instant messaging on any of its aircraft.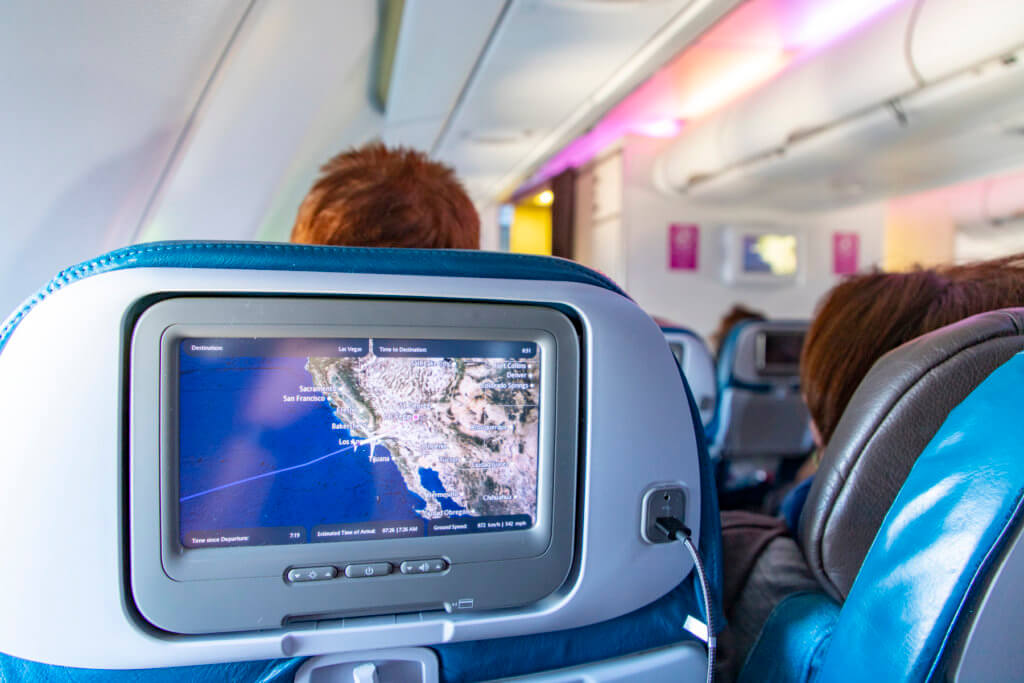 In-Flight Service
On Southwest, things remain pretty simple regarding service too. Meals are not available for free or for purchase. If you want something substantial to eat, you'll need to bring your own food. But, Southwest does offer a Hawaii-only snack pack featuring their standard bag of pretzels, Wheat Things, Welch's fruit snacks, Tic Tacs (??), and a white-cheddar cheese spread. They also offer unique complimentary and for-purchase beverages on Hawaii routes, including Kona Longboard Island Lager, Minute Maid pineapple orange juice, and Blue Chair Bay coconut spiced rum. No other amenities are offered.
On Hawaiian, passengers enjoy complimentary meals in every cabin along with one alcoholic beverage. Meals vary by class of service, though, with sandwiches served in economy and chef-inspired multi-course menus up front. Meal service is not offered on red-eye flights, though, and passengers are instead provided a blanket and pillow.
Fees
Southwest's fees are the same system-wide, so refer to the inter-island section for this information. The same can almost be said of Hawaiian too, except for their checked bag fees. On Hawaii-Mainland routes, this fee goes up to $30 for your first bag and $40 for your second one. No HawaiianMiles member discounts are offered, though Hawaiian WE MC cardholders continue to receive their first checked bag free.
Comparison Chart
That's a lot of info, huh? So, to make things easier to digest, here's an experience comparison chart.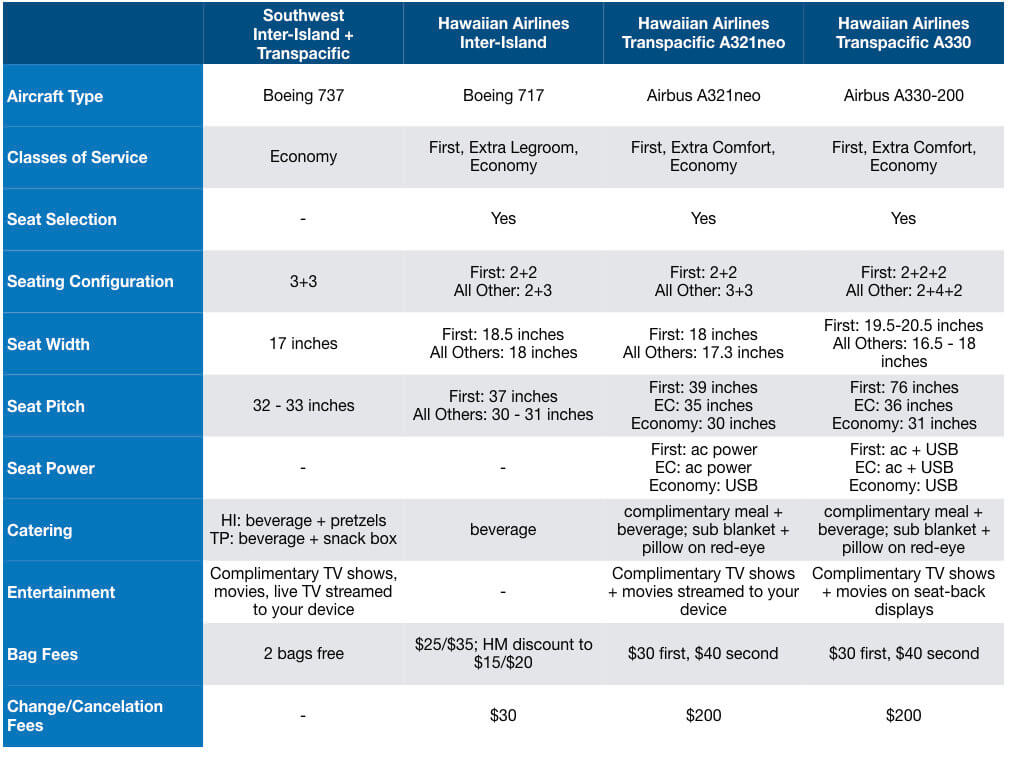 Comparing the Southwest and Hawaiian Experience, Final Thoughts
There's a lot of info here, and which airline you ultimately choose depends greatly on your personal preference. If prices are equal, do you value connectivity and free checked bags? Or do you prioritize seat assignments and complimentary meals.
That said, it's worth noting that both Southwest's and Hawaiian's seats are firm and uncomfortable. In fact, the 717's seats are among the thinnest I've seen, though they're fine for a 30-minute flight. But, in my opinion, Southwest's seats and those on Hawaiian's A330s are similar in terms of seat cushioning.
But, the in-flight experience and fee structure is only part of the equation. Next week, I'll have another post comparing HawaiianMiles and Southwest RapidRewards. After all, I know loyalty programs are just important to many of you as the in-flight experience.