Flying economy in the U.S. has long meant no meal service.  Period.  However, that trend has slowly begun to change this year. Up until recently, Hawaiian Airlines was the only domestic carrier still offering complimentary meals in all cabins.  Then, back in February, American announced that it would offer meals on Hawaii flights.  Recently, rumors have been emerging about Delta adding meals to Hawaii.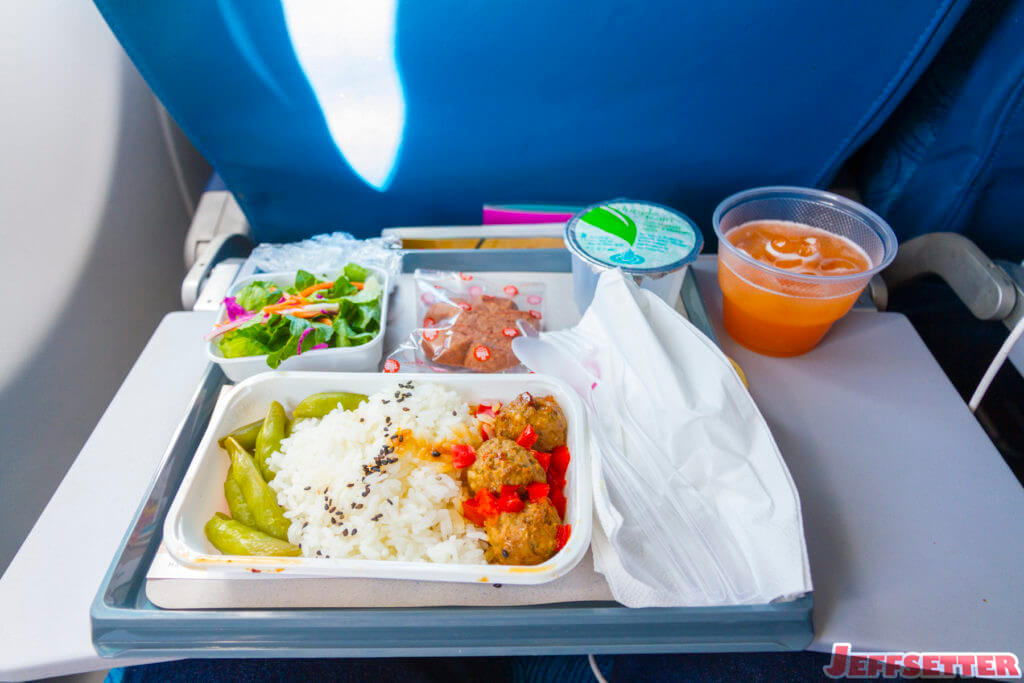 Word has it that Delta will offer complimentary meal service in main cabin and up on flights from Atlanta, Minneapolis, and New York to Honolulu.  Better yet, the rumors say Delta will also offer complimentary drinks on these flights.  No changes are expected for meals in first class.
If these rumors are true, Delta may have the most generous meal service in their economy class cabin.  What remains to be seen is what their meals will be like.  What's actually served can vary greatly.  For example, with Hawaiian you can get an actual entree like the above, but on morning flights you simply get a sandwich.  I feel as if Hawaiian's actual entrees could be more substantial, too.  They're small in size and are very starch heavy.  So hopefully Delta will more substantial meals than Hawaiian.  Free booze will always be welcome too. ?
American won't be offering free booze in Main Cabin for it's Hawaii service.  They will, however, offer complimentary meals in Main Cabin for all flights to Hawaii from Chicago and Dallas.  All other domestic flights on American, including west coast to Hawaii, will offer complimentary snacks in economy.
With these changes coming to American and Delta, United will be the only legacy not offering complimentary meals in Main Cabin on long haul flights to Hawaii.  It's probably only a matter of time, though, until United follows suit and begins offering complimentary meals in economy to Hawaii.
At any rate, Delta adding meals to Hawaii is a positive thing.  It's interesting to see the airlines backtracking a bit and competing on service and amenities rather than simply on price.  And of course more competition is always a good thing.