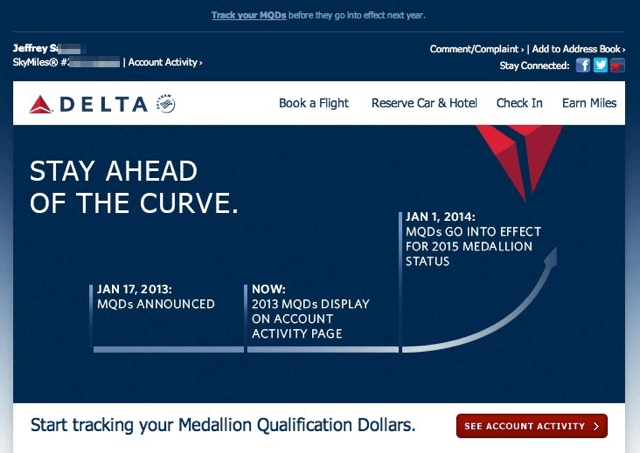 At this point in the year I have a choice between remaining a Platinum Medallion with Delta in 2014 or going for Diamond Medallion status. Like each of the past several years, I am going to choose to stay Platinum and let any miles I receive over the 75,000 mile platinum Threshold roll-over for earning status next year. This means that instead of accepting the 15,000 MQM bonus I earned for spending $60k on the Delta Reserve card this year, I gave it to my wife to help her earn status. It also means that with several upcoming trips to end the year I will bring me over 100k MQMs earned for 2013.
With flights booked for the remainder of 2013, I will have a minimum of 25,000 rollover miles to start the year in 2014. It also means that it will be virtually impossible for me to match the Delta Medallion Qualifying Dollars requirement to make Platinum again without the aid of a credit card.
Rollover Miles = an Uphill Battle for Reaching Medallion Qualifying Dollars
I like the idea of carrying over tens of thousands of miles each year, because I have no idea how much I will be traveling that year. I could get fired from my job, move to a non-Delta hub, welcome a new addition to the family or any number of other factors that make life unpredictable. At the same time, I really enjoy having status and would like to keep it as long as possible. With rollover miles and earning 30k MQMs a year with the Delta Reserve card, I don't have to do a lot of flying to re-qualify for Platinum status each year.
With the introduction of Medallion Qualifying Dollars (MQD's) into the equation, Delta is making rollover miles much less valuable than they used to be (except for those spending $25k a year with their branded credit cards), because money spent on rollover miles does not factor into your Medallion Qualifying Dollars for the year they are applied to your account.
Let's take my account for example: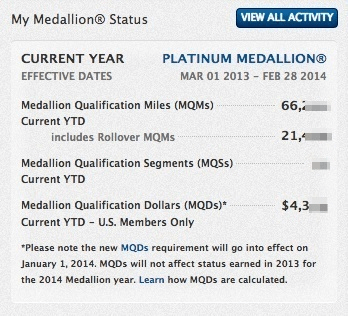 I am currently at 66k MQMs for the year, 21k of those were rollover miles. I also earned 15k MQMs for reaching $30,000 in spend on my Delta Reserve business card. That means I have earned 30k butt-in-seat MQMs this year.
According to the MQDs chart from Delta, I have spent just north of $4,300 on Delta flights to earn those 30k MQMs. This means that I usually pay over 14 cents per mile flown on Delta.
Extend this over the course of a year and I would have no problem meeting the MQDs requirement if I flew 75,000 miles in a given year. But with 25,000 MQMs rolled over for the year? That makes things more difficult.
If I rolled over 25k miles and then flew the 50,000 miles needed to make the Platinum MQM threshold, would have only spent $7,000 with Delta on the year. This would make me deficient by $500 in MQDs.
And that is a best case scenario, assuming that I am taking business trips where I actually spend 14 cents per mile. If I were flying with my own money to reach status, I would likely be $2,500 short on MQDs for the year.
Business Travelers With Delta Credit Cards Win in an MQD world
Clearly the MQD announcement benefits business travelers and Delta Business Credit Card holders the most, because they should have little problems reaching MQDs if they are already reaching the MQM threshold. Casual travelers, rollover milers and mileage runners are going to find it very difficult to reach the MQD threshold without changing their spending habits.
I am fortunate to be both a business traveler and a Delta Credit Card holder, so I should be fine moving forward. In fact, I might benefit nicely from less elites holding rank with Delta.
For my own selfish reasons, I kind of like the idea of MQDs working to my benefit, but I'm doubtful I represent the majority.
Will Delta Introduce Rollover MQDs?
It would be great if Delta decided to introduce rollover MQDs in the future. It would only be fair for those who rely on MQMs to have the same benefit for the money they spent on those miles!