For once the Delta website worked (mostly) how I wanted it to work. I am in Hungary right now speaking at a conference, but up until last week it was unclear exactly how I would get here. Well that's not entirely true. I knew I would be arriving by an airplane, but the problem was that I had only booked flights from New York's JFK Airport to Budapest. I had not yet figured out how I would be getting between New York and Minneapolis.
Why did I only book a flight from NYC to BUD in the first place? Because when booking award tickets, especially with Delta, I've found that it's always best to book your overseas flights first. This is often done to lock in a low level business class award ticket from the US to Europe at only 100,000 Delta Skymiles, which is much more affordable than a peak Delta award, which may cost as much as 325,000 Skymiles. There's no way I would pay that much for a ticket!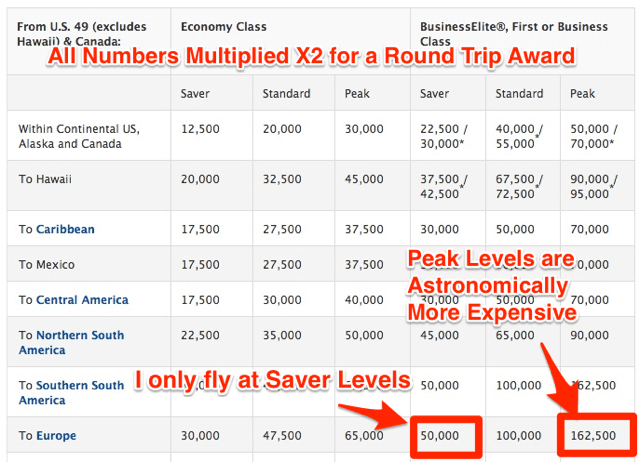 Usually it is not the overseas flight that costs so many Skymiles, because if you fly on a Delta partner airline the cost is always at the saver award level of 100k miles (this will be raised to 125k miles on June 1, 2014). It's actually the domestic flight that raises the prices of Delta award tickets to astronomical levels, so if the MSP-JFK flight is not at a saver award level I will wait to book that flight in hope that costs eventually come down. (If this sounds complicated, that's because it is! Delta's website is notoriously awful for redeeming miles).
In my case, adding a round trip flight from MSP to JFK on my original itinerary would have cost an extra ~70,000 miles each way (priced this way for a peak domestic ticket + saver Europe ticket), which is not a good use of miles.
This meant I had three options to make this flight work:
Pay for a flight to NYC in cash and keep the original itinerary
Pay the extra miles in order to get the flight on a single ticket
Try to find another way to get to Budapest using the same number of miles
The third option was clearly the best option, so I took to the Delta website to see if there were any miracle tickets from MSP to BUD in business class for 100,000 miles. It turns out that there was a ticket from MSP-BUD available for this price that required routing through Chicago and Amsterdam on KLM, but there was nothing available for the return flight. There was, however, a saver ticket available to fly home from JFK going through Detroit. Got that?
Seeing that these flights were available at the low level award, I called the Delta Platinum line to get my ticket changed. I first had them add the JFK-DTW-MSP legs to my return flight. This only cost me an extra $8.00 to book and did not require any more miles. I consider this a bargain.
For the outbound flight I asked if I could leave a day later and take the MSP-ORD-AMS-BUD route. They looked it up and were able to book me on this flight and I actually received a refund of $9.00 for taking this flight. I did not pay any more miles to do this. The best part is that the call only took 11 minutes to complete, which is a new record for me with Delta's phone service.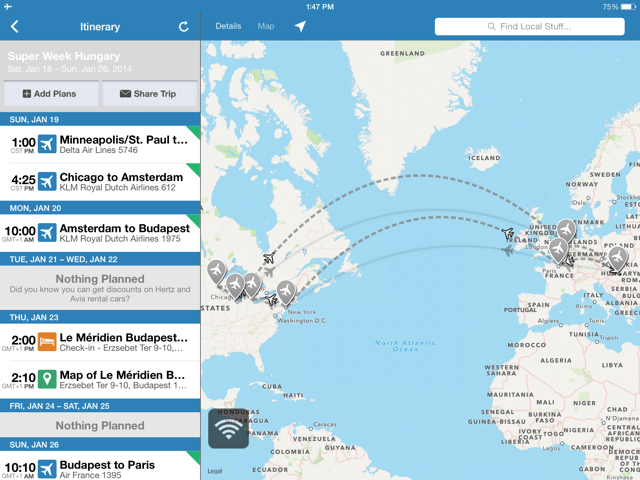 Add it all up and I have to take 7 flights and visit 4 countries in order to get this award ticket for 100k Skymiles. Not an ideal scenario, but a worthy compromise to me.
The best part? I got to fly the Chicago to Amsterdam leg in the "bubble" of a 747. This was my first time in the bubble and it was a cool experience!  Expect a full review in the future.
The second best part? On the way back I am flying on an Air France Airbus A380 plane in the upper deck for the first time as well. That's two bucket list items in one trip!
Now if only I could get the Internet in my room in this conference hotel… then I could get back into a regular posting schedule.
Stay tuned for more on the Hungary trip as it unfolds. After the conference I have 3 nights in Budapest that I hope turns into a proper photo safari.
P.S. This post is dedicated to the wife of my friend and hero Avinash. I wanted to give an extended look at the process that I use to fly business class using miles. Lots of patience, perseverance and elbow grease is needed to make it happen!