We have many exciting travel plans coming up, but from a pure decadence perspective, flying the Etihad apartments from Sydney to Abu Dhabi has me the most excited of them all.
This segment will be our first time flying through the Middle East, first time showering on a plane, and our first time having a chauffeur picking us up from our hotel.
As you can see, many firsts that have me really excited. Of course, all of these firsts are all tucked away at some point in the future, so it's hard to really write much about the flying experience other than to say "I think it will be awesome."
Well, there is one thing that I can write about, and that is the process I went through to book a Chauffeur Service.
There are two times we need to use the Etihad website
The first time we will need to use the Etihad website is to determine if seats are available in the first place. There have been several articles written on this topic, so I don't want to belabor the point here too much. Basically, if a GuestSeat is available on the Etihad website, you can book this with a partner airline. This is the first place I turned when booking the Apartments on Etihad in April of this year.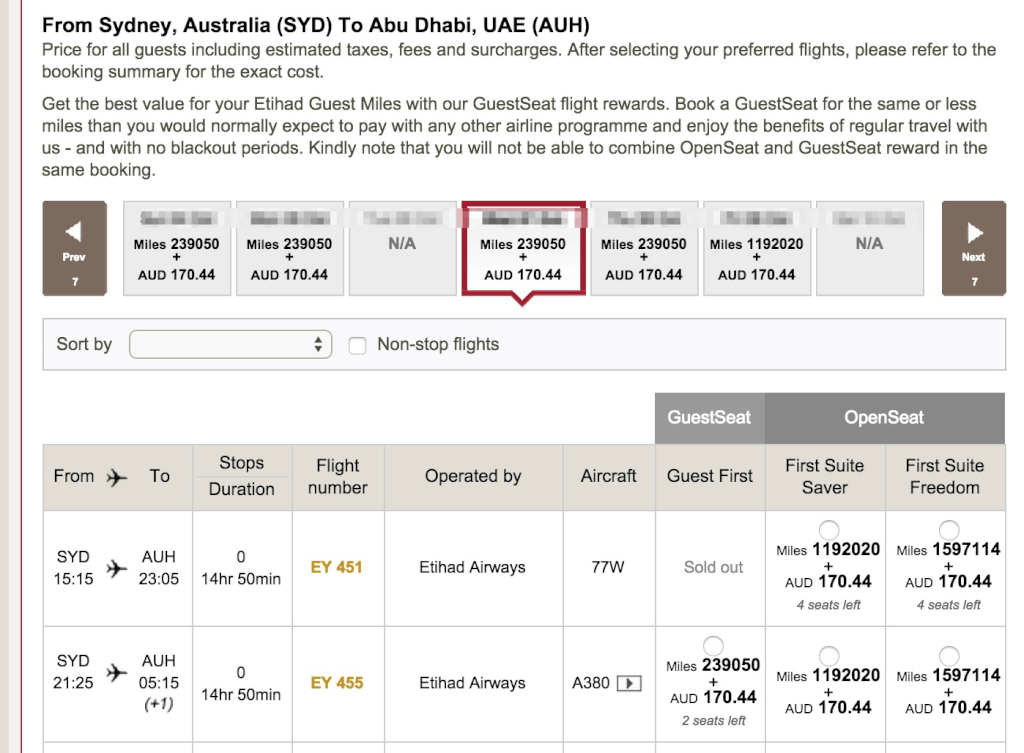 If you are looking to book these for yourself, here is a direct link to the booking page.
Call American to book the flight using Miles
If you have the miles in your American account to book Etihad first, you can call in to get your ticket requested. Etihad flights are not bookable online using American Miles, so you will need to call.
There is a phone booking fee that they may try to charge you, but it should be waived for Etihad, since you can't book it online.
What I did was take a screenshot of the exact flight information I was looking to book (literally the exact shot I placed above) and then call their agents to get it all sorted out. There were times when I called and got stuck in phone-tree limbo. Eventually I got the space reserved for me. Then eventually it was ticketed.
For those new to American miles for award tickets (myself included), they do not provide you with a ticket on Etihad right away. It can take a few days to get your actual ticket.

Call American Again to get your Etihad Record Locator Number
As you can see in the picture above, the flight is ticketed and all looks good. Except for one problem: we only have the flight number from American's reservation system, and we don't know our Etihad booking reference number.
Usually you can get by on an award ticket not knowing the booking reference for the airline you are flying, but in this case you will want this number. It is the only way you can book your Chauffeur service.
Call American and give them your American record locator number, and then ask nicely for your Etihad record locator. Several Alpha-Charlie's later and you will have your code. Keep this in your note file with your other trip details. It will come in handy.
While you are on the phone with American, if they did charge you a phone booking fee, now is the time to ask them to give you a refund. It may require a supervisor to do this, but you were charged incorrectly and deserve a refund.
Visit the Etihad website and look at the right navigation
Etihad is opulent and I enjoy the hubris. Even though most of their passengers are flying economy, they showcase the bling of their fancier tickets all over the site. For example, of the 5 menu options on the right side of the website, one is dedicated to reserving a Chauffeur, as if everyone should be clicking there.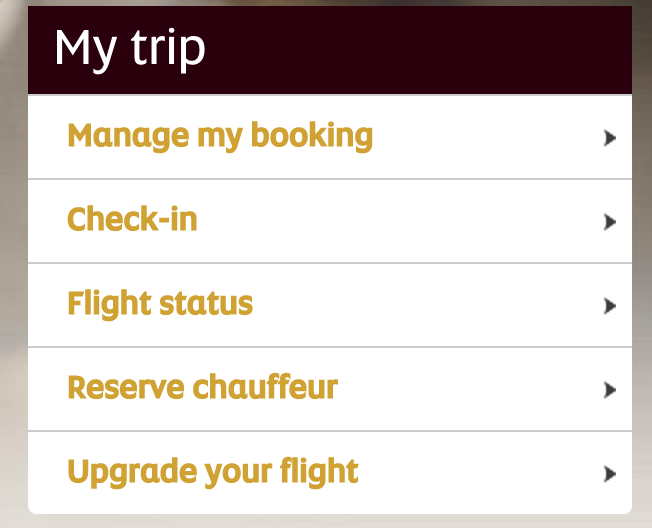 Well, in our case, we actually are clicking here, but you get the point.
Click that button and put in your deets.

If you did this all correctly, your flight details will show up on the next page: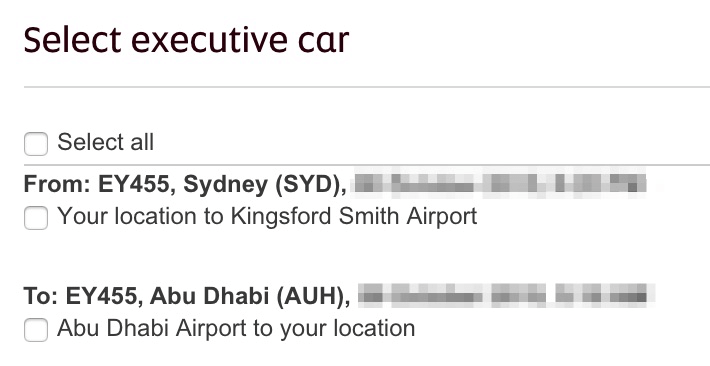 You can then enter your pickup and drop-off addresses. My favorite part? You can be dropped off in Dubai, even though the city is an hour away from Abu Dhabi!
Once your details are entered, you confirm your booking. That is where I stand today with my service booking.
A few things that I am not entirely sure of what will happen:
When will they contact me to confirm all of this?
They ask for my mobile number – what happens if I can't answer them because I don't have cell service?
It seems like email would be more efficient. But I am sure it will work out in the end. Even if that means burning a few extra dollars in cell phone charges to get it all arranged.
Booking Chauffeur service is easy – so far
Since I don't know what I don't know at this point, I am going to assume it will all work out well. I'm also guessing that a reader or two have flown Etihad first/used the Chauffeur during their travels and may have stories to tell as well. Or I could just Google it, but where is the fun of that?